Touring Bicycle Photos and Descriptions
For those who like to look at different touring bike setups, I have created some web pages featuring the some of the bikes of people on the Phred Bike Touring Email List.
If you would like to put your bike on this page, just send me an email with a URL or a digital photo in either *.jpg or *.gif format. The more bikes the better!
---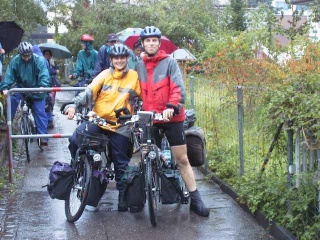 Monique and Christian Liechti-Küffer

If you like you can have a look at our webpage liechti.poweredge.ch. We cycled from Switzerland via Italy to Greece and then from Singapore via Malaysia, Thailand, Laos, Vietnam up to Kunming.

Best wishes from
Christian Liechti
liechti.poweredge.ch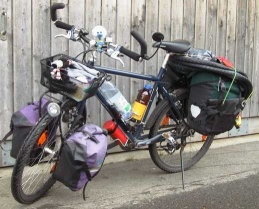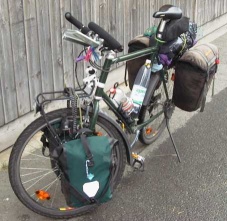 Here are their rigs.
---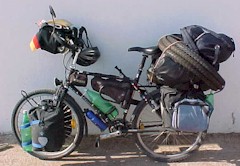 Hola China Bikers!

We just surfed around and read the pages from Heinz Stucke! (...and we try hard to beat his record ...!). The bike photos are really interesting and we have got a suggestion concerning the water carrying problem, too. Please have a look at Igel's construction: 2 l PET bottles on the front- and backrollers of Ortlieb bags, in all we can carry about 10 liters per person! How much does it weigh? We don't know, but it's still too much. But this way to transport the water is really great now, we tried so many things before and nothing worked out fine.

See some more pictures at our homepage:

www.geocities.com/cabonga11 ("Ausruestung").

Have a nice time!

From Campeche, Mexico
Igel & Paola
---
Hi Peter,

I just surfed your homepage again and stumbled across your collection of bike photos. I've attached a picture of the bike I rode last year from Xi'an to Guangyuan and is stored now in Chengdu. I wonder if you like to add this pic to your site.

Chris

Radtouren im Reich der Mitte!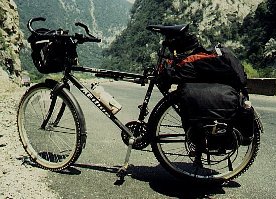 ---
Maxi's Recumbent Touring Bike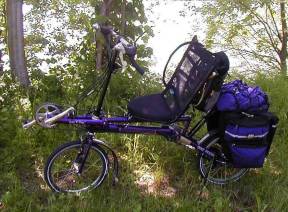 I would be happy to have you use my bike photo and link to my site. As I
age, I sincerely believe that recumbents will find more favor.
You can find more of my photos at www.silvercycle.com Here is a
photo of my loaded tourer as with a digital camera on the banks of the
Danube River in Austria.
---
Paul Woloshansky says...
"If You Want Something Done Right, You Have To Do It Yourself...."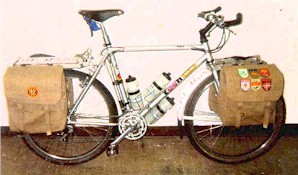 On several of my tours in Asia and Australia I've been forced to carry up to 17 litres of water, not to mention 3-4 day's food, fuel for my stove, camping gear, tools, spares and all the rest, and I've yet to come across an aluminum rack that didn't break under the strain. I've spoken to a lot of other cyclists who do similar tours, and they all have disaster stories to relate, of precious time wasted looking for a welder, or of being marooned on the side of a road or trail, mending broken racks with splints and wire cut out of fences, and even wrapping spare spokes and twisting them, 'rebar' fashion, to keep the whole together...I ask you, what good is a guarantee, when you're way-the-hell-out in the middle of nowhere? And numerous times I've seen $$$ panniers patched with duct tape or secured on with shoelaces or innertubes; once even a bound-and-knotted arrangement, that utilized a pair of XC-ski long underwear!
....Click here for more details of Paul Woloshansky's Homemade Gear...
---
Andy MacGee's Homemade Bike

Andy apologizes: "Despite your explicit instructions, I'm sending an attached bicycle photo anyway. The actual file size is 52 K-B, not 52 M-B, as I had stated in my previous correspondence. As for the bicycle, it was hand brazed and finished, slowly and painfuly, from Reynolds 531 tubing and mostly Everest lugs (some of which were extensively re-shaped)." Click here for more photos and addtional details.
---
Peter's Touring Bike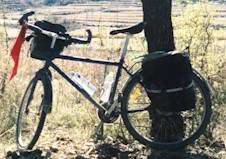 Peter describes his bike: "With this bike I travelled 30,000 miles during three years of touring. The bike was a closeout of last year's model at REI, marked down to $199." Click here for more details.
---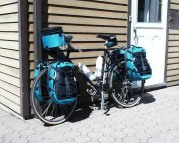 Jon Erik Larson wrote: Click on the photo for two bigger pictures of my Sakkit bicycle.
---

Francisco Dellatorre Borges wrote: The photo is from a trip to Spain. The bike is a GT Pantera 95. It took me through Brazil, Bolivian and Peruvian Andes, US, Spain and Portugal.
---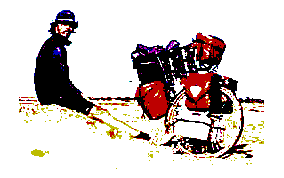 Thomas wrote:
Hi Longdistance Traveler,
I'm riding this bike since 1991. Close to 70.000 kilometer so far. The special setup you see on this picture do I use while crossing deserts. This pic was taken at Innamincka store, Australia.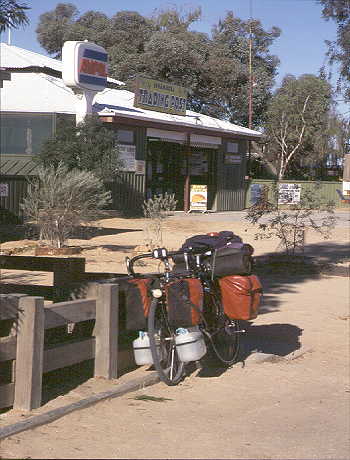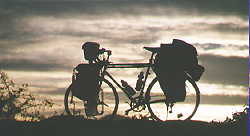 Check out Thomas's home page. Full of great links and travelogues.
---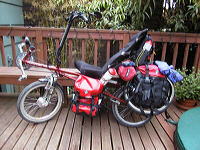 Alex Wetmore wrote:
There are pictures and writeups of my bikes at http://www.phred.org/~alex/bikes. Since this site changes somewhat frequently it would be better to link to it.
---
Aussie "Off-Road Tourer"

From: Bicycle Fish (a great place to find bicycle links)
"Peter, This one may be of interest -"
Owner's description : a LWB, 26" wheel camping bike. "all terrain, all purposes, all weathers, day-and-night bike".

Objectives:
- a bike for any & all road conditions ( wide tyres , tough rims)
- capable of heavy loads (e.g., self supported camping ),
- reliable & repairable
- comfortable & easy steering, good sight seeing position
- all-weather capable (i.e., fenders),
- ready to ride day or night (dynamo lights)
Click here for more details and another great photo!
---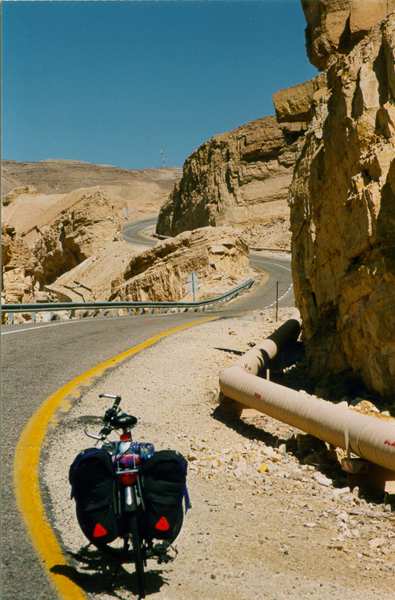 Ernst Poulsen's Touring Bike on a Curvy Road in Israel
---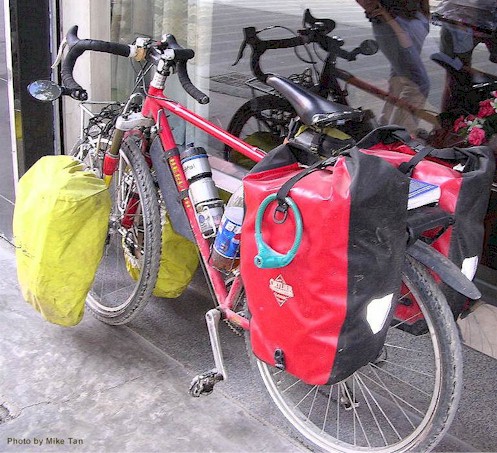 Australian Scott's Touring bike
---
Bike China Adventures, Inc.
Home
|
Guided Bike Tours
|
Testimonials
|
Photos
|
Bicycle Travelogues
|
Products
|
Info
|
Contact Us
Copyright © Bike China Adventures, Inc., 1998-2013. All rights reserved.