Tour Description
Yunnan 8-Day Bike Tour - Kunming, Shangri-La (Zhongdian) and Lijiang
Dates: Contact us with the dates that work for you.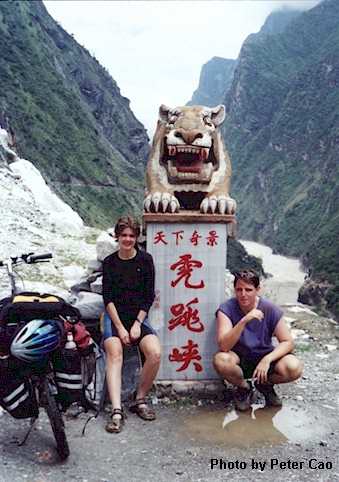 Yunnan 8-Day Bike Tour - Kunming, Shangri-La (Zhongdian) and Lijiang
Dates: Contact us with the dates that work for you.
This 8-day bicycle tour begins and ends in Kunming, the capital of Yunnan Province known as the "Spring City" and the gateway to China's largest concentration of ethnic minorities. This tour is designed as a relatively moderately challenging ride. Average daily cycling mileage will be about 30-50 miles (50-80 km). On some days we may use vehicle transport to supplement the cycling to get us to the next destination. While there will be no support vehicle, riders will have their luggage transported between destinations. This tour will visit both well-known and little-known sights and will appeal to those who have cultural, social and geographical interests.
On the first day, the group will meet and there will be a warm-up tour of the city where we will visit the Yuantong Temple, Cuihu (Green Lake) Park and the East/West Pagodas.
The following morning, the group will fly to Shangri-La (Zhongdian). The is a predominantly Tibetan town located at about 3,000 meters (9,800 feet). We will spend two days exploring the area of grasslands and Tibetan temples. The following day we will cycle over one of the most scenic rides in Yunnan to Baishuitai, the back door to Tiger Leaping Gorge.
The following day we will to see the Tiger Leaping Gorge. Tiger Leaping Gorge is one of the deepest and most dramatic gorges in the world and is still quite wild despite the enormous efforts to tame it. We will visit the narrow spot of the gorge where it takes it name. It is a powerful spot with the whole of the Yangzi River confined to a 20- meter (70-foot) width. We will spend the night in the gorge in simple cabin-like lodgings.
We will cycle out of the gorge and then along side the Yangzi River and view the First Bend (where the river makes a U-turn leading to the headwaters in Tibet. The next two days will be spent in Lijiang, the center of the creative Naxi minority group, exploring this unique city with fast flowing open canals and unique architecture. We will view several temples, Black Dragon Park attend a Naxi Music Orchestra and the view the Baisha Frescoes.
On the eight day, we will return to Kunming via air concluding the bike tour.
A travelogue and photos covering portions of the route: Cycling Yunnan Province with BikeChina Adventures
Photos from Yunnan
Weiss Yunnan Bike Trip Photo Gallery
Itinerary
| | | | |
| --- | --- | --- | --- |
| Day | Location | Cycling Distance Miles/KM | YUNNAN PROVINCE |
| 1 | Kunming | 18/30 | Meet group members/Brief City Tour - Yuantong Temple, East and West Pagodas, and Cuihu City Park |
| 2 | Shangri-La (Zhongdian) | 30/50 | Fly to Shangri-La (Zhongdian). Explore this Tibetan town with plenty of flavor including a visit to a Tibetan Lamasery |
| 3 | Shangri-La (Zhongdian) | 30/50 | "Shangri-La," and the grasslands |
| 4 | Baishuitai | 64/105 | Visit the Limestone Terraces |
| 5 | Tiger Leaping Gorge | 37/60 | One of the World's Deepest Gorges, and an up close look at the raw power of this historical river |
| 6 | Lijiang | 73/119 | First Bend of the Yangzi River |
| 7 | Lijiang | 30/50 | Zhiyun Temple, Old town, Baisha Frescoes |
| 8 | Kunming | 0 | Fly to Kunming. End of trip. |
| | Total Distance | 283/464 | |
Details
Dates: Contact us with the dates that work for you.
Start location: Kunming, Yunnan Province, China

Finish location: Kunming, Yunnan Province, China

Tour type: This is a partially self-supported tour. Luggage will be transferred between destinations, but there will be no support vehicle.

Geographical location: Southwest China Elevation range: 6,250 feet (1,900 meters) to 11,000 feet (3,250 meters)

Terrain: Flat, rolling and mountainous

Cycling tour level: Moderate to challenging - alternative transportation may be used if needed.

Total cycling distance: Approximately 259 miles (427 km): Average distance per ride day: 37 miles (60 km).

Days: 8
Climate: The best time to tour is in the Spring and Fall.

Group size: 1 - 8

Rental bike: Included.


Accommodations will be basic Chinese hotels generally of the 1-3 star variety. At least once it will be necessary to use a no-star hotel or guesthouse.

The prices are for double occupancy rooms, and will vary depending on the number of people who participate.

Private room supplement: US$ Call/Email

This tour is limited to no more than eight people. This will permit more flexibility in the program and allow more spontaneity for taking photos or exploring villages along the way.

Prices include the following:


1. All hotel accommodations for seven nights.
2. Meals eaten as group (private meals, snacks and alcoholic beverages are not included).
3. All group land transportation costs (buses, boats, and taxis) plus two flights (from Kunming to Shangri-La (Zhongdian) and from Lijiang to Kunming).
4. Transfer of luggage between destinations along the way.
5. All group entrance fees.
6. Rental bikes and related biking gear including helmets, gloves, bike bags and raincapes.
7. Bilingual bike tour guide to accompany the group throughout the tour.
This will be a partially-supported ride. This means that each rider will carry their day-gear on their bikes while luggage is transfered to each destination.

If you decide to do something on your own, you will be responsible for those costs.


Cost: Prices depend on the total number of people going on the tour and the time of year. Below are the price per person (pp) and quoted in US dollars (US$) for non-holiday periods*:
Group size:
1 person: - US$ Call/Email
2 people: - US$ Call/Email
3 people: - US$ Call/Email
4-8 people: - US$ Call/Email

* Holiday Periods require a 30% surcharge to the basic price due to increased costs of hotels and transportation. Tours with overlapping dates will be prorated. These periods are: Chinese New Year; Labor Day ; and National Day.
An announcement of the cost of the tour will be made to the group 45-days prior to the start based on the number of registered members.
A rental bike is included in the price.
A deposit of $500 per person is required. This is fully refundable up to 45 days prior to the start of the tour. Submission of a deposit will guarantee your place on the tour. Balance is due at least 45 days prior to the beginning of the tour and payable by credit card, wire transfer, or personal check.
---
Read some
---
Click here to send a note of interest or to request additional information
---
For general ride information that applies to all rides, please visit out FAQ (Frequently Asked Questions) and the General Info page.
---
Bike China Adventures, Inc.


Home | Guided Bike Tours | Testimonials | Photos | Bicycle Travelogues | Products | Info | Contact Us

Copyright © Bike China Adventures, Inc., 1998-2015. All rights reserved.