Bicycle Tour Description
Xinjiang Silk Road 16-Day Cycling Tour
Aksu to Hotan and Urumqi to Turpan
Dates: Contact us with the dates that work for you.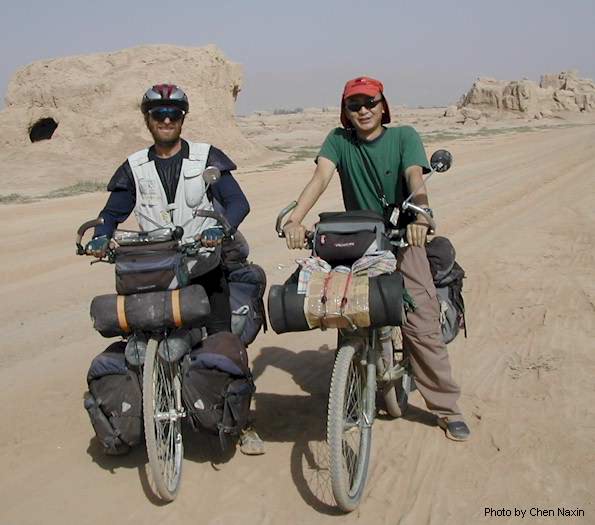 Xinjiang Silk Road 16-Day Cycling Tour
Aksu to Hotan and Urumqi to Turpan
Dates: Contact us with the dates that work for you.

This is a 16-day two-part vehicle-supported bicycle tour that begins in Aksu (aka Akesu) in northwestern Xinjiang and ends in Urumqi, the capital of Xinjiang. The first part of the tour involves cycling from Aksu to colorful Kashgar, where we will visit the famous Sunday market. Continuing southeast, the group will cycle to Hotan (aka Khotan and Hetian), the last major outpost before the expansive Gobi desert. The group will then fly to Urumqi and cycle to the Turpan depression (at -153 meters, one of the lowest areas on earth) and visit some of the rich historical sites in the area. The group will return to Urumqi by vehicle where the tour ends.
This is a moderate to challenging bicycle tour. A support vehicle will follow the group to carry luggage (and cyclists when desired.
Itinerary
Xinjiang Silk Road 16-Day Cycling Tour
Aksu to Hotan and Urumqi to Turpan
Day
Location
# of KM
Notes
XINJIANG AUTONOMOUS REGION
1
Aksu
0
Meet group members
2
Yijianfangdaoban
162
Small town
3
Xikeerkuqun
145
Small town
4
Kashgar
161
Arrive in this historic city
5
Kashgar
20
Rest day. Spend the day exploring Kashgar which may include the bazaar, Irslahan and Id Kah Mosques, and the Abakh Hoja Tomb
6
Kashgar
20
Rest day. Visit the historic Kashgar Sunday Bazaar
7
Yingjisha
65
Small town
8
Shache
124
Known for Aideles silk
9
Pishan
143
Known for pomegranate
10
Moyu
175
Small town
11
Hetian
28
Famous for silk carpets. May include a visit ancient city of Malikewate.
12
Urumqi
0
Evening flight to Urumqi. End of tour.
13
Dafancheng
85
Small town between Urumqi and Turpan.
14
Turpan
101
Arrive in the evening of this historic oasis town.
15
Turpan
40
Explore sights around Turpan which may include Atsana Grave, Gaoxchang Ruins, Bezeklik 1,000 Buddha Caves.
16
Urumqi
0
Explore sights around Turpan, which may include Karez Underground Irrigation Channels, Jiaohe Ruins, then return to Urumqi by bus in the evening.
17
Urumqi
0
Transfer to airport in the morning. End of tour.
Total Distance
1269 km
774 mi
Details
Dates: Contact us with the dates that work for you.
Start location: Aksu, Xinjiang Autonomous Region

Finish location: Urumqi, Xinjiang Autonomous Region

Tour type: Vehicle-supported
Geographical location: Northwestern China Elevation range: -505 feet (-154 meters) to about 5,000 feet (1,500 meters).

Climate: The best weather for touring is in the spring and fall. Chance of rain.

Terrain: Flat, rolling and mountainous

Cycling tour level: moderate to challenging

Total cycling distance: Approximately 774 miles (1,269 km): Average distance per travel day: 65 miles (106 km). Cycling may be supplemented on occasion with vehicle transport when necessary to reach the next destination before dark or to avoid cycling on long stretches of unpaved road.

Days: 16

Nights:16

Group size: 1-6

Accommodations will be basic Chinese hotels generally of the 1-3 star variety. On occasion it may be necessary to use a 0-star hotel.

Prices are for double occupancy rooms, and will vary depending on the number of people who participate. This tour is limited to no more than five people. This will permit more flexibility in the program and allow more spontaneity for taking photos or exploring villages along the way.

Prices include the following:


Price Includes:

Bilingual bicycle tour guide to accompany the group for the duration of the tour.
All hotel accommodations (double occupany) for 16 nights.
Meals eaten as group (private meals, snacks and alcoholic beverages are not included).
All group ground transportation costs (busses, boats, and taxis including to and from airports)
Four flights: Beijing-Urumqi, Urumqi-Aksu, Hotan-Urumqi, and Urumqi-Beijing.
All group entrance fees to attractions.
A support vehicle for transport of gear (and cyclists when needed).
Optional rental bike (US$150) and related biking gear including helmets, gloves, bike bags and raincapes.

If you decide to do something on your own, you will be responsible for those costs.
Bicycle rental is US$150. Provided are a bike, panniers, lock, gloves, raincape and helmet.
This will be a vehicle-supported bike tour.
If you decide to do something on your own, you will be responsible for those costs.
Cost: Prices depend on the total number of people going on the tour and the time of year. Below are the price per person (pp) and quoted in US dollars (US$) for non-holiday periods*:
Group size:
1 person: US$5,950
2 people: US$3,630
3 people: US$2,990
4-6 people: US$2,590




* Holiday Periods require a 30% surcharge to the basic price due to increased costs of hotels and transportation. Tours with overlapping dates will be prorated. These periods are: Chinese New Year (Feb. 7, 2008) from Feb 1-17, 2008 and (Jan. 26, 2009) from Jan. 19 to Feb. Feb.2, 2009; Labor Day Apr. 24 - May 10; and National Day Sep. 25 - Oct. 10.
A deposit of $500 per person is required. This is fully refundable up to 45 days prior to the start of the tour. Submission of a deposit will guarantee your place on the tour. Balance is due at the beginning of the tour.
---
Read some
---
Click here to send a note of interest or to request additional information
---
For general ride information that applies to all rides, please visit out FAQ (Frequently Asked Questions) and the General Info page.
---
Bike China Adventures, Inc.
Home
|
Guided Bike Tours
|
Testimonials
|
Photos
|
Bicycle Travelogues
|
Products
|
Info
|
Contact Us
Copyright © Bike China Adventures, Inc., 1998-2012. All rights reserved.