Tour Description
Western Sichuan 5-Day Bike Tour to Danba Tour
Dates: Contact us with the dates that work for you.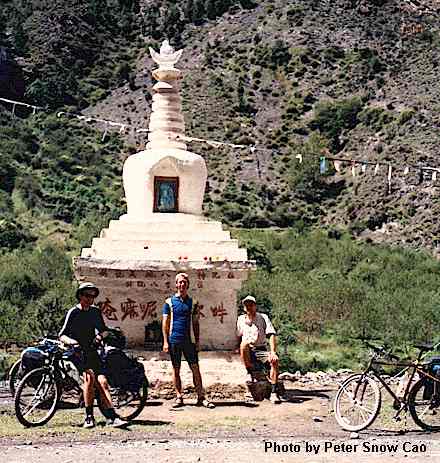 Western Sichuan 5-Day Bike Tour to Danba Tour
Dates: Contact us with the dates that work for you.

This 5-day bicycle tour begins and ends in Chengdu, the capital of Sichuan Province. This tour is designed as a moderate to challenging ride. Average daily cycling mileage will be about 37 miles (60 km). On some days we will use vehicle transport to supplement the cycling to get us to the next destination. Riders will carry their own luggage in their bike panniers. This tour will visit both well-known and little-known sights and will appeal to those who have cultural, social and geographical interests.
On the first day, the group will meet in Chengdu in the morning to transfer gear into panniers and store excess luggage at the hotel. Then we will take transport to the starting point 100 kilometers from Chengdu. This puts on a road leading into the Wolong Panda Reserve. We will spend the night at Wolong and visit the Panda Research Center.
The next day, the group will head up to Balangshan Pass through the Wolong Nature Reserve. The pass is at 4,550 meters (14,950 feet) above the tree line. Often yaks can be seen grazing on the slopes tended by Tibetan herdsman. At the top of the pass we will then coast down into a gorgeous valley to Rilongguan, at the base of Four Sisters Mountain.
The following day we will cycle (mostly downhill) to Xiaojin Xian where there is a Buddhist Temple, an Islamic Mosque and a Catholic Church where Mao spend some time on the Long March. In the afternoon the group will cycle to Danba, located on the Dadu River, a major tributary to the Yangzi. Along the way we will visit a lamasery and a Tibetan Buddhist Temple.
On the fourth day, the group will explore the area including some of the Tibetan Defensive towers the dot the hills around the town.
On the last day, we will return to Chengdu via bus to the pass, then cycle down to the highway where we will be transported by truck to Chengdu concluding the bike tour.
Bike Trip to Danba Travelogue and Photos
Itinerary
| | | | | |
| --- | --- | --- | --- | --- |
| Day | Location | Cycling Distance Miles/KM | Total Distance Miles/KM | SICHUAN PROVINCE |
| 1 | Chengdu/Wolong | 28/45 | 88/144 | Meet group members in Chengdu, then transport to start of ride to Wolong Nature Reserve |
| 2 | Rilongguan | 25/41 | 62/101 | Transport to the top of 4,550-meter (14,950-foot) pass then coast down to Rilongguan (3,100 meters, 10,200 feet) at the base of Four Sisters Mountain (snow-covered all year) |
| 3 | Danba | 73/120 | 73/120 | Explore Wori Feudal Lord Tower, Twin Bridge Gorge, Catholic Church, Islamic Temple, Buddhist Temple |
| 4 | Danba | 20/32 | 20/32 | Visit 500-year old Lamasery, Tibetan Temple and surround defensive tours in the hills |
| 5 | Chengdu | 48/80 | 218/358 | Bus to the pass, then cycle down through the Wolong Nature Reserve. Take vehicle transport to Chengdu. End of trip. |
| | Total Distance | 181/297 | 448/734 | |
Details
Dates: Contact us with the dates that work for you.

Start location: Chengdu, Sichuan Province, China

Finish location: Chengdu, Sichuan Province, China

Tour type: Support vehicle will not be provided for some of the tour - riders will carry their own gear.

Geographical location: Southwest China Elevation range: 2,380 feet (700 meters) to 14,950 feet (4,550 meters)

Terrain: Rolling and mountainous

Cycling tour level: Moderate to challenging - alternative transportation will be used when needed

Total cycling distance: Approximately 181 miles (297 km): Average distance per ride day: 37 miles (60 km) Cycling will be supplemented with vehicle transport on some days to reach the next point of interest

Days: 5 br> br> Nights: 5
Climate: The best weather for touring is in the spring and fall. Historic weather information is available from the link above.

Group size: 1 - 8

Private room supplement: US$180

Rental bike: US$0 - included in the cost of the tour.


Accommodations will be basic Chinese hotels generally of the 1-3 star variety. One night it will be necessary to use a simple guesthouse. The prices are for double occupancy rooms, and will vary depending on the number of people who participate. This tour is limited to no more than eight people. This will permit more flexibility in the program and allow more spontaneity for taking photos or exploring villages along the way.

Prices include the following:

1. Bilingual bicycle tour guide.
2. All hotel accommodations (double occupancy) for six nights.
3. Meals eaten as group (private meals, snacks and alcoholic beverages are not included).
4. All group transportation costs (vans, trucks, buses, and taxis) including to/from the airport.
5. All group entrance fees to attractions.
6. Transport of gear and cyclists when necessary. Riders carry their own luggage.
7. Travel insurance for the duration of the tour.
Bicycle rental is included in the cost of the tour. This includes a mountain bike with front suspension, panniers, lock, gloves, raincape and helmet.
This will be a self-supported ride. This means that riders will carry their luggage between destinations unless special arrangements are made. Please contact us for details.
If you decide to do something on your own, you will be responsible for those costs.
Tour Cost: Depends on the total number of people going on the tour and the time of year. Below are the price per person (pp) and quoted in US dollars (US$) for non-holiday periods*:
Group size:
Group size: 1 person: $1,550
Group size: 2 people: $1,310pp
Group size: 3 people $1,120pp
Group size: 4-8 people $990pp



* Holiday Periods require a 30% surcharge to the basic price due to increased costs of hotels and transportation. Tours with overlapping dates will be prorated. These periods are: Chinese New Year (Feb. 7, 2008) from Feb 1-17, 2008 and (Jan. 26, 2009) from Jan. 19 to Feb. Feb.2, 2009; Labor Day Apr. 24 - May 10; and National Day Sep. 25 - Oct. 10.
An announcement of the cost of the tour will be made to the group 45-days prior to the start based on the number of registered members.
A deposit of $500 per person is required. This is fully refundable up to 45 days prior to the start of the tour. Submission of a deposit will guarantee your place on the tour. Balance is due at least 45 days prior to the beginning of the tour and payable by credit card, wire transfer, or personal check.
---
Read some
---
Click here to send a note of interest or to request additional information
---
For general ride information that applies to all rides, please visit out FAQ (Frequently Asked Questions) and the General Info page.
---
Bike China Adventures, Inc.
Home
|
Guided Bike Tours
|
Testimonials
|
Photos
|
Bicycle Travelogues
|
Products
|
Info
|
Contact Us
Copyright © Bike China Adventures, Inc., 1998-2012. All rights reserved.