Tour Description
Western Sichuan - Pandas, Snowy Mountains, and the Tibetan Plateau 7-Day Bike Tour
Dates: Contact us with the dates that work for you.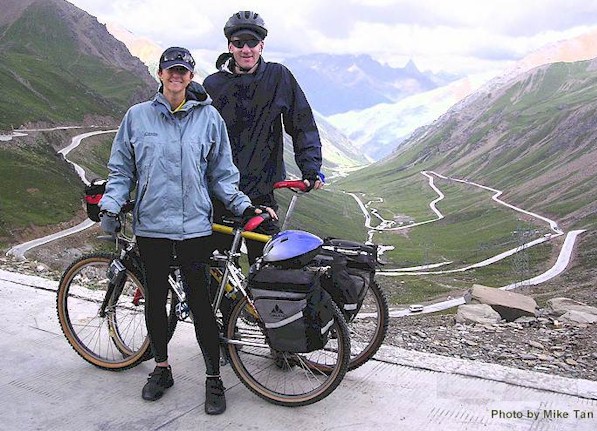 Western Sichuan - Pandas, Snowy Mountains, and the Tibetan Plateau 7-Day Bike Tour
Dates: Contact us with the dates that work for you.
This 7-day cycling tour begins and ends in Chengdu, the capital of Sichuan province. This tour is designed as a moderate to challenging ride. Average daily cycling mileage will be about 45 km or 27 miles. There will be a support vehicle to transport luggage (and cyclists when needed). This tour will visit both well-known and little-known sights and will appeal to those who have cultural, social, and geographical interests.
On the first day, we will take transport to tour the Giant Panda Breeding Research Center in the morning when they are the most active and we will have plenty of photo opportunities. Then we will take transport to Ya'an and then cycle to Baoxing in the valley leading to the Jiajingshan pass where the Long March crossed 50 years ago.
On the second day, group will head up to Jiajinshan Pass (partially using transport) through a Nature Reserve. The pass is at 3,850 meters (12,630 feet). Yaks can be seen grazing on the slopes tended by Tibetan herdsman. At the top of the pass we will then coast down into a gorgeous valley to Rilongguan, at the base of Four Girls Mountain.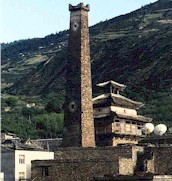 On the third day we will cycle (mostly downhill) first visiting the village Wori with an impressive defensive tower and then on to Xiaojin Xian where there is a Buddhist Temple, an Islamic Mosque and a Catholic Church where Mao spent some time on the Long March. The group will end up in Danba, located on the Dadu River, a major tributary to the Yangzi. Along the way we will visit a lamasery and a Tibetan Buddhist Temple.
The fourth day, the group will go from Danba and head southwest up to the of Bamei, then along the Tibetan Plateau to the village of Tagong partially using transport. There is a hot springs along the way and in Tagong there are a Tibetan monastery and temples in this color town.
On day five, we will go to Kangding, a well-known Tibetan town straddling a fast-flowing river. We will visit a Tibetan temple and soak in another hot-springs bath.
On the sixth day, we will cross over Erlangshan pass and return to the Sichuan Basin to the village Shangli located in a bamboo forest.
On the last day, we will cycle downhill from Shangli to another village called Pingle, where we will have lunch. Afterwards, the group will get transport back to Chengdu airport, concluding the tour.
Photos and Cycling Travelogue in Western Sichuan

Mark Jay's Bike Tour in Western Sichuan

Some Photos Highlights in Western Sichuan
Itinerary
| | | | | |
| --- | --- | --- | --- | --- |
| Day | Location | Cycling Distance KM/Miles | Total Distance KM/Miles | SICHUAN PROVINCE |
| 0 | Chengdu | 0/0 | 41/25 | Take Airport pickup and transfer to hotel |
| 1 | Baoxing | 50/30 | 183/112 | Take Visit Panda Breeding Center, then drive & cycle to Baoxing |
| 2 | Rilongguan | 50/31 | 195/119 | Partially using transport, head to Jiajingshan Pass (3,850 meters or 12,630 feet) then cycle down to Rilongguan at the base of the Four Girls Mountains. |
| 3 | Danba | 120/73 | 120/73 | Cycle mostly downhill to Danba stopping in Wori and Xiaojin to visit defensive tower, Tibetan and Buddhist Monastery and a Catholic Church. |
| 4 | Tagong | 50/30 | 129/79 | Partially using transport, cycle up to Bamei then across the Tibetan Plateau to Tagong |
| 5 | Kangdong | 50/30 | 111/68 | Continue across the plateau then down to Tibetan town Kangding bisected by a fast moving river |
| 6 | Shangli | 45/27 | 232/142 | Cross by over Erlangshan mountain back into the Sichuan basin and visit this ancient village in a bamboo forest |
| 7 | Chengdu | 40/24 | 88/54 | Cycle to the village of Pingle for lunch, then transport to the airport concluding the tour |
| | Total Distance | 306/187 | 1057/645 | |
Details
Dates: Contact us with the dates that work for you.
Start location: Chengdu, Sichuan Province, China

Finish location: Chengdu, Sichuan Province, China

Tour type: This is a vehicle-supported tour.
Geographical location: Southwest China Elevation range: 1,640 feet (500 meters) to 12,630 feet (3,850 meters)

Terrain: Flat, rolling and mountainous

Cycling tour level: Moderate to Challenging - a support vehicle provided and may be used when needed.

Total cycling distance: Approximately 187 miles (306 km): Average distance per ride day: 27 miles (45 km).

Days: 7

Nights: 7
Climate: The best time to tour is in the Spring and Fall.

Group size: 1 - 6

Private room supplement: US$190

Rental bike: US$0 (included).
Accommodations will be basic Chinese hotels generally of the 1-3 star variety. At least once it will be necessary to use a no-star hotel.

The prices are for double occupancy rooms, and will vary depending on the number of people who participate. This tour is limited to no more than eight people. This will permit more flexibility in the program and allow more spontaneity for taking photos or exploring villages along the way.

Prices include the following:


1. Bilingual bike tour guide to accompany the group throughout the tour
2. All hotel accommodations for seven nights
3. Meals eaten as group (private meals, snacks and alcoholic beverages are not included)
4. All group land transportation costs (van and taxis) including a support vehicle to accompany the tour
5. All group entrance fees
6. Rental bikes (US$0) and related biking gear including helmets, gloves, bike bags, and raincapes
This will be a vehicle-supported ride and may be utilized whenever needed.

If you decide to do something on your own, you will be responsible for those costs.

Cost: Prices depend on the total number of people going on the tour and the time of year. Below are the price per person (pp) and quoted in US dollars (US$) for non-holiday periods*:
Group size:
1 person: $2,680
2 people: $1,750 pp
3 people: $1,550pp
4-6 people $1,320pp


An announcement of the cost of the tour will be made to the group 45-days prior to the start based on the number of registered members.
A deposit of $500 per person is required. Submission of a deposit will guarantee your place on the tour. Balance is due at least 45 days prior to the beginning of the tour and payable by credit card, wire transfer, or personal check.
---
Read some
---
Click here to send a note of interest or to request additional information
---
For general ride information that applies to all rides, please visit out FAQ (Frequently Asked Questions) and the General Info page.
---
Bike China Adventures, Inc.
Home
|
Guided Bike Tours
|
Testimonials
|
Photos
|
Bicycle Travelogues
|
Products
|
Info
|
Contact Us
Copyright © Bike China Adventures, Inc., 1998-2009. All rights reserved.