Bicycle Tour Decriptions
Sichuan: Chengdu, Dujiangyan, Anren Huanglongxi 4-Day Bike Tour
Dates: Wednesday, July 10 to Saturday, July 13, 2013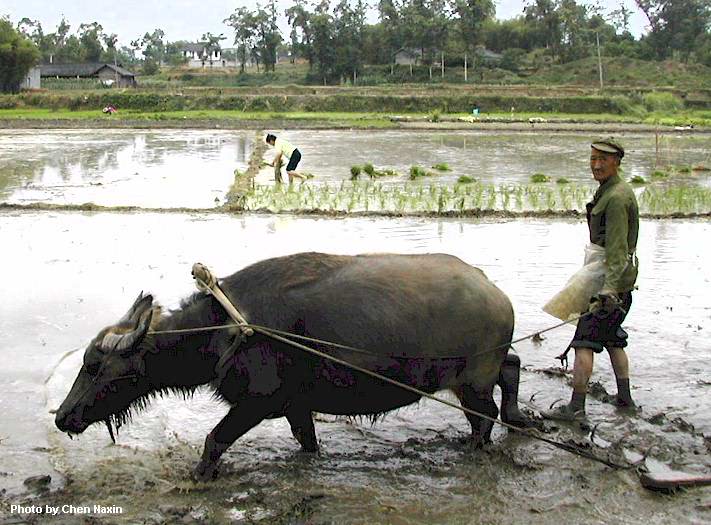 Sichuan: Chengdu, Dujiangyan, Anren Huanglongxi 4-Day Bike Tour
Dates: Wednesday, July 10 to Saturday, July 13, 2013
This four-day cycling tour begins and ends in Chengdu, Sichuan. This tour is designed as a moderate ride.

On the first day , we will meet the tour members at the Chengdu airport and accompany them to the hotel.
On the secondt day, the group will go to Dujiangyan by bus and visit the 2,500 year-old Irrigation System still in operation.
Afterwards, the group will cycle to Anren and visit a 1,700 year old monastery (called the Old Temple) along the way.
On the third day the group will visit a landlord manor used as for re-education of the masses during the cultural revolution and sporting a courtyard with over 100 life-sized clay statues depicting the cruelty of landlord and rent collection from the peasants. Then the group will cycle to Huanglongxi, an historic old town often used for period movie set.
On the fourth day, the group will cycle back to Chengdu on lovely road along a river and visit the unique Yellow Dragon Temple built on the side of a hill and a Chinese cemetery. Upon returning to Chengdu a transfer to the airport will be provided.
Itinerary and Tour Details


Sichuan: Chengdu, Dujiangyan, Anren Huanglongxi 4-Day Bike Tour
207 km - 126 miles


Day
Location
Cycling KM/Miles
Total km/miles
Notes

SICHUAN PROVINCE

1
Chengdu
0/0
0/0
Airport pick-up and transfer to hotel
2
Anren
92/56
111/68
Bus to Dujiangyan, explore the 2,500 year-old irrigation system, then cycle to visit the Old Temple (1,700 years old)
3
Huanglongxi
56/34
112/68
Visit Landlord Manor used for re-education during the Cultural Revolution. Cycle to Huanglongxi, an old village often used as a set of period movies.
4
Chengdu
20/12
20/12
Visit Huanglong Temple. Then cycle to back to Chengdu and airport transfer.
Total Distance
207 km
126 miles
277 km
169 miles
Details
Chengdu, Dujiangyan, Anren Huanglongxi 4-Day Bike Tour

Dates: Wednesday, July 10 to Saturday, July 13, 2013

Start location: Chengdu, Sichuan Province

Finish location: Chengdu, Sichuan Province

Tour type: Vehicle-supported - Riders will carry only their day-use luggage. A support vehicle will follow the group.

Geographical location: Southwestern China. Elevation range: 500 meters (1,640 feet) to 1,500 meters (4,920 feet)
Climate: The best weather for touring is in the spring and fall. Historic weather information for Chengdu is available from the link below. Higher elevations will be cooler.


Terrain:Rolling and mountainous

Cycling tour level: Moderate

Total cycling distance: Approximately 207 km (126 miles): Average distance per travel day: 67 km (42 miles) Cycling may be supplemented on occasion with vehicle transport when necessary.

Days: 4
Nights: 3

Cycling Days: 3

Group size: 1-8

Accommodations: Basic clean Chinese hotels.

Prices include the following:

Bilingual bicycle tour guide.
All hotel room accommodations (double occupancy) for two nights.
Meals eaten as group (private meals, snacks and alcoholic beverages are not included).
All group transportation costs (van).
All group entrance fees.
Bike Rental (US$0) includes bike, panniers, lock, raincape, gloves and helmet.
If you decide to do something on your own, you will be responsible for those costs.
Cost: Prices depend on the total number of people going on the tour and the time of year. Below are the price per person (pp) and quoted in US dollars (US$) for non-holiday periods*:
Group size:
1 person US$940pp
2 people US$810pp
3 people US$750pp <<-- price per person for the next registrant
4-8 people $600pp
Rental bike: US$0.
An announcement of the cost of the tour will be made to the group 45-days prior to the start based on the number of registered members.
Current Registrations
There are two people registered as of
A payment of $500 per person is required at the time of registering. This is fully refundable up to 45 days prior to the start of the tour. Submission of a deposit will guarantee your place on the tour. Balance is due at least 45 days prior to the beginning of the tour and payable by credit card, wire transfer, or personal check.
---
Read some
---
OR
Click here to send a note of interest or to request additional information
For general ride information that applies to all rides, please visit out FAQ (Frequently Asked Questions) and the General Info page.
---
Bike China Adventures, Inc.
Home
|
Guided Bike Tours
|
Testimonials
|
Photos
|
Bicycle Travelogues
|
Products
|
Info
|
Contact Us
Copyright © Bike China Adventures, Inc., 1998-2012. All rights reserved.