Tour Description
North and South China
Beijing, and Guangzhou to Guilin
10-Day Bike Tour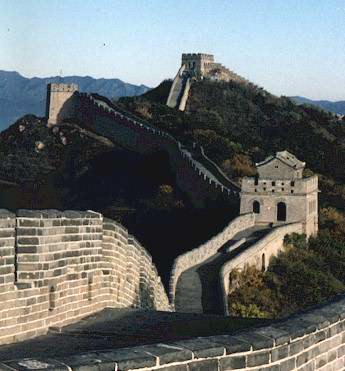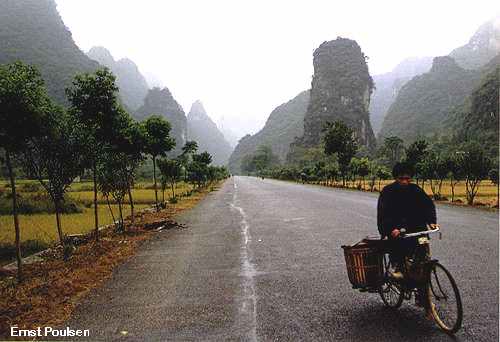 North and South China
Beijing, and Guangzhou to Guilin 10-Day Bike Tour
Dates: Contact us with the dates that work for you.
This 10-day bike tour hits the highlights of Beijing visiting the Great Wall, Forbidden City and Tian'anmen Square and then flying to Guangzhou and traveling overland via bike and vehicle to Guilin, home of the classic Chinese karst landscape.
The tour begins in Beijing where your guide will meet you at the airport and accompany you to the five-star Palace Hotel, one of Beijing's finest. The first day will be spent getting you settled in Beijing with sight-seeing activities depending on how you feel. On days two and three we will visit the Great Wall, Forbidden City, and Tian'anmen Square.
One the fourth day, the group will take a morning flight to Guangzhou (2 hours 45 minutes) in the morning. You will stay at the five-star White Swan Hotel on Shamian Island on the Pearl River, a quiet oasis in this bustling city. In the afternoon we will take a walking tour of Qingping market and then a night cruise on the Pearl River.
On the fifth day we will take transport from Guangzhou 30 km west to Sanshui where we will start cycling to Zhaoqing along the West River. At Zhaoqing, there will be an opportunity to visit the Seven Star Crags Park, in Deqing we will visit the Sanyuan Pagoda and in Wuzhou we will visit China's largest snake repository as well as the Western Bamboo Buddhist Temple/Nunnery.
On days 8-10, we will be in picturesque and laid-back town of Yangshuo where the cone-shaped limestone karst hills spring up from the surrounding plain. We will visit Moon Hill, an old fishing village, and go for a night cruise on the Li River to watch cormorant night fishing. On the tenth day we will escort the group to the Guilin Airport concluding the tour.
See some Photo Highlights of
Guangdong Province and Guangxi Province
Itinerary and Tour Details


North and South China
Beijing, and Guangzhou to Guilin 10-Day Bike Tour
Route Map

Day(s)
Location
# of Miles/KM
Hotel
Notes

BEIJING

1-3
Beijing
12/20 per day
Palace Hotel
5-star
5-Star Palace Hotel - Your guide meets you at the airport. Transfer to hotel. Explore rapidly disappearing old Beijing hutongs (alleys) on classic Chinese single-speed bikes (Phoenix, Flying Pigeon). Visit the Great Wall, Forbidden City and Tianan'men Square.

GUANGDONG PROVINCE

4
Guangzhou
0/0
White Swan
5-star
Fly to Guangzhou in the morning. Walking tour of Qingping Market and night cruise on the Pearl River.
5
Zhaoqing
43/69
Dynasty Hotel
3-star
Take transport to Sanshui, 30 km west of Guangzhou and then cycle to Zhaoqing. Visit Zhaoqing's Seven Star Crags Park
6
Deqing
64/102
New Lido Hotel
3-star
Visit the Sanyuan Pagoda

GUANGXI PROVINCE

7
Wuzhou
53/84
Dongxing Hotel
3-star
Visit the largest Snake Repository in China and the Western Bamboo Buddhist Temple/Nunnery
8-10
Yangshuo
132/212
Paradise Resort
3-star
Travel to Yangshuo by bus. Heart of the Karst Hill Scenery: visit Moon Hill, old fishing village, view cormorant night fishing on the Li River. Transport to Guilin Airport by vehicle for connecting flights home or next destination.
Details
Dates: Contact us with the dates that work for you.

Start location: Beijing

Finish location: Guilin, Guangxi Province

Tour type: Vehicle-supported - riders carry their own luggage. Transport will be provided for riders and gear throughout the tour. (Note: This tour is also available without a support vehicle at a reduced cost.)

Geographical location: North China, Beijing and South China Elevation range: 160 feet (50 meters) to 3,600 feet (1,100 meters).
Climate: The best weather for touring is in the spring and fall. Chance of rain. Historic weather information for Beijing, Guangzhou, and Guilin is available from the links below.


Terrain: Flat and rolling.

Cycling tour level: Easy.

Total cycling distance: Approximately 329 miles (527 km): Average distance per travel day: 33 miles (54 km) Cycling will be supplemented with vehicle transport.

Days: 10

Cycling Days: 8

Group size: 1 - 8 people

Accommodations: Will be five-star or the best available.

The prices are for double occupancy rooms, and will vary depending on the number of people who participate. Single room supplement: US$ Call/Email

This tour is limited to no more than eight people. This will permit more flexibility in the program and allow more spontaneity for taking photos or exploring villages along the way.

Prices include the following:


1. Bilingual bicycle tour guide.
2. All hotel accommodations (double occupancy) for nine nights.
3. Meals eaten as group (private meals, snacks and alcoholic beverages are not included).
4. All group transportation costs (buses, boats, and taxis) including to/from the airports.
5. All group entrance fees to attractions.
6. Transport of gear and cyclists when necessary.
Bicycle rental is available and includes bike, panniers, lock, gloves, raincape and helmet. Beijing bike rental will be on standard single-speed Chinese bike such as the Flying Pigeon or Flying Phoenix.
This will be a vehicle-supported ride. This means that a vehicle will carry the luggage (and riders on occasion) between destinations. Please contact us for details.
If you decide to do something on your own, you will be responsible for those costs.
Cost: Prices depend on the total number of people going on the tour and the time of year. Below are the price per person (pp) and quoted in US dollars (US$) for non-holiday periods*:
Group size: 1 person: US$ - Call/Email
Group size: 2 people: US$ - Call/Email
Group size: 3-4 people: US$ - Call/Email
Group size: 5-8 people: US$ - Call/Email

* Holiday Periods require a 30% surcharge to the basic price due to increased costs of hotels and transportation. Tours with overlapping dates will be prorated. These periods are: Chinese New Year; Labor Day ; and National Day.
An announcement of the cost of the tour will be made to the group 45-days prior to the start based on the number of registered members.
A deposit of $500 per person is required. This is fully refundable up to 45 days prior to the start of the tour. Submission of a deposit will guarantee your place on the tour. Balance is due at least 45 days prior to the beginning of the tour and payable by credit card, wire transfer, or personal check.
---
Read some
---
Click here to send a note of interest or to request additional information
---
For general ride information that applies to all rides, please visit out FAQ (Frequently Asked Questions) and the General Info page.
---
Bike China Adventures, Inc.
Home
|
Guided Bike Tours
|
Testimonials
|
Photos
|
Bicycle Travelogues
|
Products
|
Info
|
Contact Us
Copyright © Bike China Adventures, Inc., 1998-2015. All rights reserved.