Do you have a China cycling travelogue you would like to share here?
Contact us for details.
---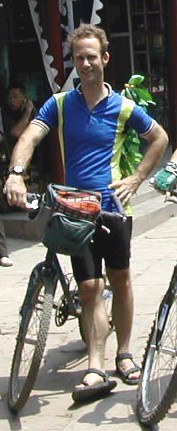 Peter Snow Cao
Tales of Cycling in China
Copyright © Peter Snow Cao, 2002.
A Bicycle Trip from Chengdu to Xi'an, China
The following is one of several a short articles about my experiences bicycling in China. Enjoy.
---
I seem to have the travel bug lately. After my trip to Hailuogou Park, I took another solo bike tour from my home in Chengdu to Xi'an last week and have the following report.
As I only had a week and wanted to be in the mountains as much as possible, I jumped on a bus from Chengdu to Jiangyou, about 140 km north of Chengdu. Jiangyou lies at the foothills to the mountains and is on the back road to Jiuzhaigou. The roads were in good condition (those that weren't under construction), until I got into uncharted territory. I rode about 30 kilometers north until dark and hunted for a hotel.
Unfortunately, there was only one around and from the comments, winks and gestures, it wasn't what I was looking for. A dim red light was the only illumination through a dark hallway. I found a tall thin man about 25 greeted on the second floor. He was sitting with six young women, some of who were smoking. I told him I wanted a room for the night. He asked me if I wanted a "xiaojie", but I told him no, I was tired after a long day of cycling and just wanted to sleep. He showed me a room that was flimsily partitioned into three closet-sized "rooms" with wall not reaching the ceiling. One of the sections appeared to be one of the girls' bedroom.
Everything was quiet as a church and I thought I might luck out and get a good night's sleep until about 11:30 PM when several trucks pulled up. Soon the ubiquitous sound of karoke throbbed in my head, and the evening started to pick up. The girl in the room next to mine had also gone to sleep, but the boss came in and told her she was needed. Some time later she came back with her first john, and she told him all about the foreigner next door who was cycled here. They thought that was hilarious. Pretty soon the third section was occupied and everybody had a fine chat while doing their thing. Having never been to a bordello before, it was an eye-opening experience. Things finally settled down about 4 am.
The next day I got up pretty groggy about 8 AM and got out of there as fast as I could. The road continued to climb into the hills and I was reaching the end of the lines on my map. I was wondering if I would have to turn back, but all questions to the locals indicated there was a road. At the last town on the paved road, I again questioned the locals about a road and while they assured me there was one, the restaurant owner warned me it was "lanlu", sodden, muddy road.
Boy, she wasn't kidding. For the next 60 kilometers, I was up to my ankles in water, clay and rocks on one of the toughest roads I had ever been on. Some sections were 10 inches deep in a quicksand type of mix where only 4WD Beijing jeeps and an occasional dump truck passed. And to make matters worse, it rained about half the time. After 50 grueling kilometers, I came to a village and asked about getting some food. The people seemed astonished to see me. They fed me and refused to take any payment for the food. They said I had 12 kilometers to go until I reached Xiashiba where I could find a hotel. After experience the night before and today's hellish ride, I was really looking forward to a long hot shower and a quiet night's sleep.
I had about 2 hours to go before dark, so after my meal I stopped at one of many mini waterfalls and cleaned up myself and my bike. Little did I realize it was premature. The road was undergoing massive reconstruction from many washouts. It appeared there had been no vehicles using it for quite some time as the grass was going in the road. One place had a new bridge just starting construction. Fortunately, traveling by bike allowed me to continue by using the footpath used by the locals. As I reached the village of Xiashi near dusk, I could see my destination across the river. There was yet another huge roadway project underway, and it was difficult to see which way to go. I asked several people as I went and they continued to point me to a bridge. However, getting the to bridge was extremely difficult. The mud and clay was now more than a foot deep, and my wheels were getting jammed from the mud in the fenders. Also, the bridge was sealed off from use since they had just poured a layer of concrete across the entire width. I returned back to the village and was looking for another way to Xiashiba and my dream hotel room.
By now it was pitch dark, and the lack of lights combined with the mud, water and difficulty in pushing the bike left me breathless. I asked some people back in the village how do I get across, and they said I can't. I told them I need to get to the hotel and again asked about the way. A man about 28 told me to come up to his house to sit for a bit. His family gave me a chair, and asked me the usual 20 questions. Pretty soon they were making me some food, and then prepared a room for me giving me their bedroom and moving into their living room. I was exhausted from the ride, and extremely grateful to have come into their generous hands. It seems to me, that those who have the least to give are the most generous.
I slept like a rock, and woke up early with the family who prepared an enormous breakfast for me. I tried to show my gratitude by giving the baby some money, but they wouldn't hear of it. I was shown the way out to the highway, and saw that Xiashiba was only accessible via ferry while the bridge was being built.
I was thrilled to be back on pavement, and even the blasts from the trucker's air horns didn't phase me for the first hour. At the first roadside mini waterfall, I again stopped to clean up. This time I washed everything; me, the bike the panniers, and my laundry. While I was doing this a young man came up to also use the water, but I didn't see him until he was right behind me. He scared me so much I screamed and jumped back. My reaction scared him as well and it took a while for us both to catch our breaths. In perfect Mandarin (not the local Sichuan dialect) he asked me about the usual things. I asked him about where his home was and he told me he has no home or family. He walked along the road, looking for food and places to sleep. He was extremely polite. He told me he didn't have any money, so I gave him some.
I continued northeast toward Guanyuan. North of town on Highway 108 I came across a Buddhist temple with a multitude of grottos cut into the rock face. There are apparently over 7,000 sculpted figures some of which suffered from the Cultural Revolution, but many are still in good shape. I recommend visiting it to anyone in the area.
The road from Guanyuan north for the next 80 km is a new high-standard highway. The day I rode on it had almost no traffic because of a massive landslide further up the road. I turned off the new highway to Chaotian to spend the night. Here the old highway is still in use and has dramatic cutouts into the mountain overhanging the road. This is known as "The Ancient Road to Sichuan" from Xi'an. After a restful night in Chaotian, I continued up, up, up the old road. There are several lengthy climbs in this area, and on the old section the road is narrow. About midway between Chaotian and Mianxian (my next overnight stop) I passed the location of the landslide just as it was opening up. It must have been closed for some time because the trucks where lined up for miles and miles in both directions. Back on the road with horns blaring was a big change from the peaceful mountain roads I had grown used to up to this point.
The rest of the ride was fairly uneventful, with the notable exception of Hanzhong in Shaanxi Province. This was the noisiest town I have ever been in. Everyone in or on a motor vehicle was constantly using the horn. What a racket.
From Hanzhong to Xi'an, I took a bus do to lack of time. I spent a two days exploring Xi'an and then returned to Chengdu by train. I was excited to find out that, despite information to the contrary in some guide books, it is possible to put the bike on the same train as you and have it arrive at the same time as I. This opens up a whole new set of traveling options for the future.
---
Other Articles
Today, I Met a Chinese Bicycle Master April 1999
Bicycling in China Aug 1999
A Bike Trip to Hailougou National Park, Gonggashan, Sichuan China September 1999
Cycling in Chengdu, China May 2000
Tonight, I Met Another Chinese Bicycle Master July 20, 2002
---
---
Bike China Adventures, Inc.
Home | Guided Bike Tours | Testimonials | | Photos | Bicycle Travelogues | Products | Info | Contact Us
Copyright © Bike China Adventures, Inc., 1998-2012. All rights reserved.