Do you have a China cycling travelogue you would like to share here?
Contact us for details.
---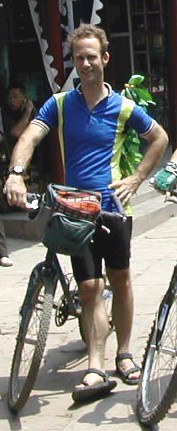 Peter Snow Cao
Tales of Cycling in China
Copyright © Peter Snow Cao, 2002.
A Bike Trip to Hailougou National Park, Gonggashan, Sichuan China
The following is one of several a short articles about my experiences bicycling in China. Enjoy.
---
I took a bike trip a few weeks ago to Kangding, Luding and Moxi west of my home Chengdu in Sichuan Province, China. The area was lush green from recentrains and the weather bright and clear in sharp contrast to the perpetually gray Chengdu skies (28% sunshine is the official take on it, but I think it is grossly overstated).
The trip via Erlangshan Pass is not for the faint of heart, or for civil engineers. While the road is being upgraded to a concrete surface, erosion continues the battle for supremacy. Wash outs, landslides and under cutting erosion left many sections of road in serious jeopardy.
The rule of thumb for the drivers seems to be drive on at all costs. Several trucks could be seen down the embankments along the way. Also, the recent rains loosened material above the roads with boulders dropping in front of me as I rode along. I also saw the recent results of someone not so lucky. A motorcyclist was apparently struck in the head with a boulder, killing him and scattering body parts. Gruesome sight.
The bike ride from Kangding to Luding was a delightfully 50-km downhill ride along side a tributary to the Dajin River. About halfway to Luding there is hydroelectric diversion dam being constructed. I spoke with the engineer who told me that the bulk of the river will be diverted to a six-kilometer tunnel with a hydro plant at the base to generate 1.65 million kW. After its completion next year, the tributary will be nothing but a trickle down stream of the dam.
From Luding to Moxi is about 50 km. There are several bridges crossing the Dajin River (including the historic Luding Bridge from the annals of the Long March), but most are accessible only by bicycle, motorcycle and foot. A new steel arch bridge is currently under construction near Maoziping (about 30 km south of Luding), and from the extensive road and hotel constructiongoing on in the area, it appears it will soon be bustling with tour buses. The reconstructed road from Maoziping to Moxi (the town at the entrance to the Hailuogou Park) is nearing completion.
I was warned all along the road to Moxi that the road was closed and I could not get through. However, I have learned from experience, that it is best to see for myself before admitting defeat. When I visited, there was an active landslide about 10 km from town. No motor vehicles were able to pass, only an occasional pedestrian. There were vehicles on both sides waiting to shuttle people between the next landslide. The landslide had covered the road with its fallout and rocks continued to rain down from above at a fairly steady rate.
One road worker was there with a hard hat and told me he would carry my bike across the landslide for a mere 50 yuan. While I could appreciate that the job did indeed warrant hazard pay, a week's pay for a two-minute job hardly seemed justified. We settled on 10 yuan. He hoisted the bike up on his shoulders and took off barefoot across the landslide with me right behind him. We waited a bit for a lull in the falling rocks and then scampered across the landslide praying that we wouldn't get hit. The mound covering the road was sloped at about a 45 degree angle and from a distance appeared to be slippery and unstable.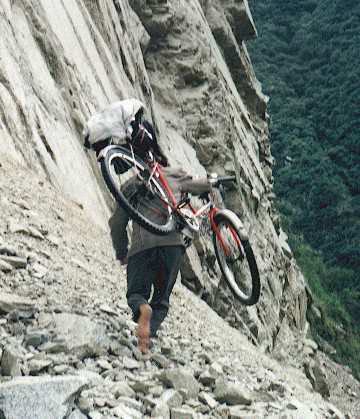 However, it turned out to be firm and easy to cross. Once on the other side, I learned I paid twice as much as I should have, but I was happy to be there safe and sound.
The good thing about landslides is that they reduce road traffic dramatically. The ride up to Moxi was delightfully quiet.
The next day I wanted to visit the Hailuogou Glacier, but didn't have the time to cycle up there. I considered going by pony, but it is too long a trip to do it in one day. Also, the pony operators have virtually disappeared due to the construction of a new road from Moxi to Camp Number 3 (sanhao yingdi). I hired a motorcycle and driver for the trip 80 yuan for eight hours. The road from Moxi to Camp Number 3 is 36 kilometers. A mudslide along the way closed the road to four-wheelers, but my scrappy driver and I were able to carry, push and shove his motorcycle over the mud to continue the ride up the mountain. Supposedly the 50-yuan park entrance fee included a guide to the glacier, but when I was there, I was left to explore on my own. I spend a few hours climbing around and on the glacier very cautiously as I knew that if I dropped into a crevice, I might not ever get out.
Gonggashan is the highest mountain in Sichuan at 7,554 meters, and is typically hiding in clouds most of the time. However, my visit musthave been charmed as while I was taking a break and getting ready to head back, the clouds parted for a spectacular view of the peak.
Lightening bright white against cobalt blue sky. I had read that a view of Gonggashan is worth ten years of mediation. I believe it.
On the way down, I stopped at Camp Number 2 to try the hot springs. This camp along with the other two is also undergoing construction of hotels. There were outdoor hot spring baths nearing completion, and once completed the flow of scalding hot water currently pounding the rock will be diverted to tamer uses, and undoubtedly high prices.
---
Other Articles
Today, I Met a Chinese Bicycle Master April 1999
Bicycling in China Aug 1999
Bike Trip from Chengdu to Xi'an, China October 1999
Cycling in Chengdu, China May 2000
Tonight, I Met Another Chinese Bicycle Master July 20, 2002
---
---
Bike China Adventures, Inc.
Home | Guided Bike Tours | Testimonials | | Photos | Bicycle Travelogues | Products | Info | Contact Us
Copyright © Bike China Adventures, Inc., 1998-2012. All rights reserved.