Do you have a China cycling travelogue you would like to share here?
Contact us for details.
---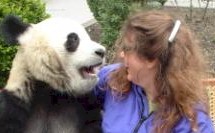 Danielle R. Reed
Cycling in Western Sichuan
Copyright © Danielle R. Reed, 2002.
Part 2
---
Hill People, Town People.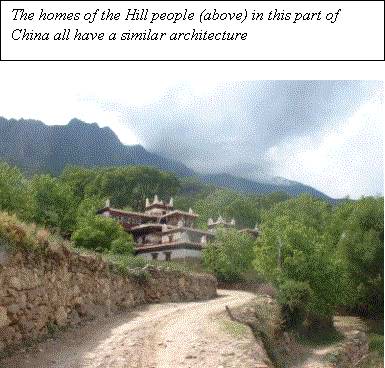 In the rural regions near Chengdu, there are native people wearing traditional dress and they worked on plots of land and raised vegetables, fruit, chickens and pigs. These people are referred to as "Hill People" or sometimes, more sinisterly, as "Trouble People". Walking through small towns, it appeared that people in native dress and those in ordinary dress spent time together in small groups. Older women wore native dress in higher proportions compared with younger women. It appeared to me that generational differences may be a source of tension within the Hill People, as young men and women leave the Hills and move into the city. I compared the Hill people to the Amish people near where I live in America. The Amish are a community who support themselves on farms, follow a religious code and live apart from mainstream American culture. The comparison may be nonsensical to those who know more history of the Hill people, but that is how it looked to me.
Spitting and poop and BYOTP.
No description of rural China would be complete without a discussion of spit and poop, and to summarize the situation, there is too much of both. The men living in rural China and the small towns smoke cigarettes constantly—so much so, I found myself wondering whether the air pollution was caused solely from tobacco combustion. And because all the men smoke (at least this is my theory), they have respiratory infections and spit phlegm constantly, even in restaurants with linoleum floors, even in buses, and on the floors of the hotels, where you can see the dark outlines of dried spit. Women also spit, with gusto and precision. While I am on the subject of sanitation, I want to discuss toilets. I drank very little water and tea in China to avoid having to use the bathroom. The bathrooms have poop smeared on the floor and piles of damp used toilet paper everywhere, and would usually have a hole in the floor that you would squat over. The toilets looked bad and smelled worse. I learned to stuff my nostrils with strips of "moist towelettes" brought from the U.S. before entering a bathroom, and found that I could use the bathroom much better if I didn't have to smell the fecal brine. Even in the more modern hotels, the bathrooms are not cleaned, and I longed to scrub every toilet I saw with bleach until my hands bled.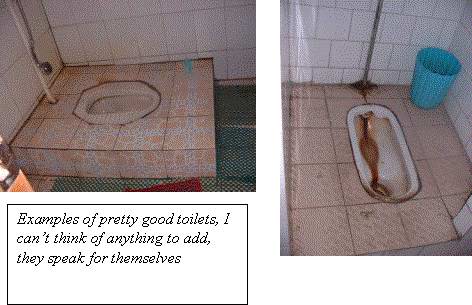 If you are going to use the toilet, bring your own toilet paper. Upon opening my purse, wads of unused tissues and napkins would fly out in a disordered mass—everywhere I went, I collected tissue for use as toilet paper. Here is another shocker: used toilet paper does not go in the toilet, but rather in a basket next to the toilet. Nothing should be put into the toilet that you don't want to see floating in the river. There are no sewage treatment plants in the parts of China I visited other than the cleansing power of the river. And as a side note, I never saw anyone wade or swim in the river. I tried not to think about where the fish lived prior to ending up on my dinner plate.
And so what about the bike?
People who choose to travel in a foreign country by bicycle are often an odd lot, perhaps only unified by personality traits such as independence and the love of detail seen at a slower pace. Therefore, I would suspect that most American and Europeans who have a taste for a bike tour in China are not candidates for a "bike tour" organized by a professional because they like to do things their own way, at their own pace. As you might expect, my first inclination was to do a self-guided, self-supported tour. However, after communion with my more mature self, I realized that to bike in rural China, alone, female, white, and speaking almost no Mandarin, was more than I could do. And so I signed on for an organized tour, which, because no one else opted to come along with me, was composed of Mee Huang, my guide and I, so in some ways I had the best of both worlds: freedom to do anything that we could both agree to, someone to speak Mandarin and navigate the more difficult transactions, and company with someone who also loves to ride her bike.
If you are interested and have read this far, you will be wondering whether an organized tour is for you. What I learned from my experience is that it is probably physically possible to bike most places in China, but that there are few routes that are beautiful, safe and able to teach you about the Chinese way of life. To find a route that you will enjoy at least part of the time, you need to rely on local opinion from someone who understands your values. In my case, Peter Snow Cao organized the trip, and it would be hard to imagine a more ideal tour for me—along a beautiful and lightly traveled road, up into the mountains, and into the shadow of Tibetan culture. There was plenty to see and no other tourists in sight, and I never would have found the route on my own.
Is it dangerous to bike in China?
Even on a carefully selected route, Chinese roads are deadly—in eight days, we saw three serious accidents. If you are hit and killed, that makes you only one of many people that day who died on their bicycle. The drivers are generally skilled and not at all malicious, which made a change from the U.S. countryside, but anything can and does happen on the roadways. To say accidents, fatal accidents, are common is to indulge in understatement. If you are hit but not killed outright, there are no medical facilities that Americans would recognize as such, and my guess is that some types of trauma would be fatal in China whereas the same trauma would not be if you were injured in the US. Reading this from the safety of your home country, you may be inclined to scoff, but I developed a healthy respect for the hazards of bike riding in China, and it is not overly dramatic to say that death lurks around each corner. Even though you will be the only one doing so in the whole country, wear your helmet.
The philosophy of beep.
In China, when a vehicle passes you, either on your right or on your left, they are legally required to honk. If you are an American or European, you might imagine that the constant "beep, beep" sounds annoying, but in fact, it serves as a reliable warning of what is happening behind you, and is an assurance that the driver has seen you, and intends to pass you safely. I learned to love the constant beeping, I was safe because it felt like lines of constant communication were open between the driver and I. When someone in the U.S. honks at me while I am riding my bike, it makes me so angry I often shout or at least make an impolite gesture, but not so in China.
---
Danielle R. Reed - Cycling in Western Sichuan: Part 1 | Part 2 | Part 3 | Part 4
---
---
Bike China Adventures, Inc.
Home | Guided Bike Tours | Testimonials | | Photos | Bicycle Travelogues | Products | Info | Contact Us
Copyright © Bike China Adventures, Inc., 1998-2012. All rights reserved.