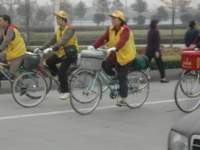 Chengdu local bike club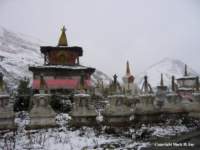 Stupas at Tagong Monastery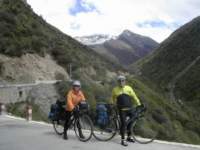 On the road near Four Girls Mountains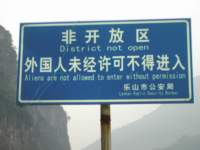 Closed area in Sichuan
TESTIMONIALS
Jason,
Thanks so much for showing me your country! This was an amazing week, and I'm proud of all the miles and hills and new foods and all I learned about language and culture and history. Most of all I'm glad to have you as a friend--I'm honored you took the week to guide me on this trip, when you had other things going on, and I'm ever grateful for all you've taught and given me. Here's a testimonial you can use on your website (if any more are still needed--I wasn't surprised to see you already have a lot!):
"From the moment he shook my hand in the Chongqing airport, I understood of Jason Gu: here, as we say in Yiddish, is a 'mensch.' I knew it would be safe to trust him; the unsupported, two-person ride I had planned was ambitious and perhaps foolhardy, but with Jason around, I was confident we would make it. In fact, it worked out perfectly: we had two challenging days, three moderate days, two days on boats (Jason's quick thinking and on-the-spot research saved what could have been a disaster when it was pouring on a day we needed to get way downriver) and a rest & travel day. Jason gave me the best introduction to today's China I can imagine--he served as culture & history guide, language tutor, interpreter and translator, open-minded political theorist during beer-fueled discussions, and bike mechanic, in addition to his duties arranging routes, meals, snacks, and lodging. I'm so glad he taught me how to pick good local places to eat, and that I rose to the challenge with hot pot and 1000 Year Eggs. All in all, Jason made possible for me the adventure of a lifetime and a week I will never forget."
Jonathan D.,U.S.A., Three Gorges Yangtze River 8-Day Cycling Tour Chongqing to Yichang May 2013
---
PretourService = Good
pretourservicecomments = My friend set it up directly with Jason and I wasn't personally so involved, but seemed everything was arranged well. Jason and the driver waited at least 8 hrs at the airport because our plane was late so good service and commitment by them. Overall seemed everything was prepared well.
Hotels = Good
hotelcomments = Note that I don't give "excellent" on anything not because it wasn't but because there is always room for some improvement somewhere. I'm also not going to get too picky with the comments though.
Food = Good
foodcomments = Very good in fact and Jason was very accomodating and asked us first about a lot of things to see if okay or to get our opinion.
Route = Good
routecomments = Having pavement was good and on no point were we on dirt or mud roods. The less large trucks and busses the better obviously but tough to do away with completely in China.
Sights = Good
sightscomments = Sights were fine and okay for being interesting. Were not sucked into tourist traps where we felt like we had to buy anything (this would have disappointed me).
Guide = Excellent
guidecomments = Jason I give an excellent to. He was very well prepared, thorough, patient, and informative. Also open to our schedule and what we wanted to see/do/eat/etc.
Russell W., U.S.A., Guilin 3 Day Tour, March 2013
---
Food = Good
foodcomments = Jason really took good care of us. The food in the small mountain hotel and at his sister-in-law's house (made by his wife) was really excellent.
Guide = Excellent
guidecomments = Super excellent!
RentalBike = Excellent
rentalbikecomments = Very good quality, good shifting, locking suspension!
Recommend = Yes
AdditionalComments = Jason's attitude and his real easy way to be just spot-on, made the biggest difference, this is way better than the other bike tour I made. There's really no judgmental feeling or anything, we got our holiday the way we wanted it. Really special ability on his part.
Samson P., U.S.A.,Guilin 3 Day Tour, March 2013
---
Sights = Excellent
sightscomments = The best day was riding from the Hidden Dragon Inn to Guilin.
Guide = Excellent
guidecomments = Jason Gu is an outstanding, experienced guide because he cares about keeping everyone happy. He is kind, well organized and has great attention to detail.
Recommend = Yes
AdditionalComments = Thank you Peter for organizing a wonderful second tour of China for us.
Jan&Jerry Z., Guilin 18 Day Loop Tour, October 2012
---
guidename = JasonGu
PretourService = Excellent
pretourservicecomments = Had some unexpected issues obtaining my visa (because of a requirement to list every hotel I would be staying in for the duration of the trip) but Bike China provided me with the info I needed very promptly
Food = Good
foodcomments = Jason always found good places to eat and introduced us to new things (e.g. thousand year eggs - loved them!)
Route = Good
routecomments = Loved the variety - every day was like riding into a new country. One particular descent was one of the most exhilarating things I've done on a bike - 77kph, surrounded by some of the most dramatic scenery I've ever witnessed.
Sights = Good
sightscomments = Saw everything I wanted to see, the Great Wall at Jinshanling was the absolute highlight. Could have spent longer there! Jaiju village was spectacular too.
Guide = Excellent
guidecomments = Jason was just fantastic - very knowledgeable, patient and a great guy to hang out with. If there was ever an unexpected problem (e.g. road closure, hotel unavailability) Jason reacted quickly to provide solutions that never felt like compromises.
Value = Good
Valuecomments = The Bike China tour was part of a 6-month travel plan, so I was a little intimidated by the expense at first! I needn't have been worried though; the tour was very good value and provided my with some of the most memorable experiences of my life so far.
Recommend = Yes
AdditionalComments = Had a fantastic time and the tour has inspired me to seek out similar opportunities in other countries (or even back at home!). Thank you Bike China.
Andy W., U.K., Beijing, Xi'an and Western Sichuan: Great Wall, Terra-Cotta Soldiers and Pandas 20-Day Bike Tour August 2012
---
It has been almost two weeks since our return to Canada and I already miss the daily cycling around China and miss the whole gang.
WOW! what a great trip we had. Amazing country and people. Breathtaking scenery. Exhilarating rides. Great food. And especially a fantastic tour/bike guide in Jason. We couldn't have asked for more.
The trip as a whole was excellent. The sightseeing in and around the main cities Beijing, Xi'an and Chengdu was great. The cycling in Western Sichuan/Tibet plateau was incredible with the beautiful backgrounds of mountains, valleys, rivers and all the villages that dot the landscape that we passed through or visited.
Jason, you provided us with excellent service. Everything went without a hitch: accommodation, meals and cycling. And when there was that minor problem with the hotel in Danba, you sprung into action and very quickly you arranged for an alternate accommodation.
During the cycling days you provided all the support required and more. Fixed our bikes when needed (flats and broken chains). Checked and fixed brakes especially ahead of those hair-raising descents. You made sure that everyone was ok in the rides by riding sweeper or leading us into the cities and coordinating with the support vehicle to leapfrog around us. And best of all, you were a great FRIEND throughout the trip. You did a yeoman's job! Thanks.
And let's not forget our great driver Joe. Despite the language barrier, we enjoyed his company and we had great time with him. He was always there when needed. Always smiling and cheerful. Safe driver (no going through red lights!) Thanks Joe!
I am already thinking about a possible "encore".
Again, thank you very much for a great tour. The memories will live on for quite sometime.
Adel S., Canada, Beijing, Xi'an and Western Sichuan: Great Wall, Terra-Cotta Soldiers and Pandas 20-Day Bike Tour May 2012
---
month = April
year = 2011
guidename = JasonGu
PretourService = Excellent
pretourservicecomments = We appreciated Danny's help in getting us airline tickets. We also appreciated information that was emailed to us.
Hotels = Excellent
hotelcomments = The hotels ranged in type but were all appropriate for the areas in which we stayed. We especially liked the hotels in Guilin and Yangshuo. We loved the food in the hotel in Ping An!
Food = Excellent
foodcomments = Jason did a great job of picking restaurants and menu items that gave us the opportunity to try many new Chinese foods. The service at the restaurants was always exemplary.
Route = Excellent
routecomments = We saw so much in the six days of the tour. We feel especially lucky to have seen Ping An with Jason and San Hao, who both knew the area so well. It is hard to imagine another area of China with so much beauty and variety.
Sights = Excellent
sightscomments = Coming over the summit of a dirt grade and looking down on a valley with such a beautiful lake and villages was an experience we will never forget.
Guide = Excellent
guidecomments = Jason is a natural. He knows the area, is friendly, likes to interact with others, and likes to share his culture with foreigners. After the tour we found ourselves asking, "Why didn't we ask Jason that when we had him around?" He was always fun to be around, and we feel like we have made a friend for life!
Value = Good
valuecomments = This was a splurge for us, but worth it. It was the highlight of our three-week trip in China.
Recommend = Yes
AdditionalComments = It is difficult to imagine a more beautiful area. There is so much variety in Guangxi and so many different ethnic groups represented. Jason brings so much to the tour with his enthusiasm and knowledge. We highly recommend this trip!
Alex/Kathy F., U.S.A., Exploring Guangxi's Wonders 6-Day Bike Tour April 2011
---
Thank you for sending your best guide Jason for our tour! Jason was on the one hand very well organized and knew already in the morning the scheduled route as well as route alternatives for the whole day. Whenever we entered a town he was able to find accommodation and food in great quality and really quickly.
On the other hand he was very flexible with our changing wishes and ideas. He understood rapidly what our new plans are and organized everything by himself. He also was able to imagine our European wishes and fulfilled them perfectly. Based on his good knowledge about China (historical as well as practical) we learned a lot about Chinese culture and people. Returning home we have the impression that we know China. But the most important thing is his friendliness and humor what makes him more than just a guide: We are proud to say that a friend guided us through China! Thank you!
Thomas G., Inner Mongolia to Beijing 9-Day Tour, May 2009
---
From the beginning, we were not sure of our own wishes and needs. So it took a lot of e-mailing, before we decided. I think you showed a lot of patience in that process.
The food was Excellent! We all loved Chinese food - and ate a lot of interesting things, such as dogs, donkey and snails.
We enjoyed the occasional "scenic spot" but it didn?t mean that much to us. We were more into the landscape, the mountains and the roads. Three Gorges Dam was great!
Doven was good at finding his way and flexible when we changed the route.
We would recommend both Bike China and biking in China in general to everybody.
Keld A., Denmark, Suzhou to Kunming 49-Day Tour, May 2009
---
We were expecting more basic hotels because of the small towns in which we stayed in. A/C, clean bed, and showers were worth their weight in gold after a good long ride. Shama treated us like king & queen. His English skills are very great considering he has never been outside of China.
It was worth every penny. The extra help we got (plane tickets & Hana's morning coffee) shows the company's attention to details does matter.
Shama & Mr.Lee did an outstanding job, and no details were left over looked.
Albert N., Canada, South China - Guangzhou to Guilin 11-Day Bike Tour 2009
---
Thank you for making available this wonderful adventure, and a BIG thank you for Shama. It was everything I hoped it would be and much more than I ever could have imagined!
Shama found out early what food I liked and disliked and he ordered accordingly. Plenty of variety, but leaving out the very spicy and asking for my meals to be prepared with less oil. I enjoyed the food very much.
The route was wonderful. And Shama tailored it to fit me. Some days we rode farther than scheduled, and I really appreciated his willingness to bike ride more and ride in the support van less.
The sights were intoxicating and otherworldly. China is beautiful... I do not think there is a better way to experience it. I look forward to my next adventure with Bike China.
Shama treated me with the same respect I imagine he has for his "ma ma". He could not have been kinder or more accommodating and patient. He even bought me a birthday cake! He and the driver both gave me a lot more of their time than they were obliged to. It was a perfect fit... I have a new forever friend in China.
I am amazed that this type of private tour was affordable for some one like me. I have already recommended Bike China to all my bike friends. The whole time I felt safe, respected and in capable responsible hands.
Arlene J., U.S.A., Exploring Guangxi's Wonders 8-Day Bike Tour, 2009
---
It was good to stay in small hotels especially in the villages, better chance to meet the locals. Loved the food! The route through Tiger Leaping Gorge was outstanding. Route from Guilin to Longsheng was okay. Great route from Guilin to Xing Ping and Yangshuo. The White Terraces, Tiger Leaping Gorge, and the Li River tour were all really good.
John Yang was an outstanding guide, spoke very good English and was a really good source of info about the people and towns we rode through. I especially liked when he brought me to see his friends' house near Zhongdian in the Tibetan village.
Matt L. U.S.A., Yunnan and Guangxi 11-Day Bicycling Tour: Shangri-La, Tiger Leaping Gorge, Lijiang, Guilin and Yangshuo, 2009
---
Thoroughly enjoyed almost all the food.
The route was a bit more difficult than I was able to manage - but a great route with a great variation between either side of the high pass. Some may not have like all the industry and building works - but i thought it was a great insight into China and development etc...
Jason is an excellent guide. In terms of logistics he had every base covered and was always ensuring i had anything i needed - even lending me spare trousers for the cold at the top of the pass! I would say that he doesn't need to pander to clients every need and just let them get on with it - but it was understandable as it was his first big tour in charge and he wanted to make a good impression - which he certainly did.
Simon L, U.K., Western Sichuan 8-Day Bike Tour to Danba, 2008
---
There was a great variety of food. We didn't want anything beyond the genuine food of the region. Michael was careful to choose the freshest and safest food, while giving a taste of the typical foods of the area.
We saw all of the standard tour spots and sooooo much more.
Our guide was the best. Knowledgable, considerate, organized, humorous, always surprising us with "extras".
Considering the guide, vans, drivers, bikes, meals, hotels and intra-country flights, it was a good bargain. I wish I were able to return to China, myself. There is still so much to see and you offer so many interesting tours. Thanks for everything.
Barbara K., U.S.A. Beijing, Xi'an, Sichuan Mountains, and Shanghai 17-day Bike Tour, 2008
---
Loved, loved, loved the food. Michael did such a great job of ordering for us. A highlight of the trip was being away from tourist areas. Exceeded my expectations. Michael is a real asset to your organization. He was very personable, patient, and professional. He was very knowledgeable about China, and I could sense his pride in his country. We peppered him with question after question, and he always had an answer. Also, his English language skills are excellent. I felt I got good value for my money. I would definitely recommend Bike China to others. In fact, I've told everyone I've talked to since I got home what a terrific trip it was and smoothly everything ran (thanks in large part to Michael I'm sure).
Bonny P., U.S.A. Beijing, Xi'an, Sichuan Mountains, and Shanghai 17-day Bike Tour, 2008
---
Michael did a great job ordering food and was considerate of preferences
We had beautiful sights away from other tourists - didn't see other round eyes for 10 days. Michael was the perfect guide, knowledgable, thoughtful, helpful, spoke great English and has a great personality. This was a unique and beautiful window into China. Thank you so very much! Really, it was a great experience!
Betsy C., U.S.A. Beijing, Xi'an, Sichuan Mountains, and Shanghai 17-day Bike Tour, 2008
---
I learned much about China most people will never do. It is one of my greatest experiences ever.
Pauline P, Switzerland, Yunnan Yuanyang and Nijiang 12-Day Bike Tour, 2008
---
Thank you so much for making my China trip the most wonderful experience I could imagine. The incredible scenery, the wonderful companionship, the delicious food, the gracious Chinese/Tibetan people, the excellent planning, the right mix of surprises and flexibility, the complex history, the perfect weather, the sights and sounds and smells exceeded all my high expectations.
A special thank you goes to Michael for going with our flow and improvising our adventures to suit our needs. Thank you to Peter for making it all happen and making it appear effortless. You will all live in my memory tucked away with all my China mental images. I look forward to a continued relationship with you guys and with China!! J
Jeanette G., U.S.A., Beijing, Xi'an, Sichuan Mountains, and Shanghai 17-day Bike Tour, 2008
---
The pre-tour service was very responsive, witty, and considering we wanted to a relatively 'unusual' route, very flexible to suit our other arrangements. The hotels were a good range of different standards - in some areas, would have liked to stay in even more poverished areas - understandably very difficult in a big group. The food was unrelentingly lavish - so good that I ended up eaten to much a lot - very difficult to get back on the bike if it was a lunchtime...
Our guide, Doven, was totally dedicated to making our tour enjoyable. A fantastic way to see the country and really appreciated the efforts and enthusiasm of Doven aka, 'the Dove from above'.
Raoul T., U.S.A., Yunnan Bike Tour: Kunming, Shangri-La (Zhongdian) and Lijiang, 2008
---
HI! We are writing to thank you for making our trip to China such a success. It would have been impossible for us to have such an experience on our own. As Jeanette and I traveled a bit independently at the end, we were even more aware of how important Bike China's support had been. Of course, our fondest memories and greatest daily gratitude were directed toward Michael Zhang. He is only 30 years old but acted way beyond his years in his sense of responsibility, organization, compassion, maturity and tolerance of 4 "older" ladies. We truly adored him and can't thank him enough for his help. He was our window to China and he shared his knowledge and passion freely. He was also thoughtful about the best plan for each day and gave us very appropriate choices for adventures.
Hopefully, the word will continue to spread about China's diverse culture and landscapes. We'll do our part. No doubt, there are many travelers who would love to enjoy the experiences we had. Thank you again!!!!
Sincerely, the CHINA DOLLS, U.S.A, Beijing, Xi'an, Sichuan Mountains, and Shanghai 17-day Bike Tour, 2008
---
Without question, the Bike Tour, was an experience, I'll never forget nor regret. John Yang was wonderful.
Bruce D., U.S.A., Yunnan Province 11-day Bike Tour, 2008
---
The selection and variety by the guide were nothing short of outstanding!
The views, particularly the first three to four days -- Zhongdian to Quiatou -- were extraordinary. The route sights in general were terrific.
John was positive, had good information about the areas, where to eat, what to see and the history of the sights. He also had the ability to adapt the routes to the needs and skill levels of the participants and interacted well with everybody in the group. He is a very special asset!
Michael M. U.S., Yunnan Province 11-day Bike Tour, 2008
---
The food was Excellent! I really miss the food!
Rohan E., U.K., Anwei Province 8-Day Bike Tour, 2008
---
Shama is a great asset to your company. He always remained calm under some very difficult circumstances. He was always in control of the situation and never panicked.
He used his initiative which was always in the best interests of the
group and the safety of the group always came first.
For me as a cyclist it was an absolute pleasure to have Shama as our head guide. Look after him as in my opinion he is worth his weight in gold.
With regard to Doven and Jason they were 2 stars on the trip. They were always very keen to help even in carrying very heavy bags to our rooms. Nothing was too much trouble for them. They were always there when you needed help. I am of the firm opinion that in the fullness of time and if their career is in the tourist line then the 2 of them like Shama will be great assets to your company. This I have no doubt about as they are both very passionate about the jobs they performed during our Bike Tour in October.
Ron L, From Sunny South Africa on the Yunnan and Guangxi 11-Day Bicycling Tour: Shangri-La, Tiger Leaping Gorge, Lijiang, Guilin and Yangshuo, 2008
---
Danny was a pleasant riding partner and paid close attention to every detail, including any small request I made. He even helped me make travel arrangements after the tour was finished. Great guide!
I had intended to contact you as soon as I returned to Japan. Thanks for the feedback form. I hope to go on another tour in China with friends.
Michael T. U.S.A., Shandong Province Qingdao to Weihai, 2008
---
The Lijiang and Kunming hotels were nice and well-located, and Woody's had the best view ever. That was a perfect place to spend 2 nights.
Every meal was great. John did an excellent job ordering a variety of things, including local specialties.
We?ll never forget the gorge or the 20+ km descent!
John did a perfect job. He was on top of everything, gave great advice, was interesting to talk to, and solved every problem. He was great both as a guide and as a companion. This was a great tour in terms of organization, scenery, challenge, and food!
Brian H., U.S.A., Yunnan 8-Day Bike Tour: Kunming, Dali, Lijiang & Tiger Leaping Gorge 2008
---
Local food is great. I loved eating close to the plate. For 2 folks who avoid road riding due to traffic, the all but deserted roads were amazing. Loved going thru the small villages.
John was great. Got us moving within 20 minute of arriving in Shangri La!! That was great, no wasted time. But also checked in w/what we wanted.
Value is so worth the cost of the trip. Thanks so much to John and Peter. The ride and experience exceeded all of my expectations!
Shawna O, U.S.A., Yunnan 5-Day Bike Tour - Kunming, Shangri-La (Zhongdian) and Lijiang 2008
---
Yunnan literature should use my quote" I was amazed how much the route avoided any bothersome traffic. The middle 150 km had less than 10 cars per hour."
John Yang did a great job prioritizing for us. Even with a gentle reminder "this is not a shopping tour"
John did a great job of ordering food for us. He listened to what we said and ordered accordingly. For example, we passed some women carrying ferns and he explained that they cook and eat them. We were interested so a few nights later he ordered them for dinner.
The gorge is amazing, the road was quiet, and the scenery was beautiful. Now if you could only make the down hills longer and the up hills shorter...
I can't say enough positive things about John. He is an excellent guide - knowledgeable, personable, funny, and very accommodating. He was considerate is so many ways - from the food he ordered to checking our equipment to making sure everyone was having the best experience possible.
Considering that all meals and loading was included, I think that the price was reasonable.
Mark S., Maryland, U.S.A., Yunnan 5-Day Bike Tour - Kunming, Shangri-La (Zhongdian) and Lijiang 2008
---
We really bonded well with John in Yunnan as well. We will do the feedback form next. Best trip ever, (and we are both reasonably well traveled- usually on our own)
Kent F. Colorado, USA Yunnan 5-Day Bike Tour - Kunming, Shangri-La (Zhongdian) and Lijiang, 2008
---
Thanks for getting us a hotel. It was quite nice! Food is Very spicy and delicious. It is much better than in Vietnam. I really enjoyed every minute of the route. I would (probably will) do another tour with you guys.
Larry Z., Sweden on Yunnan Bike Tour: Kunming, Shangri-La (Zhongdian) and Lijiang, 2008
---
The hotel is especially an amazing one in Dali, almost too much beautiful for a "tour biker." As a mountain biker, I enjoyed the few kilometers off roads we took near ErHai. Doven, he was exceptional. Since the first day, I felt him like a friend more than a guide. Always smiling and relax, he was also a very professional guy and a very good sportsman. Dali, Tiger Leaping Gorge and, above all, Lijiang were amazing. A very great thank for this wonderful tour.
Sylvain B., Andora on Yunnan Bike Tour: Kunming, Shangri-La (Zhongdian) and Lijiang, 2008
---
John, as well as both of the drivers, were really great guides. While this was my first biking trip, my parents have been on over 10 and said they were the best guides by far.
Jody F. Massachusetts, USA on Yunnan Bike Tour: Kunming, Shangri-La (Zhongdian) and Lijiang, 2008
---
John Yang was amazing - intelligent, patient, funny, kind, warm, super organized and ever available and helpful! Hotels, food, route and sight are excellent.
Mary K. Massachusetts USA on Yunnan Nijiang River Valley Tour, 2008
---
The hotels on our 2 tours were variably excellent, good, & adequate. No hotel was less than adequate.
Again, we had mostly good meals, some adequate & several excellent. No meals were less than adequate. We appreciated that Doven accommodated our vegetable-based diet.
Routes & sights were very interesting. Highlights were the karsts mountain route (despite the terrible) road surfaces into Xing ping, the Li River, Lake Taihu & the Dongshan Peninsula, the West Lake at Hangzhou, and the lovely Bamboo Forest Reserve. Because of rain, we missed seeing much of Suzhou, but that couldn't be helped. We enjoyed the cycling more than traveling in the van, & would have been glad to cover more of the routes on bikes. The bikes by the way were excellent.
Doven was a friendly & always attentive guide. He showed good resourcefulness & a cheerful outlook that made traveling with him enjoyable. The two van drivers on the two tours were skilled & confident in the face of sometimes difficult traffic conditions. Doven seemed less interested in the tourist highlights than in the cycling plans. Some highlights noted in the published itinerary were omitted or left to us to discover on our own. This is not meant as a major complaint.
Kathleen M. Ontario Canada on Suzhou, Hangzhou 4-Day Bicycle Tour 2008
---
Appreciated both the insights on the tour itself are as well as China more broadly. Guest houses were a great way to further the cultural experience. We enjoyed trying different types of food. Everywhere has amazing views and scenery. The only suggestions would be to have more information upfront about the areas explored so riders could gain more from the experience.
Great variety and quality at every meal. It is very accommodating of specific food preferences. We loved the route. The last day had a long stretch of highway riding with a lot of traffic which would be preferable to avoid. Beautiful scenery everywhere! We were very happy with the value of the tour. Thank you for putting together a wonderful and very memorable trip!
Jennifer F., Texas USA on Yunnan 5-Day Bike Tour - Kunming, Shangri-La (Zhongdian) and Lijiang 2008
---
It is Katherine, my sister and I booked the 17 day trip to Sichuan last September. We had such a good time with Shama and Jason. I watch your website longingly to see where the bike trips are going and think one day I'd love to come back to China again. I have some wonderful pictures that I show to anyone interested enough to look. I bore people to death with travel tales until I have no friends left - everyone runs when they see me coming!
Katherine M. Washington USA on Beijing, Xi'an, Sichuan Mountains, and Shanghai 17-day Bike Tour 2008
---
It's enough to say that the trip was great, the flexibility shown by John and Jin was impressive, they did everything they could to make sure that we were able to do what we wanted in the way we wanted. I hope we can arrange another trip in the next few years. I?m still enjoying Yunnan; may make it Sichuan next time.
Neil K. England on Yunnan Bike Tour: Kunming, Shangri-La (Zhongdian) and Lijiang 2008
---
We wanted to thank you for helping to organize such a great trip. Your recommendations not only for biking, but also the rest of our excursion were great. Also, we wanted to make a special note of how great we found John Yang. Having been on several organized trips before, we can?t express how grateful we were to have such an amazing leader. He went well beyond the call of duty to optimize the enjoyment we gained from the trip all the while having an unparalleled attitude and enthusiasm. We would love to join for another trip in the future! Thanks again for the great trip!
Jon and Jenn
---
The hotels were of a much higher standard than we expected. The food was one of the highlights of the trip. John was very good at pleasing everyone and introducing new foods. We had a fantastic time and would definitely like to do another tour at some point.
Dan B. USA on Yunnan 8-Day Bike Tour: Kunming, Dali, Lijiang & Tiger Leaping Gorge 2008
---
Bit too demanding for our level of fitness, but an awesome route overall. I was happy to be pushed, although Scott might have been happier with a slightly easier route. Great sights. Frank knows the island like the back of his hand. Already have recommended to others, hope they join!
Dan B. USA on Hainan 8-Day Beach Bike Tour, 2008
---
Frank is a super guy with potential to be a great guide. He's super passionate about the sport and about Hainan; he made great effort to stretch out dollars to get the most out of the trip for the money. I continue to be a fan and look forward to the next ride!
Scott S. USA, on Hainan 8-Day Beach Bike Tour, 2008
---
I must say that this is definitely one of the best holiday trips I have had. It was a real eye opener and an insightful experience and I thoroughly enjoyed it. I have enjoyed the experience of the bike tour from the wonderful and amazing sights and scenery, the knowledge and interaction with the minority tribes and cultures, an understanding of the people and their way of life, the sense of achievement for completing the challenging and physically demanding cycling trip and more interestingly, the FOOD that has been arranged for the trip, which has been the key highlight, not to understate the other things mentioned. I have enjoyed the experience of the bike tour from the wonderful and amazing sights and scenery, the knowledge and interaction with the minority tribes and cultures, an understanding of the people and their way of life, the sense of achievement for completing the challenging and physically demanding cycling trip and more interestingly, the FOOD that has been arranged for the trip, which has been the key highlight, not to understate the other things mentioned.
Daniel P. Perth, Australia on Yunnan 8-Day Bike Tour: Kunming, Dali, Lijiang & Tiger Leaping Gorge 2008
---
I really liked the fact that you sent an email with a picture of our tour guide ahead of time. I also liked the flexibility. This was really important to us in a custom tour. We loved the Pandas, the boat tour that went past the Buddha in Leshan. Mike and the driver Mr. Diao were excellent. Mike was flexible with us which worked out well especially when we visited the hospital in Leshan. He was very helpful and his personality really added to having a great tour!! We enjoyed the fact that you were flexible with the tour and accommodated us very well, which was very important.
Gail S. USA on Western Sichuan - Pandas, Snowy Mountains and the Tibetan Plateau 7-Day Bike Tour 2007
---
After much searching I settled for Bike China and it was the best choice of my life. I was able to work closely with the owner, Peter Snow, to ensure that my health concerns would be met. I selected to take the 17 day tour and did it privately with a friend. Words can not express my TOTAL SATISFACTION with Bike China. The hotels were way better than what I expected for the price. The tour was well planned so I saw the major tourist sites followed by a trip back in time as we rode through the mountains of Sichuan Provence crossing passes at 13, 00 feet. Our guide, Michael was incredible. He kept the tour flexible great food while meeting my dietary restraints and was a total wealth of knowledge on China and its history. His English was impeccable and he guided us smoothly through the internal flight process without a hitch. Our driver, Mr. Gong, was a gentleman and helped us with our luggage at every opportunity. While driving in China is an experience we felt completely safe with Mr. Gong at the wheel.
If you are seriously looking for a tour company that will give you first class personal attention, a great tour and leaving you wanting to come back for more then book with Bike china now. You will not be disappointed and, like me, you will probably find your self coming back for more in a year or two.
Eric S. Florida on Beijing, Xi'an, Sichuan Mountains, and Shanghai 17-day Bike Tour 2007
---
From 15th October until 26th October 2007, I was part of a cycling tour in the lovely country. The senior guide Shama Tziu, and his two assistants Doven Liu and Jason Gu proved themselves to be exceptional in the way they took care of us. Thanks Jason for always cheering me on when I was the last cyclist. Thanks Doven for showing me the wild fruit and which bits I could eat. Thanks Shama for understanding and your support.
As far as seeing to our personal safety and comfort, the guides could not be faulted. And I do thank you all for making my cycling trip with Bike China memorable.
Lourentia T. South Africa on Yunnan and Guangxi 11-Day Bicycling Tour: Shangri-La, Tiger Leaping Gorge, Lijiang, Guilin and Yangshuo 2007
---
A belated thank you for a great cycling experience! We had such a lot of fun and found Shama, Jason and Dovan to be thoughtful, attentive and considerate guides. I am not quite sure what Shama thought when he saw our group of middle-aged non-fit tourists arriving at the airport - he was very polite about this subject!! He adjusted our tour so that we could stop and take photos and indulge the tourist side of our natures but also allowed us to cycle enough to keep us all happy. We were very pleased with the staff, hotels, food (especially!), transport and service all round. Thank you for your prompt assistance with the arrangements. We will definitely recommend your company to people looking to cycle in China. We had a wonderful experience.
Eddie and Beryl L. South Africa on on Yunnan and Guangxi 11-Day Bicycling Tour: Shangri-La, Tiger Leaping Gorge, Lijiang, Guilin and Yangshuo 2007
---
I must say that we enjoyed very much our tour with Bike China even if we experienced miserable weather for numerous days. We believe that John has done a fantastic job in making our 11 days in Yunnan the most pleasurable and trouble-free possible. We learned a lot about China from him (and believe me, the poor guy has been bombarded with tons of questions!), he was very attentive and responsive to all our needs and requests and he took great care of us with complete dedication. We always enjoyed excellent and fulfilling meals, even in the most remote locations, and we never ran out of water or snacks. In fact, he became more than a tour guide for us - he became a friend. The two drivers that accompanied us were affable and helpful, always ready to help with the smile. We found that the hotels were even better than we expected.
Patrick L. Australia on Yunnan Bike Tour: Kunming, Shangri-La (Zhongdian) and Lijiang 2007
---
Michael is an outstanding young man. His knowledge and ability to explain the history of his land was outstanding. He is mild mannered and helpful at all times. I was particularly impressed by his ability to think on his feet when situations arose that needed a mature, level headed approach.
Kelly W. UK on Beijing, Xi'an, Sichuan Mountains, and Shanghai 17-day Bike Tour 2007
We would like to thank you for an excellent tour. We have great thankfulness in our hearts for your drivers and especially for the three guides, Shama, Jason and Devan. They are fantastic guides, nothing was too much to satisfy our needs and our safety was always their first priority. Shama is a born leader, very professional and all of them a great asses to your company. We enjoyed our trip immensely and we hope that we can one day return their kindness with our South African hospitality.
Martie and Johan van H. South Africa on Yunnan and Guangxi 11-Day Bicycling Tour: Shangri-La, Tiger Leaping Gorge, Lijiang, Guilin and Yangshuo 2007
---
Hotels are good for the area and we were expecting very basic and no air conditioning. All came with own bathrooms which was great.
The food was great. There are many lovely fresh vegetables. John made a real effort to make sure we were well fed and tried a variety of food.
The caves were excellent and we were there to see a slice of real china life which we did. I loved seeing all veges growing and the rice paddies and water buffalo etc. Caves were excellent.
John was fantastic. He made a huge effort to make sure we were well fed and happy. He was very interesting and taught us a lot about china.
We had a great time. Please pass on our thanks to John and the driver. Both were fabulous and we had a good time with them. Both worked very hard to make sure we were ok.
Lucy D. USA on South China - Little Guilin 4-Day Bike Tour 2007
---
Mike did a great job keeping the Sichuan spice level within our limits and finding food more familiar to Western palates. I actually would have been happy to try a little more typical food.
Easier than I thought it would be. It seemed like almost all of it was flat with a slight downhill grade. I felt like we got to see a wide variety of areas within Sichuan. I always felt safe on the chosen routes.
Sights were very well chosen, and Mike's knowledge and love of history did a great job of connecting them all.
Michael P. USA on Beijing, Xi'an, Sichuan Mountains, and Shanghai 17-day Bike Tour 2007
---
I really appreciated the quick response to our emails and the expanded email replies are a good format.
All our accommodations were clean and comfortable. My favorite was the Astor House Hotel and Bamboo Gardens Hotel was a wonderful introduction to China. They were very helpful on our independent day in Beijing.
We were rather over powered with the quantity of the food. The variety of dishes was wonderful and the guides did a fabulous job of providing variety. Each meal was quite different to the one previously. I especially enjoyed the small eating establishments along the streets.
Lynne M. USA on Beijing, Xi'an, Sichuan Mountains, and Shanghai 17-day Bike Tour 2007
---
We enjoyed receiving specific answers to most of our questions. It gave us a little more confidence that I was booking on the internet with a legitimate business.
I thought the trip gave a variety with city riding and the sights in Beijing and Xian, and the countryside in Sichuan. After our change in schedule (which wasn't something I would choose) I found it a little hard to be one of the crowd of tourists in Xian. I loved being in the countryside and was quite happy with the flexibility Shama exercised to tailor the days to something we would enjoy. So we deviated from the original schedule. My comment in hindsight would be that I didn't fully comprehend the description on the website and what it would mean to me when I was actually following the route.
I enjoyed all we did. The constant haze hanging over China is a little disappointing as I knew we were biking by beautiful terraced fields that we couldn't see well. I enjoyed the visits to the monasteries we visited, the highlights in Beijing. I would like to have spent a little more time in the Shanghais Museum. The Terra Cotta warriors were amazing. I was glad to be hiking along the section of the Great Wall that we visited, rather than the more touristy section.
I thought the value of the tour was good. We couldn't have ever eaten in the small places we ate or stayed in the hotels that we did if we hadn't been on this tour. I have been spoiled now and wouldn't be at all happy on a large bus tour. I thought we wouldn't have any adventures as everything would be looked after for us, but how wrong I was. There seemed to be a new adventure around every corner. The difference in cultures was an assault on my senses for the first few days.
I would definitely recommend Bike China to others. I'd love to have a Bike China shirt to help you advertise in Canada.
Katherine R. Washington USA, Beijing, Xi'an, Sichuan Mountains, and Shanghai 17-day Bike Tour 2007
---
Thanks so much for getting A/C wherever possible. It was greatly appreciated.
Ping'an was my favorite. I like the mountains.
John was great. He asked all the right questions. He looked out for our safety in every way. He was always willing to cycle more our time for the tour was limited by work constraints. The flexibility of Bike China to meet our schedule was unique. Thanks!
Claudia M. USA South China - Little Guilin 4-Day Bike Tour 2007
---
Spencer and girlfriend Papa were very nice, courteous, outgoing and friendly. Made me feel safe which is important. English ok to good but we understood each other.
Guangzhou hotel fine, might want to warn guests that Chinese mattresses are rock hard if not expecting it! Hotel in little village we stayed at on Sat eve also fine and clean
We stopped at great local boathouse restaurant which was super, same for dinner but one has to be prepared for very local Chinese cuisine which fortunately I like.
Jeff H. USA on South China - Little Guilin 4-Day Bike Tour 2007
---
Pretourservice is Very responsive and concise with information.
Hotel in Baishuitai and Tiger Leaping Gorge were modest but totally understandable given the location. The hotel owners were very nice and despite the language barrier, made sure we had what we needed.
John, our guide, did a great job of making sure each meal was delicious. We mainly ate green vegetables and rice and each meal was better than the last. The best food was in the small villages - the worst meal we had was our last dinner in the big city of Lijiang.
Michelle S. USA on Yunnan 5-Day Bike Tour - Kunming, Shangri-La (Zhongdian) and Lijiang 2007
---
I thought the accommodations were perfect for the trip, although we stayed in 2 star hotels or guest houses. I preferred to stay in "local" hotels rather than Western Tourist types of accommodations. I was well prepared for the accommodations we used.
Our guide did an excellent job of providing food choices that were interesting, typical, healthy and nutritious. He provided choices when available.
Our family's number one favorite spot was Lugu Lake and the area surrounding it. We liked riding in the rural areas the most, and found the air conditions in the cities and surrounding areas really difficult. When we visited Emei Shan, it was very crowded and we were a little overwhelmed by the crush of people. I think this was largely due to the time of year. We were really lucky to see the Torch festival in Xichang, and this was another highlight.
I think much of our favorable impression of the trip was due to our guide. Michael worked very hard and really helped make our trip one that we will never forget.
The bikes fit us well, were well-designed for the route conditions, and our guide made sure that they were always in good working order. Any problems (flat tires, worn brakes, etc.) were quickly fixed.
I thought the quite services were invaluable and all of the pre-trip help on designing the tour really added to the value of the tour.
Peggy O. New York USA on Chengdu to Shangri-La (Zhongdian) - Kunming 2007
---
Guide has very considerate and service attitude. Mike did a nice job, took feedback, and he was flexible when he needed him to be. I would use him again.
Overall, it is very good experience. I would recommend you and plan to contact you again about upcoming tour ideas in China. I appreciate you soliciting the feedback and would encourage you to keep me posted of any interesting opportunities to join upcoming tours in China. Currently, we're interested in considering a tour in Hainan Island sometime in the winter.
Scott S. USA on Western Sichuan 8-Day Bike Tour to Danba 2007
---
Pretourservice is excellent service. Peter was very attentive and had no hesitation in meeting us to provide details of the trip. We received all the information we needed in a quick and concise manner. Everything was covered and we felt very confident that the trip would be run in a similar vein.
The food on the whole was excellent. As we were touring with Chinese guides and the other party members were very familiar with China, we were able to source excellent local restaurants. The one outstanding meal, for us, was in the Tibetan village on day 3.
I think this tour was great value. It was a superb opportunity for us to see parts of China that we would not necessarily have been able to do. It got us off the beaten track and gave us access to sights and sounds that we are privileged to have seen.
I would absolutely recommend Bike China without any hesitation. The personal service offered by Peter, Mike, Devon and the support vehicle drivers far outweighs the negatives (which are primarily the quality of the bikes). Bike China is a great opportunity to experience something that is normally not available to your 'normal' travelers.
Patrick M. UK on Western Sichuan 8-Day Bike Tour to Danba 2007
---
I enjoyed all the meals. A few were excellent and a few were adequate. In general, Mike and Jerry did a great job ordering for us.
I loved our day in Beijing and the day to Chengde. The ride along the coast was very hot and pollution was bad that day.
We loved our guide team and thought the support was phenomenal. We thought the price very excellent because of the wonderful guides and support team.
John T. South Carolina USA on Beijing to Chengde and Shanhaiguan Great Wall 9-Day Bike Tour 2007
---
Everything was explained to us prior to the trip as to what to bring, and most importantly what to prepare for
Prior to coming my only Chinese food appetite included sweet and sour chicken, and Mike was even able to find me my favorite dish! The food was good, and neither one of us got sick. Mike did a great job ordering local dishes at each city we went to and making sure we tried new things. The food is just very different than what we are used to but was good all around.
This trip and route was great. We were very happy and did not spend that much time in the car. Mike mixed up the day with morning and afternoon rides mixed in with minimal time in the van.
The price was very reasonable based on all the places we saw and did.
Rob Z. USA on Beijing, Xi'an and Sichuan - Best of China 12-day Cycling Tour 2007
---
Hotels were better than I would have booked on my own so that was great for me. They were all just fine. Definitely, the food is the reason why the trip was great. The value of the tour was the intangibles. It was in those great moments that can't be recreated.
Ernest C. California U.S.A., Exploring Guangxi's Wonders 6-Day Bike Tour 2007
---
The hotel accommodations were fine. I thought the food was really good! The variety gave me a little insight to and great appreciation to the Chinese diet. I hope to bring back the less sugar more vegetable approach to culinary satisfaction.
I felt the route gave me a well rounded view of China. The ride through Beijing gave me a sense of the cities heart beat, the ride through the mountains to the Wall a sense of the country's beauty, the ride behind the dockyards along the coast a sense of China's industrial backbone.
Sights are outstanding! I'm convinced that the Chinese can and will do whatever they set there mind to. The scale and beauty of the Forbidden City, the summer palace, the great wall is impressive.
We found the tour challenging and satisfying on many levels mentally and physically. Thanks to a well thought through tour plan my 70 year mother felt she could test herself on the bike without overextending herself.
I would recommend Bike China in a heart beat! We had a great time!
John T. North Carolina, Beijing to Chengde and Shanhaiguan Great Wall 9-Day Bike Tour 2009
---
We all liked Shama a lot -- and he went out of his way to be helpful and accommodating all the way through.
Daniel B., Tokyo Japan Sichuan: Chengdu, Dujiangyan, Anren, Huanglongxi 5-Day Bike Tour 2007
---
Michael was awesome! He worked very hard to please everyone in our group which was not always very easy. Food, hotels and sights are all so good.
Erick M. California U.S.A., Beijing, Xi'an, Sichuan Mountains, and Shanghai 17-day Bike Tour 2007
---
Good communication with Peter directly via email about the tour, route, route change, needed supplies, etc. It was perfectly reasonable for the situation, hot shower, firm bed and nice hosts. Couldn't have asked for more all things considered. Catch as catch can work fine, good bike food. Not complaints at all. This route fit what I was looking for very well.
Ed Z. Washington U.S.A. Western Sichuan 5-Day Bike Tour to Danba 2007
---
Scenery is excellent, monasteries etc are interesting. We loved the Tibetan village up the mountain, Danba. Given requirement for housing and feeding guide and driver, cost was reasonable.
Ed H. New York U.S.A. Beijing, Xi'an, Sichuan Mountains, and Shanghai 17-day Bike Tour 2007
---
Woody's Guesthouse is a favorite. John was awesome at selecting a wonderful variety of dishes. I loved the lake and the gorge. Markets, temples, farms, lake, gorge all outstanding. We would love to consider another trip with John as he was personable, flexible and confident in an unassuming manner.
Norb B. NSW Australia, Yunnan Bike Tour: Kunming, Shangri-La (Zhongdian) and Lijiang 2007
---
Jerry did a great job of keeping us well fed with a wide variety of foods. He was fantastic! Overall it was a great trip and I'll definitely do it again sometime. Jerry really did a great job.
Dave J., Washington U.S.A. Beijing-to-Chengde Great Wall Bike Tour 2007
---
It was a great trip, by the way. Thanks so much for putting it together for us. Jerry was a fun and competent guide, and the itinerary was a blast.
James O., Washington U.S.A. Beijing-to-Chengde Great Wall Bike Tour 2007
---
Good hotels even in very modest towns! Michael found good food everywhere! In summer the Tibetan part would maybe be a bit greener. I prefer "natural sights" (mountains, rivers etc.) to temples, but Michael could explain a lot in the temples so the cultural sights were also interesting. We were about in the same body shape and we had the same idea about what was (too) challenging for us. Michael made very good adoptions of the actually planned tour according to our daily physical condition.
Pesche F. Switzerland, Western Sichuan - Chengdu to Dege and the Tibet Border 15-Day Cycling Tour 2007
---
All the hotels met expectations, even the simple accommodations at Tiger Leaping Gorge. The meals were so good that I took photos. The Tiger Leaping Gorge was a real highlight and the hike through the gorge was fantastic.
Terry O. New York U.S.A. Yunnan Bike Tour: Kunming, Shangri-La (Zhongdian) and Lijiang 2007
---
Regarding Bike China, we highly recommend them. We have cycled independently in many European countries, plus Canada and the US, and traveled independently in Japan and Mexico and a bit in Morocco. We decided to work with Bike China for our bike trip to China primarily for the cultural and historical perspective, and the language, although I studied a little Chinese prior to our trip(s). We could have traveled successfully without a guide, but our first 5-week trip was so successful, we hired Bike China again for a second 5-week trip the next year (that should be a strong recommendation in itself!).
We worked with Peter Snow Cao to design custom trips, emailing back and forth with many questions and suggestions. We were very happy with the routes both times. Our guide, Danny (Chen Naxin), was excellent. We briefly met a couple of the other Bike China guides as our routes crossed with other travelers.
We want to cycle in China again, and yes, we would hire Bike China again. I look at the Bike China website periodically for inspiration. My recommendation: go sooner rather than later, because China is rapidly changing.
Carol Y., Oregon U.S.A. on the The Grand Bike Tour of Sichuan and Yunnan 2007
---
The service was excellent starting with the first contact with Peter. I immediately got the impression that he understood what I was looking for. I would add a routine stop at the top of the first climb. We did it and it was wonderful with full view of the mountains and river around. Our guide, Jerry, was excellent. He went over and beyond to make sure we had a good experience. He was also very knowledgeable and was able to answer all our questions regarding the trip and also general questions regarding China. My wife and I had a great trip and a very memorable one. Jerry is awesome! It is exactly what I was looking for and the route was better than what I thought. We had a very memorable experience and I will most certainly use your service again.
Taissir C., Arizona U.S.A, Beijing Miyun Reservoir Bike, Tour, 2007
Our guide, Michael, was very helpful. I was the least experienced cyclist in the group and he actually took the time in Dali, to get me out on the road and give me some very helpful pointers. He never made me feel that I was holding the group back. I just want to thank you for having put together such a wonderful trip.
Hedwig M., Pennsylvania, U.S.A., Yunnan Bike Tour: Kunming, Dali, Shangri-La (Zhongdian), Lijiang, and Lugu Lake 2006
---
The trip was a fantastic success. Shama was an extraordinarily good guide. The route was equally interesting - made all that much better by Shama's deep knowledge of the region, its people and the Tibetan language.
As Russell summed up it was a fantastic adventure and I would certainly recommend it to others. The above is to be viewed as constructive criticism to help you smooth out a few wrinkles before they appear.
Russell and Sarah G., Ontario, Canada, Western Sichuan - Chengdu to Dege and the Tibet Border 15-Day Cycling Tour 2006
---
For every uphill there must be a reward - downhill or good scenery. That was achieved on this ride. There was always a great lunch stop. Sights were varied. Mountain landscapes to small villages and farms. After a settling in period Michael worked very hard to bring freshness to each ride and meal. He consulted us regularly on the options and our desires. Almost daily he would provide us with a surprise. He was knowledgeable about many of the locations we visited and when he wasn?t he freely acknowledged that and engaged a local guide.
John B., NSW Australia, Beijing, Xi'an, Sichuan Mountains, and Shanghai 17-day Bike Tour 2006
---
We had a great time in China. It was a memorable and thoroughly enjoyable trip. Seeing China by bike is an adventure and we buffered the rough zones as you know, by upgrading our accommodation into great rooms and suites. The food was great all the time. Especially those delicious meals we ate in Buddhist?s monasteries, where they elevate the "Mock meat" dishes into an art form. Our guides were all good hearted, sincere and sweet people. All did their best to make our trip an enjoyable one. China rural areas touched our hearts. We loved cycling through rice paddies, along the rivers, Lugu Lake, mountains and small villages. The people were the greatest treat. We are preparing here in NZ a photographic exhibit of the many images we took along the trip.
We are hoping to book our next longer supported cycling expedition with your company along the Silk Road. Maybe we can coordinate this with Godspeed in a window of free time that he has in the next two years.
Jules L., New Zealand., Yunnan and Sichuan - Shangri-La, Tiger Leaping Gorge, Lijiang and Chengdu 7-Day Cycling Tour 2006
---
We had not been to China for about 6 years and were surprised at the improvement in hotels, outside the major cities. For us, the best things were villages, markets etc.
Ken N., NSW Australia, Yunnan and Sichuan - Shangri-La, Tiger Leaping Gorge, Lijiang and Chengdu 7-Day Cycling Tour 2006
---
Peter ?I just write a short note to tell you how much we thoroughly enjoyed our 14 days in Yunnan. Michael was great - adapting, encouraging, informing, stimulating, and managing. He did it all very well. We were so pleased that he was able to assess the abilities of the group and make itinerary adjustments as needed. He was able to satisfy the expectations of all members of the group, regardless of their biking ability. We had a wonderful group and were proud to be the largest group you have had. We greatly appreciated the new bikes. With the exception of being expected flat tires, the bikes performed well. We also would like to complement John on his leadership and extensive knowledge of the area. He added a great deal of information, and was instrumental in scheduling our interesting visit to a (his) local village near Dali and to the hot springs resort...both of which enriched our trip.
Laurie B., Pennsylvania, U.S.A., Yunnan Bike Tour: Kunming, Dali, Shangri-La (Zhongdian), Lijiang, and Lugu Lake 2006
---
Michael did any excellent job choosing food that was tasty and varied.
Mountains are always good for scenery. Sights were very interesting,
It is very impressed with Michael. John also particularly is enthusiasm. Qi Xian was a little less sure of his role, though that may have been because of his late arrival and the fact that the trip was dominated by Michael. At one point found him reading a book at my side during dinner and one of the groups? members was put off by the constant text messaging to the girlfriend. Minor things can easily be corrected.
Personally I really enjoyed the 3 days in Lijiang. On our first day there, we combined cycling with shopping and sight seeing and it was definitely one of my favorite days of the whole tour. The next day we trekked in the Yak meadow and had the last day free to shop, relax or whatever. An excellent mix of activities also forgot to mention our 3 drivers, all of whom did an excellent job.
Jane D., Ontario, Canada, Yunnan Bike Tour: Kunming, Dali, Shangri-La (Zhongdian), Lijiang, and Lugu Lake 2006
---
Michael was great. John is so enthusiastic and cheerful. You couldn't help but like him. We also benefited from his extensive local knowledge.
Especially enjoyed the night we spent at the hot pools resort suggested by John.
Ven T., Minnesota, U.S.A, Yunnan Bike Tour: Kunming, Dali, Shangri-La (Zhongdian), Lijiang, and Lugu Lake 2006
---
I really liked Michael's flexibility and the fact that he gave us choices, perhaps too many choices. I would have like to push myself a bit more physically, but couldn't because we had reach steep mountains. Michael also had a very good sense of humor and was always willing to help us out if something happened with our bikes. Plus, he did a good job of answering the numerous questions that we had.
Mary S., Australia, Yunnan Bike Tour: Kunming, Shangri-La (Zhongdian) and Lijiang 2006
---
Peter was extremely helpful and efficient in making arrangements for hotel, flights, train and so on in Chengdu. He even picked me up from the airport and took me too dinner on the day before the tour started. I felt like a friend, not a client.
In general the hotels were better than I had expected. To reduce the cost of the tour I had asked for simple, but clean accommodations and was expecting guest houses.
The trip was worth it just for the food, especially "Hot Pot." The spicy breakfast is a bit difficult to get used to if you are used to cereal and fruit in the morning. You can't get coffee, so if a good day for you depends on a couple of cups of joe in the morning bring instant coffee or a small coffee maker.
There were some extremely beautiful stretches. From Wolong to the Balangshan pass, from Xiaojin to Danba, the climb up to the Moxi pass, the climb to the Snowy Mountain ski resort (although partially closed to cyclists), and Godspeeds "shortcut" to Anren were my favorites. I could have done without the Hailuogo Clacier Park and the Hunagongxi fishing village, which were both very touristy.
The Buddhist temples are amazing. It was special to be invited by some of the Tibeten nomads into their tents for a cup of yak butter tea. I also really liked the hot springs and massages! The scenery is breathtaking and very diverse. As I said, had I know what to expect in advance I would have avoided the glacier park and the fishing village.
This wouldn't have been half as good an experience without Godspeed. He made all arrangements for food, hotels, massages ... and was genuinely concerned that I was happy with everything. Being unable to communicate with the people in the places we visited (nobody speaks English and I don't speak any Mandarin), it was really nice to be able to rely on Godspeed as an interpreter.
Bernhard B. Illinois, U.S.A., Western Sichuan - Rivers, Mountains, Glaciers, Pandas, and Tibetans 12-Day Bike Tour 2006
---
I'm not used to eating like a 22 year old guy - but everything was so good that I couldn't help myself. It isn't easy to make someone feel like a princess while they're spending all day on a bike, but Godspeed did it. I felt a lot more like I was biking with a friend than like I was on a tour - except for the fact that Godspeed and the (very nice) van driver were always worried about my needs. I could get used to that.
This was without a doubt the best thing I did in China and probably one of the best things I've done on any vacation.
Carol M., Washington DC, U.SA., Western Sichuan - Pandas, Snowy Mountains and the Tibetan Plateau 7-Day Bike Tour 2006
---
The hotels were perfectly fine in the context and I realize that sometimes the selection was pretty limited so no stress whatsoever, I was just trying to be honest and accurate in my feedback. I will definitely recommend you to anyone who will listen! :-)
Hana P., Ontario, Canada, Yunnan Bike Tour: Kunming, Dali, Shangri-La (Zhongdian), Lijiang, and Lugu Lake 2006
---
The hot springs hotel had a beautiful location, large room with a nice view and good food. We ate great food at local restaurants. Danny was an excellent culinary guide and helped us to appreciate local cooking. The vegetables were particularly good.
The scenery was beautiful. We spent a great afternoon/evening on the Li River on bamboo rafts after the tour boats had gone home -- we saw the water buffalo floating/swimming back across the river, the cormorant fishermen going out to fish, etc. The trip to the Fishing village was worth it for the preserved Ming architecture. I really enjoyed the stop to see the temples in the small town (that might have been Fuli?) The entire trip through the terraced rice fields was beautiful -- on the way back through we crossed a suspension bridge into one of the Yao villages.
---
Danny has a great appreciation for Chinese culture and food and we learned a lot from him. Once he realized that we were not super bikers he really adapted the trip to our style -- a leisurely rxploration of the countryside and villages. We thought he was excellent.
Norma M., Indiana, U.S.A., Exploring Guangxi's Wonders 6-Day Bike Tour 2006
---
Neil and I thoroughly enjoyed our holiday in China and feel it could not have been any better.
The itinerary was perfect for us, as we were able to experience the big cities and the well-known tourist haunts, and then were able to get closer to the people and culture in a small part of Sichuan, namely the ethnic Tibetans. Because we stayed in hotels that were not frequented by foreigners, we felt we were at times the only tourists around. This also meant that we were not besieged by beggars, touts or hawkers which a lot of people had warned us about. After the cities, we delighted in the clear mountain air and the grand vistas of snow-capped mountains which we do not have in Australia. We thought our accommodation was very good, we did not expect this in rural China. The fact that we always had ensuites was amazing.
Michael Zhang, our guide, was exemplary. His English was very good and he was always eager to learn new words. I liked the way he never told us what to expect, but just let us find out for ourselves, which meant we were always surprised and delighted with the scenery, the excursions, [e.g., the watchtowers] the National Parks etc. He also seemed to be able to ferret out the best restaurants in even the smallest towns and made sure we enjoyed the local cuisine in each town.
Despite our fears, we had no trouble with the altitude, but were pleased that you thought of Oxygen cylinders just in case. We also liked the itinerary because we alternated cycling with excursions, which meant we never got too tired. Neil was a bit disappointed that we ran out of time so he couldn't ride all the way up Balangshan Pass but he was delighted to be able to ride up the one on the Moxi road.
It was great that all our riding was on relatively quiet roads and we mostly went downhill! Our bikes were very comfortable although we had a few teething troubles to start with. Anyway, thank you so much for a wonderful holiday. It was certainly value for money and we will be recommending Bike China to all our friends.
Wendy Austen, Collaroy, New South Wales, Australia on the Beijing, Xi'an, Sichuan, and Shanghai 17-day Bike Tour in April 2006.
---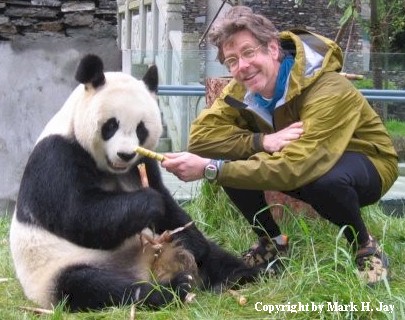 I can recommend Bike China without hesitation. I used them for 15 days for a trip in Sichuan Province. Bike China Adventures, Inc., run by an American expat out of Chengdu, Sichuan, has an elaborate website that makes it easy for you to get an advance idea of what you will actually be doing and allows you to sign up etc. very easily. They don't stint on anything and they do what they say they are going to do. (Maybe slower, maybe a bit differently; this is China, after all! Expect the unexpected.)
The only thing is, that you should be a little cautious. I come from New Jersey, where the highest hill is 2500 feet. In Sichuan Province, where I was, hills went up 10% grades for literally all day, and once I reached 10,500 feet, I just couldn't breathe. Hell, I've not piloted a plane as high as 10,500 feet! And, in New Jersey, I mostly did road biking, and I learned real fast that you can't evaluate your likely progress on a mountain bike by de-rating what you do on a road bike. I elected to purchase "support", whereby you are followed by a van you can ride in when you get exhausted, or when it rains, or when the altitude is so high you can't breathe. I was not required to use the van, but boy was I glad it was there! On the other hand, I was 53 when I did the trip, and if you are in your 20's or 30's you are probably indestructible and will not likely get tired or need protection from rain or relief from altitude. You pays your money, and you takes your choice ....
Another thing. You may wish to consider the type of guide you want. I don't know if Godspeed Wu (Wu Shiling) still works for Peter, but if you are a "bike-centered" person, you will likely love him. If on the other hand you want someone who is truly an authoritative guide, you will love Danny Chen (Chen Naxin). Godspeed is younger (around 24 or so), exuberant and astoundingly athletic; "bike-centered" people will love him. Danny is around 33 or so, quieter, ironic, and a fount of information on history and Tibet; "tour-centered" people will prefer him. Both are English-fluent, each is great company and easy to get along with. Any of them will set up whatever tour you want, whether by yourself or with others. All it takes is money (and, quite honestly, not that much of it, especially if you are a European benefiting from the valuable Euro). Another thing. They will get you the best accommodations that there are, but if you are in remote places, those can get pretty sketchy. Nothing like having to get out of a warm bed and stub your toe as you stumble into a rather unclean outhouse with a flashlight ...
Peter, Godspeed and Danny treated me right. I got full value from them and I have recommended them to my bike club. In fact, I had written an article about my trip last year. [Click here to read.]
Mark J. Short Hills, N.J. USA on the Western Sichuan - Pandas, Glacier, Tibetan Plateau, and Snowy Mountains 15-Day Bike Tour in October 2004.
---
Spectacular scenery with challenging climbs and glorious downhills - Godspeed was very knowledgeable and helped us prepare well. Natural scenery was wonderful - plenty of buddhist monasteries too (although personally prefer natural stuff).
Godspeed is an outstanding guide in all areas - friendly, accommodating, passionate, knowledgeable and good fun. The standard of hotels was excellent - obviously in the more remote areas the standard is not as good but this is to be expected. There was excellent food. Sichuan cuisine is the goods which godspeed made sure we understood with excellent ordering. All equipment was in excellent condition. It was a good value. Biking in Western Sichuan was a wonderful and memorable experience. Bike China was flexible and supportive in making sure this was the case.
Tony Callaghan, Australia on the Western Sichuan - Chengdu to Dege and the Tibet Border 13-Day Cycling Tour in April, 2005.
---
I absolutely loved the Xishuangbanna region. I am so happy we came here for our tour. There were many different types of landscapes and farms to experience along our route, which I greatly appreciated. Overall, the route was very nice and I really enjoyed seeing the landscapes change within / between days. What a wonderful place!
The sites were really special and just what I had hoped for authentic, devoid of tourists, unique and very special. They exceeded my expectations. Thank you!
The hotels in Jinghong, Kunming and some of the larger towns were great and clean - just what we needed with no extra frills.
Our guide, Danny, was great in so many ways. He was so impressively about the Xishuangbanna region and China in general. I think answered practically every question we asked him (there were a lot). He was happy to share his knowledge on local plants, farming techniques, people, etc. He was also very open with us in casual conversation, which we really enjoyed and respected. Also, Danny would translate many things for us out on the bikes (our questions to the local villagers and their answers), however he did not translate any of the menus and just ordered often without asking us if what we wanted or giving us an option. It was clear that he took his job very seriously and felt the need to look out for us. He was also very prompt and very well organized. It is a difficult job, and I respect his patience and kindness.
The bikes were sturdy and in good shape. When they had a minor problem Danny was always able to fix it.
I want to reiterate what a great experience this was. Our tour offered us such special experiences and intimate moments that I will never forget. Be it while sitting around a fire with Tibetan disciples or riding through terraces lined with tea plants I felt as if I had fallen into a National Geographic magazine. Peter, you have built such a great company, and I thank you for taking the time, guts, money and effort to do so.
Ilene S., Toronto, Ontario, Canada on the Xishuangbanna Squishy Banana 8-Day Bike Tour in May 2006.
---
The bike tour, the sights and our experiences with the locals made this 4 day jaunt a highlight of our 2 week trip to China.
All hotels were very appropriately comfortable given their location. (i.e., Woody's in Walnut Grove "rustically comfortable"! Can't beat that view). John did a great job of choosing the food.
John's friendliness, his sensitivity to our shortcomings, his ability to share SO much information about the region and its people endeared him to us. Without John, our experience could have been horrendous. We thought he was terrific.
Peter Snow Cao was extremely helpful in making arrangements for us not only for the tour but for the rest of our visit to China as well. Peter, thanks for everything. We have such a better understanding of Inner China now... that's invaluable!
Kate and Paul C., Wilmette, Illinois, USA on the Yunnan - Tiger Leaping Gorge and Lijiang 4-Day Bike Tour in April 2006.
---
Briefly I can say that Roy was a pleasure to be around and was very helpful. As his first group and with an unknown route, I would say that he did exceptionally well and you should always get good feedback about him. The route was just what Laura and I wanted, scenic hills in a rural setting at our own pace. Our friends were challenged a little too much but could rely on the most courteous and encouraging van driver that I could imagine. The food was superb and Roy was an excellent host at the table. In all we had a great day and would do it again in a second.
John McIntyre, New York, USA on the Beijing 1-Day Miyun Bike Tour in April 2006.
---
The food was excellent! Godspeed's help in choosing dishes was immeasurable. All the dishes we ate were flavorful and filling. I thoroughly enjoyed tasting the provincial specialties.
The route was excellent! Godspeed worked with us to tailor the original trip to better suit the disparity in our cycling experience and desire. While I would have enjoyed more time on the bike, I was happy that we added other cultural attractions to our route to satisfy both participants.
The sights were excellent! Wow! The more rural, the better. I was happy to be out of the big cities.
Godspeed worked hard to make sure that we enjoyed our trip. His English is excellent and he was able to teach us about the history and culture as we traveled through the various provinces.
The tour value was excellent! I will recommend Bike China to anyone who inquires.
Margo A., Chicago, IL, USA on the Yunnan and Sichuan - Shangri-La, Tiger Leaping Gorge, Lijiang and Chengdu 7-Day Cycling Tour in August 2005.
---
Bike China did a great job in planning, organizing, and leading the bicycle trip along the Silk Road. Our guide, Danny Chen, was organized, competent, and very knowledgeable.
Without any hesitation or reservations, I wholeheartedly recommend Bike China's Services for a Bicycle Tour. If appropriate, you can use my name as a Reference for Bike China.
Fred T., Burlingame, CA USA on the Urumqi to Hotan 21-Day Bike Tour in September 2005.
---
The food was good, although I am not the hot spicy type!
The route was excellent! The cycling was great. Love the climbing. It was tough.

The countryside, panda preserve, watch towers were wonderful.

I can't say enough good things about Godspeed. He worked hard to make sure we were taken care of and was great company!
Kathy F., Spokane, WA, USA on the Western Sichuan - Chengdu to Dege and the Tibet Border 13-Day Cycling Tour in September 2005.
---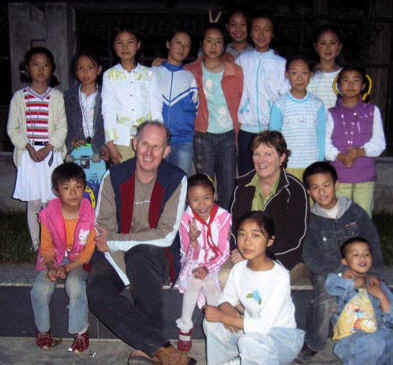 Ian and I have had one of the most extraordinary experiences of our lives. We had decided to travel to China this year and wanted to add to the experience. Our first thoughts were to travel alone and use public transport and to bumble along discovering things on the way. Suddenly we had cold feet and imagined spending most of the holiday trying to get from A to B and not actually enjoying the sights and the culture. We discovered "Bike China" on the Internet. Our fear then was that the whole thing was a rort, a scam, but then we thought, 'What the heck, we only stand to lose our deposit!' So we took the gamble and won and didn't look back!!
'Every day is a surprise, every day is different' became our catchcry. We rode, we hiked, we drove, we talked and we ate. We slept in great hotels and saw many wonderful sights. Every day presented us with new delights and new challenges.
I cannot give Mike enough praise for the job he did. He certainly made our time in China a real pleasure and an unforgettable experience. He was a mine of information, with a story for every occasion. He looked after us, worried about us and told me I was the 'number one age' that had been on the trip (much nicer than being the oldest!) Thank you Mike for such a gracious and elegant way of putting it. Without Mike we might not have eaten and ours fears of organization would have been realised.
Thanks also to Peter for organising everything, including a few extras for us and for running such a slick and professional business. I would recommend Bike China to any cyclist wanting an extra dimension to their time in China.
Thank you Bike China for a once in a lifetime experience!!!
[Read their complete travelogue with more photos here.]
Jan Hoggart and Ian Dyer, Victoria, Australia on their tour of Beijing, Xi'an, Sichuan, and Shanghai 17-day Bike Tour in July 2005.
---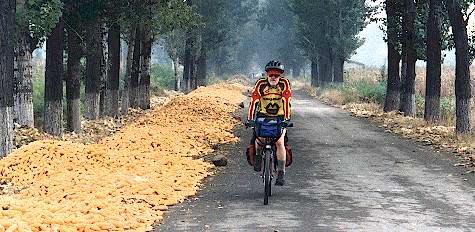 Godspeed went out of his way to ensure that I had the best trip possible. I really appreciate his efforts and attention to detail! I think the tour is a rare opportunity and you guys certainly made sure it was worth the time! - Leo C., Alberta, Canada on his tour of Western Sichuan - Chengdu to Dege and the Tibet Border 15-Day Cycling Tour, October, 2004.
---
The food was much better than we expected!! Godspeed could lead an eating tour. He introduced us to many Chinese specialties and we always enjoyed the selection. We absolutely loved Hot Pot, Peking Duck and some of the other specialties. Even though we have relatively (compared to Chinese) difficult eating habits, Godspeed always found things that we enjoyed. We particularly loved visiting the minority villages and interacting (as much as possible) with the children in the towns / villages we cycled through.
Godspeed was first class. His understanding and comprehension of English is superb, his care for his clients was top notch, and his warmth / personality make it easy to interact and like him. we loved his openness / honesty -- he gave us a great flavor of the country we were cycling through. The only advice I'd give him is to try and do a little more research about the area we were visiting (however we realize that he was on trips most of the months preceding and wasn't able to do as much advance preparations as he would have liked). I'd recommend him to anyone visiting China!!
We have already recommended the trip to all our cycling buddies so hopefully you will hear from them. We would definitely like to join Bike China again (leaning towards a trip in Yunnan or Sichuan), and would love to have Godspeed as a guide again! Keep in touch as we'll likely plan something again in a few years.
Stanley B., San Francisco, CA, USA on his tour of South China - Guangzhou (Canton) to Guilin 11-Day Bike Tour , October 2004.
---
Danny could run "foodies tours" through Yunnan. I have never tried so many weird food combinations in my life. Apart from Tibetan Yak tea, the food was an absolute highlight. Snails, bugs, spitting fish bones onto table clothes, unrecognisable water weeds .....fabulous.
The route was full of plenty of weird old ladies in strange clothes to keep me amused for hours. Plenty of mountains, people in weird clothes, dead yaks on the road sides, truck exhausts - fabulous.
Danny was absolutely fantastic. I would recommend him to anyone wanting to travel in China. He is probably not the best one for "Aussie small talk" but when you get him chatting on a topic he is passionate about he will talk for hours! Danny was extremely professional, attentive and made the trip one of the best holidays I have had in many years.

Suzy A., Victoria, Australia on her tour of Yunnan 14-Day Bike Tour - Kunming, Dali, Shangri-La (Zhongdian), Lijiang, and Lugu Lake, November, 2004.
---
The tour value was excellent! I just *loved* that trip. After this one, I was part of a more 'classical' tour ( also in Guangxi ), it was rather boring compared to this one ! I'm convinced that bicycle is the best way to discover China ( and probably many other countries ), and I really hope to do this again in 2005 ! So, expect a few questions from me this spring !! Thanks again for making this trip possible...
The food was excellent! Danny made me discover many dishes, I always ate well and *lots*. Also, we ate many fruits, which is very agreeable when having a break during a ride !
The route was good. Sometimes I was very glad that we had mountain bikes :-) The road conditions were in some cases bad, but it was pleasant. Also, it didn't climb much, which was great as I'm primarily an 'urban' rider!
The sights were excellent! Yangshuo area is very beautiful, and riding around Sanjiang was wonderful... The landscapes there are so green and peaceful !
My Bike China guide was excellent! Danny's not the most talkative person I've ever seen, but he's an excellent guide. I learned a lot about China during this trip, both about everyday life in China and about the history of the country. He looks like a very trustworthy guy, and that's important when traveling a special way like we did ! Also, some days I felt like riding a bit more, and he managed to make us ride a few more kilometers, that's nice.
Jerome F., Asnieres sur Seine, France on his tour of South China Bike Tour - Exploring Guangxi's Wonders 6-Day Bike Tour , September 2004.
---
The route was excellent. I could have been fitter, it was more uphill climbing than I thought. I especially loved Tiger Leaping Gorge and surrounds, the off road stuff on the way to Daju and especially the long down hill run to Lijiang!! and the Bai Frescoes. The days get mixed up but the leg from Dali was also very picturesque. I loved the mix of terrain, traffic and scenery. We got a lot of transport which i wasn't sorry about because there was no way we would make the distances some days and it was a welcome rest. I liked the mix of towns, villages, cities, lakes, mountains, rivers, springs. I liked the mix of transport, cycling, vans, boats and ferries.
The sights were excellent. As above loved what we saw, it was a good mix. spectacular scenery.
The guide was excellent. Godspeed was a godsend! He was perfect for us, tailor made our tour, endlessly patient, good humoured, culturally sensitive to both us and the chinese. he is a man mature beyond his years, we enjoyed his company immensely and had great chats about cultures, sociology and life. Big thanks Godspeed!
The hotels were excellent. We had a fantastic range of hotels, particularly loved the one in Dali which was one week old at the time, loved Dijou, Woody's in Tiger leaping Gorge and Lijiang and kunming.
The food was excellent. We certainly didn't lose any weight!! We had an amazing variety of very delicious food and mealtimes were always a treat. No matter where we were Godspeed found something. Even when i didn't feel like rice noodles for breakfast. The food was one of the many highlights.
The value was excellent.
Recommend to others? Yes! Definitely! I had a fantastic time. We will hopefully be back to do a different tour.
-- Christine L. Victoria, Australia, Dec 2004 on her tour of Yunnan 8-Day Bike Tour - Kunming, Shangri-La (Zhongdian) and Lijiang
---
Once again, I want to tell you how much I enjoyed the trip! Godspeed was an engaging, mulit-talented, and enormously athletic free spirit, while Danny was a wonderful guy with a very deep understanding of Tibetan culture and Chinese history. This was an experience of a lifetime and I am glad that I took the leap of faith to sign up with you. People should be encouraged to go on a trip like this! Mark J. - Short Hills, N.J. U.S.A. on his tour of Western Sichuan - Pandas, Glacier, Tibetan Plateau, and Snowy Mountains 15-Day Bike Tour, October, 2004.
---
I wanted to let you know that Eleanor, Will and I had an excellent time on our bike tour. Mike is a fantastic guide and did a great job. Lynn C. - Philadelphia, U.S.A.
---
Peter, This is a long overdue "thank you" for our wonderful trip. As soon as we got back to the states, we were swallowed up by work and school... but I have been meaning to write and tell you how much we enjoyed ourselves. The Yunnan Province was incredibly beautiful, our weather and other events turned out great, and Godspeed was a very capable, attentive, and thoughtful host! Again, thank you -- the trip was just great. Tess C., Houston, Texas, USA on her tour of Yunnan 8-Day Bike Tour Kunming, Shangri-La (Zhongdian) and Lijiang, July, 2004.
---
Melanie and I really enjoyed our trip and would definitely recommend it to others. The sights were unbelievable -- truly lifetime experience material... Mike was a conscientious guide. The food was great -- we are adventurous eaters and Mike was very good at ordering a variety of (non-meat) dishes for us. Thanks for the adventure!! Josh G. - Alexandria, Va., U.S.A.
---
The scenery was the highlight of the trip - the natural beauty of the area was just astounding. Frank M. - Sydney, Australia
---
All the sights were interesting. I have been in China long enough -- and in Asia other times -- that I have seen plenty of temples and the like. But these were interesting, and I'm sure they were even more interesting to people who have not been to Asia much, if at all. I liked the route because it provided a good cross-section of things -- rural areas where you could see animals and people working in the fields; small villages with really "local" restaurants and animals tied up by the side of the road; smaller cities with the attendant smells, people and traffic; highways where trucks cut around you and blasted exhaust in your face; off-road riding, etc. In other words, I got some good and some not so good (i.e., dust, exhaust fumes and crazy traffic). I actually liked this, in a way, because I got a fuller view of what this part of China is like. Danny was very knowledgeable, easy going and down to earth. He didn't talk too much, or too little. He seemed to know when I was not in a particularly talkative mood. - Carter C. San Francisco, U.S.A.
---
It was a fabulous trip and I will highly recommend it to all my friends. Mike was a fabulous guide! Very enthusiastic, knowledgeable and really put in enormous effort to accommodate us and make our experience pleasant. Eleanor B. Philadelphia, U.S.A.
---
Much better than we expected! It was a physically challenging trip, which is what we expected. The option of truck rental when necessary was a nice benefit, especially when a broken derailleur cable delayed our departure one morning and reduced our riding time that day. The downhill from Xiao Gao Shan to Yanyuan is one of the best we've ridden anywhere! Every day was a new adventure with more to see and experience! Danny's scenery, nature, culture and history knowledge is impressive. And he's a great cyclist, too. He was very perceptive about our needs and interests. We're already planning our next trip with Bike China and Danny for either 2005 or 2006. Carol Y. Hood River, OR, U.S.A.
---
The sights were AWESOME! Mike was knoweledgeable, considerate and willing to accommodate. The route was great, well conceived and executed. Harve B. Portland, OR U.S.A.
---
Overall it was a good trip through some splendid scenery and towns, and with much great food. Godspeed was an energetic and enthusiastic guide. He is certainly a good cyclist. Giles M. London, U.K.
---
I loved all of it. Godspeed is absolutely excellent at ordering the best food at each place. His choices were always right on and made for an excellent experience. I thought the hotels were sufficient for the job. One night we stayed in a very basic "roadhouse" that was not very nice, however I believe it gave the experience of how chinese travelers would stay and that was important to me. Godspeed is a unique individual. He has excellent knowledge, is a true patriot of China and is a lot of fun. Sometimes we would see things that he was seeing for the first time and it was nice to see his reaction to some of the sights. He is a very ethical person. Jack G. - Calgary, Canada
---
Godspeed was a great guide! His enthusiasm for biking and for China made it really fun. He was also flexible in adjusting the plan each day as needed - when one of us were sick or tired, etc. The food was great. Godspeed did a great job ordering for us. I liked that we were eating the same food as what the locals ate. Mark W. - Portland, OR, U.S.A.
---
"Overall the trip was great and you can send anyone looking for recommendations my way. I want you to know that Godspeed was a super guide and did a great job. He handled all issues well and adapted to the conditions and situations as the unfolded. I have been on guided trips before and for someone of his age I was amazed at his professionalism. He treated us more as a friend than as a client. It was like going on a trip as if we had all been friends for a long time. He added significantly to the enjoyment of the adventure. Most of the positive aspects any trip are the small intangibles and how you feel, we felt great." Peter E. - Diamond Bar, CA, U.S.A.
---
"The trip proved to be much more demanding than I had expected, but well worth it. No regrets about it. I would recommend his service to anyone. Don B. - Toledo, Ohio, U.S.A. [Read the Travelogue.]
---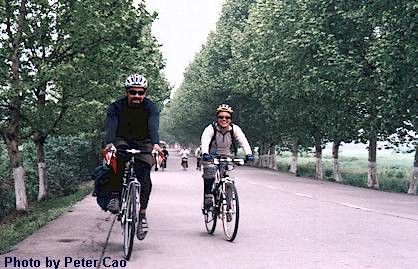 "We had a wonderful time on our bike tour and I would highly recommend that you go! I'm convinced biking is the only way to see China. My boyfriend and I spent 10 days biking around the Sichuan area. Peter was our guide - we couldn't have asked for a better experience. It is really a door-to-door operation; he picked us up and dropped us off at the airport, dealt with the hotels and got us rooms, helped us order food... you name it, he did it. Plus, there was enough flexibility that if we saw something interesting, we could stop and check it out. Plus, the tours go to places that other tours don't... you'll probably find that you're the only non-Chinese at most destinations. Definitely cool. The tour was organized well. We biked between 35-50 miles a day and spent the rest of the time visiting interesting places and people. There was no way we could've seen the stuff we did without the tour --when we returned to the States, we couldn't even find info in tour books about the stuff we did -- a true adventure." Stacy M. - Berkeley, CA, U.S.A.
---
"The whole trip was a hoot. We had a wonderful trip and loved the experience with Mike. He is a very interesting person, very flexible and fun to spend time with." - Kristina S. - St. Paul, MN, U.S.A.
---
"Everything went fine and I could cycle without any problems. The bike was really good. I am glad that I made the tour, even though I had not planned on traveling alone with a guide. Thanks for the organization. - Dr. Edmund R. - Innsbruck, Austria
---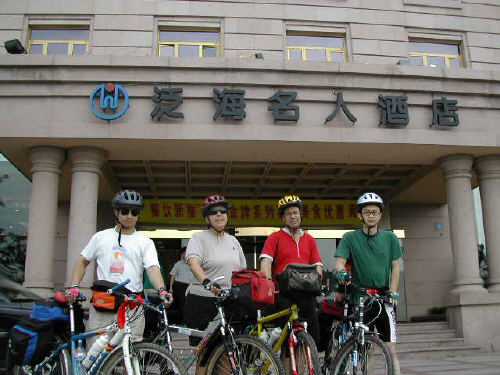 "We can't tell you how wonderful the trip was. It met and exceeded our expectations in every way. The biking, the countryside, the food, the accomodations and the wonderful help and companionship of Mike and Chen. It truly was an incredible adventure." Dr. Stephen S. - Baltimore, MD, U.S.A. [Read the Travelogue.]
---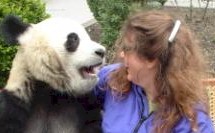 "What I learned from my experience is that it is probably physically possible to bike most places in China, but that there are few routes that are beautiful, safe and able to teach you about the Chinese way of life. To find a route that you will enjoy at least part of the time, you need to rely on local opinion from someone who understands your values. In my case, Peter Snow Cao organized the trip, and it would be hard to imagine a more ideal tour for me — along a beautiful and lightly traveled road, up into the mountains, and into the shadow of Tibetan culture. There was plenty to see and no other tourists in sight, and I never would have found the route on my own." - Dr. Danni R. Philadelphia, PA, U.S.A. [Read the Travelogue.]
---
"For me it was marvelous, I thoroughly enjoyed it. I got a chance to mingle with and meet lots of Chinese and that was so much fun for me. At the same time I didn't have to worry too much about logistics and schedules and making sure [my son] Glenn got what he needed." - Dee W. - Richland, WA - U.S.A.
---
"I had a great time and I believe the description of the tour on the web site is accurate. Thanks again and looking forward to visiting China again. I really had and great time on the last tour!!" Steve H. - Pasadena, CA, U.S.A.
---
"I greatly enjoyed the trip and have already gotten good mileage out of some of the stories." - Larry L. - Ellicott City, MD, U.S.A.
---
"I wanted to pass on my thanks to you for the great trip I had with Godspeed (Chengdu-Danba). Although the bike tour didn't go to plan for health reasons, Godspeed managed to make excellent use of our time, and I really enjoyed both the cycling that we did manage, as well as his hospitality around Chengdu. Godspeed is a great guy, and a fabulous guide. I found China fascinating, and love the mountainous scenery west of Chengdu. I am very keen to come back next year, and cycle further west (or perhaps in another province...), and I have no hesitation in recommending 'Bike China', and specifically Godspeed as the guide, to my friends here in New Zealand." David R. - Wellington, New Zealand
---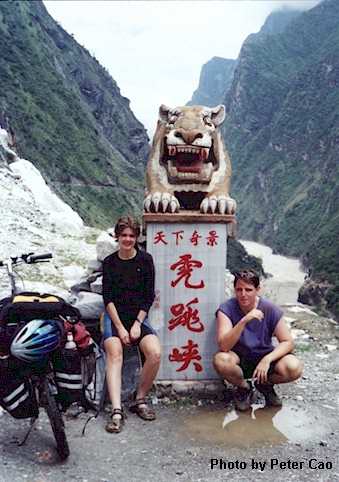 "Wanted to send a note saying thanks for the trip -- we had a great time and plan many similar adventures over the next couple of years." Paul P. - American living in Seoul, South Korea
---
Please contact us if you have any questions or need more information.


---
Bike China Adventures
Home | Guided Bike Tours | Testimonials | Photos | Bicycle Travelogues | Products | Info | Contact Us
Copyright © Bike China Adventures, 1998-2013 All rights reserved.