Tour Description
South China Bike Tour
Exploring Guangxi's Wonders 8-Day Bike Tour
Dates: Contact us with the dates that work for you.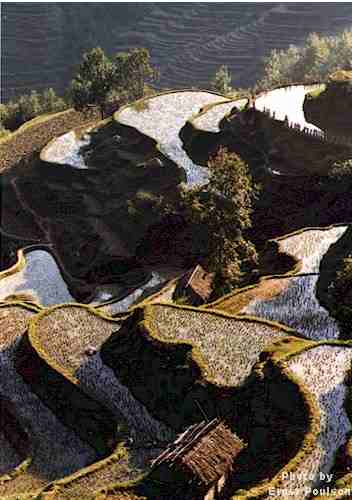 Rice Terraces of Longsheng
Exploring Guangxi's Wonders 8-Day Bike Tour

Dates: Contact us with the dates that work for you.
This easy-going cycle tour begins in Guilin, located in southwestern China in Guangxi Province about 50 minutes from Hong Kong by air. This tour is intended for those with little or no cycle-touring experience and will utilize vehicle transport to access some of the more remote areas where we can then cycle and explore at a leisurely pace. The tour will be supported, meaning there will be a guide, and we will utilize a vehicle when necessary.
The area around Guilin is famous for the karst landscape (limestone hill formations jutting up from an otherwise level ground and the subject of countless traditional Chinese paintings). This area is also riddled with caves used extensively by locals to hide when the Japanese invaded during World War II. After a day to get acclimated and tour of the city, we will head out into the countryside for some fresh air and head north to Longsheng.
Longsheng is located in an area that is known as the Dragon's Backbone Rice Terraces where entire mountain sides have been transformed into wedding-cake like sculptures. There are also some hot springs to relax in.
The next stop at Sanjiang brings us into to one of China's many minority areas where the Dong people live. The distinctive Wind and Rain Bridges as well as the Drum Towers offer are unique architectural features that clearly identify each village. As we will cycle along the road will pass bamboo waterwheels working to irrigate the rice fields.
Next we will travel by vehicle to Yangshou which will provide an opportunity to explore the karst landscape including Moon Hill, visit Confucian and Buddhist temples, various surrounding villages (possibly during market day), see the Dragon Bridges and watch the cormorant bird fishing at night with its owner.
We will then head back to Guilin for connections back to the West or other parts of China.
Some Photo Highlights of Exploring Guangxi's Wonders
Itinerary
Route Map
Day
Location
Cycling
Miles/KM
Total
Miles/KM
Notes
GUANGXI PROVINCE
1
Guilin
20/33
20/33
Arrive in Guilin - Tour city area
2
Longsheng
30/50
67/110
Zhuang Minority area, Rice Terraces, and Hot Springs
3
Sanjiang
30/50
49/81
Cycle along the river, visit chopstick factory.
4
Sanjiang
30/50
30/50
Dong Minority Village: Wind and Rain Bridges and Drum Tower
5
Yangshou
20/33
170/279
Vehicle transport to Yangshou - visit Dragon Bridges
6
Yangshou
30/50
30/50
Explore Moon Hill, Reed Flute Cave, Tunnel Hill Rock - Cormorant bird fishing at night.
7
Yangshou
30/50
30/50
Cycle along Li River then take a boat ride back to Yangshou.
8
Trip Ends
0
51/84
Transport to Guilin Airport for connections to the West or other destinations in China
Total Distance
190/316
447/720
Miles/Kilometers
Bicycle Tour Details
Dates: Contact us with the dates that work for you.
Start location: Guilin, Guangxi Province

Finish location: Guilin, Guangxi Province

Tour type: Vehicle-supported - riders carry only their day bags. Vehicle transport will be used to reach some destinations. (Note: This tour is also available without a support vehicle at a reduced cost.)

Geographical location: South China

Elevation range: 300 feet (100 meters) to 4,000 feet (1,200 meters)

Terrain: Flat, rolling and mountainous

Cycling tour level: Easy

Total cycling distance: Approximately 190 miles (316 km): Average distance per ride day: 27 miles (44 km)

Total land distance: Approximately 447 miles (720 km) using both vehicle and a bike combined.

Days: 8

Nights: 7

Cycling Days: 7

Rest Days: 1

Climate: The best weather for touring is in the spring and fall. Chance of rain. For historic weather conditions, click on the link below.
Group size: 1 - 8

Accommodations: Will be basic Chinese hotels generally of the 1-3 star variety. On occasion it may be necessary to use a 0-star hotel or a guesthouse. The prices are for double occupancy rooms, and will vary depending on the number of people who participate.

Single room supplement: US$ Call/Email

This tour is limited to no more than eight people. This will permit more flexibility in the program and allow more spontaneity for taking photos or exploring villages along the way.


Tour includes the following:


1. Bilingual cycling tour guide.
2. All hotel accommodations for seven nights.
3. All meals eaten as group (private meals, snacks and alcoholic beverages are not included).
4. All group transportation costs (buses, boats, and taxis) including to/from the Guilin airport.
5. All group entrance fees.
6. Bicycle rental including helmets, gloves and raincapes.

This will be a vehicle-supported ride. This means that a vehicle will carry luggage between destinations (and cyclists when necessary).
If you decide to do something on your own, you will be responsible for those costs.
Cost: Prices depend on the total number of people going on the tour and the time of year. Below are the price per person (pp) and quoted in US dollars (US$) for non-holiday periods*:
Group size:
1 person: - US$ Call/Email
2 people: - US$ Call/Email
3 people: - US$ Call/Email
4-8 people: - US$ Call/Email




Current registrations:

There is one person registered as of

* Holiday Periods require a 30% surcharge to the basic price due to increased costs of hotels and transportation. Tours with overlapping dates will be prorated. These periods are: Chinese New Year ; Labor Day ; and National Day.
An announcement of the cost of the tour will be made to the group 45-days prior to the start based on the number of registered members.
A deposit of $500 per person is required. This is fully refundable up to 45 days prior to the start of the tour. Submission of a deposit will guarantee your place on the tour. Balance is due at least 45 days prior to the beginning of the tour and payable by credit card, wire transfer, or personal check.
---
Read some
---
OR
Click here to send a note of interest or to request additional information
---
For general ride information that applies to all rides, please visit out FAQ (Frequently Asked Questions) and the General Info page.
---
Bike China Adventures, Inc.
Home
|
Guided Bike Tours
|
Testimonials
|
Photos
|
Bicycle Travelogues
|
Products
|
Info
|
Contact Us
Copyright © Bike China Adventures, Inc., 1998-2015. All rights reserved.