Tour Description
Western Sichuan - Chengdu to the Tibet Border Cycling Tour
16 Days: Dates: Contact us with the dates that work for you.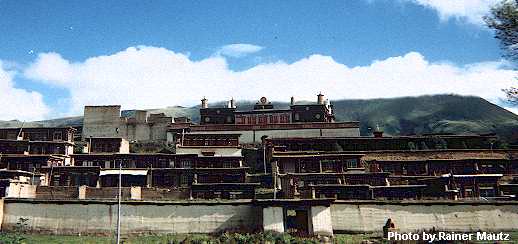 Western Sichuan - Chengdu to the Tibet Border Cycling Tour
16 Days: Dates: Contact us with the dates that work for you.
This 16-day cycling tour begins and ends in Chengdu, the capital of Sichuan Province. This tour is designed as challenging ride. Average daily cycling mileage will be about 60 km or 40 miles through mountainous terrain and riders will have a support vehicle to carry luggage (and cyclist when desired). This tour will visit both well-known and little-known sights and will appeal to those who have cultural, social and geographical interests.
On the first day, the group will meet in Chengdu in the morning and take a leisurely tour of Chengdu visiting Wenshu Monastery, the River Viewing Pagoda and the Sichuan University Museum.
On the second day we will transfer gear into panniers and store excess luggage at the hotel. We will take transport to the starting point 100 kilometers from Chengdu. This puts us on a road leading into the Wolong Panda Reserve. We will spend the night at Wolong and visit the Panda Research Center.
The group will head up to Balangshan Pass through the Wolong Nature Reserve. The pass is at 4,550 meters (14,950 feet) above the tree line. Yaks can be seen grazing on the slopes tended by Tibetan herdsman. At the top of the pass we will then coast down into a gorgeous valley to Rilongguan, at the base of Four Sisters Mountain.
The following day we will cycle (mostly downhill) to Danba, located on the Dadu River, a major tributary to the Yangzi. Along the way we will visit a lamasery and a Tibetan Buddhist Temple.
In Danba, there will be a rest day and the group will explore the area including some of the Tibetan Defensive towers the dot the hills around the town.
On the sixth day, the group will cycle to Bamei visiting hot springs along the way. The next day the group will cycle to Daofu and visit a local orphanage. Next is Luhuo, a small Tibetan town, followed by Ganzi.
Ganzi is a great Tibetan town. A huge monastery, old Tibetan houses and glaciers on the mountains. The landscape side has become the Tibetan plateau with grasslands, cows, yaks and horses.
The following two days we will travel to Manigange and Dege at the Tibet Border. On the 14th day, the group will cycle to the Tibet border at the Jinsha River.
On the 13th day the group will begin the returning trip, first to Ganzi. Time and weather permitting it may be possible to cycle down from the top of the passes.
The 14th day we will take transport to Kangding and visit the hot springs.
On the 15th day, we will cycle down from Kangding and partially use transport to the Erlangshan tunnel and then cycle to the ancient town of Shangli.
On the last day, there will be a quick cycle to Ya'an, then transport to Chengdu concluding the tour.
Below are several travelogues covering the route.
Bike Trip to Danba Travelogue and Photos
Bike Trip to Ganzi and beyond Travelogue and Photos
Another Bike Trip to Danba Travelogue and Photos
Itinerary and Tour Details

Western Sichuan - Chengdu to the Tibet Border Cycling Tour
947 km - 577 miles
Route Map
Day
Location
Cycling KM/Miles
Total km/miles
Notes
SICHUAN PROVINCE
1
Chengdu
30/18
30/18
Tour of Chengdu Sights - Wenshu Monastery, River Viewing pagoda and Sichuan University Museum
2
Yaoji Forest Station
80/49
314/191
Transport 184 km. to Lushan, then cycle to the Yaoji Dam area, then transport 30 km to the Yaoji forest Station.
3
Rilongguan
57/35
98/60
Cycle to the top of 4,300-meter (14,100-foot) pass then cycle down to Rilongguan (3,100 meters, 10,200 feet) at the base of Four Sisters Mountain (snow-covered all year)
4
Danba
120/74
120/74
Visit 500-year old Lamasery, Tibetan Temple
5
Danba
30/18
30/18
Rest Day and explore the Tibetan defensive towers dotting the mountainsides
6
Bamei
97/59
97/59
Climb a 3,850m (12,630) pass. Relax in hot springs.
7
Daofu
77/47
77/47
Visit an orphanage
8
Luhou
78/48
78/48
Small Tibetan town
9
Ganzi
97/59
97/59
Visit Tibetan monastery
10
Manigange
95/58
95/58
Small Tibetan town
11
Dege
112/68
112/68
Dege Sutra Printing House and visit the border with Tibet
12
Dege
44/27
44/27
Cycle to the Tibet Border and explore the Dege area
13
Ganzi
0/0
187/114
Transport to Ganzi
14
Kangding
0/0
420/256
Take a alternative route back with a stop in Kangding. Soak in a hot spring bath.
15
Shangli
75/46
156/95
Take transport to Erlangshan tunnel, then cycle downhill to Tianquan and then to the ancient town of Shangli
16
Chengdu
24/14
165/101
Return trip to Chengdu.
Total Distance
947 km
577 miles
1,908 km
1,163 miles
Details - Western Sichuan - Chengdu to the Tibet Border Cycling Tour
Dates: Contact us with the dates that work for you.

Start location: Chengdu, Sichuan Province

Finish location: Chengdu, Sichuan Province

Tour type: Vehicle-supported - riders carry their own day pack. Transport will be provided to carry gear (and cyclists when desired).

Geographical location: Southwestern China. Elevation range: 900 meters (3,000 feet) to 5,050 meters (16,564 feet)

Climate: The best weather for touring is in the spring and fall. Chance of rain or snow. Historic weather information for Chengdu is available from the link below. Higher elevations will be colder.


Terrain: Mountainous and rolling

Cycling tour level: Challenging

Total cycling distance: Approximately 947 km (577 miles): Average distance per cycling day: 72 km (43 miles) Cycling will be supplemented on occasion with vehicle transport when necessary to reach the next destination.

Days: 16

Cycling Days: 13

Group size: 1 - 8

Accommodations: Will be basic Chinese hotels generally of the 1-3 star variety. On occasion it may be necessary to use a 0-star hotel. The prices are for double occupancy rooms, and will vary depending on the number of people who participate.

Single room supplement: US$ Call/Email

This tour is limited to no more than eight people. This will permit more flexibility in the program and allow more spontaneity for taking photos or exploring villages along the way.

Prices include the following:

1. Bilingual bicycle tour guide.
2. All hotel accommodations (double occupancy) for 16 nights.
3. Meals eaten as group (private meals, snacks and alcoholic beverages are not included).
4. All group transportation costs (buses, boats, and taxis) including to/from the Chengdu airport.
5. All group entrance fees to attractions.
6. Support vehicle for the transport of gear and cyclists when desired.
7. Bicycle rental including gloves, raincape, and helmet.
This will be a vehicle-supported ride to carry luggage (and cyclists when needed).
If you decide to do something on your own, you will be responsible for those costs.
Cost: Prices depend on the total number of people going on the tour and the time of year. Below is the price per person (pp) and quoted in US dollars (US$) for non-holiday periods*:

Group size:
1 person: - US$ Call/Email
2 people: - US$ Call/Email
3 people: - US$ Call/Email
4-8 people: - US$ Call/Email

* Holiday Periods require a 30% surcharge to the basic price due to increased costs of hotels and transportation. Tours with overlapping dates will be prorated. These periods are: Chinese New Year ; Labor Day ; and National Day
An announcement of the cost of the tour will be made to the group 45-days prior to the start based on the number of registered members.
A deposit of $500 per person is required. This is fully refundable up to 45 days prior to the start of the tour. Submission of a deposit will guarantee your place on the tour. Balance is due at least 45 days prior to the beginning of the tour and payable by credit card, wire transfer, or personal check.
---
Read some
---
Click here to send a note of interest or to request additional information
---
For general ride information that applies to all rides, please visit out FAQ (Frequently Asked Questions) and the General Info page.
---
Bike China Adventures, Inc.
Home
|
Guided Bike Tours
|
Testimonials
|
Photos
|
Bicycle Travelogues
|
Products
|
Info
|
Contact Us
Copyright © Bike China Adventures, Inc., 1998-2015. All rights reserved.