Bicycle Tour Description
Beijing, Xi'an, Sichuan Sights, and Shanghai 17-day Bike Tour

Dates: AFTER TOUR Contact us with the dates that work for you.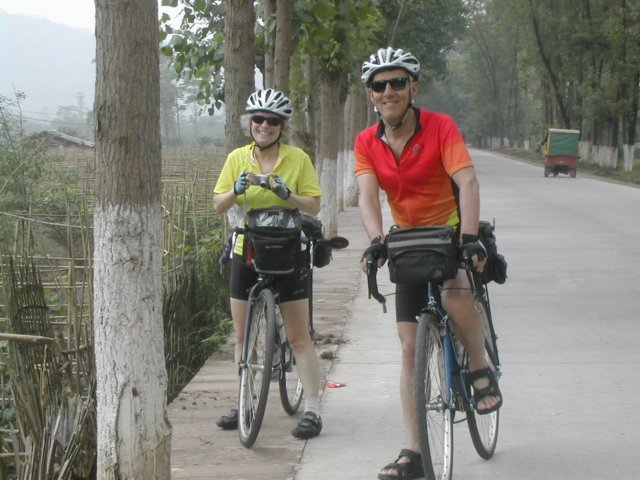 Pete and Carol York near Dazu
Beijing, Xi'an, Sichuan Sights, and Shanghai 17-day Bike Tour

Dates: AFTER TOUR Contact us with the dates that work for you.
[Note: This tour and the Beijing, Xi'an, Sichuan Mountains, and Shanghai 17-day Bike Tour will have the same itinerary and guide for the first four days in Beijing and Xi'an, and also the last two days in Shanghai.]
This 17-day tour begins in Beijing. Generally, group members arrive the day before the tour starts.
On the first two days, the group will cycle through Beijing's old neighborhoods and along the narrow alleys called "hutongs," visit Tian'anmen Square, Forbidden City, Summer Palace, and the Temple of Heaven. On the third day, the group will take a motor vehicle excursion to the Great Wall to hike from Jinshanling to Simatai, and then fly to Xi'an in the evening.
On the fourth day in Xi'an, the group will visit the Terracotta Warriors by motor vehicle and then explore the city wall by bike in the afternoon followed by an evening flight to Chengdu.
At this point, the tour will split into two groups, one heading up into the mountainous Tibetan areas of western Sichuan and the other to explore the historical sights of the Sichuan basin described as follows.
On the fifth day, the group explore laid-back Chengdu visit the Wenshu Buddhist Monastery, the River Viewing Pavilion Park, and drink tea at People's Park for some leisurely afternoon people watching in this city of leisure.
In the following two days, we will head north to the Panda Breeding Research Center, and then Xindu to visit the Baoguan Temple with a fascinating hall of statues in all manners of dress and expression. We will then cycle through the fields to Guanghan to visit the Sanxingdui Archeological Museum with a number of copper masks and other artifacts. Next we will head west to Dujiangyan, a location of the 2,000 year-old historic irrigation system still in use today.
Turning south the group will cycle to Dayi Anren, to visit the Li Landlord Manor. This was used as a re-education center to illustrate the evils of the landlord-serf system and includes an area of clay figures graphically displaying the downtrodden workers being abused by the landlord. Our accommodations will be at the nearby "Living Revolution Hotel" complete with the staff dressed in Cultural Revolution garb.
Next we travel to Emei Mountain, one of China's five sacred Buddhist Mountains for some hiking. We will stay two nights with the last night near at the summit so we can view the morning sunrise over the clouds. In the following days, we will return to the base for a ride to Leshan to visit the world's largest sitting Buddha statue (232 ft, 71 m). Afterwards we head east to Rongxian for another to visit China's second largest Buddha (193 ft, 58.7 m) and then on to Zigong, the location of dinosaur and salt museums.
Continuing southeast, we will then visit Dazu. Here we will spend two nights to give us time to see a number of Confucian, Taoist and Buddhist sculptures (as well as a Christian church) in the surrounding area.
On the 15th day, the group will return to Chengdu using transport and will be rejoined with the Sichuan mountains tour. In the evening will be an Acrobat and Sichuan Opera show.
On the 16th day the group will fly to Shanghai, China's most modern city and home to 18 million people. Here we will leave the bikes behind as Shanghai does its best to discourage cycling with its many prohibitions. We will visit the Pudong TV tower to get a bird's eye view on old and new Shanghai and a tour of the old town, the Bund, Yu Garden and the Shanghai Museum followed by an evening cruise on Huangpu River.
The tour will end on the 17th day and include transport to the Shanghai Airport for connections home.
Photos covering portions of the route:
Itinerary
Beijing, Xi'an, Sichuan Sights, and Shanghai 17-day Bike Tour
Day
Location
Cycling Miles/KM
Total Miles/KM
Notes
BEIJING
1-2
Beijing
40/64
40/64
Biking in Beijing's "hutong" - narrow allies to get a feel for the rapidly disappearing Old Beijing, Tian'anmen Square, Forbidden City, Summer Palace and Temple of Heaven.
3
Beijing/Xi'an
0/0
275/440
Excursion by motor vehicle to Great Wall to hike from Jinshanling to Simatai (about four hours). Fly to Xi'an in the evening.
XI'AN, SHAANXI PROVINCE
4
Xi'an/Chengdu
20/32
75/120
Excursion by motor vehicle to Terracotta Warriors. Bike around the city wall. Fly to Chengdu in the evening.
SICHUAN PROVINCE
5
Chengdu
25/40
25/40
Visit old Chengdu, Wenshu Monastery, River View Pavilion and a local tea house at People Park for some people watching.
6
Xindu/Guanghan
30/50
38/60
Panda Breeding Center, Baoguan Buddhist Temple, Archaeological Exhibit of Copper Masks from the year 1500.
7
Dujiangyan
30/50
54/86
Active Dujiangyan Irrigation System set up 2,000 years ago by the State of Qin during the Warring States Period
8
Dayi-Anren
30/50
54/85
Mt. Qingcheng Temple, Landlord Manor Re-education Center
9
Emei Shan
38/60
92/147
Hike one of China's five sacred Buddhist mountains
10
Emei Shan
0/0
0/0
View sunrise from the 10,500 ft/3,099 Meters summit above the clouds
11
Leshan
28/45
28/45
Giant (193 ft/58.7 m) Sitting Buddha
12
Rongxian & Zigong
30/50
119/190
Rongxian - 2nd largest Buddha. Zigong - Dinosaur and Salt Museums
13-14
Dazu
30/50
87/139
Confucian, Taoist and Buddhist Sculptures carved in surrounding hillsides.
15
Chengdu
20/30
159/254
Transport back to Chengdu. Acrobat and Sichuan Opera show in the evening.
SHANGHAI
16
Shanghai
0/0
38/60
City tour by bike in the old town, the Bund, Yu Garden, Shanghai Museum, and Pudong TV tower for a bird's eye view of Shanghai. Evening cruise on Huangpu River.
17
Shanghai
28/45
28/45
End to tour. Transport to Shanghai Airport.
Total Cycling Distance
353 mi
565 km
1,194 mi
1,910 km
Total Distance
Tour Details
Dates: AFTER TOUR Contact us with the dates that work for you.

Start location: Beijing, China

Finish location: Shanghai, China

Tour type: Combination bus and bike tour with three internal flights. Support vehicle will be provided during days five through fifteen from Chengdu into Western Sichuan and back to Chengdu. At other times, riders carry there own day gear (in Beijing and Xi'an).

Geographical location: Northeast, Southwest and Eastern China

Elevation range: Sea Level to 10,160 feet (3,099 meters)


Climate: The best weather for touring is in the spring and fall. Summer will be hot and rainy. Click on the links below for historic weather information.

Click for Beijing Historic Weather and Forecast

Click for Xi'an Historic Weather and Forecast"

Click for Chengdu, Sichuan China Historic Weather and Forecast

Click for Shanghai Historic Weather and Forecast
Terrain: Flat, rolling hills and mountainous

Cycling tour level: Moderate

Total cycling distance: Approximately 350 miles (560 km). Cycling will be supplemented with motor vehicle transport when necessary to reach the next destination.

Days: 17 Nights: 17

Group size: 1 - 8

Private room supplement: US$580

Accommodations will be generally 3- or 4-star Chinese hotels. The prices are for double occupancy rooms, and will vary depending on the number of people who participate. This tour is limited to no more than eight people. This will permit more flexibility in the program and allow more spontaneity for taking photos and exploring.

Prices include the following:


1. Bilingual bicycle tour guide.
2. All hotel accommodations for 17 nights.
3. Meals eaten as group (private meals, snacks and alcoholic beverages are not included).
4. All group transportation costs including three flights (Beijing-Xi'an, Xi'an-Chengdu and Chengdu-Shanghai) taxis, buses and van during the bike tour.
5. All group entrance fees.
6. Optional rental bicycle is included (US$0).
This will be a vehicle-supported ride during days 5-15. This means that each person will carry only their day packs while cycling. Vehicle transportation will carry the luggage (and cyclists when necessary).

If you decide to do something on your own, you will be responsible for those costs.
Cost: Prices depend on the total number of people going on the tour and the time of year. Below is the price per person (pp) and quoted in US dollars (US$) for non-holiday periods*:
Group size:
1 person US$5,990 pp
2 people US$4,160 pp
3-4 people US$3,680 pp <<<--- Price per person with next registrant
5-8 people US$3,220 pp




Current registrations:

For the September 12 tour there are two people registered as of



An announcement of the cost of the tour will be made to the group 45-days prior to the start based on the number of registered members.
A deposit of $500 per person is required. This is fully refundable up to 45 days prior to the start of the tour. Submission of a deposit will guarantee your place on the tour. Balance is due at least 45 days prior to the beginning of the tour and payable by credit card, wire transfer, or personal check.
---
Read some
---
OR
Click here to send a note of interest or to request additional information
---
For general ride information that applies to all rides, please visit out FAQ (Frequently Asked Questions) and the General Info page.
---
Bike China Adventures, Inc.
Home
|
Guided Bike Tours
|
Testimonials
|
Photos
|
Bicycle Travelogues
|
Products
|
Info
|
Contact Us
Copyright © Bike China Adventures, Inc., 1998-2012. All rights reserved.