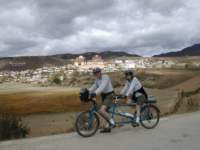 Barry and Joyce on their tandem in Shangri-La (Zhongdian)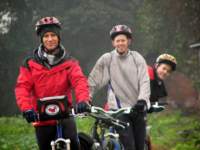 Hardy crew of cyclists: Peter, Andy and Martin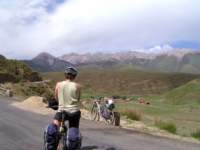 Village below in Western Sichuan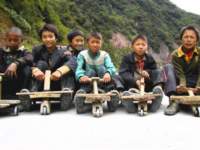 Homemade skateboards ready to race
Do you have a China cycling travelogue you would like to share here?
Contact us for details.
---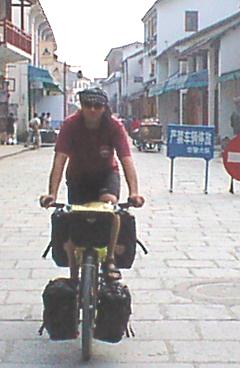 Cycling in China
Email from the Road
Part 9
Copyright © Peter Vanderlans, 2005.
---
The train to Xi'an;
This morning I woke up in the "beautiful" town of Zhihuang with the well-known ticking on the windows. It was raining again. I made some coffee ad checked my clothes but everything was still wet.
This was it. I decided to cycle the 105 km to Huaihua and then take the train to Xi'an. From there I could cycle back south in the next four weeks.
So I left the town after a good breakfast of spicy noodles. The road was ok and quiet and after about an hour the rain (more or less) stopped. In Zhijiang I had an excellent lunch with a lot of people around me who were surprised to see a laowai here. Nobody comes to Zhijiang a girl told me. In fact it wasn't such a bad place. There was even a Wind and Rain bridge with 7 towers, 2 more then the one in Chengyang Qiao.
But I cycled further to Huaihua, a big and ugly city. I immediately rode to the train station and bought a ticket for Xi'an. Believe me, I left the railway station and the clouds disappeared and the sun came out and it became warm as if the sun was celebrating a victory over me.
Still, I didn't regret it. I needed some money too and here in Huaihua there are no ATM. Xi'an will have or at least I can use my visa card to get some.
Anyway, tomorrow I'll head north for going back south, more or less to Chengdu or Chongqing, who know. I have another 4 weeks before my visa expires!
West Street revisited!
As usual I had some problems with my train ticket. At first I asked (and showed at the railway station) a sleeper ticket but it seemed that wasn't possible. I wanted to have a ticket for Xi'an!
In the train there was no space for my bike but I insisted and the conductor took it. I had a soft seat, not too bad I thought. The people in the train were curious where the Crazy Man was going too and in the first few hours I told the people in my limited Chinese where I was going to with explanations by map and photo's.
After a few hours the tickets were checked and I was told this train was indeed the train as was on my ticket though the train was going to Beijing and not to Xi'an! Hmmmzzz... so where did I have to leave this train? Luoyang! That wasn't too bad. I had never been in Luoyang and besides, who cares. All I wanted was some dry and warmer weather.
So I arrived at midnight in Luoyang. It was completely dark. It turned out I was on the East Railway stations, about 7 kilometer out of the centre! Nice!
So I cycled on the guess to the centre. But soon I found some signs that directed me to the main railway station. Now I had to find a hotel. The Lonely Planet says it's hard to find a cheap place and which hotel would anyway be open at this hour?
I found a Chinese only place. Unfortunately the woman didn't want to take me but her husband showed compassion. It reminded me of a song by the New Zealand band The Chills: Look for the good in others, and they'll see the good in you. I was lucky. The room was Y30 only though I misunderstand Y50. Cheap and very nice.
I spend a day in Luoyang. In the afternoon I start walking to the old City. Here I got a deja vu. As you know a deja vu is a thought of something that you have experienced before and indeed this happened! I was back on West Street, Yangshuo! The same atmosphere, the same little tourist shops though no western styled cafes (and therefore no apple crumble:(!) The old town was bigger then Yangshuo, nicely rebuild in old style. In this case I could live with it since I saw on the back streets how the old houses looked. Even a beggar wouldn't want to live there.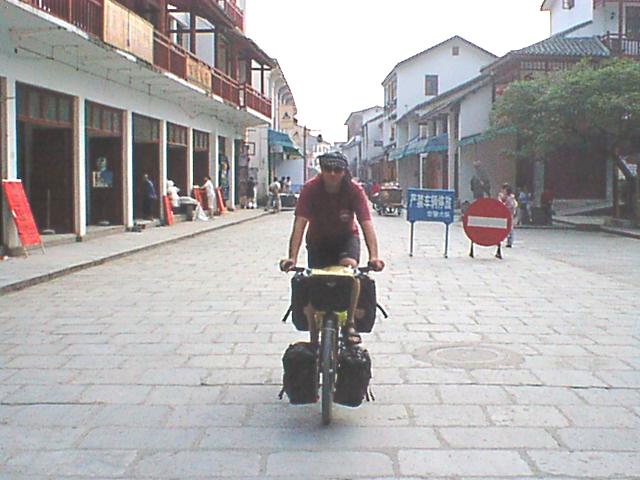 Peter Vanderlans in Yangshuo
This morning I left Luoyang for a ride to Sanmeixia. The English map said it was about 150 km so I just wanted to go as far as possible. But the first markers said it was 126, that is a distance to cover a day. The road was good, not much traffic and no rain (at least). There wasn't sunshine too. The air was filled with microscopic sand which came all the time in my eyes.
I cycled mostly up, very slow, from Luoyang, 145 meters to a place where it was 695 meters. I had cycled about 100 kilometer when the road started to be bad, not just bad but I got another deja vu: the road to Liping! Here and there I had to get off the bike to walk since I was 10 centimeters in the mud. That happened three times in about 5 kilometers. You can imagine how much mud there was to carry by the time I passed the 3rd side. And then, of all, the rain! I had tried to escape from the rain by going north but the rain had found me again!
First I had to clean the bike a bit. An old man with a lot of water helped me out. The bike was clean enough to continue for the last 30 kilometers. It drizzled a bit but not for long. And the road went mostly down so I could take some speed.
But just before San Mei Xia the road again turned into a mud pool. Horrible. But the mud road changed into a dirt track, which in this case was possible worse. This continued for a few kilometers before I was in town. I found a nice little hotel with some excellent hot water. One can imagine how dirty the bathroom was after my shower. But then the bicycle had to be done! Fortunately there were a few places the water could flow off. It took me almost as much time to clean the bathroom as to clean myself and the bike. But I am clean! Yippee!
San!
It was drumming time in San Men Xia. I couldn't figure out why there were some many people practicing drumming and tai chi at the same time. Maybe it had to do with the next public holiday, October 1.
There's little to say about San Min Xia apart that I could get away from the stir fried food. In this town there live Muslims, mostly from West China, Kashgar (Kashi). The breads and kebabs were a feast for me.
Muslims know how to make those little flat breads and together with honey, banana and some yoghurt this is a fantastic breakfast and a welcome change in the eternal dumplings or noodle soups.
I left the town for the next 50 km or so on mostly flat or little up and down going roads. In Ling Bao I had an excellent (early) lunch of vegetable pancakes, soy milk and flat bread. Just out of town there was a "work in progress", of course on the part were the road went up, steep!
On top I stopped for a few minutes and had an ice cream.
There I was passed by a Chinese cyclist! The guy was from Zhenyang, somewhere in the north and had cycled so far about 2000 km. He had a reasonable good Giant bike and little luggage since he would only be on the road for a few weeks. He had no spare material, no cooking stuff and no books.
We cycled up to Tongguan to have a little Chinese only hotel that accepted me because I was with a Chinese. The town is forgettable though we had some excellent noodles and kebabs (though the Muslim kebabs are preferable!)
The next morning we left, had some breakfast and we heard the road would go up and down for the next 30-40 kilometers. Indeed the road went up and down though not too bad. The landscape here looked like complete destroyed by earthquake mountainside with huge craters and canyons that we had to cross. It wasn't easy but as usual, to everything comes an end and once we left this area it became more flat.
Since he carried less luggage he was able to cycle faster then me, at least on the flat lands. To my surprise he wasn't much faster went the road ascended and in the descending I was much faster. But it wasn't a race.
The Chinese knew a "shorter" way through the town of Weinan. I am always suspicious about short ways. Usually they are longer and in this case it became more time consuming because I had a flat tire. And then another one and another one. My spares were all old and I had to replace them but obviously, no bike shop was to be found. Fortunately the last one was ok so we could go further to Xi'an.
Just outside Tongguan we found a sign that Xi'an was 135 km away. It turned out to be 159 when we finally rode into the city! My Chinese friend went the next day to the Terracotta Warriors, which I had already seen. Instead of that I went to search for some bike shops which I found. There I could change my front tire. This one had done it's work for more then 10000 km and was too much damaged. So I changed the back to the front and the gave the back wheel a new descent tire. And, of course, I bought some new tubes.
At night my Chinese friend came back and we had a dinner with a friend he had met that day. As in good Chinese customs there was an almost fight for the bill which I (obviously) lost. After some coffee in a coffee shop (different from the ones in Amsterdam) the inevitable photo had to be made. And later in front of the railway station another one!
My camera has broken and it's probably of no use to repair it again so I'll see if I can buy one here in Xi'an if the price is not too crazy.
My Chinese friend left this morning for Chongqing. He'll take a different road then me tomorrow (?) I wanted to stay another day in Xi'an to search for cheese. The staff of the Xi'an tourist information had a good laugh when I told them my reason and tried to help me out as much as possible. So, after the internet stuff, time for cheese though I am not expecting too much. If one can find cheese in China it's usually Australian cheese and the Ozzie (sorry guys!) do not make descent cheese. That's the thing for Europeans!
---
Peter Vanderlans - Cycling in China: Part 1 | Part 2 | Part 3 | Part 4 | Part 5 | Part 6 | Part 7 | Part 8 | Part 9 | Part 10 | Part 11 | Part 12 | Part 13 | Part 14 | Part 15 | Part 16 | Part 17 | Part 18 | Part 19 | Part 20 |
---
---
Bike China Adventures, Inc.
Home| Guided Bike Tours| Testimonials| Photos| Bicycle Travelogues | Products| Info| Contact Us
Copyright © Bike China Adventures, Inc., 1998-2015. All rights reserved.