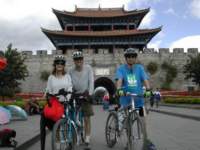 Joyce, Barry and their guide, Danny Chen, in Dali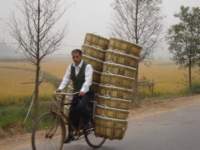 Changsha - Baskets anyone?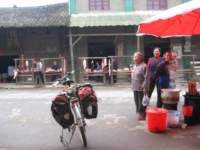 Breakfast in a village market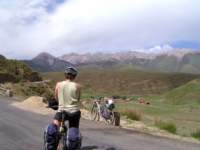 Village below in Western Sichuan
Do you have a China cycling travelogue you would like to share here?
Contact us for details.
---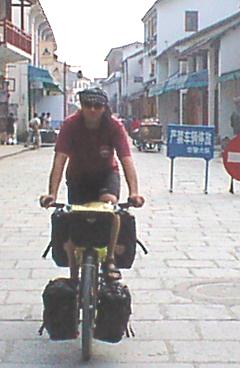 Cycling in China
Email from the Road
Part 7
Copyright © Peter Vanderlans, 2005.
---
Around Yangshuo
The last few days it was hot and humid. This means a normal thinking person would not go out for a bike. Still, I was a bit bored about hanging around at daytime in the cafe. So I took my bike and rode in the direction of Moonhill, a few kilometers south of Yangshuo.
From there I cycled a few kilometers further to the next split of the road. I took a dirt road to Jianbao. The limestone mountains which make Yangshuo so popular were here ordinary hills. Therefore no tourists visits this area which is not far from Yangshuo anyway.
I left the main road but in front of me there was a bus. The bus drove so slow that I felt it was wise to have a little break, drink something and then continue since the road was dusty and it was no use to ride in the dust and the bus was driving as fast as me.
After the dust cleared up I saw a beautiful hilly area where in the vicinity there were a few villages. I followed the road that turned into a sort of decent gravel road. There were no people around and no traffic. All I heard was the wind and the birds.
I slowly cycled further enjoying the beauty of the green rice fields. Even though I have seen many different rice fields, I am always impressed by the specific color green of the young rice plants but here the rice was almost ready for harvesting.
I past a few villages, no more the 20 to 50 houses. I didn't see people but I guessed they were inside having a nap. At this time of the day one should sleep under the fan. Only a weird foreigner like me would go out on the streets.
In a slightly bigger village there was a very small market. I bought some grapes and a few pieces of watermelon. This time of the year it seems it's watermelon time. Everywhere I went I saw melons of enormous size and usually very tasty. For a cyclist watermelon is very useful since it fills the stomach but also gives a lot of fluids which in this temperature is very necessary.
Jianbao was no more then another little village in the hills. I stopped here and got some cool drinks. It was also time to eat the grapes, which I shared with the shop owner. In return she showed up with some excellent prunes.
Just outside Jianbao a climb of about 2 kilometers started. It wasn't a difficult climb but in this heat every activity is one too many. So by the time I was up on this hill, I was soaked with sweat.
The scenery was magnificent. The whole area on my back I saw, including Jianbao and the river that runs there. All of the hill slopes are green of trees and the cloudless blue sky gives the idea of going back time. To say it slightly better, it was as if time didn't exists here.
A bit further on the karst scenery came back and in just a few kilometers I was back in the typical Yangshuo rock formations. As soon as I was back in this scenery the drink stalls were back too. Travelers did indeed came here though on occasionally since it was too far for most of them though only about 12 kilometers from Yangshuo town proper.
That evening I went back on the road to Moonhill for a swim in the river. As an American guy said to me, this place could be Shangri-La. The strange shaped mountains, palm trees, the bright river itself and the lack of people gives it especially a mystical experience. Here too time has never arrived. If paradise ever had existed in the history of mankind, this could be the place. And I was here for a swim with just the sound of the water and the birds further on in the trees singing their evening prayer. Life has been good to me.
Ride or hike?
It has been raining the last days. Not that it rained so very heavy or very long but the water came down in considerable quantities. The last days it started raining at straight 4pm and stopped about 25 minutes later. For about 10 minutes the rain was heavy and then it continued as a refreshing light shower.
So when I decided in the morning to ride along for an hour or two I knew I could expect some dirt tracks full of water. I rode out of Yangshuo with the feeling I need some quietness. Some nights it was so noisy in West Street that a morning ride was necessary to find back my own self. And thus I rode in the direction of Pu Yi. The whole road is made of concrete and it cycles very nice. Since I stay already for awhile in Yangshuo I had been on this road before. The scenery I knew very well but this time I found it more interesting to se if I could find new roads in the area.
Instead of cycling all the 17 kilometers to Pu Yi I took a side road just before Pu Yi. It was a sort of gravel path that went slightly uphill. At the top I had a beautiful view over the backlands. Here the limestone mountains are not so spectacular in formations but the colors are very bright. The vegetables in the fields and the rice are bright green. Some people were working to harvest some of it while others were going around with bottles on their back that consists poison to protect the plants.
No sounds then the slight wind could be heard. Every now and then a cow or some chicken made their own noise. A tractor coming down this path broke the peacefulness. I decided to cycle further down this path that seemed to end up in a little village.
In the village there was no one around but the path continued. It swindled through the paddy fields. After a few kilometers the path widened a bit and the hills became a bit further away. The horizon filled up with the typical Guilin scenery that makes Yangshuo special.
It was still a reasonable good path but because I was now in an area were the rain had done some work I became a bit dirty every now and then because of the water on the path.
Again a bit further on the path was just about a meter width. Stones were dropped on the path to make sure the path would consist to exist. The consequence of the this action was that cycling became more difficult and sometimes there was no path to be seen since the potholes were full of rainwater.
Although I had been in the area, I had never been on this path. Still I recognized some of the strange shaped mountains. On a moment the path turned to the left side and wherever I looked I saw the strange shaped mountain.
Not a sound could be heard. There wasn't much sunshine but it made the scenery even more atmospheric. I stopped here for awhile to inhale the beauty. Magic, that was what it was, just magic. Time had never touched this place. It must have been like this for ages.
A bit further on the path became very bad. I had to walk with the bike on the hand and a bit further on I had to carry it even. Fortunately not for long.
A kilometer further on I was back on a better gravel road I had been on before. I cycled into a village and after the village the road split. I knew where the road in the right direction went to so I decided to take the other road. In the near distance I saw hills rolling on. Again the path here was good. I saw a few villages and realized I was almost riding into one of them.
Probably the villagers here never see many tourists because they looked very surprised and shy when I cycled through this place. There were maybe 25 houses and the path became now so narrow that a bicycle from the opposite direction couldn't pass me. After the village the path widens a bit but motorized vehicles didn't use it. Sometimes I had to get off the bike and carry it further.
A bright stream crossed the path. Since the mud was clinging on the bike I decided to use some water to clean it a bit. It made cycling a bit easier I thought. After the stream I found a nice wider path, I thought. But the path disappeared into a grass field and didn't show up further on. I cycled on the path until I saw a sort of path which I tried to follow. Again I had to carry the bike here and there. I was completely on my own here. If I would fall down and break a leg it would take days before anyone would probably find me. It made the place only more beautiful.
Every now and then I was able to cycle a bit and then hike a bit further. The smells were so powerful here that I could breathe the trees and the grass. I touched a tree and I felt it so much alive.
I found a village and a gravel path that finally took me back to Moonhill and Yangshuo. The mud on the bike I had washed away in the river where I took a bath too. Three hours I had cycled and only 43 kilometers but I had been far away from civilization.
Yangshuo to Chengyang Qiao
I left with mixed feelings the town of Yangshuo. After almost 6 weeks I felt it almost as home. I had made some friends here. It wasn't just the food that I knew I would miss: Williams' sweet and sour or the Aussieburgers, the lemon chicken, chocolate cake and apple crumble from Lilian I had not forgotten or the things I learned from Alf. The friendship of the girls in the 7th Heaven was another amazing event. Thanks you all!
I could have stayed much longer in this little western enclave if I wanted to. But deep in my heart I knew I had to continue for awhile. There was not much choice for me when I was digging in my heart.
And so I left Yangshuo and cycled the dirt road to Xing Ping where the incredible scenery eased somewhat the pain. After Xing Ping I crossed a little river. It was hot and the water must cool me down I thought. So I swam a bit. From here on the road became better though not paved. It was a sort of gravel road with almost no other traffic. It was wonderful to be in this landscape.
When I arrived in Guilin, I found quickly a hotel where I took a shower and then I went into town for some food. The plastic palm trees where lightened, it looked silly as many things look silly sometimes in the modern Chinese cities. But I had not come to Guilin to enjoy the specific Chinese tourist tricks. I didn't care that much about it.
The Tourist Information supplied me a map of the town but couldn't tell me which road would lead me out of the town in the direction of Longsheng. Tourist Information in China is usually useless, unless you're in Hong Kong where they can answer all your questions. They can answer the obvious questions as where to go to in Guilin, where to find Elephant Hill and the shopping mall.
Anyway, in the morning I left the town in the direction of Liuzhou. The incomplete map of the Lonely Planet didn't help me much but the Chinese map of the province actually did. I had a cold bowl of noodles for breakfast and rode out of town.
At first it was slightly busy but after the split of the road into a Liuzhou and a Longsheng section, it became almost desolated.
For another 40 kilometer it was flat and easy. Then I passed a tollgate and from now on the road went up. Unfortunately the road was also under construction! That made the climbing much more difficult. But everything comes to an end and in this case the end was the side road to Long Yi. Long Yi was the area with the famous 800-meter high rice terraces. I knew the most difficult climb of the day would start 6 kilometers from the village of Ping An. I crossed the bridge and the climb had started. But as soon as I set my small gear on the wind increased and the rain started. I had to stop for a few minutes until the wind became less powerful. Kilometer by kilometer I climbed but curve to curve. It became easy in the heavy rain that was pouring down. But my heart felt wonderful. I enjoyed the climb and didn't feel any pain in the muscles.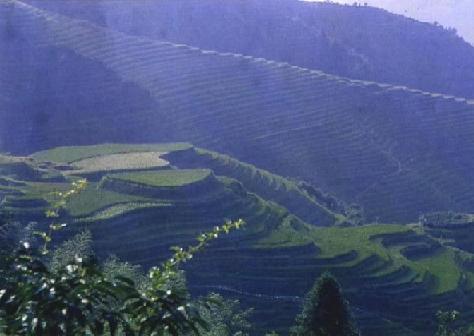 Longsheng
On top, almost 800 meters high I felt full of energy. It was as if I had not done such an exercise. On top busses waited for more tourists and locals to go down. During the climb some of those busses had passed me with new tourists and some of them were clapping as if I had done something very special (which I found not too special anyway).
The last 600 meters I cycled to the bridge from where I had to carry the bike to the first guesthouse, a local wooden house where I got a decent room and hot water. I drank some coffee and then I felt how tired I was.
It was good to stay here for another day and enjoy the views over the rice terraces. There were many hotels and restaurants now. I had been there 3 years ago but at that time there was not much more then a little hotel and a few local restaurants with noodles. Now even sandwiches and apple-pie (very disappointing! and no match for Lilian's apple crumble at Drifters).
The day I spend in Long Yi was fine, good weather up to 3 PM when the rain started again. Fortunately I was enjoying a decent sweet and sour pork at that time.
This morning I left Long Yi for a fine 117 kilometer ride to Chengyang Qiao, the village that is well known for the wind and rain bridge build by the Dong minority people who live in this part of China. The rice terraces were maybe not as spectacular as around Long Yi but still beautiful. The villages were mostly complete traditional and hidden in the paddy fields as if they are an organic unit.
Women do still wear traditional clothes, not just for tourist but also in other not visited villages. The hello's from the children are always around but I can not always answer the shouting from the river sides.
Nothing much had changed since 3 years ago I had visited this place. But why should I visited this place if I had been here before? I am on my way to the north and this road is still the most beautiful to go. So I'll see what will happen.
---
Peter Vanderlans - Cycling in China: Part 1 | Part 2 | Part 3 | Part 4 | Part 5 | Part 6 | Part 7 | Part 8 | Part 9 | Part 10 | Part 11 | Part 12 | Part 13 | Part 14 | Part 15 | Part 16 | Part 17 | Part 18 | Part 19 | Part 20 |
---
---
Bike China Adventures, Inc.
Home| Guided Bike Tours| Testimonials| Photos| Bicycle Travelogues | Products| Info| Contact Us
Copyright © Bike China Adventures, Inc., 1998-2015. All rights reserved.