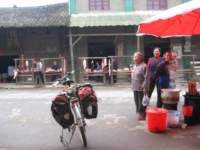 Breakfast in a village market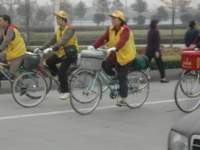 Chengdu local bike club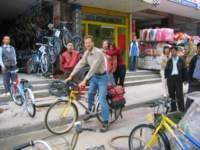 Rainer is ready for the road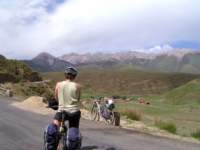 Village below in Western Sichuan
Do you have a China cycling travelogue you would like to share here?
Contact us for details.
---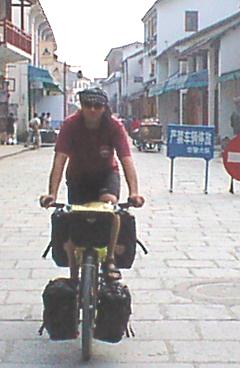 Cycling in China
Email from the Road
Part 5
Copyright © Peter Vanderlans, 2005.
---
Ni feng zi
"Can I help you sir?" I heard next to me. It was a young and very pretty girl who asked me this. She definitely could help me, that was for sure. I had arrived in Tsuen Wan and was lost.
The day had started with heavy rain and storm as it goes in this time of the year in this area of China. I had thought at 4 am I had to stay in Dong Guan, a big suburb of Guangzhou in south China but at 8 am it was dry and I decided to go to Hong Kong. Shenzhen from here was only 88 km so that couldn't be a problem and Kowloon in Hong Kong shouldn't be too far from Shenzhen.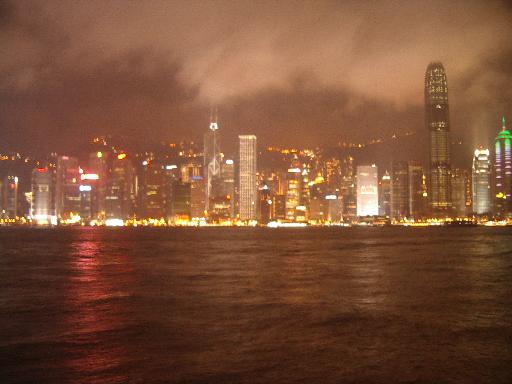 Hong Kong at Night
But the day didn't start well, I couldn't find a noodle stall for breakfast. Fortunately I have had some coffee and bananas in the room so I was sure I would be able to cycle for an hour or two until I would find something. Nothing to worry I thought.
But when this girl spoke to me I had been on the road for more then 12 hours and had only two decent meals. It had a lot to do with the sort of roads I had been on and the way people use these roads.
It was the most difficult and dangerous road I had cycled. As long as I cycled on a main road outside the cities it was usually no problem. In the cities however everybody uses the cycle parts of the road in all directions and without looking at anyone. More then once I thought this was my last moment in this journey. Motors, bicycles, cars, people on foot, everything that could moves was on it in all different directions. If I had hair, I definitely had it grey now!
But after a couple of hours I reached the Shenzhen checkpoint. From here I was in Shenzhen Special Economic zone. I thought it would be easy to reach the border with Hong Kong but nothing could be further from the truth. The signs outside Shenzhen were clear but in the city it seems the Chinese didn't like people to know where the border post actually is. And the people I asked they didn't know either. Many had never heard of Hong Kong! In Cantonese they pronounce it different I learned later. So it took me about 25 extra kilometers in Shenzhen and two extra hours.
At the border I was told I was not allowed to cycle into Hong Kong. I had to take the bus to cross the "very long bridge". The bridge turned out to be about 100 meters or so but was only for motorized vehicles.
Arrived in Hong Kong I had to make just another 40 or 50 kilometers to
Kowloon. It was not far anymore although it was already 4.30pm. The border had cost me another hour and a half because it was busy.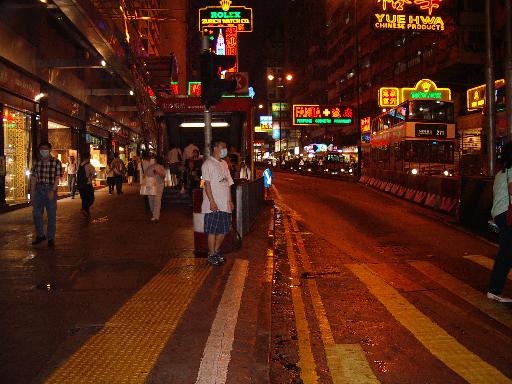 Kowloon at Night
So I started to cycle to Fanging, a nearby city in the north of Hong Kong. In the city there were bicycle lanes but they were hard to use. In the contraction no one had ever thought one could take luggage on his bike and sometimes I had to get off the bike and walk around the obstacles on the path. And furthermore, I got lost, mist a mark for Tai Po where I knew there would be a youth Hotel.
After some time I finally left this very uninteresting place but it was
already 6 PM. I had to hurry up. The road to Tai Po was quite scenic. It reminded me much of the roads in some areas of Belgium and northern France. It was hilly but never much to climb and the road condition was excellent and little traffic. Then the first problem showed up. The road to Tai Po became an express way, forbidden for bicycles. I had to go another way, from the east of Hong Kong to the west, to Yuen Long. That road was also nice but now I had to climb up to 400 meters. At the dimming of the day this was not an appealing thing to do but I didn't have much choice. Camping was not an alternative since I had no money, no food and no water anymore. I needed first a town to change money and buy some food and water.
The markers promised me I could use a tunnel to Kowloon but again this road turned into an express way. I had to pass Yuen Long. That wasn't a great experience too. Yuen Long in the dark at 7pm is busy of people going home from work. Bicycles are not seen on the road and it perfectly make sense why.
I asked at a petrol station the road to Kowloon and a bus driver told me I had simply to follow Castle Peak road. That road would eventually end up in Kowloon. Meanwhile I looked at the meter and realized I had already more then 145 km done this day.
In the dark I cycled to Tsuen Mun and from there into Tsuen Wan where I got lost. But when you need help it is always there. My angel appeared at the moment I was on the verge for just staying on the streets of Tsuen Wan. The girl was dressed in jeans and a shirt. She had short hair and bright dark eyes with a big smile in it. She couldn't be older then 20, at least. Although I had asked people before where to go, nobody seemed to know how to reach Kowloon. At 9pm it was anyway crazy to think about cycle to Kowloon anyway but I didn't see any hotels except those for $300 a night.
So this girl, here name was Sharon, was definitely my guardian angel. She told me I better could take the train to Kowloon. It wasn't my idea of traveling but at this time of the day and the pain I felt in my bones it seemed to be a logical solution.
So we walked to the train station. Here I had to bring my bike and luggage downstairs. Sharon helped me carrying some stuff. I bought a ticket and was stopped! A security agent told me I couldn't take the bike in the train. It was not allowed! So I got back my money and carried with Sharrons' help my bike back on the street.
Sharon told me Kowloon actually wasn't too far. By bus it was only 15 or 20 minutes. That I could cycle then. So I gave her goodbye and thanked her so much for her help.
The road then started to climb up. Now I write this down it's hard to
realize how I was able to make that climb. It was one of the hardest I ever did although it wasn't higher then 150 meters.
Around 10.30pm I was in Kowloon where I found quickly a hotel room. I
realized I had not eaten for hours but I didn't feel the need to eat too. All I wanted was lie down. But my butt hurt, my muscles all over hurt. With 198 km on the meter is made sense.
As my friends in Yangshuo told me every now and then: Ni feng zi, You are crazy in Chinese. At this stage I felt an idiot and maybe I am by doing this. I had probably better stayed in Shenzhen for a night and then go into Hong Kong the next day. But sometimes I am a bit stubborn and then this is the result.
The next day I could hardly walk of strained muscles but I organized a new Chinese visa. Now I could work on another two problems I had: my credit cards and some maintenance on the bike.
After a couple of phone calls to Holland I found out my visa credit card was still not replaced! That will take another 5 working days. The cirrus card is available at the post office in Holland thought I asked them to send to Yangshuo, China. That problem seemed to be solved by now. But the consequence of this was that I had little money left to make it to Yangshuo back.
A six months visa for China was now not possible. Three months I have now and on Tuesday morning I have the boat to Zhaoqing. I was willing to take the boat to Wuzhou but that one is out of order since a few years. So I have to cycle a few more kilometers to Yangshuo and hope I can receive my credit cards there.
I had to work on my bike too. The chains, cassette and gear system had to be replaced after over 7000 kilometers I had cycled from Bangkok. I found an excellent shop here in Mongkok, not far from my hotel. The material I had all with me so it merely a thing to repair it. Some I did myself but other things as the gear system I let them do it. Excellent shop, excellent knowledge!
So all I had to do was counting my money and found out I had nothing now left for reaching Yangshuo. There was just about Y120 left and HK$15. Not much to survive and not enough for a boat ticket. But as I said, when one needs help, it's there. Something unbelievable happened and when I think of it I still find it hard to believe.
In my hotel I talked to some people about my problems because I needed to use the telephone. A South African couple was just busy with going home. They had a flight to Johannesburg on Sunday night. When I was busy on the phone with organizing things for my credit card they gave me an envelope and just left.
After finishing the call I opened the envelope and found US$100! The note with it said, "help someone else when they need it" I don't know the names of these two south Africans but their gift solved at once my problems for the next days. In fact I had not eaten on Sunday more then a cup of instant soup (cold) because there wasn't enough money!
Back in the room I found a lot of dried and instant stuff, soups and oat.
Sometimes it's hard to believe in people because you got bad experiences but people like these two give me al the confidence that people, al people are in principle good. They give me the confidence that help is always near, much nearer then you expect.
And in fact, I have to thank Andrew too. He once told me to read Carlos Castaneda. I am reading it at the moment. A lot of the teaching of Don Juan in this book I can directly use in my experiences of the last days. Life sometimes has surprises no one can really understand. Still, Wo feng zi, I am crazy, for sure.
Hong Kong to Wuzhou
After a few days in Hong Kong I had to leave Hong Kong. I had a new visa for China and because I didn't have my credit cards, still nothing was done by the bank in Holland I had little money left so I decided to go back to Yangshuo. Anyway I wanted to leave for Yangshuo since I wanted to cycle north.
So I had a boat to Zhaoqing, a boat to Wuzhou didn't exist anymore since three years. The boat was almost empty so I guess in the next year or so that one will also be out of order. The scenery on the boat out of Hong Kong is always spectacular. I saw Hong Kong Island and its towers plus some of the area of Tsuen Wan and it's massive towers. It's hard to believe people can live in such a busy area.
The boat arrived in Zhaoqing and then I rode to Deqing, a little town 70 kms from there. Nothing special worth mentioning on that ride. The town itself was a sort of nice little place, small market and good food but again nothing special.
Wuzhou the next day was again not too far and since I had been there before I thought it would be ok to stay there a night. But again it wasn't all too interesting.
In the morning I rode out of Wuzhou following the markers but found out I had been on the wrong road. The 209 would bring me to Xindu. Should I go back or continue? I was already 40 kms out of Wuzhou. Ah, what didn't it matter, I continued. It was humid and very hot. Since I have 5 water bottles on the bike I felt I would have enough water to carry but that day I drank lots more then those 5 bottles. Whenever possible I filled them up.
At the end of the day I arrived in a new build city Hezhou. Some cities in China are not interesting but this one is worse. The only interesting thing to mention is the not so bad scenery. Even the people are bored. All one can do is find a karaoke bar and go around with prostitutes. And indeed it seemed everybody was more or less involved in that business. The night in my hotel room I was disturbed many times by "massage" girls. After a few times I turned the phone off the hook but now they came at the door. Since I was really tired this annoyed me but it seemed there was no way I could make them understand I didn't want their service.
The last leg of this route led me to Yangshuo. Soon after Hezhou the scenery became more scenic. It was also easier to cycle this day because it wasn't too hot. In fact it was clouded and I felt a few splashes of water but up to the moment I arrived in Yangshuo I had nothing serious of rain.
So I put my bike under the umbrella of the 7th Heaven restaurant and at that moment the bad weather started. It started not only to rain badly but it was accompanied by heavy winds and the umbrella was gone before we knew. Quickly I brought my bike inside. I had arrived just on time.
---
Peter Vanderlans - Cycling in China: Part 1 | Part 2 | Part 3 | Part 4 | Part 5 | Part 6 | Part 7 | Part 8 | Part 9 | Part 10 | Part 11 | Part 12 | Part 13 | Part 14 | Part 15 | Part 16 | Part 17 | Part 18 | Part 19 | Part 20 |
---
---
Bike China Adventures, Inc.
Home| Guided Bike Tours| Testimonials| Photos| Bicycle Travelogues | Products| Info| Contact Us
Copyright © Bike China Adventures, Inc., 1998-2015. All rights reserved.