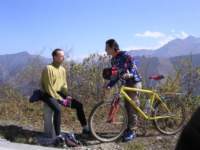 Andrew and Godspeed on the Western Sichuan Road to Danba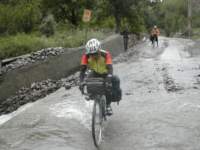 Pete fording a stream across the road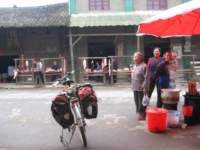 Breakfast in a village market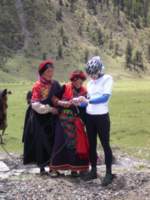 Liny getting advice from the Tibetan women
Do you have a China cycling travelogue you would like to share here?
Contact us for details.
---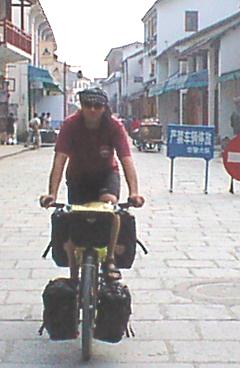 Cycling in China
Email from the Road
Part 2
Copyright © Peter Vanderlans, 2005.
---
China and the new way of Building
There is something I have to share with you. Who can say they have heard of Funing or Yunshan? Not many I guess. Maybe my Chinese friend who has cycled this road but since he has no email he won't be able to tell us if he knows.
Both of the cities are expanding tremendously. The reason fore this is unknown. It's definitely not the spectacular scenery or the gorgeous temples in the area since the scenery are nice but common in this part of China and temples I haven't seen so far.
Yunshan is the most interesting place of the two. The city has build up a completely new city, which at the time of writing is still a ghost town. The hotels however are functioniong but have no guests. No wonder when you look out of the window there's just an empty square. Actually, the whole square reminded me of Mengla. That centre is also new but already a couple of years a busy and central place. I guess this will happen in Yunshan too.
Funing is further in its development. The newly built centre is finished, shops are there and the government has given the right example by being there with the postal service, telecom and PSB (I'd rather avoid them if I can, but you need them sometimes). The new main street is very wide as if they expect as much traffic as in Beijing but after the city the road becomes another small potholed road. At least the city is ready for the next century (I mean century, 2200).
The architecture is great, very fashionable and fun to look at. There are beautiful white tiled buildings with blue windows and here in Funing there are also a few buildings with green windows! Variety makes sense!
But the heart of the city is, of course, in the older part (this is the communist part) of the town. Here's the market, the bus station, the excellent food stalls and great mango's to buy!
So why am I here? I have to go to the Guilin area and this is the way to go. The villages down the road aren't too interesting too but the people are curious and funny.
Last night I camped out. I found a nice spot but in an hour I was surrounded by children who couldn't understand I would like to sleep in such a little tent. Only the smallest children could sit in it, let alone me, who could only lie down. Also my cooking equipment made some people laugh. But they were too early. My cooking equipment was of Chinese origin. I have to say 'was' because of the one time using it; I had to leave it there. The fuel was gone but more important the whole system broke while preparing a meal. It doesn't matter, in Hong Kong I'll buy me a good Coleman multi-fuel thing.
And then today I had the reward of many km's going down. At least that is what one expects when you go down so much. But it was even harder work than going up. And tomorrow more climbing will come up. For the first time in weeks I have gone down as low as 750m. So tomorrow will be an interesting day!
China and the Available Land
Some time ago I have informed you the Chinese are experts in walking in the way. It's not for nothing they are experts in this. 20% of the world population is Chinese; that is 1 billion people. So they have exercised in the last years.
All these Chinese have to eat, they are in fact like us travelers/readers etc, humans and they love to eat! On all street corners one can find excellent food stalls, kebabs, fruits etc. All these things have to grow. Here they need the land for. Almost all the available land in China is used for agriculture. Except for the west of China (think of Xinjiang, Tibet, parts of Gansu) most of the land is in use.
For me as a cyclist this is a bit of a problem when I want to set up my camp. There are simply not many campsites to find. Not only there is not much space for campsites, also the dead have their own problems. They got cremated and then brought back home(?). Even for the dead there is not much space.
A couple of days ago I was in an area where there were no hotels or guesthouses. For the locals this was fun. Most of the people had never seen a tent, let alone the idea of camping. Especially when they saw my tent it was fun to see their reaction.
A little brave boy tried to sit in my tent and succeed but a slightly bigger guy failed. My tent is for lying, not for sitting. The cooking equipment was also a source for fun. The flame went high up when I put some fuel on the Chinese fuel I used with my very Chinese stove. I had to throw it away after my first cup of soup!
It didn't matter. After an hour or so the people went back to their homes and I haven't seen them after.
The place I had for my camp was absolutely gorgeous. The view on the mountain on the other side of the valley with the sunset in my back created wonderful plays with the light. And when it was dark, the stars were so bright, no light pollution!
Further down the road I had a great meal for free. The laowai as they call me (big nose) had a map of Yunnan with him and shot some of the people on the video, which caused great hilarity. As a reward I got in this no name village (it did however have a name though I forgot) a free meal from two beautiful young girls (and a photo of them too).
Later that day I was in another village (Bo ai) where I found a bed. Again the video gave me a free meal. If I don't be more cautious, I can not even lose my money! The whole family was now on the video and some older people with great faces too!
Today I had a rather difficult ride along the riverside. Don't think of an easy ride. It was mostly downhill pothole road and hard to cycle. Even the road to Muang Sing in Laos was easier!
Here and there I saw signs of human activity. The hillsides are too steep to use for any form of agriculture but on other places it was very much in use, mostly for rice.
In Baise, my first major town in Guangxi province, it started to rain quite heavy. Welcome to Guangxi (?!?!)
I found a hotel and an internet place. In this town there seemed not much to be done further but again I met a lovely girl. With her I talked for a few hours and as a reward I got a cap, a photo and another free meal! The laowai seems to get more and more popular!
Baise itself is not much of interest but at least it seems it does pretend something as Funing and Yanshan did. The atmosphere is relaxed but this is more then logic since the altitude here is slightly above sea level, which means it's hot and humid! And then tomorrow further down the road, down to the Yangshuo area.
Guangxi
Guangxi is one of the more southern provinces of China. After weeks in Yunnan I finally left this great place. I had followed road 323, mostly a rather small highway or what the Chinese here call a highway. In fact it's merely a going through road. Most of the towns on the road are not much of interest for the western tourist with the exception of Jianshui, which I would recommend. Tonghai wasn't too much of interest and could be missed.
But some of the scenery on the road was very beautiful. In fact on some places slight karst scenery, limestone mountains could be witnessed. Some of the climbs were not too easy but in general I would say it was all worth to cycle up to here.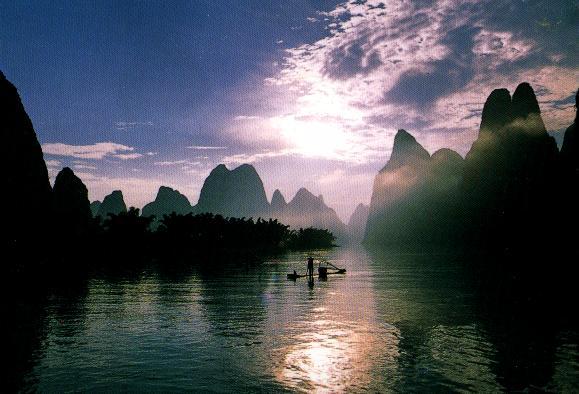 Li River in Yangshuo at sunset
But where is here? Yizhou, that is the name of the town I stay for the night. My body needs rest. I have cycled 10 days in a row and normally I take a day off every 4-5 days. So my right knee is a bit protesting. Maybe it's also because of the continuously changing weather. Days of rain are mixed with nice warm days like today.
But the last days I was reminded how beautiful limestone mountains can be. Some of you have been in Laos and have seen Vang Vieng. Some others have seen Ha Long bay or Nim Binh in Vietnam. All is nice but here in this part of China you'll find the real thing.
The great thing about the last days was that it's not destroyed by tourism. Hechi could be a tourist spot if one just looks at the stunning scenery in the town itself. The town, of course is just another place full of concrete white tiles/blue windows buildings but the people are friendly and no real rip-offs happened here (apart of the few extra mao they wanted to have for a piece of melon)
Yizhou is just 110 km from Luzon but if I can I will give this town a miss. I'll cycle north ways to Yangshuo where I will start a short holiday to have a rest from the last days. Until then!
Craziness
Rain can be a real problem in the ass for a cyclist. A good example I found today. Since I entered the province of Ganglia it seems the rain has found me! From the day I cycled to Baize it was raining though not the whole day.
Today started with a good bowl of noodles and then some rather difficult though short climbs up to mostly 500 meters. By the time I arrived in Dating I had also had my portion of rain. It wasn't all that bad and since I sweat a lot I didn't feel the difference between a wet shirt of rain or of sweat.
In Dating I was just on time to put my bike under a shelter because a massive amount of rain came out of the sky. The street was even under water which was very strange since the street was not straight, ascending (or descending depend which way one looks) down.
I sat down and had my noodles while I watched the people running to a shelter when something funny happened. Some people found a shelter. But the shelter gave up because of the great amounts of water on it. Some of the people were not fast enough and got wetter then when they had stand in the rain. Of course all of them were angry but the shelter owner looked helpless and the crowd around got in laughter.
For cyclist a lot of rain on the road can be a real problem since you can't see if there's a hole in the road and how deep it is. But also passing trucks and busses have no respect for you and when they pass, you'll be soaked! (Which is NOT funny if you are the target!)
I cycled easy to Liuzhou. Here I tried to find a hotel but this was a "mei you" day. In 6 hotels I found the staff saying "mei you." They looked quite helpless, willing to help me but I understood these hotels have no license to host foreigners. But if you're tired you don't want to hear "mei you." You want to hear: "yes", we have, good room and hot shower" which in the end I found.
And what to say on Liuzhou? Is it a minor Guilinesque area? Around the city it's not much but the scenery on the way from Datang to here was stunning. It was definitely as beautiful as around Yangshuo and Guilin. So for those who will come and see this area with its limestone mountains, go west of Liuzhou too and cycle all the way to Yunnan. It's worth.
Limestone mountains you'll find in many areas. Laos and Vietnam have there own but here in Guangxi it seems there's more and better then anywhere else. The rocks seem to grow out of the ground and they go up to 800-1200 meters in a basically flat area. Still many of the rocks are connected and thus roads have to cross them. Therefore sometimes a road can have rather steep, though short climbs.
On the way you'll find many people saying laowai en hello. Many nice people around here anyway. Especially when you stop for a piece of melon which is great here. Anyway, it's melon season and there's more melons here then I have ever seen in my life!
But I will have a day rest. After 13 days and 1180km cycling I think my body needs a day rest. My butt is slightly sore. The day after tomorrow I'll start my two-day ride to Yangshuo where I'll stay longer.
Liuzhou to Li Pu
Isn't it amazing what a day of rest can do for an old man like me? In the morning I left Liuzhou for a day of just 100 km. I expected rainy weather since the sky was clouded and it was very foggy. But I left after a noodle breakfast though wouldn't have mind some fried bread and warm soya milk which I start to like very much (if the milk is slightly sweetened).
Leaving Liuzhou wasn't too difficult, just follow the direction of the Guilui or Luigui expressway. Of course I can't cycle on that road but what alternative do I have? Anyway, I never made it on that highway. I found back the more quiet 322, which was my beloved pothole road! (It reminds me I have to translate my views on the ways of the Chinese but it's a difficult job.... have already written two long Dutch versions!
Anyway, I expected some climbs according to my map. The Nelles map I do use is 1:500.000 and gives reasonable information but I do use a second map in Chinese of Guangxi province (and I have a map of the whole of China, -thanks CA for sharing with the local people.
But the difficult climbs never came. In fact I cycled so easy, sure it went slightly up and down but never much. Highest point was just 450 meters after 6 kilometers going up. That doesn't even make me tired. And going down made me go fast as 62 km/hour, very fast!
So I arrived at my destination at already 1pm. The town wasn't much (though if I had even imagined what Li Pu would have been...) so I decided to go for another 40 km. Again it went so easy, so comfortable. I have to take more days off!!
Around 3.30 p.m. I arrived in Li Pu, found a place to stay and then walked around in this quite big town. And what I saw didn't make me happy.
Li Pu is a big city in the making! It's a terrible dirty, polluted and noisy place. Further there's lots of prostitution, much more then I have seen in any other place (with the exception of Mohan) in this journey.
I am very happy it's not raining today because in that case this place will be even dirtier them it already is.
What's the cause for this? Do the Chinese want to make another Yangshuo/Guilin just south of Yangshuo? The scenery in the last 15 km was stunning. Limestone mountains everywhere. Maybe that's the reason for the immense increase of this very uninteresting place. Even Pingxingjie, remember I wrote about that town some time back, was nicer.
I have walked around for about an hour and even the ice-cream taste horrible here. So my stay is for only once! Tomorrow morning I leave for my next few km's, destination Yangshuo! Glad to be (almost) back!
---
Peter Vanderlans - Cycling in China: Part 1 | Part 2 | Part 3 | Part 4 | Part 5 | Part 6 | Part 7 | Part 8 | Part 9 | Part 10 | Part 11 | Part 12 | Part 13 | Part 14 | Part 15 | Part 16 | Part 17 | Part 18 | Part 19 | Part 20 |
---
---
Bike China Adventures, Inc.
Home| Guided Bike Tours| Testimonials| Photos| Bicycle Travelogues | Products| Info| Contact Us
Copyright © Bike China Adventures, Inc., 1998-2015. All rights reserved.