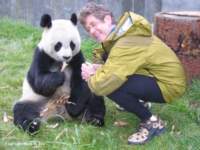 Mark making friends with a panda at Wolong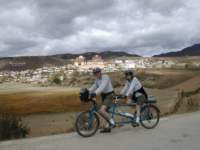 Barry and Joyce on their tandem in Shangri-La (Zhongdian)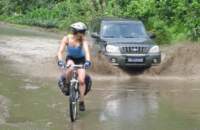 Yumay looks concerned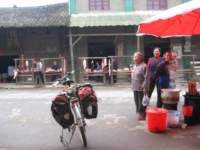 Breakfast in a village market
Do you have a China cycling travelogue you would like to share here?
Contact us for details.
---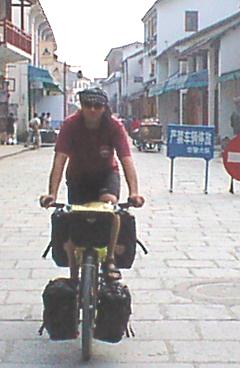 Cycling in China
Email from the Road
Part 15
Copyright © Peter Vanderlans, 2005.
---
North Yunnan
China is a mystery to me. I have to say this because in the last few days I have cycled on a ongoing road from Sichuan province to Yunnan province. All the way to Zhaotong was excellent, beautiful asphalt and therefore enough time to enjoy the scenery even though sometimes I was working hard on the climbs or had to be careful when I went down with speeds over 55, 60 km/hour.
I had a day off in Zhaotong. It's a pleasant town, lots of old architecture is left and it has a charming atmosphere. Besides, I found an excellent kebab stand, Muslims of course. They can do that job better then the Han Chinese.
I left the town in drizzling weather. Although here the main road south is a sort of express way and forbidden for bikes, I was recommended to use this road by the police! Another mystery! But after 25 kilometers I understood why I was allowed to cycle there. The pothole road came back. In a way I was happy with it because now I had no fear to be send off this road. Besides, I do not really want to cycle on express ways.
This part of Yunnan is quite mountainous. It going up and down, passing very little villages and I was doubting if I could find a place to stay for the night. The weather was as I said drizzling, it became dryer in time but it was still cold with 12 degrees at 12 at noon. I don't like to camp in that sort of situations.
A little village however had a fandian. A fandian in China is like a guesthouse. You get a bed, TV and thermos bottle of hot water, which you are supposed to use for your washing. There's no taps so you use a bucket or whatever is available. The toilet was similar, cleaned a few times a day with a couple of buckets of water and the shit floods to the ground floor where the pigs waiting for their meal!
Maybe the conditions are a bit rough and the people have not much education, compliments are seldom made, these people are very hospitable and friendly and the food was excellent. What else do you need?
I left the town in the morning with the expectation of a day of around 100 km's cycling. It became a day of just 50. The pothole road disappeared after a few kilometers out of this village and a stone road came back. Well, the way it was build was like dropping stones of all sizes on the surface, ride a walls over it and ready is the new build road!
And then I had to cycle up from 1600 to 2100 meters altitude. It was hard, Shaking' all over as Eddie Cochran sand a long time ago! These 50 kilometers took me almost 5 hours and I was happy to find a nice bin guan, a decent hotel with hot water and a good bed.
The town however was not on my Chinese map. At the place there was a village mentioned. My Nelles map had the town on the map, 22 kilometers west from where I am! How useful can a map be!?!
The town is quite pleasant though nothing special to mention. All the old buildings are gone and what is left is a not so new Han city. There's some Yi people too. And tomorrow I will be back on what kind of road? Will it be stones, bricks or asphalt? It's hard to say but I know it's another 267 kilometer to Kunming! In this speed it can take another 5 days but if the road is reasonable, it can be less. What will the future bring? At least more cooler weather. Yes, the autumn finally arrived here too. I like hot weather!
The Muur van Geraardsbergen
Yes, the Muur van Geraardsbergen. For those who are cycling enthusiasts and follow the great cycle courses in Europe, they know what the Muur is. If we translate, it's the Wall of Geraardsbergen, a little town in Belgium. Every year the Ronde van Vlaanderen passes this road of little stones with a grade of 18 percent.
So what this has to do with me? I have just finished a Wall like this one here in China, it was 200 kilometers long and although not that steep as in Geraardsbergen, it was a number of climbs to over 2800 meters altitude. It was a nightmare. The main problem with these sort of roads is that you never can make any speed. It's impossible to hold grip on the pedals. So the average speed will go down on a day to less then 10 km/hour. This is including the down hill sides.
After my last mail I expected to find a better road then the 40 kilometer stones I had before Zhehai. I had been wrong. I had underestimated the ideas of the Chinese of what an ongoing road should be. In return I got another 150 kilometer almost all of little stones.
Obviously there was little traffic. Unfortunately I was not able to see much of the landscape since I was most of the time busy to stay on the bike.
But from what I saw, it was excellent. Of course the Lonely Planet doesn't mention this part of Yunnan in their books. The better for me. Now people were amazed, sometimes even shocked to see a laowai on a bicycle. From outer space they must have thought!
I stayed one night with a family. The husband was truck driver and repairman, his wife did the restaurant/hotel business. I got a massive and incredible good meal. The family was quite big, they had a little boy and two daughters of around 15 years old who seemed to do nothing more then to flirt with the truck drivers. The cooking was done by a young servant.
I left from there to climb another difficult mountain. There was no other village now for another 90 kilometers. In general this is no problem but on these roads, 50 kilometer a day is almost too much.
So I camped. Most of the cold weather I had left behind and although I was over 2000 meters high at daytime it was pleasant. At night however it was cold but my sleeping bag and tent hold me warm enough.
Songming was the next stop, a little town of little interest. The main thing that people seemed to do here is shopping for shoes, there's an amazing amount of supermarkets and there's wonderful kebab stalls.
The last part to Kunming was on an reasonable good road and unfortunately an incredible amount of truck by the time I came in the area of Kunming.
But my bike had no troubles, contrary to the last year when it was all problems. It seemed no one seemed to have realized! But since my new back wheel, a Mavic D521 and the self made front rack, it's all ok now! So I can recommend this Mavic D521 rim and I can recommend making your own front rack. It's slightly heavier but who cares when you cycle with 30 kg of luggage? The rack doesn't look much, mostly rust but it's strong. And the rim holds on worse roads then I ever rode! So Jim and I finally found peace!
10.000 kilometers
I could have told you about my health condition but that is such a boring story. Instead I looked at my speed meter and saw I had already cycled here in China more then 10000 kilometer. It's not that much considering I am already 8 months in this country. The 10000 I did on my struggle to Kunming, somewhere in north Yunnan on those described bad roads. I missed it at the time. And when I was on better roads I simply forgot to look at the meter. Sometimes there are other things to look at.
On of those things are the small towns and villages. On the last 100 kilometers I passed a few little towns with markets. It was those markets a traveler in a bus always wants to visit but.... he's (or she's) in the bus and the bus goes further down the road!
I had the opportunity to stop and look around. People here are mostly minority and dressed in traditional costumes or in Mao suits.
Just 15 kilometers outside on my way to Kunming I stopped last week for a little drink. A man in Mao suit and a big smile on his beautiful face gave me the bottle and came from behind to look at my bike. We talked a bit and I gave him a photo and a name card with my name and "profession" (cyclist) on it. He said he would not be able to cycle on such a bike because his legs were too thin! I was quite sure he was a very strong man. Sometimes I saw people with enormous cargoes on a bike cycling. Sure, they're not fast and the bikes are old and rusty but they go. Bicycled filled with live ducks or chicken are quite normal. A fruit bike or vegetable bike is also quite normal. Fruit bike? Yes, a bicycle which is completely covered by bananas and of which you won't be able to find out were the handlebars are I have seen regularly.
Give those people a decent race bike and they will a potential champion.
In the 10,000 kilometers here in China I saw many examples of how to use a bike in a way we don't do in the western world, like the fruit- and vegetable bike. Also carry a pig or two on it is quite normal. I've seen it a number of times and should be used by it but it's every time worth a stop. And then the locals look in amazement to me how I can cycle with my luggage!
Anyway, I'm in Kunming, nice and warm at the day. It's still almost 1900 meters altitude here so at night it's cool enough. The bike has got some maintenance work and some parts were changed by the local bike shop who did not charge me anything because I had my own material with me! This is China!
So I'm ready for the next stop. This depends on the tenant of my house but it seems to be almost sure he stays for another year. So I'll head off to Guangxi and Yangshuo to meet friends and spend Christmas and New Year there before I will go south. Japan is too cold in January with 10-15 degrees. I like hot weather and I can find it more south!
Another year
Finally I got the confirmation. My tenant stays another year in my house in Amsterdam. It gives me another year on the bike. And where will Jim lead me to? At first to Yangshuo for Christmas and New Year's Eve. So my dear friends in Yangshuo, guang tou tou comes back! Get a shelter!
After Yangshuo, it will be by then somewhere January I will probably go to Vietnam and/or Laos and Thailand. That's something I have to find out later. And in April/may probably Japan while the summer could be reserved for Mongolia and/or Western China. Lots of possibilities. But for the first months of 2003 I want to be in warmer areas. I miss the heat. So I might even make my way back to Bangkok and Malaysia. I will make more plans in the second half of December when I'll be in Yangshuo!
Back on the road to the east
After a day delay due to the rain in Kunming I rode out of Kunming. It's never easy to leave a big city in China and Kunming is no exception, even though I had been on that same road before. But Kunming was nice to me and let me go without much difficulty.
I ended up on the road to Shilin, the famous Stone Forest. I expected a more or less flat road. Had I not been there before? But my memory was blurred. It had been 6 years since I had visited the Stone Forest, from Kunming by bus. Three years ago I had passed it when I came from Xingyi, a town I want to visit in this tour.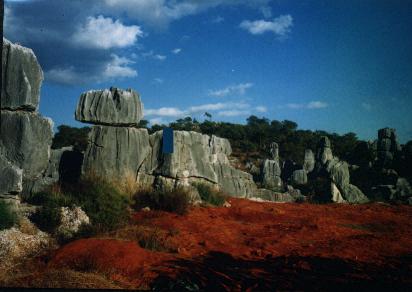 Stone Forest, Yunnan
But I didn't recognize much. The road went up and down. Finally I ended up in Shilin at almost the same altitude as in Kunming: 1800 meters. The entrance to the park was $10 but I didn't want to spend that money. Around Shilin there were many other Stone Forests and I walked around and saw the same stones as inside the park.
It was easy to find a hotel in Shilin. Even a blind horse could find a hotel here since this was a "hotel" town. The Stone Forest was the reason why Shilin existed! But it was off-season so the rooms were dirt cheap. I had my night in luxury! Even CCTV-9 was available which was abandoned in Kunming for God knows which reason!
This morning I started with a long ascending. Not that the road was steep but it went up to a sort of plateau surrounded by mountains. It was a fantastic view. Most of this county was empty. It might be because of the stones in the ground that made it difficult to cultivate some of the area. But of course much of the ground was in use for fruit trees. Apples, peers and oranges were sold for almost nothing at the roads.
I had a stop to make some coffee in the sun. It was what we call in Holland a nice Indian summer, around 21 degrees, little wind and blue skies. What else does one want?
Lujiang was my stop though I had only cycled 45 kilometers. Lujiang? Never heard of? You will probably never hear of it after this mail. On the main road I counted about 15 hotels! It didn't make sense to me why they were there. After checking in (and a nice bath...yes I know, I become an up market traveler...what will happen to me when I reach Laos, Vietnam or Thailand again?!).
But in the heart of this little town it was more interesting. Here were little streets like the Hutongs in Beijing. On the bigger streets I found some nice old buildings though some of them had the white tiles on the outside. It was busy and everything was available. Including of course internet. Here I could also visit some web sites, which were not possible to visit in Kunming. The Chinese mainly use internet for chatting (even chatting with friend in the same internet place!) of playing games.
No tourist come here and people looked at me as if I came from Mars. That's the price you pay being a laowai on a bicycle! But I have no problem to pay.
---
Peter Vanderlans - Cycling in China: Part 1 | Part 2 | Part 3 | Part 4 | Part 5 | Part 6 | Part 7 | Part 8 | Part 9 | Part 10 | Part 11 | Part 12 | Part 13 | Part 14 | Part 15 | Part 16 | Part 17 | Part 18 | Part 19 | Part 20 |
---
---
Bike China Adventures, Inc.
Home| Guided Bike Tours| Testimonials| Photos| Bicycle Travelogues | Products| Info| Contact Us
Copyright © Bike China Adventures, Inc., 1998-2015. All rights reserved.