Do you have a China cycling travelogue you would like to share here?
Contact us for details.
---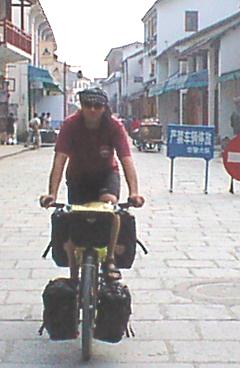 Cycling in China
Email from the Road
Part 1
Copyright © Peter Vanderlans, 2005.
[Editor note: This travelogue was written as email messages from Peter Vanderlans during his bicycling trips in China. Peter now lives on the tropical island of Pulau Pangkor in Malaysia and maintains a web site about Pulau Pangkor, a blog and distributes a newsletter as well.]
---
Back on the Track
Leaving Kunming wasn't easy. No signs in English were not really the problem. The real problem was the traffic; it seems the Chinese use all of the road from left to right without looking where they are. Not much of a problem when there's not much traffic but on the smaller roads just on the suburbs it isn't too easy. But as in everything there's an end and this was the case too.
I got a flat tire because I saw a piece of glass on the road too late. But then I could start my first real climb in over two weeks to Jiangcheng. It went fine. Jiangcheng was a little town without much to visit but I stayed in the hotel of a temple complex. The room was just as usual but the temple it self was great. The next day I had a ride along the Fuxian Lake down to Tonghai. Again no problems, not much traffic but during the day the wind came up, ahead of course! What to say on Tonghai? It is not really the wonderful town many Chinese told me though it isn't that bad. Good enough to spend an afternoon but yesterday I went further south to Jianshui. I thought it wouldn't be that difficult but I was wrong. Never underestimate the road!
The first 25 km went mostly down, then another 10 km were more or less flat when the wind again start to blow. And then, when I had to start climbing the road turned into a sand path with rocks. At the same time, the trucks started to ride by. I hadn't seen many trucks before but now they gave me little sight, sometimes no more then just 20 meters. The rocks in the surface didn't make it easier but again the wind came up. This time it helped to clear up the mist fast. And when the road went back to better conditions, the trucks disappear! It seemed they were just riding there to make my journey less comfortable!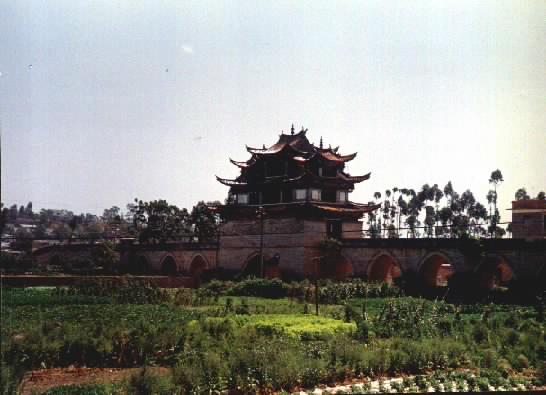 Jianshui
In Jianshui I decided to stay a day because the 250 km I rode felt I needed a day rest. I had not ridden for over two weeks and Yangshuo is still another 1200 km to go. Besides, there are a few sites to visit here, a massive temple complex, bridges and a tower in the middle of the town. The town itself is not too bad with old buildings and great little back alleys. But tomorrow I'll be on the bike again. Life is beautiful, I can tell you that!
Kaishui
After another few days cycling I felt I needed a little day rest. It was well spent. Close to Jianshui there was a beautiful Ming dynasty bridge. However, I felt it was a little difficult to get a good view of it because the Chinese, as usual, were able to destroy the view by constructing a great communist-style building. But finally I found a good spot to put it on the video.
Back in Jianshui I got an ice cream and went into the Confucian temple. This "temple" is more a complex of lake, bridges and gates. It was a fascinating view on the Chinese architectural capacities. A wonderful place. Most of the first hour I spent inside the main temple. To my surprise one by one musicians came in. I decided to wait. Those people wouldn't come in just to show their instruments and clothing.
Indeed it was, after another half hour the performance started. It was tonal traditional Chinese music. Of course I had no idea what the music was about but I enjoyed it very much. Most of the instrumentalists were slightly older people with an average age (if I guess right) of about 40-60 years.
In the middle of one piece of music a little lady stood up. She had a loudspeaker with her and started talking very loud through the music. She was a tour guide and ordered her group now to go inside the temple. The musicians just continued playing, probably they had experienced this before. In fact in the second session the group played, again this habit was performed which explained to me the performance must have been a sort of tourist trick. But trick or not, the music sounded great. The musicians were very much enjoying themselves which was proved after the performance when they did a sort of little jamming on a couple of chords.
Although I found the entrance fee a bit steep, Y20 for just visiting the temple I found too much but with the performance I could live with that price. What is money for anyway?
This morning I had a great breakfast of a "across the bridge" noodles. For those who have never heard of this, it's a bowl of steaming hot soup and you get a couple of dishes, mostly meat and egg and a few veggies which you drop in the soup. Excellent breakfast.
After that I left Jianshui for an 88 km ride to Kaishui. I didn't want to go further because I didn't feel I could easily do too much that day. At the moment I am working on the physical conditioning, which is improving everyday. Tomorrow, the long ride of over 500 km to Bose starts. If the road condition is like today I will have a great ride. Today there were a few climbs and a few down goings on mostly ok asphalt.
During a day of cycling, one sometimes meets the most weird and wonderful people on the track. Today it was a shy woman in a little village who gave me some ice cream for free. A bit further on I was resting after a few km's climbing when two gorgeous looking girls invited me for a meal. And many truck drivers are very nice to me. They usually give me enough space to cycle. The bus drivers are the opposite; they try to push me off the road. But all in all it's a great way to go around.
Boring
After a much more difficult day I arrived in Pingyuanjie. Nobody has ever heard of this town and no one will ever hear of it in the future. What happened was that I left this morning Kaishui and immediately I started climbing. I started at an elevation of 1085m and for the next 27 km's it went up to 2005m. Hard work, especially if you can not turn the pedals around the way you want to. It wasn't too steep, the weather wasn't too bad (actually wonderful for me, around 32 degrees) but the road wasn't too good. Anyway, I made it up to the top, had a good lunch there and then started to descend.
Again, it didn't go as I wanted. Basically the asphalt was too much a pothole road. I like going down but on roads like this it's hard work. For the next 35 km's it went mostly down, slightly, not really much.
In the end I arrived at a lake which looked quite nice. Since I didn't ride too easy today I decided to stay in the nearby town where I found a very cheap double room with an additional bathroom. So I can move tonight to the second bed.
The view from my window is really nice, paddy fields and a Chinese mosque a bit further on in the fields. A closer inspection was needed and I found the mosque a typical Chinese one. The minaret was typical Chinese of architecture. But the building itself was horrible, again the white tiles and blue windows, unbelievable.
In fact the whole area of Honghe is very much Islamic. In many of the towns and villages I saw mosques and women covering their hair as the Muslims do.
The consequence of all this should be more Muslim food but the typical Muslim breads are unknown here, and the rice, noodles with meat, and veggies are the same as in any other place. Still, good food is always available so no complaints.
But after an hour walking around and another hour sitting and eating I have seen everything and heard too much Laowai. Even when I write my e-mails, lots of people still come around and stare! Such letters and written at this speed, they have never seen! And, if nothing special happens here in the future, like a landing of a space shuttle or something, they will never see this again!
Tomorrow the next chapter follows on my way east, up to Yuanshan. But hey, isn't it amazing that even in this little dirt town there's even internet available? China's growing up!
---
Peter Vanderlans - Cycling in China: Part 1 | Part 2 | Part 3 | Part 4 | Part 5 | Part 6 | Part 7 | Part 8 | Part 9 | Part 10 | Part 11 | Part 12 | Part 13 | Part 14 | Part 15 | Part 16 | Part 17 | Part 18 | Part 19 | Part 20 |
---
---
Bike China Adventures, Inc.
Home | Guided Bike Tours | Testimonials | | Photos | Bicycle Travelogues | Products | Info | Contact Us
Copyright © Bike China Adventures, Inc., 1998-2012. All rights reserved.