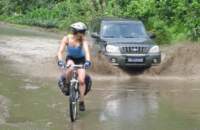 Yumay looks concerned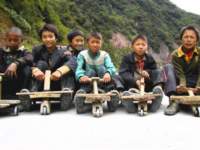 Homemade skateboards ready to race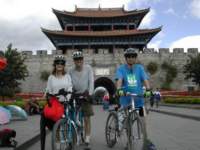 Joyce, Barry and their guide, Danny Chen, in Dali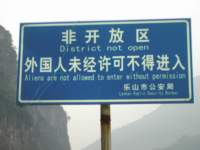 Closed area in Sichuan
Do you have a China cycling travelogue you would like to share here?
Contact us for details.
---
Copyright © Patrick Laniel, 2007
---
Back from a cycling in Southwest China
---
Hi everyone:
We just came back from a wonderful 5 week tour in Southwest China on our tandem. The first 11 days part of our trip was in Yunnan, as part of a fully supported tour with Bike China. We spent the remaining three weeks and a half unsupported in Guizhou and Guangxi.
In Yunnan, we cycled from Zhongdian (also referred to as Shangri-La) to Dali through the spectacular Tiger Leaping gorges. We experienced miserable weather, except for one day while we were in the gorges (good timing!) and in the Dali region. But we still had a fantastic time: this was the first time ever that we had joined an organized tour and we loved it. I can only heartily recommend Bike China: our Chinese guide did a fantastic job in making our tour in Yunnan the most pleasurable and trouble-free. He taught us a lot about the local customs, we always had excellent and fulfilling meals even in the most remote locations and the hotels were better than we expected. Just a very satisfied customer!
We then took domestic flights to Guizhou. After having been spoiled by the comfort of a supported tour, it was time to load the tandem again with the heavy bags and ride on our own. We cycled from Kaili to Guilin through Leishan (with a side-trip to Xijiang), Rongjiang, Congjiang, Zhaoxing, Sanjiang (with a side-trip to Chengyang), Longsheng and the Longi terraces and finally Guilin/Yangshuo, where we spent 5 days exploring the beautiful karst mountain region. This time, we enjoyed excellent weather: in those three weeks, we only had one hour of rain one day (while we were having lunch!) and the temperature had always been very comfortable. The region seems to be very popular with cyclists and it is understandable:
- The scenery is pleasant, with little wooden villages curled at the bottom of deep valleys, with the surrounding hills carved with rice terraces.
- The locals are friendly, especially in the small villages.
- Services and hotels are conveniently spaced along that route.
- The roads are beautifully paved, except for the very bad, teeth-rattling dirt road section between Congjiang - Sangjiang.
- The traffic is light, except as we get closer to Guilin but a nicely paved shoulder makes it safe.
- This route mainly follows rivers and as such is not very difficult except perhaps for the part between Kaili and Rongjiang which is punctuated with a few noteworthy climbs. Even going to Zhaoxing wasn't that difficult when it is approached from the west.
As you can see, all the ingredients are there for a perfect bicycle tour. I am planning to publish on the Web a tour report which should be ready early next year. In the mean time, I'll be happy to answer any questions about that fabulous region.
Patrick Laniel
Montreal, QC, Canada
---
---
Bike China Adventures, Inc.
Home| Guided Bike Tours| Testimonials| Photos| Bicycle Travelogues | Products| Info| Contact Us
Copyright © Bike China Adventures, Inc., 1998-2015. All rights reserved.