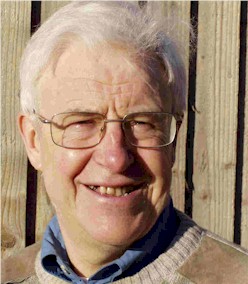 Cycling in

Rural

China
Part 5
Copyright © Michael G. Ormerod, 2005.
---
Cycling in Rural China: Part 1 | Part 2 | Part 3 | Part 4 | Part 5
---
Road to Yongsheng
Once everything had been transferred, we set out for Yongsheng.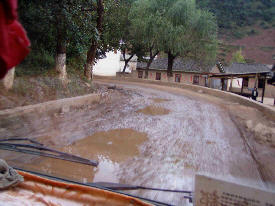 As we progressed, the condition of the road worsened; first cobbles, then stretches of partly repaired road, finally something akin to a badly maintained cart track. Apparently, they had prepared the road for resurfacing over 30 or more miles and then run out of money.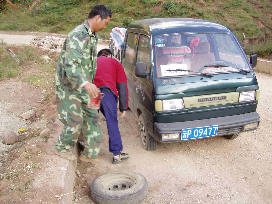 A front tyre then suffered an impact puncture. The jack was not long enough to raise the van, so the driver raised one side by driving it onto a suitable shaped rock.
Eventually we reached Yongsheng feeling completely shattered. The following morning, Graham's rear mech fell apart while he was oiling his chain. He and Danny set off to find one of the roadside repair men. Part of the mechanism had broken off and they had to go to a small workshop was it was welded back together.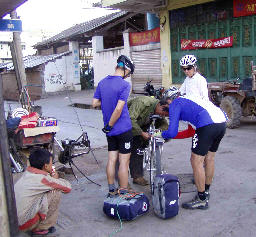 Roadside repair man in Ninglang fixing a minor problem with Jody's bicycle. When business is slack, he makes shoes.
Yongsheng to Panzhihua via Rongping
Once Graham's bicycle was roadworthy, we left Yongsheng on a well-paved main road. After a few miles, we turned off onto a quieter road that ran along the Guanyingqing River valley. The road undulated, more down than up; a pleasant change from the mountains. There was more industry here with many small coal mines, the coal being dug directly out of the side of the hill. Once again, the climate was sub-tropical.
After lunch, we had our last big climb - 15 miles (24 km) uphill on a warm, humid day.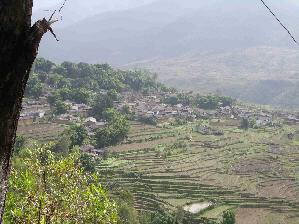 A fast downhill run took us to Rongping, where we stopped at a small family run hotel.
The next day was our last by bicycle. We continued along the river valley. The area became more industrialised, mainly extractive industry. The road became busier with a large number of lorries. It started to rain, the first serious rain we had all trip. The amount of pollution also increased markedly. The roads were filthy and, by the time we reached Panzhihua our legs were covered in an oily brown grunge. We checked our bicycles in to the railway office and proceeded to the hotel for a welcome shower.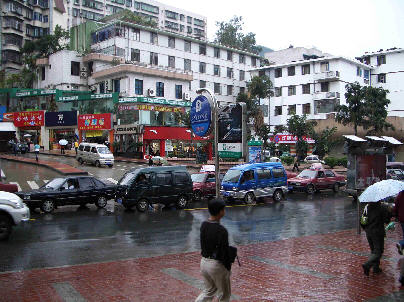 Panzhihua City Centre
Panzhihua is named after the kapok flower. It did not exist 40 years ago when the decision was taken to build an industrial centre in the south west as an alternative to China's major industrial base in the north east. Today it is a modern industrial city.
---
Panzhihua to Chengdu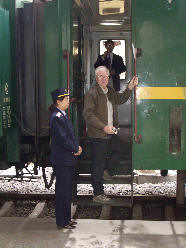 The last stage of the journey was an overnight train to Chengdu. The train was very long and traveled incredibly slowly.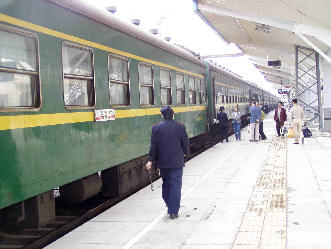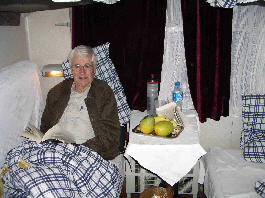 On board the train
We reached Chengdu at 5 am. The large market where the local farmers bring meat and vegetables in for distribution to the shops and restaurants. After breakfast, we walked round the People's Park.
Chengdu is a surprisingly modern, prosperous city. Looking at the shops and the advertisements, it is difficult to remember that you are in a communist country.
We met Peter Cao, who runs Bike China, with our bags (I had wondered if we would see them again). Having transferred our luggage, we took a taxi to the airport. Unfortunately, we had not left enough time to visit the Panda Breeding Research Centre. However, that has left us another good reason to return!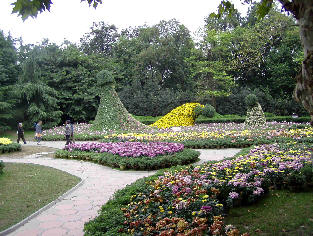 The People's Park.
---
Ethnic dress
These are pictures of women dressed in their working clothes, as opposed to dressed in ceremonial costume for photographers and tourists. There are several other pictures scattered through the site, in particular, see the pictures of Naxi women taken at Baisha, here.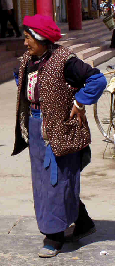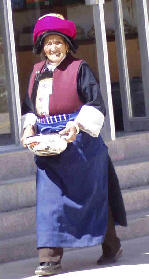 Tibetan women in Shangri-La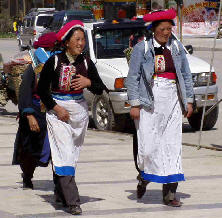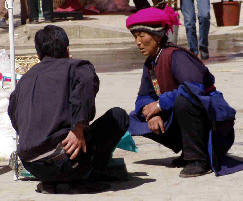 Tibetan women in Shangri-La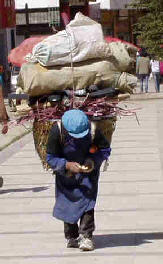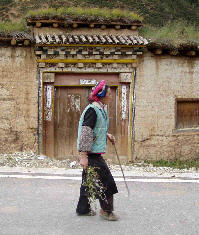 In the countryside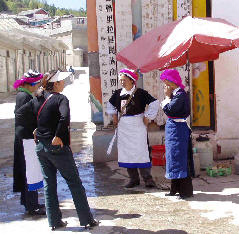 For more information about the different ethnic minorities, the site here is good; bear in mind the author has followed the Party line in describing recent history.
Yi Women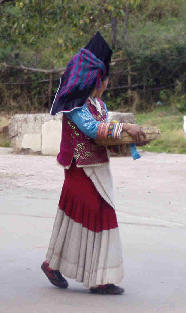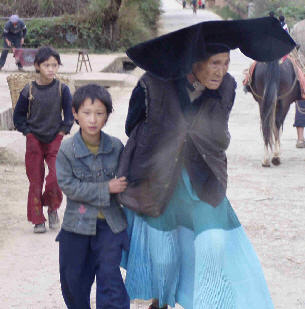 Musuo, Lake Lugu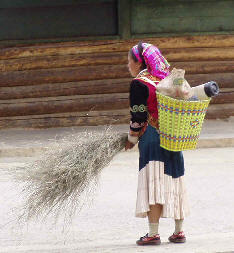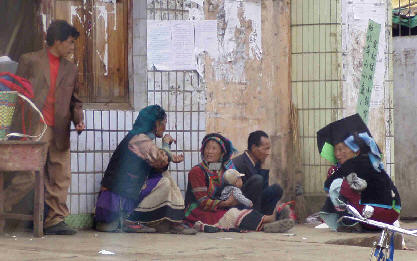 Return to Beginning of China Holiday.
---
Cycling in Rural China: Part 1 | Part 2 | Part 3 | Part 4 | Part 5
---
Bike China Adventures, Inc.
Home | Guided Bike Tours | Testimonials | Photos | Bicycle Travelogues | Products | Info | Contact Us
Copyright © Bike China Adventures, Inc., 1998-2012. All rights reserved.