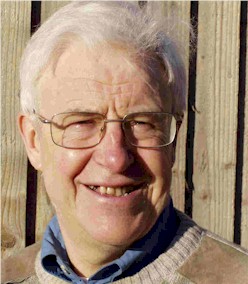 Cycling in

Rural

China
Part 4
Copyright © Michael G. Ormerod, 2005.
---
Cycling in Rural China: Part 1 | Part 2 | Part 3 | Part 4 | Part 5
---
The Road to Ninglang
Once we had cleared Lijiang, a comparatively short climb led to a long descent of about 4000 feet (1300 m) into the Yangtze valley again. We stopped for lunch in a small village in the valley.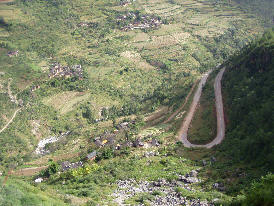 Half-way down, looking into the valley below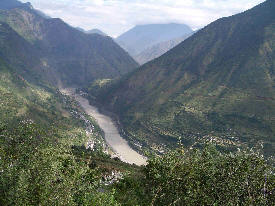 The Yangtze River and the village where we stopped for lunch
The valley was noticeably warmer and had a sub-tropical feel to it. Banana and papaya trees grew along side the road and bougainvillea flowered outside the restaurant. Local people with open carts on the back of their bicycles stopped to offer us food scavenged from the local countryside. We bought honey, still in its comb, walnuts and citrus fruit. Danny bought fungi to be cooked with our lunch.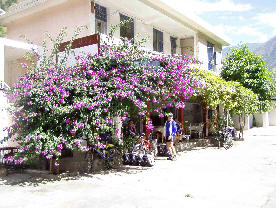 Our lunch stop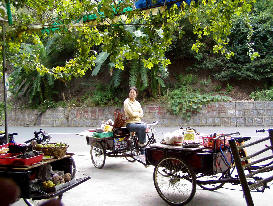 Looking for business
Danny then hired a van and driver to take us over the next pass, which was a 5,000 foot (1,500 m) climb and paved with cobbles most of the way. We cycled the last 15 miles into Ninglang.
---
Ninglang to Lake Lugu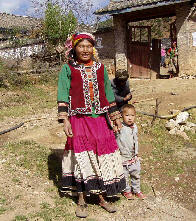 Yi peasant
After breakfast in a small caf¨¦ we started on the 50 mile (80 km) ride to Lake Lugu. At the foot of the first big hill, Graham's rear mech broke. Jody was a long way up the road and I continued after her, not realising that Graham had had a serious breakdown. Jody did not stop for about 10 miles when I eventually came up to her. We contacted Danny on the mobile phone. He then came up to us on one of the small minibuses which ply their trade along the route. We were close to a village where he hired a van and driver, took our panniers and went back to collect Graham and the two bikes and returned to Ninglang.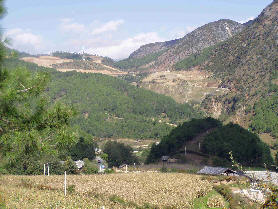 Between Ninglang and Lake Lugu
Jody and I continued over two more passes. The fourth and last pass was cobbled for the top seven miles. As we neared the top of the pass, Graham and Danny overtook us in the van. A roadside mechanic in Ninglang had carried some sort of repair.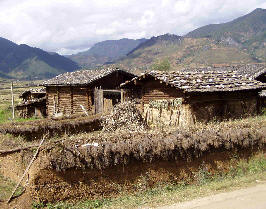 Yi farm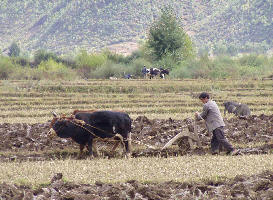 Yi farm
Jody and I descended over wet cobbles (it was now raining) and finally back onto asphalt to Lake Lugu.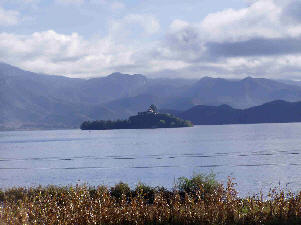 Lake Lugu
We had been cycling through countryside farmed by the Yi ethnic minority. They were noticeably the poorest group we had encountered.
---
Lake Lugu
Lake Lugu is sacred to the Musuo people, who live in this area. They still adhere to the matriarchal cu toms (an interesting article on this topic can be found here). On our first day, we cycled along a river valley to Yongning. The road which forded a small river twice would have been impassable in early spring, leaving the large village cut off from the rest of the world.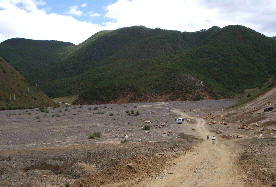 Road to Yongning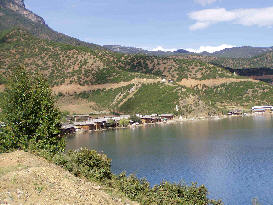 Far end of Lake Lugu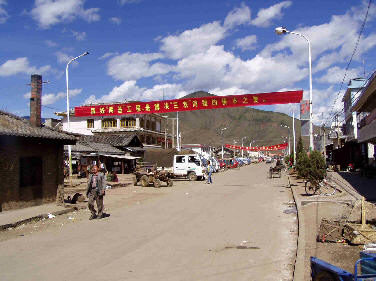 Main street, Yongning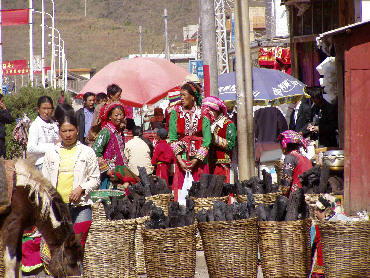 Charcoal sellers in Yongning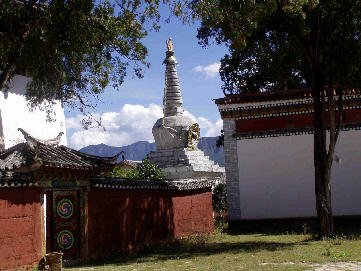 Stupa at Yongning monastery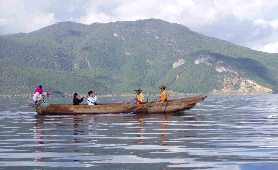 On the second day, we took a break from cycling and took to the water. The Musuo traditionally use dugout canoes for fishing. They now make copies to transport tourists to the temples on islands on the lake.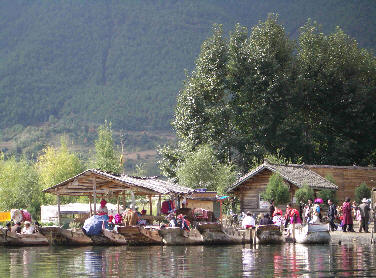 Boats on Lugu Lake
A young man sits in front rowing vigorously with a single oar. The woman in charge steers from the rear with a paddle. There is a second oar in case one of the passengers wants to take turn.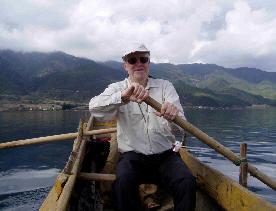 "Michael row the boat ashore"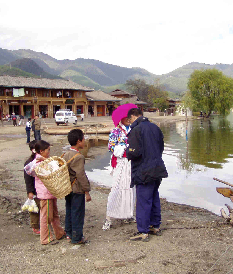 Danny pays for the boat ride
After the excursion onto the lake., we loaded our bicycles and panniers into the back of a van and started the long ride to Yongsheng.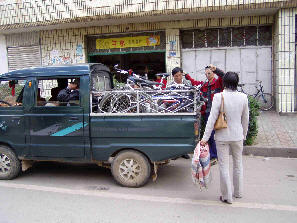 Van to transport the bikes and us
We first returned to Ninglang where the van driver announced that there was a problem with the front suspension. While we ate lunch a second van was found and the bicycles transferred.

---
Cycling in Rural China: Part 1 | Part 2 | Part 3 | Part 4 | Part 5
---
Bike China Adventures, Inc.
Home | Guided Bike Tours | Testimonials | Photos | Bicycle Travelogues | Products | Info | Contact Us
Copyright © Bike China Adventures, Inc., 1998-2012. All rights reserved.