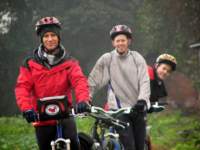 Hardy crew of cyclists: Peter, Andy and Martin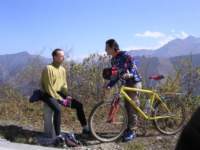 Andrew and Godspeed on the Western Sichuan Road to Danba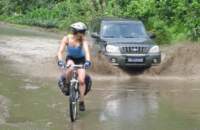 Yumay looks concerned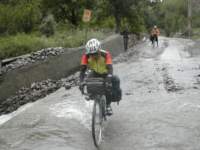 Pete fording a stream across the road
Do you have a China cycling travelogue you would like to share here?
Contact us for details.
---
Xiao-er-lang
Around Taiwan in Thirty Days
"E-Mails of my wonderful solo bicycle trip"

Copyright © Xiao-er-lang, 2005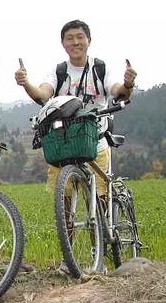 ---
Skip to Xiao-er-lang: Taiwan 1 | Taiwan 2 | Taiwan 3 | Taiwan 4 | Taiwan 5
---
Feb. 19th:

I got up at four and took off at 6:10 in a very windy but dry condition. The northeast wind in Taiwan starts around September ends in early March the next year. I was happily pushed by the strong gust and started singing in the wind.

The route to Tainan, I took the west coast highway, which is 15, 61 then 17. The condition of the road is excellent, especially after Xinju. I made 200K to reach my friend, Yuan-feng's new house with a fishing pond. I stayed in a very firm and comfortable bed without opening my tent in my backpack. It was raining cats and dogs outside all night.

Since there are only about 100K left for my journey to Tainan, I plan to take a day to finish it tomorrow. To my estimate, it might take two weeks to have my dental care taken by my dentist friend, Liu Shengmin, in Tainan. I plan to ride to Taidong, on the east coast of Taiwan, to have a reunion with my sister, Ching Ping and her family there. It will take a whole day by bike going through southern Pingdong County. I think I can reach Taipei by 15th of March.

Feb. 20th

Another cloudy day, a little chilly and drizzle, the gust wind really pushed me hard down south. The last 20K to Tainan gave me a speed of 40K per hour, my fastest ever. I found a piece of foam by the deserted beach to raise the height of my newly bought rack from Hong Kong. Now I can lay my backpack weight down to the rack, it releases a lot of pressure off my shoulders. I think I prove the philosophy of carrying no other bags but the backpack with mainly tent, sleeping bag, air mattress, a few changing clothes and repair kits.

The west coastal highway is really nice for cyclists, especially the finished part of I-61; it even provides a special lane for them. But a few cautions have to be given: Don't get on the tourist bike route, it will end nowhere with no sign provided. Some service roads before the bridge can also be a pitfall; it will let you hit the pier without a passageway.

The scenery changes as the time goes by. Ocean, rice field, fish pond, birds of all kinds, beaches, bridges and many decent people to talk with. The betel (betel-nuts) shops are allover with sexy signs and young ladies to attract the customers. I do hope all the resources along this highway can be developed as a special culture to become a tourist attraction.

I reached Tainan about 4:30 pm and my dentist friend, Liu Shengmin, happened to be home on a holiday Sunday. He bought some nice native food as our supper and enjoyed watching the final tennis game of Holland Lutterdam cup together. The world's #1 player, Roger Federer, won the game by a very small margin.

Tomorrow morning Dr. Liu will give me a preliminary check up to decide how long the treatment is going to be. I met my friend in the graduation day of my daughter, Sophia, many years ago. Since then, he treated me like a prince every time I visited here.

Arriving Taipei International Airport, 9:50 am 2005,2,18th.

Came with me are my backpack with tent, sleeping bay and air mattress inside and my bicycle. By the way, Dragon Airline will treat bicycle as a piece of luggage without extra charge. One can stay 30 days without a visa with an American passport. I plan to leave March 20th.

The wireless on-line could be served by Chinese Telecom in Taiwan with two valid local people's photo ID. I spent a whole afternoon in Dayuan branch office until dark, I didn't pass the obstacles because of my universal Air Card (a piece of hardware for notebook computer) have a connection problem here. I stayed overnight with friend, Qi Xiong in his comfortable home.

February 21st, 2005 in Tainan, Taiwan

It was seven in the morning and I went to a nearby swimming pool. It looked like a privately-owned facility; open daily at six in the morning. The ticket was 120 yuan (US$4) (at the present special priced period, otherwise 200 yuan) for a rather small indoor warm water pool and spa, and full of people. The outdoor pool is an Olympic-sized pool (wider, with 12 lanes) with only cold showers provided, priced at 50 yuan. (A new policy for the senior citizen over 70s, due by April, 100 yuan for a yearly pass plus 10 yuan for insurance daily, quite a few more years for me to enjoy it anyway.)

I tested the water temperature before buying the outdoor pool ticket. It was around 10 degree C, with clear sky. There were only three people with a lifeguard there. I did the warm-up exercise, and then went very slowly down into the pool. I didn't do winter swimming for four years now, but fortunately, I do cold showers after my daily swimming in Chengdu. Oh, how do I miss my swimming partners there! The first half-minute was rather difficult, the rest half hour non-stop swimming became feeling-at-home. The coldest water I ever swam in was with my brave nephew, Ben, on the top Wawushan, Sichuan in the freezing temperature pond around six years ago. The second coldest experience was in JiuZhaiGou twelve years ago while I was showing off to a group of Tibetan girls. The water was crystal clear green, quite helpless. I could stand it for only fifteen minutes though.

Dr. Liu's office hours are from nine to nine. Piles of patients were from all over. He started my treatment at 8:30, in the gap in between his regular patients and the late hour lasting until 11:30 in the late evening. He was running a one-man office, leaving all his lovely family members in the States. He often takes breaks, rode his motorcycle to buy all the good food he could find for me. I loved especially the fruits he purchased, which includes papaya, lian-wu, fan-shi-liu, banana, oranges and banana etc. What a good friend! I don't think I deserve all this.

I met Dr. Liu in Wellesley, Mass. where both his daughter, Janet and my Sophia were having their graduation seven years ago. Both of daughters were sincere Christians. While we were taking part in a farewell party arranged by brothers and sisters there, he needed an interpreter for a short speech and a little care-taking afterwards, I was the nearby volunteer.

February 22nd, 2005 in Tainan, Taiwan

After three hour's straight treatment from Dr. Liu, I finally got a chance to "escape" from the palace and became a beggar on the street with my ragged jeans on. The weather was warm with white clouds in the blue sky. A baker on the street side sold nice croissants and crispy pineapple buns. The local opera was right by the street side, showing " yuan(4)-jia(4)-han(4) jia(1)-lang(2): means, willing to marry Han race's young mam" .

Tainan is not really a big city; I can cover it with my bike probably in about twenty minutes. It didn't take long to find where the Chenggon University is. Cheng Da, one of the most famous colleges in Taiwan, is especially excellent in engineering. This was my first time here. My sister, Ching Ping used to study here together with her unforgettable romance. I found the medical school without too much of a problem and I met my agronomy department schoolmate Li Yichan, right in the elevator by accident. We had good time for the next five hours.

February 23rd, 2005 Wednesday in Tainan, Taiwan

I used to think I am the weirdest of all, then after the experience living with my friend, Dr. Liu Shengmin, I realize this guy is even worse. Let's look at his patent-pending behavior pattern!

He is a senior beloved dentist; everyday his friend patients are standing in line waiting their turn to be treated. They come from nearby and all other places from far away. People like to pay him in advance before the treatment to show their trust and love. For the poor he normally treats them for free. He runs the one-man show with assistances nearby. People enjoy his workmanship. When he is not working, he also watches his television with Discovery and National Geography program to relax. When he finished one job, he often starts singing for a while.

He is a philosopher in tennis playing. He believes playing tennis should consist of the rhythm of four seasons especially with music in mind. He says to me that the top American player, Andy Rodick, is a player with all the good ingredients, but he shows only "summer" spirit while he plays. He does need a coach like him to train with Chinese philosophy starting the technique of meditation. If I can convince Andy to take him, the salary he wants is only hundred thousand dollars annually, plus ten percent of Andy's award money.

He is a sincere Christian and trusts in the bible and the love spirit of Christ. He left his church after knowing most of their members are only doing biased political affairs. He shows his deep love in his daily ordinary life. He thinks, "When you are living to love and will love to live".

He loves to travel around the world and did so often whenever he got a chance. All of the walls in his the house is full of nice photographs that he took and the books of art, music, history, geography and encyclopedias of all kinds that fill up all the space available. His knowledge of the world is really amazing. I enjoyed every minute while staying with him.

February 24th, 2005 Thursday in Tainan, Taiwan

After another several hours' treatment, my dental care will soon come to an end. At first I thought it would take two weeks to do a job estimated for four months by dentist in Chengdu. In reality, it could be done in a full week if you really work hard on it. The whole work will be finished by Saturday and I have to get ready for my next destination, Taitung, in the southeast of Taiwan.

The coin-operated Laundromats were located near Chenggong University where students gathered. I rode there with my backpack filled with all dirty clothes. When I started putting all my laundry in the machine I realized that the only T-shirt I was wearing definitely deeded to be washed. Then I became half naked with only one pair of shorts on. While I was riding my bike trying to buy a T-shirt to cover myself in order to behave like a civilized guy, I happened to pass by a basketball court full of college students. Suddenly, I realized that I could save the money. I enjoyed playing with them for a full two hours and sweated like a pig. I made five young highly motivated friends and exchanged e-mail addresses, promised to keep in touch. I picked up all my finished laundry, riding swiftly on my bike, half naked, with my blinking lamp on my forehead. What a scene on the street of Tainan!
---
Skip to Xiao-er-lang: Taiwan 1 | Taiwan 2 | Taiwan 3 | Taiwan 4 | Taiwan 5
---
---
Bike China Adventures, Inc.
Home| Guided Bike Tours| Testimonials| Photos| Bicycle Travelogues | Products| Info| Contact Us
Copyright © Bike China Adventures, Inc., 1998-2015. All rights reserved.