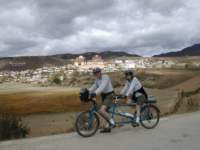 Barry and Joyce on their tandem in Shangri-La (Zhongdian)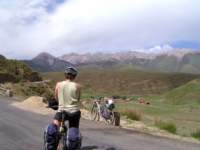 Village below in Western Sichuan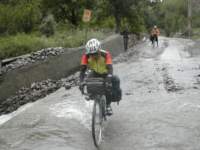 Pete fording a stream across the road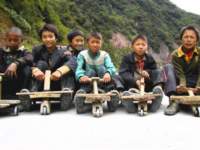 Homemade skateboards ready to race
Do you have a China cycling travelogue you would like to share here?
Contact us for details.
---
Fiona Young's Bike Tour Pictorial Essay:
Including a visit to her Father's village during Spring Festival 2005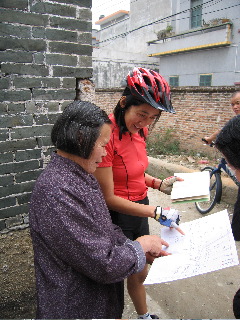 Fiona Yong - Arriving at her father's village with the family tree.


Hi Peter,

The trip was totally amazing and intense, particularly for the short period of time we were there. Would love to write something 'proper' for you still and can see that happening in about a month, but a brief run down for you via our pics...... (have been caught up in wedding prep since our return - we're getting married next month, but after that would like to write about our trip to send out)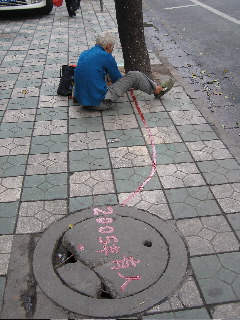 This is Haizhu Bei Lu in Guangzhou, where you suggested we check out the bikes. We realised we'd left things pretty fine, but as it was so close to new years it was even tighter. Just one bike shop open - we got good bikes for 900RMB each and re-sold to them for 300RMB on our return. My cantonese skills were tested to the max, but it was FUN!, although now, we realise it must be really tough to travel around China with no Chinese whatsoever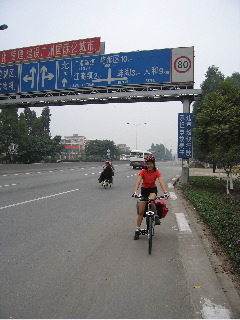 Day 1, 25km to dad's village, bang-4-hu. Cycling out of Guangzhou was a blast...learning from the locals how to weave through traffic and work with the momentum!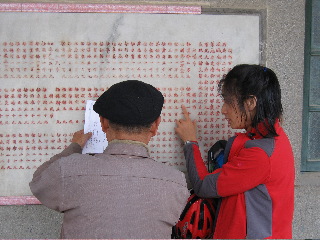 We didn't know what we would find at the village. I just had a family tree in Chinese + a photo from when I was 7 years old visiting the village. We found a whole clan! Turned up on new years eve which was very timely, found lots of names on the family tree who showed us others on it and filled in names of their children + grandchildren. Stayed with the family who are the closest link for the big meal, then joined them at midnight for the fireworks and paying respects to ancestors, then up at 7am for yum cha (where the old man in the photo waited for a table from 6am for us!). A totally wonderful yet overwhelming 24 hours!!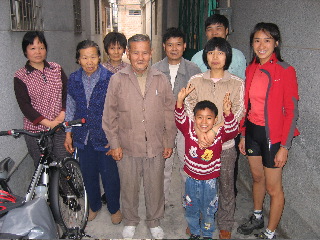 Saying good bye after watching the dragon dance.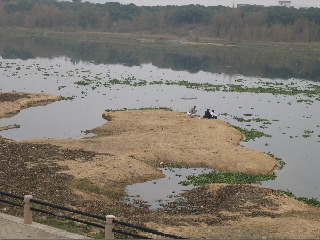 We next headed to Kowloon Lakes Resort about another 30 or so km away, and rested in the quiet, then next headed to Qingyuan which was a long 90k ride with head winds.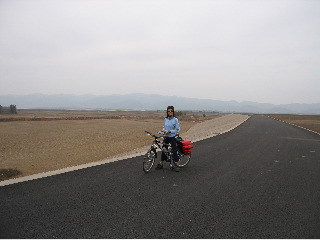 From Qingyuan we headed south to Sanshui which was another 90k+day, but sooo beautiful cycling along the levee bank of the river.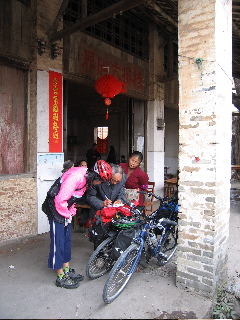 A great lunch spot en route.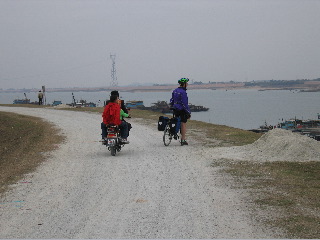 That's Greg!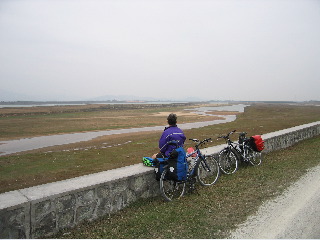 And from Sanshui to Foshan for the temples + arts + crafts, and then a full on next day of riding to Guangzhou, trading bikes in, train to HK, check into hotel and straight to my mother's family reunion!!!!
So keen to cycle China again and for longer. Have good tips for other riders too with Guangzhou map advice etc, so will write more in time. hope all is well with you, and thanks so much for your help. Couldn't have done it as well as we did without it.
Fiona
---
---
Bike China Adventures, Inc.
Home| Guided Bike Tours| Testimonials| Photos| Bicycle Travelogues | Products| Info| Contact Us
Copyright © Bike China Adventures, Inc., 1998-2015. All rights reserved.