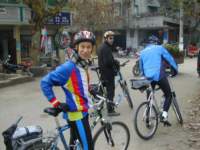 Surprise, surprise!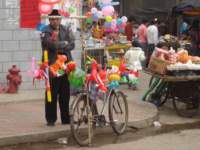 Changsha - Mobile toy shop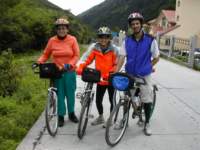 Margaret, Coll and Tony near Wolong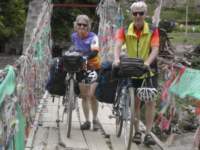 Crossing a flag strewn bridge near Danba
Do you have a China cycling travelogue you would like to share here?
Contact us for details.
---
Dan Bloom
Copyright © Dan Bloom, 2006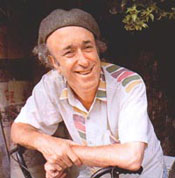 Dan Bloom - loving life in Chiayi
---
American writer is just crazy about Taiwan! And he regards Chiayi City as his hometown now!
United Daily News , October 21, 2001 translated from the Chinese by Wang Yu-tai
He likes to chew betel nut, nosh on cho-dofu and loves to travel around the "beautiful Formosa island" by train.
Don't be surprised if you go to the Carrefour Night Market in Chiayi City one night and see American writer Dan Bloom standing next to his red bicycle and selling his new book "I'm Just Crazy About Taiwan!"
The 42-year-old Boston man has lived in Taiwan for five years now and loves life here so much that he plans to stay forever. Yes, Dan Bloom really loves Taiwan!
A former teacher who now makes his living as a newspaper reporter and book author, Dan Bloom is a happy-go-lucky fellow who has spent time in three cities in Taiwan over the last five years: Taipei, Taoyuan and Chiayi. He says he calls Chiayi his "hometown" because it was the first place he lived when he landed in Taiwan in 1996 and his best friends live there.
"Chiayi is a comfortable city to live in, to work in," Dan Bloom says. "The people are friendly, the pace of life is slow and relaxing, and although the salaries are lower compared to high paying jobs in Taipei, I like the country life, far from the hustle and bustle of the big city up north. Chiayi is my kind of town. I love it here!"
Go the night market in Chiayi on any Tuesday, Friday or Sunday night and chances are you will see a "big-nose foreigner" with a French hat barking out his sales pith: "Hello, hello; come one, come all, take a look at my new book, just published, yes, I really love Taiwan!"
Bloom sells his book, written entirely in Chinese, for just NT$100, a bargain compared to the retail price in bookstores, where the new book sells for NT$190.
"Yes, I don't make any money selling my book so cheaply," Bloom says, with a smile. "But this is my only way to introduce the book to the people of Taiwan, to the reading public. The bookstores around the island have not been promoting my book very well, since I am not a star or a celebrity or a bestseller, so I had to take matters into my own hands and use the night market here as my advertising vehicle. And it's working! Although I only sold three books the first night I came here, quite shy and nervous about doing this in public, now I can sell around 25 books every night, and the night market strollers seem happy to meet a real American writer face to face, chat with me for a few minutes, get a signed copy of my book, a handshake, a smile, and a nice little book for a great little price of just NT$100."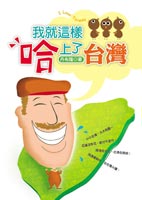 Dan Bloom, who lived in Japan for five years in the early 1990s, before coming to Taiwan, used to work as a copy editor for the Taipei Times in the capital city. He received a good salary and lived a good life in Taipei, but when the chance came to write a book about his many adventures and experiences in Taiwan -- in Chinese, for the Taiwan market -- he packed his bags and moved down to Chiayi City in the southern part of the island, where he had spent his first year in the ROC, visiting friends he had met in the USA there and teaching English part-time to support himself.
Juneau, Alaska, Bloom's former "hometown" in the USA, and Chiayi City are "sister cities" and that's how he came to Chiayi -- to visit some Taiwanese friends he had met in Alaska 10 years earlier. To write his book, which began as a series of newspaper columns for the Liberty Times in Taipei, Bloom returned to Chiayi after living up north for three years.
"I felt that in Chiayi I could relax and begin working on my book, with no pressures or stress, and that's exactly what happened," he says. "Coming back to Chiayi after living in the big city for a few years was a relief! It's so quiet and peaceful and livable here, I love it! Plus, my best friends in Taiwan, my good friends and acquaintances, live here and they make me feel at home."
Dan Bloom says he loves Taiwan so much that he has coined a new term for people like himself: "We are members of the 'Taiwan Tribe.' Just like the young Taiwanese who love Japan and Japanese pop culture and call themselves 'the Japan Tribe,' I am a member of the 'we love Taiwan' tribe."
The title of Bloom's book in Chinese, "Wo Jyo Tse Yang Ha San Le Taiwan," means roughly "I'm Just Plumb Crazy about Taiwan" (or literally, "In just this way, I have come to love Taiwan").
Dan Bloom's book is selling well in the night market in Chiayi, and it might be the first time an author, any author, has ever taken to selling his newly published book in a night market in Taiwan. It's a first, it's surprising, and as far as Dan Bloom is concerned, "it's fun."
"I love this face to face contact with the public," he says. "In a bookstore, I never get to meet my readers, they ever get to meet me, it's all very boring, and besides, the bookstores don't even care to help me sell the book. Some stores even put my book on the second floor on a high shelf where nobody can see it! That's ridiculous. So I decided to forget the bookstores, and the really inefficient book distribution system in Taiwan, and just sell my book myself in the night market. I have never enjoyed myself so much in my life! I feel as if I have discovered a new career: night market bookseller! I love it!"
With Bloom's nightly appearances in the six night markets in Chiayi City now, the national media has suddenly taken an interest in the enterprising American writer, who bears a passing resemblance, according to one newspaper, to Albert Einstein! Several major weekly magazines have flown down to Chiayi to photograph Bloom in action at the night market and interview him for profile articles set to appear soon. With NEXT magazine and the China Times Weekly set to publish major stories about "the Chiayi Night Market Man," Dan Bloom's star may be rising in Taiwan and his book may even eventually become a bestseller.
"I certainly hope so," he says to a reporter. "I love writing, I want write more books for the Taiwan market, and if this night market gig takes to the place where I want to go, more power to it!"
Dan Bloom has been known to chew on betel nut when offered the "Taiwan chewing gum" by locals, and he loves to eat such island delicacies as fried crickets, stinky dofu, rat stew, black chicken and spicy hot pots. But most of all, he says, he really loves and enjoys interacting with the people of Taiwan.
"The Taiwan people are great!" he says. "You got a great country here!"
---
---
Bike China Adventures, Inc.
Home| Guided Bike Tours| Testimonials| Photos| Bicycle Travelogues | Products| Info| Contact Us
Copyright © Bike China Adventures, Inc., 1998-2015. All rights reserved.