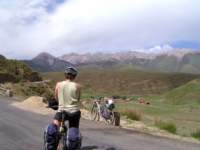 Village below in Western Sichuan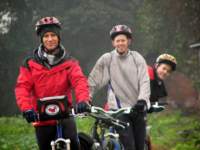 Hardy crew of cyclists: Peter, Andy and Martin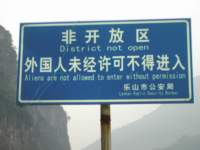 Closed area in Sichuan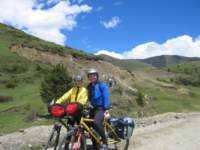 Emmanuel and Liny on the way to the Tibet border
Do you have a China cycling travelogue you would like to share here?
Contact us for details.
---
Copyright © Bo Bissett, 2007
---
Cycling in Taiwan
---
Taiwan is a beautiful mountainous island off the South East sCoast of China. Outside of the cities, the small coastal and mountain towns have a lot of flavor, tradition, and seclusion. You can spend the night by yourself or you can huddle up to a table of locals and sing karaoke to the wee hours of the night. Hehuansan (Joy Mountain) is not the tallest at 3416 meters, in Taiwan but it does have the highest passable road on the island. My journey took me from Puli (the geographic center of Taiwan) over Hehuansan and down the other side. As I left the Hehauansan I traveled through Ta Lu Gu (Taroko Gorge National park) and up the North #8 highway to Yilan, on the north east coast. My total distance traveled by bike was about 280km.

This is not my first trip to the summit of Hehaunsan ( Joy Mountain), but it will be my first multiple day trip out on the road. There's something awfully James Deanish about hitting the road on your own, bucking the trend of the masses who choose to use the balls of their feet to acceralte the octane and get a much needed break from the cube life.
I haven't rebelled against anything since my teens years and my hair has receded way past cool. My image is not what I'm into projecting. My passion for life masks any uncoolness. The only thing I rebelled against on this trip was waking up on time. Sleeping through the alarm put some small splinters in my plan. I was supposed to be up at a certain time with certain objectives to accomplish when I realized the sleep induced late departure was in the spirit of the whole trip. Do what you want, when you want and how you want to do it. Just don't get yourself killed.
As perfectly timed as my revelation had arrived, so to did the coins slide into the classic jukebox I have in my head and Skynards Freebird started in with its gentle guitar intro and my journey began.
The first time I biked this big ole' mountain I did so in a semi-admirable time of 7 hours. As far as I was concerned, I made it up there so, the time really didn't phase me. This time, I thought I was poised to ride that mountain flat. Three weeks of hardcore uphill riding had built my legs into two a pair of oversized flesh covered pistons that I felt could power a large city block for a nanosecond or three. Leaving late was actually a laughing matter. The ascent to the top starts ever so gradually, almost immediately in Puli. Puli is the geographic center of Taiwan and being a mountainous island is already 300-400 meters above sea level.

The uphill battle I had prepared so vigorously for began almost as soon as I left. The slight tug in the rear, as each foot followed the other around the front gear, was a bit annoying. It wasn't until my first unplanned stop at a waterfall to wet my whistle that I realized one thing I forgot. Actually, I hadn't forgotten a thing. It was all in the two saddlebags and the front handlebar bag that I packed. With weather conditions at 10,000 feet expected near freezing, I had packed accordingly.
My guardian angels, came carefully packed in a cardboard box next to which I had parked my bicycle by the waterfall. As I was guzzling one of the 8 bottles of water I had packed (huge mistake- there are a dozen stores on the way up to buy water at), six pups came scurrying out as I backed away from my bike long enough to think about dumping the baggage minus the wallet and 2 bottles of water. Even these wily runts covered in fur seemed to shake a bit in the cool morning air and although, my own body hair is quite the phenonmenon, I'm no match for the cold air upstairs. Therefore keeping the gear was prudent, no matter what James Dean would say. The last time I remember looking really cool was in the 5th grade when I sported a Dr. Peter Venkman Ghostbusters outfit to school for Halloween. Since I'm hopefully the only one that remembers that, the bags stay.
The road to the top of Hehuansan is pretty solid even for Taiwanese standards. There are a few areas that are always under construction, but that's to be expected from a mountain road that reaches heights people more than comfortably skydive from. My first jump was about 4 years ago from 10,000 or 12,000 feet. That gave me about a minute and a half of freefall and a very pleasant descent to the bottom after the canopy opened.
Winding around the mountain road may seem nauseating or mundane, until you start using it to gauge your progress. The same lake at the bottom with a dozen boats on it becomes covered by a thumb 500 meters up. This becomes the point where your progress is appreciated and your adrenaline keeps everything running smooth. It wasn't until 3/4 of the way up after my stops became hourly, that I cursed everything above two stories, including the invention of stairs.
That's exactly when record times and feats of extraordinary manpower flew out and getting it done became the only mission important to me. There is a certain disappointment of not doing what you had expected to do, but there's also a light that goes off that shows your goals were not as fairly imposed or researched as they should have been. BUT if you aim at the ground you'll never hit the sky.
I arrived at the top two hours later than I expected and it was getting late to make the other side down. I took a few pictures to prove it and handed my saddlebags/panniers a blasphemous tongue lashing that has them still cowering 3 days later. Hehuansan is about 75k from Puli and the town at the bottom on the other side is about 100k from the top. Even going downhill I was still going to be 8-9pm getting there and night falls pretty early in autumn. Descending the other side meant the risk of guest houses being full and me stuck outside in the cold. I was told there was an old ski lodge still in operation on the other side of the ridge and that I could sleep there for the night. I pulled up to what looked to be the reception buliding, and saw a foreigner with a Taiwanese woman sitting next to the entrance. Excellent!! English and Chinese translation, sweet. I introduced myself and asked if they were aware whether or not there were rooms available. By the look on their faces I got my answer immediately and then went into survival mode thinking out possible scenarios, solutions, and back-up plans. Zoolina, the Taiwanese girl, beat me to the punch we she asked the Lau bahn (boss) if there were any single rooms available as they had previously only inquired about a double. And like that my room awaited, unexpectantly to be accompanied by my two new friends. Both of them had sleeping bags and were willing to sleep on the floor. Being that this lodge was done in a Japanese style we all selpt on takami mats (bamboo padded mats) on the floor. They say three's a crowd but when it's freezing outside and you don't have heat or long pants, the more the merrier as far as I'm concerned.

Two days after a full moon on top of a mountain all covered in "Joy", I wallowed in my accomplishments and relished the compliments from the hikers that had come by car. The beauty of choosing your own stars is getting that much closer to them, seeing the steam roll off your breath to join the small barely visible clouds that are already there and make room for your sweet dreams that are as real now as your presence within the heavens.
The next morning on the mountain was a religious experience as real as any I've ever had. There was scattered chatter among the small groups meandering around outside the lodge. All of that got drowned out by the silence of the mountain. Every pitch can be magnified and every tone can be eliminated with a flip of a mental switch or a fixation on the beauty that surrounds you.

There's a saying that goes something like: "The view's always the sames if you're not leading the pack." That small phrase becomes personified as you look down at the world beneath you. There's an arrogance within me now that I cannot suppress. On top of that mouintain I grew wings.
A few goodbye's, good lucks, and safe travel salutations got me far enough away to soak in a bit more and fill up my ego just to the point as to not topple me over on my trip down to see the mountains' soul sister. It's within the serenity and silence of the mountain and the mist of the oceans breath that soothes my soul and gives me life.
Hehuansan to the coast is from what I gathered, about 6 hours. Although, when all was said and done including a few pic stops and a few pit stops the tally was closer to four. The turning of the tread on the tires is something I thoroughly welcome going down. The only sound that you hear is the breeze that you create as the bike wanders down and around the mountain roads.
80k from the top of Hehuansan is Taroko Gorge (Ta lu gu), a wall to wall, floor to sky view of waters' patient handywork. Twenty meters above the water the gorge shows it's true age. Below that is the beauty that plastic surgeons strive for in their pursuit of the founatain of youth pescription for their ageing patients. The rainfall year round and the melting snow in the spring feed the watershed and river whose undulating currents give the earth curves and contours Ms. Monroe would have been guilty found wanting.
Most of the traffic begins here in the gorge although, even on a day like today, it's not the least bit concerning or irritable. The tourists travel like herds of animals moving predictable and almost controllable. As you take them out of their comfortable city surroundings their attention to their foreign environment escalates and their ignorance gives way to caution.
Whittling my way through the gorge I could begin to smell her faint smell getting closer. As you exit Taroko gorge and lift your head, the ocean meets the horizon and the two blend into a beautiful setting you plan to park your lotto winings on one day. There she sits. In all her deep blue majesty, authoritatively situated ever so slightly above the coastline she watches over day and night. The breeze, tainted so by her daily cycles which make her far moreformidable that any other mortal woman, God or any other supernatural being could ever conjour up. The ocean commands respect, admiration, and even fear. If you've ever denied her any of those you're lucky to be reading this now.
From Taroko to the ocean is about a 15 minute ride. South, down highway 8 is Hualien (16k) and Taidong(200k). North, up highway 8 carries you to Yilan (100k).
Sunday at twelve thirty, I figured my best bet would be to shoot up the coastal highway to Yilan. I wasn't ready to scale the mountain again and therefore, my journey home either way was going to have to include some train and bus riding. I wanted to spend as much time riding the coast as possible as well as a few hours sitting on the beach putting sand in my shoes, so I'd have enough to last me until my next trip back.
Hailing from N.C. I'm used to long flat coastlines and wide sandy beaches. Thoughts of home fluttered through my head and convoluted my vision of a Taiwanese coastal ride. From Taroko north towards Yilan, the road is nothing but flat and an hour and a half into the ride I seriously questioned myself as to why I had not stayed the night near the gorge and traveled back up the old beast of a mounatain, as I had originally planned. With the mountain cliffs I was traversing and the gentle ebb and flow of the ocean waves in my ears, I knew I had made the right choice. It's kind of like opening Playboy and seeing Angelina on one side and Beyonce on the other. Either way you're right. Sometimes the road winds up the rocky mountain cliffs some three to four hundreed meters and then back down to where you started, but the waves breaking in the foreground give a rider applause and the final break of each set gives a thunderous encore inspired roar that brings your legs out of hiding and push you over each summit.
There are numerous mountain tunnels along the way on highway 8 that break you away from your picturesgue pedaling and into uncertainty, as you hold your ground against the weekend warriors battling to retreat home to begin another week on the wheel. Although, 99% respectful to bikers, I did find myself in just one compromising situation that was not instigated by a vehicle of any sort.
Inside one of the tunnels, that must have streched a good 2 km I found myself alone for a few minutes, steadily turning the crank. All of a sudden, a renegade and obviously clinically depressed, to point of obvious suicide, pigeon came flying from behind me through the tunnel. At the moment I marked him for certain death, the familiar and confusing echoes from within the tunnel walls started swarming. No sooner did I focus on my path and see cars coming into view ahead did the pigeon land directy infront of my line about 30 meters ahead. Cars soon passed in both directions and I apologized a bit too sarcastically to a bird who had chosen his fate. I've never heard of a bird getting run over by a bike, but like I said this one had obvious problems.
The light at the end of the tunnel approached and I thought once more the feathered kamakaze's cowardly act of suicide. At that moment he came swooping down from behind me to land at the opposite end of the tunnel in the other lane, this time with a twisted scowl on his face and a bum leg, almost as if to let me know he was going back in to finish what I had failed to do.
65k into my ride to Yilan at six o'clock I decided it was too dark to continue as I pedaled into Dong 'ao. Dong ao' is a small village by the see with some sort of manufacturing plant. There couldn't have been more than five hundred people in the town, ninety percent of which I guess worked at the plant.
With a few hours before bedtime, I secured a room, rinsed my clothes, and caught a taped replay of game three of the World Series. Room included I spent $30US to go from the top of the country to the coast, every square inch of which was appreciated and respected.
I awoke Monday to rain. I semi expected it based on the weather reports I saw before I left Puli, but at the same time with the luck I had so far didn't expect it the same. With only 35k to go I held out for an hour and departed when the rain subsided to a slow drizzle, departing around 8am. The clouds formed Caeser-esque crowns above the coastal cliffs and the morning fog sat motionless on the beahes below like comfortable vagabonds copping a squat.
My trip to Yialn was almost effortless. By the time I reached the train station in Yilan I was a bit disappointed . I sorted my tickets and then rode shotgun as my partner was relegated to cargo. See you in Puli, buddy. Thanks for the lift!
---
---
Bike China Adventures, Inc.
Home| Guided Bike Tours| Testimonials| Photos| Bicycle Travelogues | Products| Info| Contact Us
Copyright © Bike China Adventures, Inc., 1998-2015. All rights reserved.