Do you have a China cycling travelogue you would like to share here?
Contact us for details.
---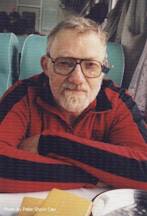 Don Beachey
Cycling Beijing to Chengde
Bicycle Touring Travelogue of a Seven-day Ride
Copyright © Don Beachey, 2001.
[Editor note: This travelogue was written by Don Beachey from Cleveland, Ohio about his first cycling trip to China. Don and Peter Snow Cao cycled together for a week in October, 2001 before he went to Xi'an to donate his time and expertise as a nurse for two weeks. Don took nearly all of the pictures below prefering to photograph others rather than be photographed. I was able to get one of him on the train back to Chengde. Don says he likes to take food pictures because food is an important part of life.]
---
6 NOV 2001
Dear family and friends,
Tomorrow I return to work, having finished my trip to China. Now is the appropriate time to write a brief note before memories and impressions fade into the routine of normal activities.
With the WTC (World Trade Center) disaster, much has changed in the world of airline travel. United, due to cancellations, decided a 777 was more appropriate than a 747, leaving a half a dozen people to fly through Hong Kong, arriving later. Hence our plane was completely full for the 13-hour flight from Chicago to Beijing. Exactly 12—hour time difference, so I did not need to change the watch. Lost 12-hours because of the International Date Line. Interestingly, most of the flight to China is over land, going the polar route over Canada, Alaska and Siberia, down the east coast of Eastern Asia after crossing the Bering Strait. With GPS (Global Positioning Satellites), one can stare at he airplane moving across the maps on the TV monitors, tracking quite accurately the position of the plane, its speed, wind conditions, altitude, and temperature. We raced the sun, doing quite well since we went so far north, never seeing darkness.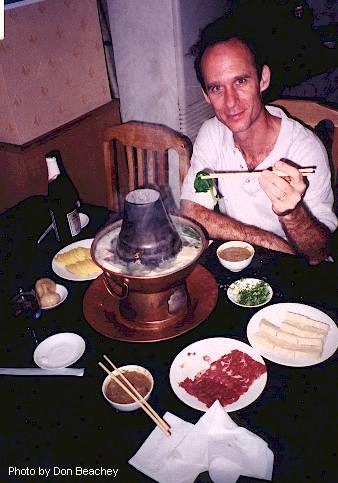 Peter Snow, Bike China Adventures, Inc., met me at the airport. After checking my bag packed for Xi'an in left luggage, we headed for Beijing on the shuttle bus and subway, going to a hotel a few blocks south of Tian'amen Square. After checking in and changing, we went for a bike ride to the square and then to a Uighur (Muslim) restaurant for the evening meal, food being cooked in a hot pot at tableside.
Before going to bed, I telephoned the Robbs, a couple with ELIC (English Language Institute of China) who are friends of a couple at our church, who lead the Toledo Urban Impact. They were extremely busy, with visitors coming and going over the weekend, so I did not meet them.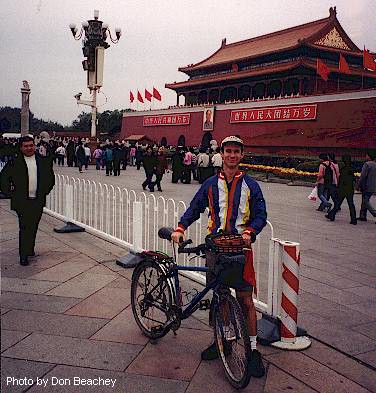 Sunday, we did an impractical bike tour of Beijing suggested by Lonely Planet, starting early in the morning Tiantan Park and the Harvest Temple. That was followed by the Natural History Museum, which, from my perspective was a waste of time. Several "hutongs," old traditional narrow streets with closed communities or neighborhoods. Incredible amounts of people and activity in small, compact areas. Fair amount of time at Beihai Park and Jingsham Park. Time was slipping by now, so we bypassed Prince Gong's Palace and Song Qingling's Museum. The huge Drum Tower followed, while across the plaza, the Drum Tower was having construction being done. We both thought it would be interesting to visit the observatory, so we headed over there so we would have some time to look at the exhibits. We passed the art museum but did not stop. In addition, we made no effort to visit the major attraction of the Forbidden City and Summer Palaces.. No reasonable way to do this in one day. After eating, we went to the Peking Opera, with the first half featuring court intrigue and the second half dealing with the Monkey and Pig Kingdoms, with acrobats, twirling, dancing, and increased tempo. Teas and snacks were served.
Monday, we were up bright and early, and headed north out of Beijing. What an experience. The mixture of bikes, cars, trucks, etc., a moving kaleidoscope of vehicles flowing in and out and intermeshing, especially at intersections. In Beijing, path lanes, often separate from the vehicular traffic, aided the flow. For the most part roads were in good condition, though just north of town we hit a muddy, wet area. We cycled on to the northwest for a visit of the Ming Tombs, visiting the Chang Ling and Ding Ling tombs. The hills started with the Tombs. It was an uphill ride to the Great Wall at Badaling. We stayed at a hotel in a chicken restaurant, rolling the bikes past the tables.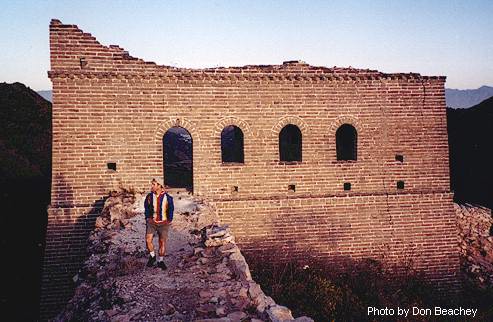 Early in the morning, as the sun was coming up, before tourists and ticket takers arrived, we visited the wall, going far beyond the controlled area, visiting the unrestored and more interesting area. As we returned, there were just a couple people on the wall. Apparently, having the wall to oneself is a rare occurrence in this area. We descended to the valley, stopped for breakfast, having warm soy milk and a huge donut-like pastry, that was dipped in the milk. After a relatively flat stretch, we climbed another mountain pass, finding no wall, though one was indicated on the map. After along downhill and a smaller pass, we entered a small village for the night, eating steamed egg with the meal.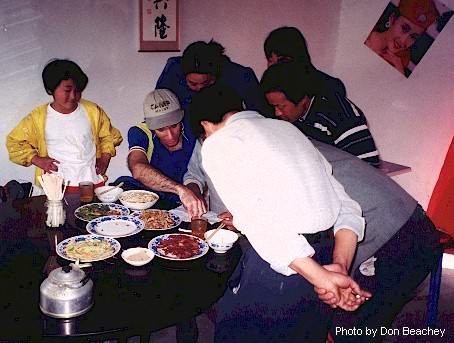 Up early, we cycled up and down through mountain and valley—gorgeous ride, before a late visit in a small village. A late lunch followed, including roasted peanuts and a stuffed pita-like pad. Very talkative group, few foreigners seen there. After cycling down, followed a large lake with flatter roads before arriving at another section of the Wall. Big fish included with supper, including the head and tail.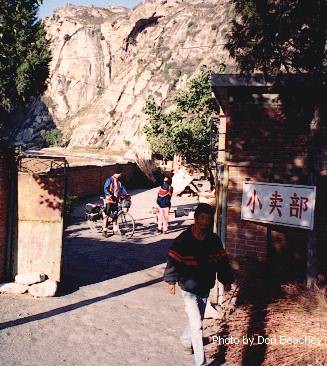 Again, we were up early, but the ticket man came out in his underwear to collect admission fare. Not as impressive as other section, but different construction and smaller bricks. cycling on, it was up and down, often several miles at a time, overall climbing higher and higher, Better hotel, with hot water tonight. Previous two nights, just a basin of hot water to wash.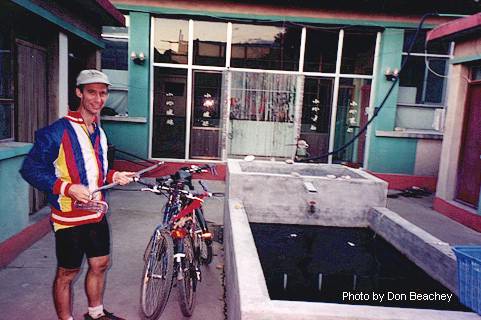 Chengde, the Summer Palace to avoid the heat of the summer, was a huge complex. On the hills surrounding the palace, temples were constructed for visiting dignitaries, etc. We visited the three most impressive, including one that was a scale model of he Potala in Tibet. On the way to the train station, for the 4 and ?hour ride back to Beijing, we picked up a sandwich-like patty with tofu, seaweed, and potatoes after a dish of noodles. Took the "soft seat" back, quite comfortable, mostly foreigners. The hard seats became increasingly packed as we neared Beijing.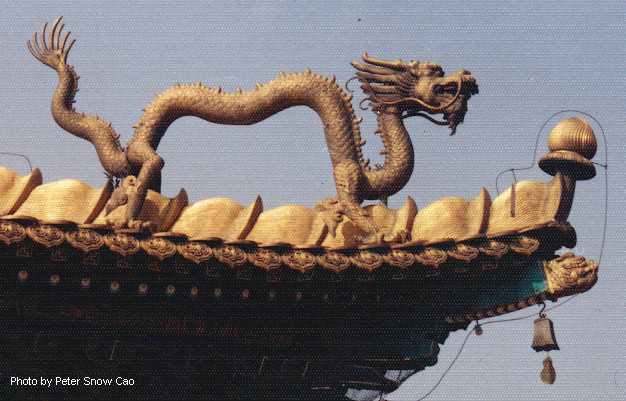 Peter needed to get to the airport for his flight back to Chengdu, so we quickly said good—bye. I headed for bed. The trip proved to be much more demanding than I had expected, but well worth it. No regrets about it. I would recommend his service to anyone.
A brief comment about food is appropriate.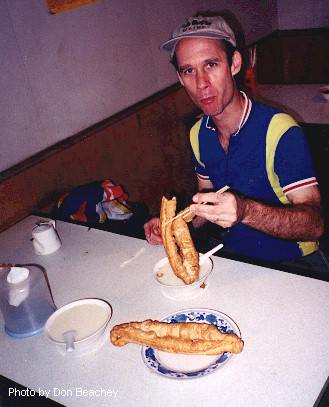 No fast food. When you stop to eat, you negotiate what and how much. Food is cooked fresh, with one waiting. Often large quantities provided, and the leftovers go to the pigs. Nothing is wasted. I found the food enjoyable. We were in the wheat and corn area, not rice, so we were not eating rice three meals a day as I remember doing in Japan. Most Chinese are lactose intolerant, so milk and cheese not readily available. Soy milk is used, having a longer shelf life. In general, no dessert with meals and soup finishes things.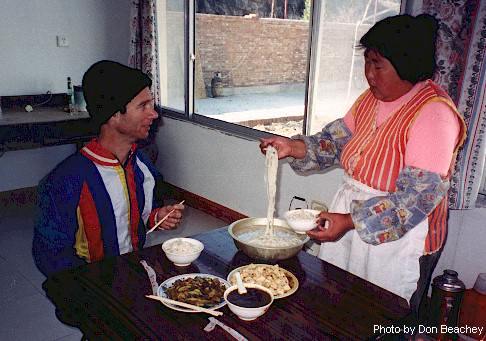 Toilets were primitive oriental, basically holes in the ground. Most, if flush type, we not equipped to handle paper, which was placed in basket beside the unit. Needless to say, China fertilizes with "night soil."
Saturday, I was on my own. The Forbidden City was the main event, and I walked over to it, spending almost five hours there visiting various structures, temples, exhibits, etc. From there, I walked on to the National Art Museum, enjoying the exhibit, although it seemed to have no organization, with traditional pictures being mixed with works from the cultural revolution and Mao period.
Sunday morning, I departed early for the airport, reversing our trip in. Picked up luggage left at the airport, and checked in for flight to Xi'an.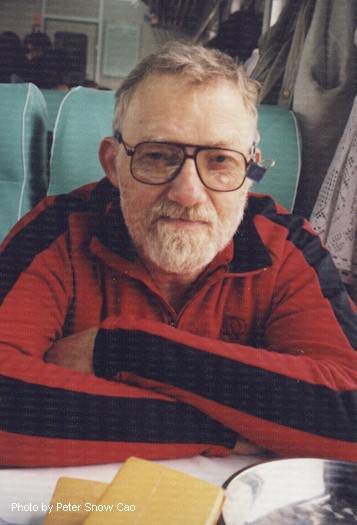 Don Beachey on the Chengde-Beijing Train
More Photographs of the bicycle trip from Beijing to Chengde
---
---
Bike China Adventures, Inc.
Home | Guided Bike Tours | Testimonials | | Photos | Bicycle Travelogues | Products | Info | Contact Us
Copyright © Bike China Adventures, Inc., 1998-2012. All rights reserved.