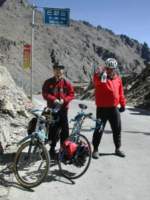 Guide Danny Chen and Dean on top of Balangshan Pass (4,523 meters, 14,485 ft.)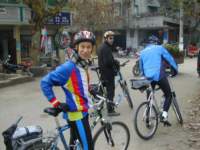 Surprise, surprise!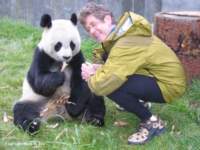 Mark making friends with a panda at Wolong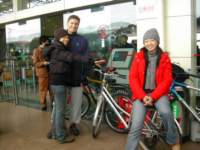 Cycling and romance
Do you have a China cycling travelogue you would like to share here?
Contact us for details.
---
Copyright © Andy, 2007
Visit Andy's website here for more photos and additional information: http://www.travelblog.org/Bloggers/Bikepacker/
Part1 | Part2 | Part3 | Part4 | Part5 | Part6 | Part7 | Part8 | Part9 | Part10 | Part11 | Part12 | Part13 | Part14 | Part15 | Part16 | Part17 | Part18 | Part19 | Part20 | Part21 | Part22 | Part23 | Part24 | Part25 | Part26 | Part27
---
BEIJING BLAST! - we gain two new follwers to the Great Cause
---
Day 163, 10th November
Beijing

Bikepacker Fan Club - AGM Beijing
What crazy situations life can throw at you. Just 2 weeks ago we were freezing our eggs off at minus 20 celcius in our tents in the bloody Gobi!
Today I did the tourist stuff with Scott. We walked to Tianammen Square and visited Chairman Mao's Mausoleum, how bizarre that was! So grandiose and regimented, just to see what looked like a waxwork dummy with a light bulb inside it. Scott burst out laughing and got a hard stare from one of the guards. I bought some Mao tat from the souvenir sellers on the steps of the mausoleum. Then we went off to the fascinating "Forbidden City" where the emperors hung out. The palaces were the stuff of legends and the gardens, wonderful. We had a walkman device with Roger Moore's voice to guide us about the place - which was a bit surreal.
Outside the Great Gate, the place where the portrait of Mao hangs, we saw a woman unfurl a banner and begin a solo protest about something. But she was swiftly apprehended by the secret police, bundled into a van, and whisked off somewhere, all within a single minute! To God knows where?
In the evening, Nan Li, a friend who I met in StPetersburg in 1999, turned up a Waleys Bar. We had some drinks and later took a taxi to his place where we caught up on stories. I had my clothes washed at his flat and ended up crashing out there for the night.
Day 164, 11th November
Beijing
Had a day with Nan Li talking about China and its culture, looking at photos, eating and drinking. Back at the hostel, who should be there but Stephane! Yes, he is definitely a guy and turned out to be as crazy as the rest of us! We went to Waleys Bar again, swapped crazy stories about biking, and basically got drunk. Met some other crazy people too…. A Slovenian guy who treated us to beers only cos we'd heard of Slovenia, and Helen, a ginger-haired German girl with a perfect Irish accent. Waley was such a character and Scott was caught off his guard by her, she made him go bright red which was unusual for the suave and sophisticated Scott!

Day 165, 12th November
Beijing
Spent the day wandering around the city and looking for bits and bobs for the bikes and the trip down to Hong Kong. Stocked up on foodstuffs at a supermarket then checked my emails. It's good to be in regular contact with Kathryn again. I'm actually using a pre-paid card she's posted me to make phone calls to her, I feel a bit guilty about this, though.

Day 166, 13th November
Beijing and around the city
Another chill-out kind of a day. Rory and I set off to Tianammen Square for our meeting outside the Mao gate with the uni students we'd met on our way into town on the first day. At 4pm we were met by Nan, Angel, and Eggy, and also the camera team from CCTV, the national Chinese TV station. We waited over an hour for Scott and Toby who didn't turn up. During waiting for them we witnessed the ceremony of the lowering of the state flag outside the gate on the north-eastern corner of the square. The precision marching of the soldiers was impressive.
Afterwards, we went off to the Beijing University of Business and Economics in the north of the city. We wheeled our bikes into a packed lecture theatre to the applause of hundreds of Chinese students, what a shock! It was crazy as people jammed the corridors We gave a talk on our trip so far and afterwards were showered with gifts. We answered loads of difficult questions afterwards and signed student's coursebooks. It didn't stop there - we were taken to the student cafeteria to be treated to some lovely chilli-based snacks, and then whisked off to a nice restaurant for a meal with the student reps.
Later, as Rory and I cycled back to the hostel on the Beijing-ringroad number 3, we were only just winding down from what had just happened. Can you imagine, two weeks ago, miserably freezing to death in a tent in Inner-Mongolia, and two weeks later loads of smiling students, mostly girls, wanting your autographs in their books and telling you that you are their heroes!!!! Totally insane man! Bizarre and unbelievable….
Total Miles: 8211.80 Todays Miles: 26.59 Average speed: 10.1 Time on bike: 2:36

Day 167, 14th November
Beijing
Today I walked around with Stephane talking with him about his life in Canada as an ice-breaker pilot in the Arctic, encounters with polar bears, what a job! We also have a new addition to the group, Nick, also a Canadian, both Nick and Stephane are from Quebec to be exact and they're like chalk and cheese. Nick has a pierced eye-brow and nipple!

University Cafeteria
Beijing University of Business and Economics - famous for its lovely spicy thinghies on a stick.
Let me tell you about Nick. He's the youngest, 22, and last night he got drunk whilst chatting to us about the trip, got so inspired even though he'd never cycled before, and asked if he could join us to Hong Kong. So Today he went into town with Rory and Toby and bought a bike, panniers, tent, and all the other stuff he'd need for the trip.
We've decided to set out on Friday morning now, for a few reasons. There's still some preparation to do. Besides, Scott's guts are still bad, and we have bike repairs to do. Nan Li turned up later with a journalist from Traveller Magazine for an interview. The media-whore list just keeps getting longer.

Day 168, 15th November
Beijing
I got my saddle welded today for free by the guys at the garage next door to the hostel, which was nice of them. Got all of my washing done, letters wrote, emails sent. Scott had a load of stuff to post. Rory had internet stuff to do. Toby had to converse with his German lover from "Saddle-Free" magazine. Loads and loads of stuff to do - almost as much as if you had a full-time job!
Later on, Waley had a surprise for us all, a going-away present. She had made us all T-shirts, each with a personal message on in Chinese. She also made us a last supper in the bar. Nan Li came along with some photos for me from the other day, and a prezzie too, a good-luck charm with the Chinese character for Happiness. When Nan left at midnight, I went off to the phone to give Kathryn a wake-up call - it's morning in LA.

Sea of Faces
They listened, they smiled, they laughed - but did they understand my northern-git and Rory's southern-poofter accents?

Wayleys World
In Waleys Bar, Waley gives her dearest Scott and Rory a cuddle before bedtime.
Souvenirs

Ticket stub from the Forbidden Ticket and a leaf from the palace gardens stuck into my written journal.
---
Part1 | Part2 | Part3 | Part4 | Part5 | Part6 | Part7 | Part8 | Part9 | Part10 | Part11 | Part12 | Part13 | Part14 | Part15 | Part16 | Part17 | Part18 | Part19 | Part20 | Part21 | Part22 | Part23 | Part24 | Part25 | Part26 | Part27
---
Visit Andy's website here for more photos and additional information:http://www.travelblog.org/Bloggers/Bikepacker/
---
Bike China Adventures, Inc.
Home| Guided Bike Tours| Testimonials| Photos| Bicycle Travelogues | Products| Info| Contact Us
Copyright © Bike China Adventures, Inc., 1998-2015. All rights reserved.