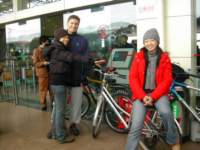 Cycling and romance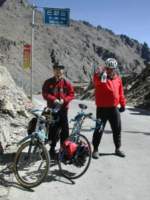 Guide Danny Chen and Dean on top of Balangshan Pass (4,523 meters, 14,485 ft.)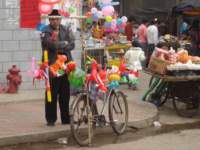 Changsha - Mobile toy shop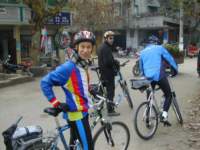 Surprise, surprise!
Do you have a China cycling travelogue you would like to share here?
Contact us for details.
---
Copyright © Andy, 2007
Visit Andy's website here for more photos and additional information: http://www.travelblog.org/Bloggers/Bikepacker/
Part1 | Part2 | Part3 | Part4 | Part5 | Part6 | Part7 | Part8 | Part9 | Part10 | Part11 | Part12 | Part13 | Part14 | Part15 | Part16 | Part17 | Part18 | Part19 | Part20 | Part21 | Part22 | Part23 | Part24 | Part25 | Part26 | Part27
---
Midnight Executions? Then, at the end of 8,185 miles - reflections...
---
Day 160, 7th November
Km 285 Xuanhua - Xianbaoan

Fresh (un-fresh) from Mongolia
After leaving England 5 months ago I arrive in the Heart of Beijing - tired, smelly, and aching. That's what 8,185 cycling does to ya!
Awoke at sunrise in our paddy-field and drank a cup of yak-milk tea. It was damp outside. My tent was soaked and it wasn't going to dry. We packed up and left, and after 15 miles we stopped at a café which resulted in another slap-up meal for Y50 for the four of us. I'm really getting used to this being "Treated like a King" lark.
Our road to Beijing went past ever richer fields of rice crops, cabbage, and many sorts of assorted vegetables. One thing I didn't like seeing were the sheep tied up around the back of motorcycles - they were encased in wicker and still alive breathing in the exhaust fumes. Visibility was down to a mile, the whole valley was heavily industrialized and highly populated. Half way through the day we entered, "The Bicycle-Zone"! Huge bike roads alongside the main roads. We passed a huge power station and came within 50 feet of the gigantic cooling-towers - cool! And even shook hands with the Chinese army recruits who were guarding it. Later we saw a band of workers marching behind the red flag of communism, some couldn't resist smiling and shouting 'Hello' to us as everyone else does.
In a well-stoked supermarket we bought our fill of snackie foods. The last part of the day was inadvertently spent on the Beijing expressway. Surely the police would stop us now for this infringement - but no! Lots of police cars passed us but they couldn't be arsed to stop. We even had a puncture-stop, right in view of an army compound, the soldiers eyed us from the watchtowers but only smiled. As it began to get dark quickly we had to look for a place to pitch our tents and ended up scrambling down the motorway embankment. We rode along a storm drain, then sneaked under a barbed-wire fence to camp near the motorway bridge. Nobody would see us here, we were once again in snow-dusted hills but it wasn't cold. I was able to write this without wearing my gloves!
Total Miles: 8071.07 Todays Miles: 62.07 Average speed: 13.6 Time on bike: 4:33

Day 161, 8th November
Xianbaoan - Qinglongqiao
Woke up to birdsong. It's getting warmer by the day and the sun is rising higher in the sky. After warming ourselves by burning some tumbleweed we carried on along the motorway for another 20 miles before it ended at a tollgate where a confused policeman tried to stop us, we just smiled and waved as we rode past him. I think that it's the best thing to do to avoid being fined. Back on the busy road there were all manner of strange vehicles and shops, and a wonderful backdrop of mountains. We had another café stop and the usual great food. On the road again I had a rear puncture and so decided to remove the knobblies that had helped with the Gobi crossing, and to put on my slicks - that bloody Ritchie-Rim I bought in Russia is shit, it's too big for the bloody tyre!

Leaving the Plateau
It seemed the downhill from the Mongolian plateau would last forever. The first greenery appeared as if by magic.
All the road signs were now in English and Chinese which was a great help. Another 60 miles done and we found a camping spot in the hills amongst some small conifers overlooking the valley and what seemed to be an army barracks a couple of miles away. We were now about 40 miles from Beijing.
I think it must have been around midnight that I heard it. The soldiers had been marching in the barracks for a while then all was silent. Then a voice blurted out some military-sounding commands in Chinese for a minute, and then - a volley of gunfire! After about 5 minutes of silence, the procedure was repeated, again and again. I ventured my head out of the tent and looked over into the valley. The parade ground was lit up by bright lights, there was movement, but I couldn't see exactly what. The voice - then the gunfire, over again. A chill ran through me - I thought, "Are people being executed down there while I'm in my cosy sleeping bag looking forward to a beer in Beijing"? The gunfire continued into the early hours, I slept fitfully, I didn't really want to think about it…
Total Miles: 8133.14 Todays Miles: 62.06 Average speed: 13.4 Time on bike: 4:37

Day 162, 9th November
Qinglongqiao - Beijing
Nobody really spoke about last nights activities, I even imagine that Tobes, Rory or Scott may have slept through it all - I tried to think of something else. Like the fact that 12 years ago today, the Berlin Wall came down which signaled the end to one communist regime. And today, we were cycling into the very heart of a very real communist nation.

Beijing fags
The glory of imperial China to be found on canker-stix!
Last night, I heard a lot of trucks labouring, and found out why as we set off - up a steep hill. It was to be our very last hill, and our last downhill section, which was under repair. We free-wheeled for 10 miles down one of the most beautiful valleys of the trip so far. The trees became wonderfully green, and the water in the stream gurgled deliciously as we sped down and down the valley. It eventually flattened out and we were at minus 100 metres below sea level -erm! It was exposed that Rory's altimeter was wrong, we were actually at 50 metre above sea level according to the map, so that means all previous measurement in this journal need an extra 150 metres added which adds a bit of additional 'cool' to our stories!
As we entered the suburbs of Beijing it became much warmer. The bike-lanes were crazy but fun to ride in. Rory and I held onto the back of a rickshaw at one point to see if the panting rider would notice, just for devilment. He didn't notice at all, two westerners with fully laden bikes being tugged along. When he did notice his face beamed with laughter and drew more laughter from the other cyclists too. It was amazing the number of bikes, and what they were transporting too - boxes, sofas, and 30-foot girders!
Eventually, we all arrived in Tiannanmen Square for the obligatory photo-shoot, even though we were dirty and minging like hell. From here we had to head to the south of the city to find a hostel that had been recommended by Nan - a Chinese guy I met in StPetersburg in 1999 who was living in Beijing. On the way there we drank our customary beer and ate some food. A student from the Beijing University of Economics chatted to us and asked us to give a talk about our trip at the uni - he took Rory's email address and said he'd let us know when.
The Jinghao Hostel was really a hotel with nice dorm-accommodation stuck around the back of it. For Y30 a night, it was great value. There was a bar next to the dorms called 'Waley's Bar', and with great beer for Y3 a bottle, and food…….. so that's where we spent the evening. Tomorrow we hope to meet our fifth member of the group - Stephane, who has flown in from Canada. Stephane was meant to be with us from the start, but due to a road accident he's been recouperating till now. Funny thing was that we guys thought he was a girl, Stephanie, until relatively recently and in true guy style were wondering which one of us would be the first to pop Stephanie's cherry. When I wrote an email to her/him saying we were looking forward to a girl being on the trip, he rudly corrected me saying that he could show me the equipment he had to prove otherwise!!! Well, that's life, and now we have a week to rest up in Beijing - what will it bring???
Total Miles: 8185.20 Todays Miles: 52.06 Average speed: 12.8 Time on bike: 4:04.
---
Part1 | Part2 | Part3 | Part4 | Part5 | Part6 | Part7 | Part8 | Part9 | Part10 | Part11 | Part12 | Part13 | Part14 | Part15 | Part16 | Part17 | Part18 | Part19 | Part20 | Part21 | Part22 | Part23 | Part24 | Part25 | Part26 | Part27
---
Visit Andy's website here for more photos and additional information:http://www.travelblog.org/Bloggers/Bikepacker/
---
Bike China Adventures, Inc.
Home| Guided Bike Tours| Testimonials| Photos| Bicycle Travelogues | Products| Info| Contact Us
Copyright © Bike China Adventures, Inc., 1998-2015. All rights reserved.