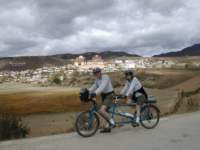 Barry and Joyce on their tandem in Shangri-La (Zhongdian)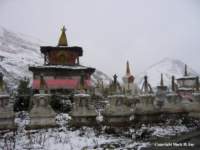 Stupas at Tagong Monastery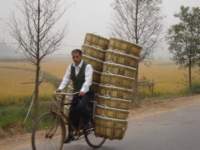 Changsha - Baskets anyone?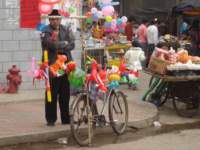 Changsha - Mobile toy shop
Do you have a China cycling travelogue you would like to share here?
Contact us for details.
---
Copyright © Andy, 2007
Visit Andy's website here for more photos and additional information: http://www.travelblog.org/Bloggers/Bikepacker/
Part1 | Part2 | Part3 | Part4 | Part5 | Part6 | Part7 | Part8 | Part9 | Part10 | Part11 | Part12 | Part13 | Part14 | Part15 | Part16 | Part17 | Part18 | Part19 | Part20 | Part21 | Part22 | Part23 | Part24 | Part25 | Part26 | Part27
---
Out of Inner-Mongolia and through The Great Wall
---
Day 157, 4th November
Sonid Youqi - Tomortei

Who would live here ?
Inner-Mongolian village scene. Still no green to be seen - anywhere!
The wind had changed and it was pretty much in our favour today. We left the hotel at nine and went in search on a bike shop for Scott to get a new derailieur. A guy on the street with a lathe cutting keys sorted him out for Y30. He not only got some guys to find a derailieur that would do, but also fitted it and got it working! This drew a huge crowd, and also the attention of the police. I suppose than never before have we looked like foreigners and stood out as much as now. A guy in a van escorted us to the outskirts of the town and onto a new road which we'd follow for the rest of the day.
The tailwind sped us up to 30mph in some places, and according to Rory's altimeter, we'd also climbed 1,300 feet without realizing it. Then we saw it ahead of us - a police checkpoint across the road, the moment we had been dreading. This was it - maybe the place we would have to end our trip and get arrested for using our own transport without a Chinese guide. As we drew closer we saw that there were several inspection cabins with the People's Police standing erect and guarding each one. Oh SHIT! A hundred yards, fifty, thirty - then suddenly, the stern looking faces turned to broad smiles as they waved us through…. Wow! What happened there?

"One wheel on my waggon..."
I got the smug feeling that we were much better off than this poor guy!
Further on we experienced a change in the wind and a powerful and icy side-wind layed into us. The temperature hadn't risen above zero all day either. By the end of the day we were seeing ploughed fields and bits of roadside greenery. There were a few leafless trees too which we camped amongst, they gave a bit of respite against the gale. At sundown (5:30) it was minus 4. The crazy highlight of the day was surprisingly the sandstorms!
Total Miles: 7874.65 Todays Miles: 68.75 Average speed: 12.8 Time on bike: 5:20

Day 158, 5th November
Tomortei - road 110 - Jining
Back at home all the kids will be getting excited because of Bonfire Night. Whilst here we are freezing our balls off on the Mongolian plateau. Last night I was frozen, it was awful because I'd gone to bed with a damp top on. At sunrise Rory announced cheerfully that it was a fresh minus 10 in his tent. Nevertheless, it was to be a good day with great tailwinds to speed us on to Beijing.

Cafe Bunny
The place where Rory had a poor rabbit executed to fill his rumbling fat belly. Yes, I'm a vegetarian!
We had a morning stop in a café for tea and bread. It's strange cos a lot of buildings have normal tables and chairs in them and I'm not 100% sure if some of them are real cafes or people's houses and they are just being nice to us. Then there's the weird road vehicles - the three-wheel contraptions kicking out noxious fumes and loaded with goods, people, or both! There were also double-decker coaches, overloaded trucks, donkey carts, and loads of bikes. We saw loads of police today; both the ordinary blue and white clothed types, and the dreaded green-jackets (PBS), but neither bothered us. They just waved and shouted "Hello" to us, that's all. Our lunch was eggs and rice - this food is gourmet to us compared to the Russian peasant food we ate for months. We even saw working steam-trains today. There were more and more trees and cultivated land, and there was a general feeling amongst us that we were heading into warmer climes at last as I took off my bonnet and my jacket. We just kept on happily riding, leaving the G208 near Jining and taking the 110 road to Beijing, eastwards. We camped by a dry river in trees after doing 80 miles today and dropping to an altitude of 1,200 metres. Spirits are high, morale is good, tomorrow we should have more downhills and probably see the Great Wall…

The Great Wall
Sorry, the sun was low, but really, this is the place we cut through the Great Wall....
Total Miles: 7955.62 Todays Miles: 80.96 Average speed: 14.5 Time on bike: 5:34

Day 159, 6th November
Jining - Great Wall - Km 285 Xuanhua
It was another bitter night and I awoke to winter scenes. It hadn't been snowing but the ground and tents were covered in a thick frost. We waited till stuff dried out, drank teas, then set off later. Surprisingly, we were climbing again, it was a day of ups and downs with us reaching 1,400 metres again which we really didn't need. After 15 miles we stopped at a crazy café and were treated like kings. As we were ordering food, an old chap came in with a live rabbit. Rory joked that he would eat it. The guy went outside and came in a few minutes later with the skinned rabbit, it was taken in the kitchen, chopped-up, and cooked in a pot. All the rest of us had veggie meals while Rory waited in anticipation for his rabbit. Then it arrived - in a huge bowl with veggies, the head floating on top! The look on Rory's face was priceless.
The people in the café were having great fun with us and I had the sure idea that we were perhaps the only westerners they had ever met. Rory ate what he could of his rabbit and took the rest of it with him using all his sealable-pots. While on the road again, everone we passed was smiling and cheerful, even the police at every checkpoints. Eventually, in the distance, we saw the watchtowers of the Great Wall on the peaks of hills, not that far away. There was one last climb out of inner-Mongolia, and then downhill into a shaded, snow-dusted valley. As we free-wheeled down the valley, we passed the huge ramparts of the Great Wall on our left, and to the right many lookout posts guarded the dry riverbed which we were following as we descended. The best thing about seeing this was that The Great Wall in this area, although rough and rugged, was in its natural state and completely free of tourists - except us. As we headed down into the valley the wind rushed up into our faces slowing us somewhat, and with the wind a plume of pollution which we saw hovering in the air in front of us over the valley. Every bit of land became cultivated, and at last we saw trees with green leaves. The sun was going down fast, so we left the road and found a nice secluded place by some terraced plots. We are now at 900 mtres, and, it's beginning to feel a lot warmer at last.
Total Miles: 8009.00 Todays Miles: 53.37 Average speed: 12.6 Time on bike: 4:13.
---
Part1 | Part2 | Part3 | Part4 | Part5 | Part6 | Part7 | Part8 | Part9 | Part10 | Part11 | Part12 | Part13 | Part14 | Part15 | Part16 | Part17 | Part18 | Part19 | Part20 | Part21 | Part22 | Part23 | Part24 | Part25 | Part26 | Part27
---
Visit Andy's website here for more photos and additional information:http://www.travelblog.org/Bloggers/Bikepacker/
---
Bike China Adventures, Inc.
Home| Guided Bike Tours| Testimonials| Photos| Bicycle Travelogues | Products| Info| Contact Us
Copyright © Bike China Adventures, Inc., 1998-2015. All rights reserved.