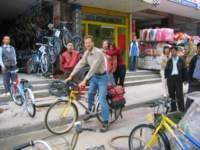 Rainer is ready for the road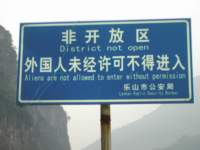 Closed area in Sichuan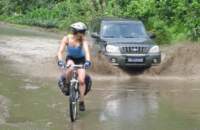 Yumay looks concerned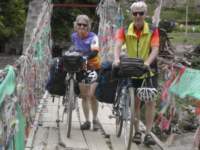 Crossing a flag strewn bridge near Danba
Do you have a China cycling travelogue you would like to share here?
Contact us for details.
---
Copyright © Andy, 2007
Visit Andy's website here for more photos and additional information: http://www.travelblog.org/Bloggers/Bikepacker/
Part1 | Part2 | Part3 | Part4 | Part5 | Part6 | Part7 | Part8 | Part9 | Part10 | Part11 | Part12 | Part13 | Part14 | Part15 | Part16 | Part17 | Part18 | Part19 | Part20 | Part21 | Part22 | Part23 | Part24 | Part25 | Part26 | Part27
---
Where RAIL meets ROAD - Literally!
---
Day 223, 9th January
Zhanhjiang - Suixi - Shankou - Zhakou

OK... who did this then?
Sometimes in China, there is a definite feeling that the transportation authorities of the Peoples Republic, do not - communicate with each other.... don't you think?
PHOTO UPDATE: Check out the last 6 blog entries, I've stuck some new pics there which I've just digitalized from my slides…enjoy!
It was a similar sort of day to yesterday, the other guys think we're in front of them, though. The weather was warmer and I was happy to have shaved this morning using my cooking pot as a makeshift sink! After about 50 miles, we left Guangdong province and entered Guangxi province via a crazy town. The near perfect road just deteriorated immediately into the bumpy surface that was normal of the 106 route north of Hong Kong. However, the amount of trucks and buses on the road did not decrease and we were back to that moronic horn-blowing behaviour. I imagined if I could magically wish those electrocuting anti-dog-barking collars on the drivers of these vehicles - what fun it would be…
We stopped at a café for egg fried rice and were treated to a new experience. On the table were a dozen pots of different kinds of food to add to your meal, and needless to say, we tried, and ate them all. Five minutes after cycling away from the café I puked violently into the gutter!
After another 80 miles in the saddle, with the sun setting around 6pm, we found a nice piece of flat ground to free-camp by a Chinese shrine and surrounded by trees. Maybe we'll catch up with the other guys tomorrow?
Total Miles: 10348.43 Todays Miles: 80.62 Average speed: 13.9 Time on bike: 5:48

Day 224, 10th January
Zhakou - Hepu - Qinzhou
It was a pleasant overcast morning as we set out on the road. We weren't really looking forward to it cos of the moronic honking trucks and buses, but after we got to the other side of Hepu the road became smoother and amazingly quieter. The landscape was more rolling and the main crop was sugar cane. The place was sparsly populated and semi-natural. The noise of insects was louder than ever today, and I suppose now that this will remain the norm all the way to Singapore now.
At one point, the dual-carriageway just became empty, it was weird. We went for miles and miles without seeing a single vehicle. Then we saw the problem, unbelievably the railway company had decided to put a new line right over the road, literally! We had to lift our bikes over the tracks, then we could carry on, good job it was a bikepacking trip and not by car. Stephane joked that further on we would see the decapitated heads of the local chief of roads and chief of railways upon spikes to warn other officials that it's best to communicate your intentions!

Careful with that!
Thought this was a nice pic - this old guy wheeling a new mirror home on his bike near Hepu.
We arrived in the largest town of Qinzhou and began looking for a cheap hotel. After checking one out and finding it too expensive, we walked across the street to another, and who should emerge, but Rory! The guys were here!! It turned out we passed them this morning and they were just behind us. A lot of handshaking and stories followed, then we checked into the hotel. Later on we went for a meal and some beers, in fact, a lot of beers. The café owner of the place we were drinking in, took a shine to us and lead us to a club, which turned out to be a gay and lesbian place, I reckon. Because I don't know if homosexuality is illegal in China or what? We returned after midnight in a motor rickshaw without Stephane - maybe he converted a lesbian with his charms, or even ended up with a ladyboy???

Out on the town
Our last night in China was a night to party and paint the town red. Hey Up! That's not a ladyboy is it Nick?
Total Miles: 10420.03 Todays Miles: 71.59 Average speed: 13.3 Time on bike: 5:22
Day 225, 11th January
Qinzhou
We all felt pretty rough this morning, tired and hungover with aching legs. There was a unanimous decision to stay another night at the hotel. I spent most of the day in bed resting my head, emerging from the hotel later not only to email Kathryn, but to also wake her up with a phonecall. She was delighted, and in a later email said that it wouldn't have mattered if I'd recited the alphabet just to hear my voice, how sweet! However, after eating a dodgy meal, I went to bed with really bad guts - not romantic at all!
Anyway, tomorrow we leave China after cycling after cycling nearly three-thousand miles through the country from the Mongolian border, through Beijing, and down to Hong Kong and Macau. It was really an adventure and a real eye-opener to the Chinese people and their way of life. We've had no problems in this country and every day has been a wonderful adventure for each of us. I just hope that in some way we have touched the lives in someway of all the thousands of ordinary Chinese people we have met, and maybe inspired some of the many millions who followed out story on state TV. My friend in Beijing emailed me to say that TV footage was shown over three consecutive nights over the whole of China of our experiences free-camping and with fireworks. Or, do the Chinese just shrug and say to themselves, "Those crazy big-noses"!

One kid is enough!
Well, I think that's what the poster is all about - promoting the one-child policy.
---
Part1 | Part2 | Part3 | Part4 | Part5 | Part6 | Part7 | Part8 | Part9 | Part10 | Part11 | Part12 | Part13 | Part14 | Part15 | Part16 | Part17 | Part18 | Part19 | Part20 | Part21 | Part22 | Part23 | Part24 | Part25 | Part26 | Part27
---
Visit Andy's website here for more photos and additional information:http://www.travelblog.org/Bloggers/Bikepacker/
---
Bike China Adventures, Inc.
Home| Guided Bike Tours| Testimonials| Photos| Bicycle Travelogues | Products| Info| Contact Us
Copyright © Bike China Adventures, Inc., 1998-2015. All rights reserved.