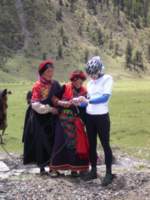 Liny getting advice from the Tibetan women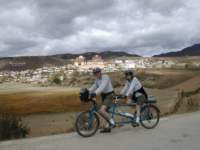 Barry and Joyce on their tandem in Shangri-La (Zhongdian)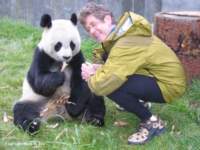 Mark making friends with a panda at Wolong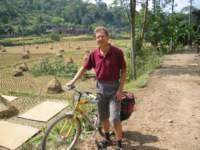 Rainer self portrait
Do you have a China cycling travelogue you would like to share here?
Contact us for details.
---
Copyright © Andy, 2007
Visit Andy's website here for more photos and additional information: http://www.travelblog.org/Bloggers/Bikepacker/
Part1 | Part2 | Part3 | Part4 | Part5 | Part6 | Part7 | Part8 | Part9 | Part10 | Part11 | Part12 | Part13 | Part14 | Part15 | Part16 | Part17 | Part18 | Part19 | Part20 | Part21 | Part22 | Part23 | Part24 | Part25 | Part26 | Part27
---
Racing along Southern Chinas coast - Destination: NAM
---
Day 220, 6th January
Xinhui - Kaiping - Enpeng - Yangjiang
Awoke at sunrise to a soaking tent due to the early morning mist from the nearby river. Shook out my boots in case any of the snakes had decided to set up home in there, then Stephane and I packed up our tents and set off for breakfast in Xinhui for a nice plate of egg fried rice. We carried on afterwards the 20 miles to join the 325 rout, a fairly busy road with a cycling shoulder which was a bit rough in places.
The route took us through Kaipeng and Enpeng, through hilly countryside, and there was a lot of it too. The people here seemed more laid-back than those we'd encountered up north. There were no grotty three-wheeler trucks or tractors belching out black smoke on this road, in fact, the traffic was well behaved and the air was clean. There were a lot of curious motorcyclists who drew alongside us for a good stare.
Our last café stop at 4pm was an enjoyable one. Not only was there a good meal, but I also got to shampoo my hair with a hose outside. The sun has been strong today and I'm beginning to tan again. I'm down to T-shirt and sandals, probably I'll put my shorts back on again tomorrow after 3 months wearing trousers. A funny thing I've noticed with constant cycling with trousers is that I have no hairs on my legs, anywhere! The friction of movement is better than any shaver ladies!

New Bridges
Massive construction projects dot the Pearl River delta - like this huge new suspension bridge.
After 100 miles riding, we camped just north-east of Yangjiang amongst some small trees away from the road. Looking at our maps we've noticed that it's very possible that we could be in Vietnam in a weeks time at this rate. We've heard nothing from the other guys, perhaps they're behind us? I've been leaving notes for them as arranged at every multiple of 50 kilometre post, just in case. Went to sleep with the sound of crickets singing away….
MEMORABLOG EXTRA: As this trip is 5 years old, I can tell you that the other guys, Rory, Scott, Nick and Toby missed us in Macau and left a day earlier than Stephane and I. They took the coastal route taking numerous ferries across the Pearl River delta. They camped on beaches and near the coast. So they are somewhere near us. The images posted on this blog are collective of the group, though. So you'll see pictures from both routes to the Vietnam border.

Rat-infested Accomodation
Just standing on the bridge looking, at any one time dozens of rats were visible scurrying about!
Total Miles: 10110.85 Todays Miles: 101.28 Average speed: 14.6 Time on bike: 6:55

Day 221, 7th January
Yangjiang - Yangxi - Mao Tian
The tents were damp again this morning and had to pack them away wet. It was another sunny day, warmer and drier, with the wind behind us. My legs were aching somewhat. Probably due to the rest and consequent inertia of my time in Hong Kong. We left messages again for the others. Stephane had a double puncture in one town, two nails in his tyres at the same time - what are the chances of that!
After repairs, we stopped at a really dodgy café for lunch where the girls seemed not only to serve meals, but also the passing truck drivers. It was a café of carnal delights that also, upon inspection, had very little food on offer! Stephane was tempted to go upstairs for a seesion with a mother and daughter - but, we made our excuses and left, quickly!

Sunset on the South China Sea
Rory, Scott, Nick & Toby chose the coastal route with spectacular sunsts. Stephane and I camped in trees!
At the next 50km post there was a message from the others - they had passed us, probably while we were in the café? We cycled on for another about 20 miles, and then decided to camp along a road to the right near Mao Tian. We waited till it was dark-ish to pitch our tents, but despite this, we still attracted attention. A nosey guy with a torch came prowling around but soon went, not to return.
Total Miles: 10185.37 Todays Miles: 74.52 Average speed: 15.0 Time on bike: 4:57

Day 222, 8th January
Mao Tian - Dianbai - Wuchan - Zhangjiang
We slept well and awoke to dry tents for a change. It was 8am as we set out and we found a café shortly afterwards that served us noodles with a yummy sesame and garlic sauce. It's noticible here that the men and women smoke tobacco through huge bamboo-like bongs. Today was another day where I could wear my shorts and T-shirt and sandals.
The 235 route kept going eastwards, the road was only built a few years ago and was in excellent condition, smooth and flat. Everywhere we stopped we kept getting good service and great food. The Cantonese, I think that's what they are called here, are great cooks. And we keep getting great portions of food too! The girls are also better looking here than in northern China as Stephane was quick to point out - "More curves and nice bottom", he said.
The other guys are now three hours ahead according to their notes. They are really racing for some reason, probably cos the wind is behind and they want to make use of it. Stephane had another puncture today, it's his racing tyres which I reckon are not good for a journey like we're doing. It's funny how long it takes him to do simple things, and a little annoying for me too. Especially in the morning where I always seem to be waiting for him. Toby - please come back, all is forgiven. Maybe I'm just being too critical and a little bit ratty. Now in our eighth month on the road, together, tolerance can become intolerance very easily I suppose. After 80 miles cycling, and not catching up with the others, we decided to camp just north of Zhangjiang, amongst some trees…
Total Miles: 10267.81 Todays Miles: 82.43 Average speed: 15.3 Time on bike: 5:23
---
Part1 | Part2 | Part3 | Part4 | Part5 | Part6 | Part7 | Part8 | Part9 | Part10 | Part11 | Part12 | Part13 | Part14 | Part15 | Part16 | Part17 | Part18 | Part19 | Part20 | Part21 | Part22 | Part23 | Part24 | Part25 | Part26 | Part27
---
Visit Andy's website here for more photos and additional information:http://www.travelblog.org/Bloggers/Bikepacker/
---
Bike China Adventures, Inc.
Home| Guided Bike Tours| Testimonials| Photos| Bicycle Travelogues | Products| Info| Contact Us
Copyright © Bike China Adventures, Inc., 1998-2015. All rights reserved.