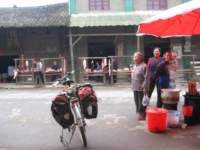 Breakfast in a village market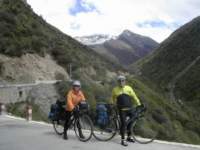 On the road near Four Girls Mountains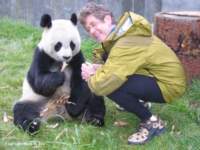 Mark making friends with a panda at Wolong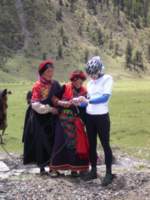 Liny getting advice from the Tibetan women
Do you have a China cycling travelogue you would like to share here?
Contact us for details.
---
Copyright © Andy, 2007
Visit Andy's website here for more photos and additional information: http://www.travelblog.org/Bloggers/Bikepacker/
Part1 | Part2 | Part3 | Part4 | Part5 | Part6 | Part7 | Part8 | Part9 | Part10 | Part11 | Part12 | Part13 | Part14 | Part15 | Part16 | Part17 | Part18 | Part19 | Part20 | Part21 | Part22 | Part23 | Part24 | Part25 | Part26 | Part27
---
In the Kung-Fu movies with Jackie Chan!
---
Day 207, 24th December
Hong Kong

Happy New Year 2002
As you know, this is a Memorablog (5 years to the day). So, I took this pic in central China, the Km2002 post on route 106. Man! China is BIG!
Scott and Nick had sobered up somewhat and were apologetic for their behaviour last night. We got our Chinese visas through from Mr Chan's daughter, then went shopping and email checking. At the 'Poste Restante' department of the post office, I picked up a Christmas card from my parents and a letter from Kathryn with some photos inside.
Went over to Hong Kong island on the Star Ferry with Rory to check out the Vietnamese embassy and returned on the MTR. Seems it will be no probs getting visas. We checked email again and saw we had one from Tobes who had shacked-up with a bird in Shenzhen, he'll be arriving in HK sometime later today with juicy stories, I suppose?
In the evening, the streets in Kowloon were closed off to traffic and we bought a few beers before heading out to soak up the atmosphere. Hong Kong is still a very different place than China inasmuch as it retains much of its British influence, street names, street furniture (that's bus stops and benches), double-deckers, and left-side driving - Stephane, please take note! Us westerners are not perceived of as that foreign here and you hardly get a second look. There's loads of black folks and Indians too, result of colonial exchanges I reckon.

Not really a mega-star
At Clarence Studios in the New Territories, on the set of 'Highbinders' - Nick with tie, me as "old-geezer" in PJs!

Day 208, 25th December, Christmas Day 2001.
Hong Kong
This year Christmas didn't feel like Christmas despite the decorations and lights outside on the streets. All the shops were open, so I decided to use the internet and email Kathryn in LA. Most of the rest of the day was spent in the hostel checking my appauling finances and wondering where the money would come from to pay for the rest of the trip…
….and that is how I met Michael Lamm, a Hong Kong guy who recruits extras for Jackie Chan movies. He was looking in the hostels for westerners to play extras in the latest movie "Highbinders" (later to be called 'The Medallion'), and I got the part as a hospital patient in a ward scene, wow! How strange life can be - one minute you're running out of cash, and the other you're offered a part in a film for US$100 a day!
In the evening Toby arrived, and had the excellent idea of cooking a Christmas dinner, so we all pitched in HK$30 each for the ingredients, and by 11pm we were sitting down to a three-course meal at the table with wine and ice cream. Happy Christmas everyone!

Jackie Chan autograph!
I eventually became an autograph-seeking pleb, and asked Mr Chan to sign my travel journal...
Day 209, 26th December
Hong Kong
Today was the start of my movie career, not! I had to wake up at 5:15 and meet Michael on the street at 6am to get a taxi to Hong Hom station where we took the KCR to Sheng Shui, (the station where we had to go to on the first day here) then we had to take a car ride to Clarence Studios, which we'd cycled past before on the northern side of Tai Mo Shan mountain. This was one of the studios where the Kung Fu action movies are made. I met Rory's cousin, Jules, there… he was also playing a patient.
The scene we were to take part in was set in a Dublin hospital ward. I found out that it was an exact copy of a ward they'd previously used in Dublin months before. The attention to detail was amazing with everything imported from Ireland that should be in a Dublin hospital ward. The pill bottles had Irish price stickers on them and even the fire extinguishers were Irish. I had to don pyjamas and fluffy slippers, then basically had to hang about all day waiting to be called onto set.

Ice-cream van - Kowloon
How British can you get - a bloody ice-cream van in downtown Kowloon!
I met a lot of interesting people playing as extras including an old guy who used to be a Rock-n-Roll DJ in LA in the 70s, and Mishele, a cyclist who packs a pistol when cycling in the States, scary! It was embarrassing to admit, but I hadn't got a clue what Jackie Chan looked like, I'd never seen any of his films! But when I met him I found out he was a down-to-earth sort of chappie who even autographed my journal.
Finished for the day at 6pm having not been called on set, and went back to the hostel to collect my HK$600 fee from Michael. I was content, but shattered and went to bed at nine after emailing Kathryn to tell her about my crazy day. Man! It's hard work being a movie star…. Ha! Ha!

Day 210, 27th December
Hong Kong
It was another early start to the day and I went with Michael to the studios once again. Actually, this is a good thing. Lots of free tea and coffee, an excellent breakfast and dinner, and the people are genuinely good-humoured and nice. It's interesting to see all the hard work it takes to film one scene.

Do they know it's Christmas time?
Wish I'd snapped the photo near Shenzen now, of the Santa on a crucifix, smiling, with the caption - "Lonely God". Or was that just a bad dream?
There was a guy I recognized, it was Lee Evans, a British comedian whos comedy I didn't really like, but I spent a few hours chatting to him like I would any other person about life. There were a few other western actors I'd seen before, but couldn't remember their names.
My scene was coming up as a terrified patient. You see, in the movie, the baddies storm the ward looking for a kiddie, Alec, they have guns going off and I'm quivering under a bed. I actually had a stunt double! Nothing to get excitied about, but a trolly-wheel runs over my hand and they couldn't have me getting hurt, funny eh? Well, I supposed to yell, and then a gunman discovers me….
Time ran out and I had to come again tomorrow I was told…..money, money, money! Back at the hostel at nine Kathryn called me and I was on the phone for ages with her, it's going to be real fun getting to know each other, on neutral ground we've agreed. Nick told me also that he had the Vietnamese visa applications in. When they're back, then we can head off again.

The Famous Flying Ball Bike Shop
This is the place where all good long-distance bikes gets their nuts tightened (Ooh Err Missus!). And mine was no exception... As recommended by world-record distance cyclist, Heinz Stücke.
Day 211, 28th December
Hong Kong
Michael woke me at 5:30 and accompanied me to the studios for a 7am start. This morning was my chance to be a great actor! It felt strangely like the movie "Groundhog Day", I seemed to be bumping into the same people each day on the way to the studio and at the studio. I ended up just hanging around today, either on the set or outside in the sun. The funny thing is that lots of locals are really wrapped up in warm clothing complaining about how cold the weather is….it's 24 degrees! I don't feel cold at all!
The day passed slowly and I didn't do anything except to drink copious amounts of coffee, tea, and to eat stacks of free food. Went back late on the KCR, and once back collected my 600 HK bucks daily fee and transport money from Micheal, then set out with Rory to the Wellcome supermarket to get some well-needed beers.
We had a wander down to the waterfront to see the Hong Kong skyline lit up. All the offices had put on a light-show with coloured flashing lights and seasonal messages. Afterwards, I went to the noisy internet place where youngsters were going full at it on "Death-Kill", "Buckets of Blood", or some other daft testostero-trance brain-depleting synapse-strangling computer game. I wrote to 'sweetie-pie' again and then went off sleep just after midnight.

Day 212, 29th December
Hong Kong
The work is just flowing in, another day at the studios, much needed money. Same again today with a KCR trip to Sheng Shui, taxi to Clarence Studios, free breakfast. Back into my blue pyjamas and pink slippers. Spent the day hanging around again, talking to lots of interesting people, and generally having a laugh. It's fun to talk to the stars of the film about life, and they are so interested about the cycle trip too, some wishing that they could swap places with me! That's strange, isn't it?
Rory and Nick turned up on the set later. Nick may get a part as a bad guy, he appeared in a suit with his eyebrow-ring removed. Apparently, it was a lengthy procedure removing it including two of the guys using bike-tools! Rory came along just to see what was happening. I bumped into the leading lady not knowing who she was, (still don't) and slapped her hand for picking up the salad with her fingers at lunch time. Later on my time came to do a bit of acting - in a Jackie Chan scene with Lee Evans. I had to get under the bed again, this time I had a machine-gun pointed at me before the bad guy turned and opened fire at the doorway. Man - what a noise a machine gun makes! The other extras were going 'stir-crazy' or something, being stuck in one place for such a long time while personally I'm having a mad time, and starting to feel a bit guilty even for taking the money just for lying in bed! Well, I suppose the dolies in England do the same.

Macau Ferry
In Kowloon, my bike awaits the crossing to Macau...
Before I left for the day, however, a bombshell was dropped. I found out that I'd got the part only because that I was the only backpacker they'd found who looked over 40! The bloody cheek of it eh? In the hostel, Kathryn phoned to console me. We spoke for nearly 2 hours about the most amazing, and quite personal things. I thing we have a good rapport going which I hope will continue when we meet.

Hong Kong Dollars
A 20 Dollar note from the Standard Chartered Bank.
Day 213, 30th December
Hong Kong
Today was the last day of shooting and was another early start. They had to finish the scene today and as a result, had to work till after midnight. In a way, I was glad it was all over, but it had been a great experience. This time, I went back to the hostel in the crew minibus with Julian and wandered the deserted streets of Kowloon looking for food before I crashed out at 5am, nearly 24 hours after waking up!

Hong Kong Dollars
A 20 Dollar bill from HSBC
---
Part1 | Part2 | Part3 | Part4 | Part5 | Part6 | Part7 | Part8 | Part9 | Part10 | Part11 | Part12 | Part13 | Part14 | Part15 | Part16 | Part17 | Part18 | Part19 | Part20 | Part21 | Part22 | Part23 | Part24 | Part25 | Part26 | Part27
---
Visit Andy's website here for more photos and additional information:http://www.travelblog.org/Bloggers/Bikepacker/
---
Bike China Adventures, Inc.
Home| Guided Bike Tours| Testimonials| Photos| Bicycle Travelogues | Products| Info| Contact Us
Copyright © Bike China Adventures, Inc., 1998-2015. All rights reserved.