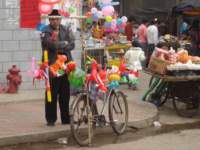 Changsha - Mobile toy shop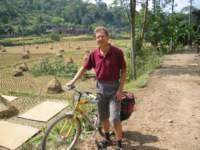 Rainer self portrait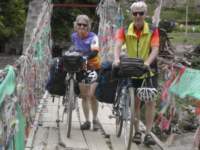 Crossing a flag strewn bridge near Danba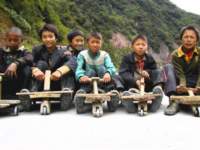 Homemade skateboards ready to race
Do you have a China cycling travelogue you would like to share here?
Contact us for details.
---
Copyright © Andy, 2007
Visit Andy's website here for more photos and additional information: http://www.travelblog.org/Bloggers/Bikepacker/
Part1 | Part2 | Part3 | Part4 | Part5 | Part6 | Part7 | Part8 | Part9 | Part10 | Part11 | Part12 | Part13 | Part14 | Part15 | Part16 | Part17 | Part18 | Part19 | Part20 | Part21 | Part22 | Part23 | Part24 | Part25 | Part26 | Part27
---
Ten Thousand Miles Cyling - We arrive HK for Christmas!
---
Day 205, 22nd December
Tangxia - Shenzhen - HONG KONG - Lo Wu - Tai Mo Shan

10,000 Miles Pedalling
Celebration in Chungking Mansions - Kowloon. Seventeen countries later, 6 months on the road, we HAVE TO celebrate!
Today we cycle into Hong Kong after pedaling 2,200 miles southwards from the Mongolian border. We woke with high spirits, packed our bikes, said "Bye" to the secret policeman at our door, and were on the road to Shenzhen at eight.
We had a brief breakfast stop and were crossing the border into the 'Shenzhen Special Economic Zone' at ten. I was surprised to see that the SEZ was sealed off from the reast of China by an electric fence and guarded by watchtowers. It was no problem for us to pass, though.
We followed a coastal road into the city and met a Malaysian cyclist who guided us to the road border crossing into Hong Kong. There were a few trucks, but no cars crossing. The buildings seemed empty. We could see the open gate in the fence, and the British-looking signs on the other side told me that this was the border with Hong Kong. So we began to cycle towards it. Suddenly, a load of officials, some armed came rushing out of the buildings to stop us. We were told, in no uncertain terms, that we couldn't cross here. No way!

Road to Shenzhen
Doesn't look bad here, but it was a hectic route to cycle down.
We discovered another border crossing further west and were told we couldn't use that one either. It ended up being a nightmare ordeal at the LoWu rail border crossing where we had to lift out fully-loaded bikes up escalators, wait in a huge zig-zagging pedestrian queue, go through lengthy Chinese departure procedures before crossing the enclosed bridge over the fetid brook with its barbed-wire banks that marked the actual border between China and Hong Kong.
We were now officially in Hong Kong special administrative region. A part of China, but we still had the passport control to deal with. No problems there, but the problem lay with riding our bikes onward from Lo Wu station….we weren't allowed because the border-zone is a restricted area we kept getting told. We asked lots of officials if we could cycle it, and even spoke to the chief of police for the area, only to be told the same.
So, in the end, we had to bow our heads and take the train one stop to the next station, Sheng Shui. This was even a hassle, HK$20 per person and another 20 for the bike. A five-minute ride and we were there, then had to cram into a small lift to cross the tracks, then at 2pm we were back on the road, riding on the left, first time since the beginning of June. Not Stephane, though. He rode on the right ahead of us for about 200 yards before he noticed something was odd!

Lo Wu Train
The only time I took other transport other than my bike - for 5kms in the Hong Kong border-zone.
We followed typically crappy British-style bike paths, then were on a narrow road going past a golf course. At the Lotus Café, we stopped for our mandatory border-crossing beer, then went in search of the Sze Lok Yuen youth hostel on Tai Mo Shan mountain. The road up was called Twisk Lookout or something, and was one of the highest and steepest in the New Territories. Scott and Nick were moaning somewhat as we reached the summit, and then found that when we turned off left that we had to climb further up towards Tai Mo Shan peak, the highest peak in Hong Kong. We reach the un-friendly and partly-under-construction hostel and were asking for HK$55 a night each. There was no food there, sparse camping, little else… Scott and Nick decided to high-tail it to Kowloon and left. Rory, Stephane, and myself decided to try our luck free-camping on the mountain and found a spot not far from the hostel by a babbling brook.

HK from our tent flaps!
The highest travellers in HK that night. Illegally camping on Tai Mo Shan peak.
After eating something it was dark. So Rory and I decided to walk the winding road to the summit, the 3000 foot peak, in the moonlight. The higher we climbed, the more spectacular the view of the New Territories, Shenzhen, Kowloon, and Hong Kong Island. There was just the noise of the wind blowing, a cool wind, like being on top of a Scottish mountain. Where else would you want to spent a Saturday night, and absolutely free too! The top of the mountain was military and covered with numerous listening devices, and was out of bounds. We found this out when guard dogs chased us from the gates. We legged it back to the tents and went sleep content in the fact that we were the highest travelers in Hong Kong!
Total Miles: 9922.66 Todays Miles: 40.45 Average speed: 8.4 Time on bike: 4:48

Day 206, 23rd December
Tai Mo Shan - Kowloon
Woke up early to a warm and sunny day, and a terrific view too. After we'd packed our tents we headed up the summit for a daylight view of HK. Rory and Stephane went right to the top, I waited lower down for them by the road junction, by the big downhill. With my new brake-blocks fitted, I raced Rory down the mountain. Stephane appeared half an hour later, a bit shaken. Apparently, he'd forgotten to ride on the left again and was run off the road by an oncoming car, which resulted in a slightly buckled back wheel!

New Territories
The morning after the camp, just before Stephane's accident!
We took it easy from there and hobbled along the busy roads to Kowloon. Nathan Road was a crazy mix of double-deckers and taxis, we weaved through the throng until we found the legendary Chungking Mansions, a maze of backpacker and budget hostels. It was 2pm, and an email sent from Scott and Nick said to meet them at the mosque at 1pm or 5pm. Then we spent 2 hours bargaining with touts before booking a spacious dorm at the Travellers Hostel on the 16th floor for HK$50 per person per night.
As we were waiting for the lift to come, Rory told us about his South African cousin who sometimes comes to Hong Kong on business. Now for the "Isn't it a small world" bit….The lift doors opened, and is cousin, Julian, was standing there waiting to get out! We arranged to meet another day after the initial surprise.

Shenzhen / HK border
This is where we got chased by border guards as we tried to illegally cycled over the border (in distance).
We managed to struggle with our bike into the small lift, and eventually we had them in our rooms. When we met up with Scott and Nick later they were very pissed and obnoxious. We booked then into the hostel and left them to whinge. Later on they made total fools of themselves, drinking more, breaking bottles, generally being idiots, it was embarrassing, I'd never seen Scott like that in the last six months before!
Anyway, now we're in HK for a week till new year. We made it for Christmas. This is the fourth of the five milestones we've reached. The next one is our end destination, Singapore. We hope to get there sometime in April next year, but we've all realized that the tough times are over, and now it's time to relax a bit as we travel through SE Asia. We all have our own agendas that we want to follow, we'll probably split up there, but the one thing we want to do is to cross into Singapore as a team. I think we could just make it! As for now - one week R & R in Hong Kong. What could possibly happen here in a week. It's Christmas - I'm going to chill…..

New Territories Hill
Cycling up to Tai Mo Shan mountain - Rory and Stephane.
Next journal entry will be in a week - Merry Christmas subscribers and fellow travelers!
Total Miles: 9938.44 Todays Miles: 15.78 Average speed: 9.3 Time on bike: 1:40

HK Vista
Looking towards the new airport from Tai Mo Shan mountain
---
Part1 | Part2 | Part3 | Part4 | Part5 | Part6 | Part7 | Part8 | Part9 | Part10 | Part11 | Part12 | Part13 | Part14 | Part15 | Part16 | Part17 | Part18 | Part19 | Part20 | Part21 | Part22 | Part23 | Part24 | Part25 | Part26 | Part27
---
Visit Andy's website here for more photos and additional information:http://www.travelblog.org/Bloggers/Bikepacker/
---
Bike China Adventures, Inc.
Home| Guided Bike Tours| Testimonials| Photos| Bicycle Travelogues | Products| Info| Contact Us
Copyright © Bike China Adventures, Inc., 1998-2015. All rights reserved.