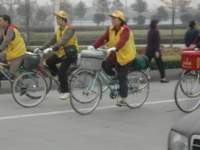 Chengdu local bike club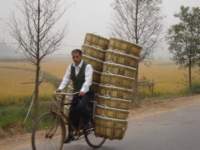 Changsha - Baskets anyone?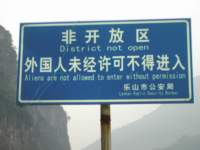 Closed area in Sichuan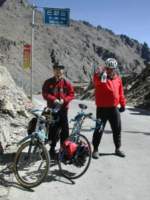 Guide Danny Chen and Dean on top of Balangshan Pass (4,523 meters, 14,485 ft.)
Do you have a China cycling travelogue you would like to share here?
Contact us for details.
---
Copyright © Andy, 2007
Visit Andy's website here for more photos and additional information: http://www.travelblog.org/Bloggers/Bikepacker/
Part1 | Part2 | Part3 | Part4 | Part5 | Part6 | Part7 | Part8 | Part9 | Part10 | Part11 | Part12 | Part13 | Part14 | Part15 | Part16 | Part17 | Part18 | Part19 | Part20 | Part21 | Part22 | Part23 | Part24 | Part25 | Part26 | Part27
---
"What do you do when you find a dead body at the roadside"?
---
Day 202, 19th December
Renhua - Zhoutian - Xinjiang

Wild Geese
"I'm just taking my geese for a walk in the rain. What's so strange about that"?
Had a great sleep, however I found it very difficult to get up. Rory was feeling better after his projectile activities, so we went for breakfast noodles at a café next to the hotel. We were all ready at ten, and headed south out of Renhua on our trusty bikes…
It was a warm day with no rain. The landscape was bizarre - dotted with huge knobbly mountains and then hills. Some had sheer sandstone cliffs, and some were shaped like penises which caused a bevy of laughs. The road was good, flat and wide, and after 20 miles we stopped for another snackie stop by a petrol station. I'm so hungry lately and my guts have been perfect for over a week which is unusual. I put this down to eating a lot of hot meals and food cooked on my Trangia cooker.
When we set off again the road began to climb through mountains and villages, but not as steep and as long as the previous days. It was Toby's turn to have problems today, however, I deemed these problems as un-necessary as he'd had the chance to remedy them last night! He had 2 spokes that needed repairing, but the combination of beer and Toby's "I can't be arsed to do that just now" attitude took precedent over logic. Result, two more spokes went and his bike became un-ridable! The solution was to hitch a lift to the next village by tractor as we followed behind, jeering! In the next village, Toby spent two and a half hours finding a repair shop and getting his bike patched up. Scott, Nick and Stephane had gone ahead - we wouldn't see them again today.

Rory in the Rain
Route 106 - cycing in the rain.
A note about wheels and spokes: Do not - I repeat, DO NOT cycle long distance on 700mm wheels (28 inch). You just can get spokes for these wheels, they have to be sent from home by courier or something. Five of us had 26 inch wheels, we could share spokes, get spare ones anywhere, but unfortunately, we couldn't help Toby's 28 inches.
We carried on along the quiet road uphill and down-dale until we came to a 50km post at the bottom of a climb. The others had left a note at the base of it as arranged when we get split up (our failsafe messaging system). They were two hours ahead, it was getting dark, so there was no way to catch up with them. We saw a track going into a valley with a dry stream-bed and decided to follow it to find a camp spot.

Toby Hitching
After his spokes broke, Toby had no other alternative than this.
We found just one spot with enough room to pitch three tents on sloping banks either sid of the dry stream. Tobes pitched his tent in the flat stream bed for several reasons. He couldn't be arsed sleeping on a slope, he'd had a shit day and nothing could get worse, it hadn't rained today and therefore it's not going to rain tonight. This despite our concerns that the stream might flow if it DID rain in the night….
Total Miles: 9680.54 Todays Miles: 53.58 Average speed: 11.0 Time on bike: 4:52

Day 203, 20th December
Xinjiang - Guandu - Fogang - Conghua
It rained in the night. Firstly quite light, then heavy. We heard the gurgle of a stream, then a flowing sound, and waited for the inevitable expletives from the previously dry stream bed.

Number 1 Disco
Opposite our hotel entrance was this dodgy disco. We didn't investigate this time!
Poor old Tobes, or should I say, silly old Tobes! You can't say he wasn't warned. Everything he had was soaked through, sleeping bag, spare clothes, everything. So, we set off at first light on what was going to be one of the longest days of the trip…
There was a slight climb up to the top of the valley, and then the rest was a gradual downhill on and off for 20 miles. Just before Wencheng I saw an unbelievable sight next to the side of the road. There was a dead body - a dead, human body! It was the body of a man in his early 20s perhaps, his eyes glazed over and his bare chest caved in. Toby and Rory were in front of me and hadn't seen. I shouted and Rory turned to come back, Toby was too far ahead wanting to quickly find a place to dry his stuff. Rory went and had a look. He confirmed that the guy was dead. What to do now? Surely he'd be found shortly, it was still early morning. If we contacted the police there would be a major investigation, perhaps? It was the hardest thing to do, to cycle away from a dead human being. We did just that and cycled silent, shocked and stunned…
We met up with the other guys a Wenchang and told them about our find. It was mutual agreement that we should say nothing and go on. From here on it was a push, the rain had stopped, the road was flat and very well paved. Traffic was heavier, but the wind was in our favour. It seemed we wanted to put as much distance as possible away from our find.
At Fogang, another one of Toby's spokes went and he had no more spares to replace the broken ones. So, he made the decision to go ahead to Hong Kong by public transport and meet us there. It was sad to see him leave and head down the road to Fogang centre to find a bus station.
We sped on cracking the 100 mile mark, the sun had come out and it was warm. By the time we camped in an orange orchard south of Congua it was dark. Rory and I had done 120 miles today!
The day has been a strange one - loads of things fill my mind as I go to bed tonight, especially our grizzly find. I find myself wondering who he was, how did he die, I hope the guy didn't suffer. It's sobering to see a dead body - another human being.
Total Miles: 9801.13 Todays Miles: 120.58 Average speed: 15.3 Time on bike: 7:52

Day 204, 21st December
Conghua - Dongguan - Tangxia
As we woke the sun was out, the sky was blue. I checked my map and discovered that we were actually on the Tropic of Cancer. Rory celebrated by blowing up his (extra) Russian sleeping bag with a massive firework he'd saved. The bag flew over 100 feet into the air! I discarded my Russian babushka pants that had kept me warm for the last months. I left them on a bush, perhaps someone will appreciate them?
We had a great tailwind. The road was busy, and got busier as we headed for the 107 highway. When we hit this road, the same one we'd took out of Beijing, the traffic was a nightmare. What looked like villages on the map was just a vast urban sprawl non-stop along the 107. So, we decided to ditch the 107 in facvour of a n inland road via Dongguan, which turned out to be another huge city centre under imminent development. An English guy with a Chinese wife we spoke to said that we'd never find our way onto the Shenszen road and kindly paid a motorcycle taxi to lead us onto the correct road.
It was still an urban sprawl, for over 40 miles to the town of Tangxia. We past so many multi-national companies who'd relocated to China, even pottery firms from my home town of Stoke on Trent were here. That's why all my cousins are looking for jobs then!
In Tangxia, about 20 miles north of Shenszen, we booked into a binguan for 15Y. There was a bank nearby where I withdrew 500Y and went to a supermarket to get some food and some beers. When I returned to the hotel I discovered the secret police had turned up and were asking questions. It wasn't really a hassle, they just posted a state 'minder' at our door for the night - to "Make us feel comfortable and protect us from harm".
Total Miles: 9882.20 Todays Miles: 81.07 Average speed: 12.4 Time on bike: 6:30
---
Part1 | Part2 | Part3 | Part4 | Part5 | Part6 | Part7 | Part8 | Part9 | Part10 | Part11 | Part12 | Part13 | Part14 | Part15 | Part16 | Part17 | Part18 | Part19 | Part20 | Part21 | Part22 | Part23 | Part24 | Part25 | Part26 | Part27
---
Visit Andy's website here for more photos and additional information:http://www.travelblog.org/Bloggers/Bikepacker/
---
Bike China Adventures, Inc.
Home| Guided Bike Tours| Testimonials| Photos| Bicycle Travelogues | Products| Info| Contact Us
Copyright © Bike China Adventures, Inc., 1998-2015. All rights reserved.