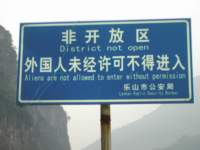 Closed area in Sichuan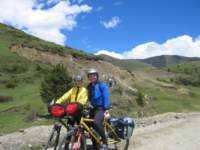 Emmanuel and Liny on the way to the Tibet border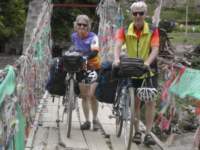 Crossing a flag strewn bridge near Danba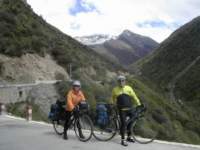 On the road near Four Girls Mountains
Do you have a China cycling travelogue you would like to share here?
Contact us for details.
---
Copyright © Andy, 2007
Visit Andy's website here for more photos and additional information: http://www.travelblog.org/Bloggers/Bikepacker/
Part1 | Part2 | Part3 | Part4 | Part5 | Part6 | Part7 | Part8 | Part9 | Part10 | Part11 | Part12 | Part13 | Part14 | Part15 | Part16 | Part17 | Part18 | Part19 | Part20 | Part21 | Part22 | Part23 | Part24 | Part25 | Part26 | Part27
---
"I LOVE YOU" - "TWENTY DOLLARS"!
---
Day 199, 16th December
Shuikou - Guidong
If yesterday was one of the most idyllic, well, today was one of the most spectacular and toughest. It didn't rain again today, and it was a good job too as we did a 12 mile climb up a dirt-road though spectacular bamboo forest. We rode up and up, into clouds, and out of them again till we were above them in sunlight. It took ages, hairpin bend after hairpin bend. And then when we thought we were at the top we saw the road winding even higher up the sides of the mountain. The summit was over 5,000feet and we'd climbed 3,000 from the bottom of the valley. The downhill section was on a paved road surface and wasn't that far - we were on a plateau, and it wasn't far to the town of Guidong where we booked into a hotel.
The Guidong Hotel, where Nick did his expert bartering work and got the price down from 300Y to 90Y for the six of us. One thing we'd heard about Chinese hotels was that there are hotels for tourists, and hotels not registered to take tourists. We'd had no problems yet with this law, nor had we had any other problems with the law regarding illegally using our own transport, or riding through forbidden areas. The Gods are with us, it seems for the moment, anyway.

Jasons House
Nothing for 5 vegetarians - but for 1 meat-eater, Rory, he ate the lot - and chucked it up again in the middle of the night!
We ate in town and saw an awful circus with the most appalling brass band playing on a platform above the entrance. The bored and un-nourished animals passed by as if they were on the way to a slaughterhouse! Later, I got chane to check my emails and got some worrisome ones from Kathryn, she's on the downhill of that emotional roller-coaster ride again…. Aarrgh! I just feel so helpless out here. What can I do other than to send her cheery emails back?
Total Miles: 9524.97 Todays Miles: 46.97 Average speed: 8.7 Time on bike: 5:24

Day 200, 17th December
Guidong - Shatian - Rucheng
Surprise, it was raining today. Guidong TV had heard that we were in town and turned up to film us leaving town, pity they didn't turn up last night with beer and fireworks (see previous entries). It was a run-of-the-mill day today, not too many mountains. We continued across the misty plateau with our capes on which made us sweat - it is definitely getting warmer.

Rory's Birth-year
At kilometre 1970, Rory paused for a shot cos it had just been his birthday and this was his birth year.
At Shatian, we were surrounded again as we ate, and people took photos of us this time too! We tried out our signs in Chinese that Mr Liu had made for us, translation: "Foreigners Feeding Time - Fee to watch, 5 Yuan". Surprisingly, when we set them up on the table and held out our palms, people DID begin to leave us alone!
At the end of the day we were wet and miserable, and trying to dry off in a café in Rucheng. This is where we met Jason, a former law student who wanted to practice his English with us. Eventually, he invited us to his house to meet his parents. We managed to warm up and dry things in his mother's kitchen. The rest of the evening was spent around the dinner table with the family. Mother dished out the totally un-vegetarian food which was a bit of a disaster as Toby and I are lifelong vegetarians. Scott, Nick and Stephane had decided to become veggie in China too. That left Rory, he could eat anything, and he did! He ate pigs-trotters, chicken feet, and chucked back a plate full of snails…yuk! He even feasted on the 'Mystery Meat', as we called it. It looked like no animal we'd ever seen before, but for Rory, he gobbled it up. Us veggies managed on rice and some green stuff. Later, father brought out his home-made spirit and beer, and we all got blasted on the stuff.

Motley Crew
A rare group photo, from left: Stephane, Nick, Scott, Andy (me), Rory, Toby.
Later still……… We were woken up by Rory's projectile-vomiting and exploding arse as he splattered the wall and pebble-dashed the bog all bloody night. We had no sympathy and he had to clean up the stenching mess for himself….
Total Miles: 9577.52 Todays Miles: 52.55 Average speed: 10.2 Time on bike: 5:03

Day 201, 18th December
Rucheng - Chengkou - Renhua
Rory looked as white as a sheet this morning, and thinner. We helped to clean up the bog a bit. A note on Chinese bogs: Its basically two half barrels with lids - one for piss and the other for shit, vomit goes anywhere and everywhere, we noticed! Then, this excrement is used on the garden as fertilizer, nothing is wasted. Hmmmm?
We said our thanks and left before breakfast, Jason saw us off in the rain. Our target is still Hong Kong for Christmas but it feels like a million miles away today. Five miles out of town a major disaster struck me - my bike exploded with pieces flying everywhere! My rear derailieur had somehow fell into the spokes of the rear wheel and broken into pieces wrenching several spokes right out of the rim! The chain had also snapped. The thought crossed my mind that this was it, end of trip, GAME OVER - bus to Hong Kong and the dream of cycling all the way was gone. But Toby came to the rescue. He'd been carrying a spare derailieur all the way from England that we didn't know about, and gave it to me. However could I have thought that Toby would hold me up in the early days of this trip, now he was my rescuer! After an hour of fixing, thanks to Rory, I had the bike in a rideable condition but I'd have to ride carefully on that damaged rim. We carried on slowly because Rory was still fragile from his puke spectacular (Stomach Fireworks) from last nights plate of snails.

The Long and Winding Road....
... that leads, to Hong Kong, la la la... (Lennon & McCartney)
The other 3 guys were well ahead of us. There was no further rain and another climb. At the top there was an amazing view thousands of feet down into a valley. A six-mile downhill took us off the plateau into real sub-tropical climes. We left Hunan province at a strange little wild-west type village called the "Special Economic Zone", small shacks and a wide street where we had a bite to eat. Scott told us later, when we met up with him again, that a business woman in a pin-stripe suit approached him from across the street, pulled out what at first he assumed to be a business card. On it were the words - I LOVE YOU. Scott naturally said, "Hmmm, that's nice". Upon which she showed him the other side of the card which read - TWENTY DOLLARS! Well, it's business ain't it?
Just after this we crossed into the long waited Guangdong province, the last province before Honk Kong, Yahoooo!!!! We saw people in wide-brimmed straw hats and banana trees lines the roads. Vegetation was getting thicker, greener, and more lush. There were leaf-covered trees at last, and a smell of humidity in the air, bird song also. It's funny how you notice things when you travel slowly across the earth.
The road to Renhua was good and flat and just before the town we met up with the other guys and ate before finding a binguan in town. The Xu Cheng Hotel wanted to charge 230Y, but Nick got them down to 90Y again for the six of us. The rooms were good with 3 double-sized beds in two rooms. Rory crashed out almost instantly. I showered, shaved, and washed my clothes before doing my write ups. I calculate that we are about 300 miles from HK now, and reckon that we can do it if there are no mis-haps. I think we'll circle to the east of Guangzhou city and head into Shenzhen on the eastern approach, it looks less hectic on the map. Then there's crossing the border which may be a little tricky because of the border-zone within HK territory. Apparently nobodys allowed in the border-zone, we'll see? I crashed out at nine…
Total Miles: 9626.96 Todays Miles: 49.38 Average speed: 10.8 Time on bike: 4:33
---
Part1 | Part2 | Part3 | Part4 | Part5 | Part6 | Part7 | Part8 | Part9 | Part10 | Part11 | Part12 | Part13 | Part14 | Part15 | Part16 | Part17 | Part18 | Part19 | Part20 | Part21 | Part22 | Part23 | Part24 | Part25 | Part26 | Part27
---
Visit Andy's website here for more photos and additional information:http://www.travelblog.org/Bloggers/Bikepacker/
---
Bike China Adventures, Inc.
Home| Guided Bike Tours| Testimonials| Photos| Bicycle Travelogues | Products| Info| Contact Us
Copyright © Bike China Adventures, Inc., 1998-2015. All rights reserved.