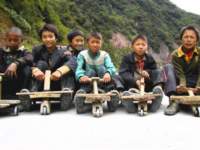 Homemade skateboards ready to race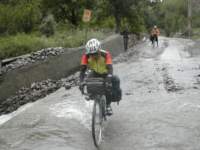 Pete fording a stream across the road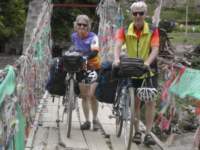 Crossing a flag strewn bridge near Danba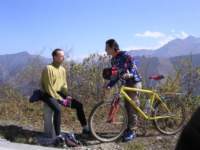 Andrew and Godspeed on the Western Sichuan Road to Danba
Do you have a China cycling travelogue you would like to share here?
Contact us for details.
---
Copyright © Andy, 2007
Visit Andy's website here for more photos and additional information: http://www.travelblog.org/Bloggers/Bikepacker/
Part1 | Part2 | Part3 | Part4 | Part5 | Part6 | Part7 | Part8 | Part9 | Part10 | Part11 | Part12 | Part13 | Part14 | Part15 | Part16 | Part17 | Part18 | Part19 | Part20 | Part21 | Part22 | Part23 | Part24 | Part25 | Part26 | Part27
---
Paddy Fields and Bamboo Forests - Cycling at its Best!
---
Day 190, 7th December
Shanpo - Baldun - Chongyang

Caped Crusaders
Our capes were a Godsend! Here we are at the top of a rainy pass just about to enter Hunnan province
The Gods are smiling on us - still no rain! For breakfast I ate the last of my Cheddar in toasted bread once the mold had been scraped off, with Hellman's Mayonnaise. Well, it tasted like mayonnaise - you have to fantasize a bit when you're on the road. When we de-camped I noticed that the tent pegs came out of the ground covered in sticky red mud, we had entered the red-soil part of the world at last.
It was an overcast day, but my dreams about nature and natural landscapes we now answered. The traffic volume was so low, the air was clear, and the land beautifully green. We took an un-marked road off the route 107 to join with the 106 which will take us all the way to Guangzhou. This little road took us through spectacular misty-mountain scenery. We passed picture-postcard paddy fields which were being ploughed by buffaloes and rode through high thick bamboo forest.
Our first tunnel was fun. We waited at the far end of it for Scott and Stephane to come through it and when we eventually saw them we bombarded them with fireworks which echoed amazingly. There were seriously un-impressed! Scott showed us that his other 'Velocity' rim had cracked. The previous one had cracked in Siberia and we had bodged it up with spokes (see earlier blog). The downhill after the tunnel was fun and at the bottom was a small town where the 106 began and where we ate something.

Muddy Roads
The rain and the unmade roads played hell with the gears, but we were still smiling. This is me near Baldun.
Just before Chongyang, we rode up a path where the owner let us camp on some grass in front of the house. Well, we thought it was the owner, and we thought he said that we could camp. The actual owner arrived later and was amazed to see six westerners and six tents on his lawn! He was okay about it, though. And just smiled. Within the bush there were now bamboo and palms, and a strange new birdsong. Just before I went to sleep the weather changed - rain!
Total Miles: 9149.89 Todays Miles: 56.91 Average speed: 11.6 Time on bike: 4:54
Day 191, 8th December
Chongyang - Tongcheng - Nanjiangqiao
A good nights sleep was had by all and by the morning the rain had stopped. A low mist hung over the hillside giving the place a mystical feeling. After a brief stop for fried-doughy-nutty things in a town we headed south again into hills and ever more rural countryside. The roads turned to mud for a while which really shitted up our bikes, the wheels, panniers, chain and our clothes - we were orange! More animals roamed the roads and calls of "Lo Wai"! came excitedly from the fields and houses, and people came running to the roadside just to stare at us. Us exotic big-noses on bikes.

Colourful People
I'm not quite sure what was happening here or why these people are dressed this way. Any explanations from China fans?
At a meal stop in a village the crowds swarmed us again with a vengeance as we ate. At one point, the police arrived on the scene to move people on, but to no avail. The show was to good to miss and once the police went, the crowd came back to stare. The thought occurred to me that these people either have nothing better to do, or that we really are exotic to them? Maybe their government isn't working them hard enough - the shelves in IKEA need to be kept full you know!
On one of the big hill summits, we passed into Hunan province. The road downhill was so bumpy that it prevented us from enjoying our free-wheeling which we'd been looking forward too. Then it started to drizzle which gave us the chance to try out our new rain cape bought in Wuhan - they were brill! It was worth its weight in gold, and all my clothes remained dry until we set up camp south of Nanjiangqiao, next to an old reservoir.

Rainy Hunnan
The rain was relentless, but the landscape was teriffic to cycle through.
Total Miles: 9209.70 Todays Miles: 59.81 Average speed: 10.3 Time on bike: 5:45
Day 192, 9th December
Nanjiangqiao - Pingyang (150 days on the Bike)
It was raining again this morning, it had rained all through the night. It had rained so much in fact, that there was a small pool at the bottom end of my tent and my sleeping bag was quite damp! One consolation was that it was warmer now, and I'd been able to sleep without socks and my Russian babushka pants for the first time in months. We waited for a lull in the rain which came around 9am, then donned our capes and set off in spitting rain.
The goal for the day was to find a place to stay 25 miles south in the town of Ping Yang. A café stop provided spicy noodles, the rain kept the crowds away. After much climbing and bumpy downhills, we arrived in Ping Yang at 2pm, and after a short while seaching we booked a cheap binguan for Y15 per person. The guys were missing their modems and got a rickshaw to the nearest internet café to do their trip reports - it's only four days since the last. Apart from emailing Kathryn I have no use for the internet at the moment, besides I'm writing her a big letter outlining some plans after I arrive in Singapore next year. My plan of carrying on through Indonesia and Australia and then by boat to New Zealand don't look realistic. So I think we will meet in Hawaii and then go to LA. I really don't know my future from then on - I'll just have to wait and see what the future holds?

Stephane Beaudoin
Stephane - the only one of us to wear a bike-helmet. We discarded ours after we left the UK one by one as the weather became scorching.
While the guys were gone, I showered, washed my dirty clothes, checked my bike over, and ate some fried tofu butties. I noticed how amazing it is to let your personal hygiene lapse when wet and dirty on a trip like this - us guys must really stink some times. I dozed off, and was woken by an excited Rory telling me that at 10.30pm a local TV company called "Beautiful TV" was coming to interview us about the trip. After the media-whoring was over with, I returned to the twin-room I was sharing with Toby to watch the end of the 70s version of "KING KONG" with him. I was surprised that they didn't edit out that bit when the helicopter crashed into the World Trade Center tower considering it was only 3 months ago when they were attacked. Come to think of it, we've had no news for ages, what's happening in the world?
Total Miles: 9235.39 Todays Miles: 23.69 Average speed: 9.7 Time on bike: 2:37
---
Part1 | Part2 | Part3 | Part4 | Part5 | Part6 | Part7 | Part8 | Part9 | Part10 | Part11 | Part12 | Part13 | Part14 | Part15 | Part16 | Part17 | Part18 | Part19 | Part20 | Part21 | Part22 | Part23 | Part24 | Part25 | Part26 | Part27
---
Visit Andy's website here for more photos and additional information:http://www.travelblog.org/Bloggers/Bikepacker/
---
Bike China Adventures, Inc.
Home| Guided Bike Tours| Testimonials| Photos| Bicycle Travelogues | Products| Info| Contact Us
Copyright © Bike China Adventures, Inc., 1998-2015. All rights reserved.