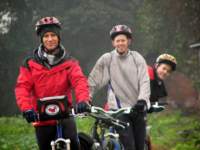 Hardy crew of cyclists: Peter, Andy and Martin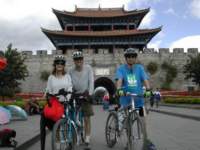 Joyce, Barry and their guide, Danny Chen, in Dali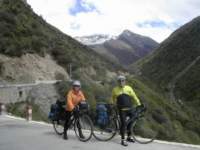 On the road near Four Girls Mountains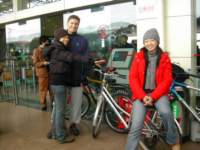 Cycling and romance
Do you have a China cycling travelogue you would like to share here?
Contact us for details.
---
Copyright © Andy, 2007
Visit Andy's website here for more photos and additional information: http://www.travelblog.org/Bloggers/Bikepacker/
Part1 | Part2 | Part3 | Part4 | Part5 | Part6 | Part7 | Part8 | Part9 | Part10 | Part11 | Part12 | Part13 | Part14 | Part15 | Part16 | Part17 | Part18 | Part19 | Part20 | Part21 | Part22 | Part23 | Part24 | Part25 | Part26 | Part27
---
Bike-Unfriendly Wuhan
---
Day 187, 4th December
Wuhan

Bikes Banned from the bridges!
A new law had banned bikes using all the bridges in Wuhan. The former bike lanes were now extra traffic lanes to ease congestion - as if!
Woke up feeling somewhat better and also that the fever/illness, or whatever it was, had subsided greatly. For the first time I started to wonder what I was doing here, in central China. Was it all real? Had we really cycled 9,000 miles over 10 time zones and spent almost 200 days together without actually killing each other? My drowsy brain had difficulty computing such thoughts. I could only seriously think of having a nice cup of Yorkshire tea, I still had one emergency teabag left, some powdered milk, sugar, and there was a big Chinese flask next to my bed full of freshly boiled water. My last tea bag! And then to any Englishmans horror - arrrrgggghh! The powdered milk congealed into clots! The stuff had gone off! I'd forgotten that that happened over time. But what the hell, I closed my eyes and drank it anyway - it was heaven….
When I met the troops, there was a difference of opinion as some wanted to stay the 2 nights here, and others for 3 nights. Personally, I can't afford it and besides, this big city has no appeal to me. Probably my sickess too has made me a little negative?

Rare group photo
Toby Wilsdon, Nick Peissel, Scott Zentack, Rory James, Andy Ganner (Me), Stèphane Beaudoin. On the Yangtze ferry.
I stayed in my hotel room most of the day relaxing and eating loads of food to get my energy levels back to normal. In the afternoon I went for a wander around the city with Nick. We took a trip across the Yangtze river by passenger ferry to the other side, the waters were murky. We found out that the local government in its divine wisdom had decided to ban bikes from the city's bridges to increase traffic flow, and that the only way across the river legally was by ferry which included negotiating a huge ramp and flight of steps at each terminal. The south bank of the river was olde worlde with small streets and pagodas, very Chinese.
Later on I went to the internet café to email Kathryn before going back to the hotel to watch a very bad version of 'Death on the Nile' on TV which was horrendously dubbed into English - bizarre!

Day 188, 5th December
Wuhan
It rained all day yesterday and it was raining today too. Therefore, there was the unanimous decision to stay another night. I went to the internet club again with Tobes and sent a big mail to Kathryn again and another mail to my agents in Scotland who are trying to sort out the problems with my flat there. It's a real pain when you're touring and something shitty happens back home!

Rory and Yangtze Ferry.
Rory having problems "getting it up". Nothing strange there (fnarr, fnarrrr!)here.
Later in the day, Rory and Stephane returned with coloured rain-capes, they'd found a good bike shop apparently. The capes should come in useful if it keeps on raining like this. They had also been into a skyscraper that was being constructed and ended up wandering around empty offices 50 floors above the city, nobody was guarding the building and they were free to move about as they pleased!
On the evening TV, the weather forecast looked grim - rainy days ahead… but we definitely had to leave in the morning if we wanted to make Hong Kong for Christmas. I wrote a lot of Christmas cards today and a big letter to Kathryn. I tucked into my pack of Chinese crisps called "Lonely God" which had a drawing of a smiling Santa Claus nailed to a cross on the packet?

Day 189, 6th December
Wuhan - Shanpo
Hooray! The forecast was wrong and it was dry this morning. We had a bit of street food before setting off at eleven. My poor guts were feeling much better now, either thanks to the dodgy Russian antibiotics I'd took, or the fact that I'd been cooking my own food on my Trangia cooker. Phew! This Chinese methylated spirit you can get don't half stink!
On the way down to the post office on the pedestrianised street we were constantly hassled by the over-zealous "street-guards" who wear red armbands. They really don't like bikes in this city, even when you're pushing them! The street-guard waited outside the post office while I went in to post my letters and continued hassling me when I came out again. The git was really getting on my nerves and lucking another street-guard came to calm his colleague down a bit. Outside the Bank of China while getting some cash, we bumped into Marcus and Ria again by chance, the German bikepackers we'd seen last in Sukhbataar - Mongolia. What a small world eh? They had cycled here safely and were now off to Shanghai to get a flight back to Germany.

Mein Kampf (My Struggle)
And it was a bloody struggle to get a bike that weighs heavier than a person up those steps.
The rout out of the city involved the crossing of the Yangtze by ferry and a big push up the steps on the south bank. Price was Y2.50 one way. It was easy to pick up the route 107 south, and this time it was pleasant to ride on, not much traffic and none of the smoke-belching three-wheeler trucks - and a good, but icy, tailwind to help us along. A hour before camping we ate at a quiet café then found some trees to camp by not far from the road 35 miles south of Wuhan. We ended the evening with a firework battle once again - one of us is going to get seriously injured if we carry on like this, I can tell. But, you know what, it's bloody great fun!!!
Total Miles: 9092.98 Todays Miles: 35.88 Average speed: 12.0 Time on bike: 2:5
---
Part1 | Part2 | Part3 | Part4 | Part5 | Part6 | Part7 | Part8 | Part9 | Part10 | Part11 | Part12 | Part13 | Part14 | Part15 | Part16 | Part17 | Part18 | Part19 | Part20 | Part21 | Part22 | Part23 | Part24 | Part25 | Part26 | Part27
---
Visit Andy's website here for more photos and additional information:http://www.travelblog.org/Bloggers/Bikepacker/
---
Bike China Adventures, Inc.
Home| Guided Bike Tours| Testimonials| Photos| Bicycle Travelogues | Products| Info| Contact Us
Copyright © Bike China Adventures, Inc., 1998-2015. All rights reserved.