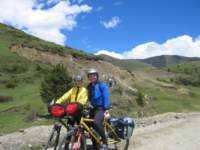 Emmanuel and Liny on the way to the Tibet border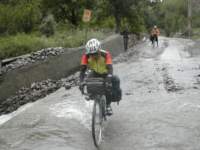 Pete fording a stream across the road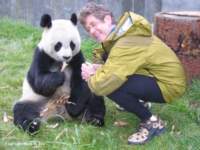 Mark making friends with a panda at Wolong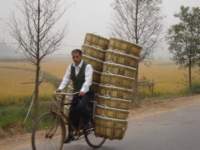 Changsha - Baskets anyone?
Do you have a China cycling travelogue you would like to share here?
Contact us for details.
---
Copyright © Andy, 2007
Visit Andy's website here for more photos and additional information: http://www.travelblog.org/Bloggers/Bikepacker/
Part1 | Part2 | Part3 | Part4 | Part5 | Part6 | Part7 | Part8 | Part9 | Part10 | Part11 | Part12 | Part13 | Part14 | Part15 | Part16 | Part17 | Part18 | Part19 | Part20 | Part21 | Part22 | Part23 | Part24 | Part25 | Part26 | Part27
---
Communism at Work. "Just Dig it"!
---
Day 180, 27th November
Zhengzhou - Xinzheng
This morning, we all felt somewhat better after our illnesses and agreed to set off at eleven, but I think that I was still feeling the worse, though. I don't know what we had had, food poisoning, a virus, or just a bad flu? It was an overcast and cold day as we cycled out of Zhengzhou and its ugly suburbs. The place had a strange feeling of totalitarianism to it and I was glad to be leaving. We'd seen children practicing military marching drills with workers in the streets, and we saw the biggest thing ever carried on an ordinary bike: a three-seater sofa!
Just out of the city I began to feel rough and very sick. My legs were so weak and I could hardly manage 7mph most of the time. Route 107 was getting to me too; the honking trucks, the stink of the fumes, the whole repetitiveness of it all. I was beginning to feel that I wanted to be out of this country completely and if there was a magic button on my handlebars which if I pressed would transport me instantly to my warm bed in England - then, I think I might just push it! And "Why"? you may ask, are you still cycling on that busy road? The simple answer is that we want to get south into warmer climes as quickly as possible. Yes, we could take a train, but, we've cycled this far and just want to stay put in our saddles because….. because….. what?

Rory discovers fireworks
The size of sticks of dynamite - Rory decides to blow up his shoes for some strange reason?
At a café stop, I managed to eat some boiled potatoes. My body was shivering. At Xinzheng, after 30 miles riding, the guys decided it would be best to find a cheap hotel, which they did in the centre of town. I immediately went to bed and wrapped up warm in all my clothes, got into my sleeping bag, and slept………
Total Miles: 8735.18 Todays Miles: 31.14 Average speed: 9.2 Time on bike: 3:22

Day 181, 28th November
Xinzheng - Changge - Xuchang - Luhoe
Yesterday, I went to bed at 4pm and slept for fourteen hours sweating out my fever. So at 6am was woken by the loudspeakers outside the hotel windows chanting some uplifting communist blurb and then playing some Chinese marching music. I felt much better, though, and so did everyone else - I think we need to get a Commie Marching CD!

Nick and Toby look on...
Not wanting to be showered by fragments of Rory's utterly stenching trainers, the guys wisely keep a distance!
We left at around eleven again, and it was a cold and overcast day - again. One good thing was that the wind had dropped. It was a good days cycling and we managed to cover 60 miles. The last 20 of those miles provided a strange sight to behold, though. At each side of the road in the fields we came upon a line of people digging a trench for what looked like a pipe-line. Every few feet was a person, man, woman, or child, probably from the nearby village, digging away with their rudimentary tools in what looked like normal clothing. In the fields behind them there were hoards of other very young or older Chinese waving banners and flags to the familiar uplifting music we'd heard at 6am this morning. Now, six western dudes on bikes passing them created a kind of excited bru-ha-ha, and a weird sort of 'Mexican-Wave' began to develop a hundred yards ahead of us as the commotion spread along the line. It was weird! Real communism at work. The central government wanted 20 miles of pipeline dug one afternoon and mobilized every town and village on-route to dig it - impressive! We must have seen tens of thousands working on that ditch. How long would it take to do that in the UK with modern equipment? Probably weeks!

More fireworks......
Man! This must be firework country. It's a regular sight to see strings of fireworks exploding on the streets - and even in petrol stations!
As we neared the town of Luhoe, it was becoming dark. So we found a spot to camp in a small orchard off a side road. It's not so difficult to find a camp spot this time of year we've found. Mainly because the growing season is over - it's winter in China.
Total Miles: 8802.88 Todays Miles: 67.70 Average speed: 13.5 Time on bike: 5:00

Day 182, 29th November
Luhoe - Xiping - Shangcai - Runan
Because of the clouds it was a warmer night, in fact it was so warm that I was down to my T-shirt and my socks were off - the first time for months! We set off in good time and ate some super street-food next to the towns bus station. We followed the 107 south with a tailwind for 15 miles then decided to end our love-hate relationship with this road. We veered off to the left in the town of Xiping to find a new inland route to Wuhan, one which was cleaner and quieter than the 107, and of course, more rural.
We reached the first small town with a police checkpoint on the outskirts. The police were curious, I showed them my Chinese road map and pointed to a place where we wanted to end up. They were very helpful and gave us a police escort through the town and onto a small quiet road that led south. Our new route was much quieter and became more and more rural. The road passed through small villages with locals shouting excitedly to each other "Lo Wai" meaning 'foreigner', or, to be exact - 'Old outside person'. Whenever and wherever we stopped a crowd of onlookers quickly appeared.
At Shangcai, our route headed directly south through flat landscape. In the town of Runan we found fireworks for sale and bought some. Just south of the town we looked for a place to camp in the flat landscape where we would be hidden from view and found a straight drainage ditch running through a field. It had a flat bottom and sloping grassy side, and was around 15 feet deep, like a storm drain. We pitched the six tents in a straight line and began the battle with the fireworks, using our Black Widow catapults to shoot them at each other. It was bloody stupid and dangerous as one exploded near Scott's eye so we called of the battle. Well, a truce till morning at least!
Total Miles: 8871.26 Todays Miles: 68.37 Average speed: 12.8 Time on bike: 5:19.
---
Part1 | Part2 | Part3 | Part4 | Part5 | Part6 | Part7 | Part8 | Part9 | Part10 | Part11 | Part12 | Part13 | Part14 | Part15 | Part16 | Part17 | Part18 | Part19 | Part20 | Part21 | Part22 | Part23 | Part24 | Part25 | Part26 | Part27
---
Visit Andy's website here for more photos and additional information:http://www.travelblog.org/Bloggers/Bikepacker/
---
Bike China Adventures, Inc.
Home| Guided Bike Tours| Testimonials| Photos| Bicycle Travelogues | Products| Info| Contact Us
Copyright © Bike China Adventures, Inc., 1998-2015. All rights reserved.