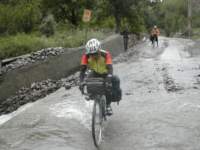 Pete fording a stream across the road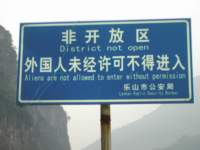 Closed area in Sichuan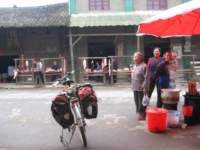 Breakfast in a village market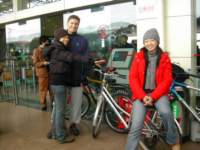 Cycling and romance
Do you have a China cycling travelogue you would like to share here?
Contact us for details.
---
Copyright © Andy, 2007
Visit Andy's website here for more photos and additional information: http://www.travelblog.org/Bloggers/Bikepacker/
Part1 | Part2 | Part3 | Part4 | Part5 | Part6 | Part7 | Part8 | Part9 | Part10 | Part11 | Part12 | Part13 | Part14 | Part15 | Part16 | Part17 | Part18 | Part19 | Part20 | Part21 | Part22 | Part23 | Part24 | Part25 | Part26 | Part27
---
From HELL to HEAVEN in 15 Miles
---
Day 153, 31st October,
40 miles south of Ulaan Uul - 10 miles north of Zamynn Uud
A storm from hell blew up last night and there was snow in with the rain. We woke up on our patch of desert to a freezing cold morning with the ice-cold wind howling mercilessly from the north. We need to get out of here quick, into China and off the Mongolian plateau before we end up like the very bleached-carcasses that we have already seen.
To compound matters further, Scott had problems with his gears which took ages to fix in the howling wind. Then barely 2 miles from breaking camp, Toby's chain broke. It was impossible for the group to spilt because the chance of getting lost out here was so great, so it was midday before we began to move, with the wind behind us. The road was as usual - corrugated dirt and endless sand. Tobes did a great wipe-out in the sand - the best so far, pity we didn't get it on video. We are all members of the "Wipe Out Club" now!
I found a Mongolian number plate yesterday in the sand, and even stranger, I found a German one today? We ended up camping on a windswept hillside 10 miles from the border and within sight of the border to the east. It is possible to count three Chinese observation posts on the horizon, gleaming white in the setting sun.

Mongolian Visa renewal + Exit stamp
The top stamp is the visa renewal from UB, and the lower stamp in the shape of a Ger is the Zamyyn-Uud exit stamp.
Total Miles: 7725.14 Todays Miles: 31.58 Average speed: 8.1 Time on bike: 3:54

Day 154, 1st November 2001
10 miles nth of Zamynn Uud - CHINA - Erlian
It was so bastard-freezing last night that frost covered the outside of my sleeping bag this morning. But the tent was dry, and became warm when the sun rose. It was what I was waiting for the last few hours. I didn't know the time cos the LCD display on my cycle-computer had turned black. I was so cold that I was awake and shivering, waiting for that life-giving sunlight to hit my tent. How miserable.
We set off for Zamyyn Uud at 9am and I had another puncture. It's an absolute nightmare changing a tube in minus temperatures, your fingers don't work and you need to make a makeshift wind-shield from the other bikes. Toby rode on and we found him later surrounded by kids in the town.

Welcome to The Peoples Republic
Just across the border in the sparkling town of Erlian - the People's police welcome you to China.
Now, how to cross the Chinese border and not get our bikes confiscated. We'd heard that local drivers can take you across in minibuses for a few dollars per person. We headed for the main station to find a taxi. I eventually found a Chinese mini-bus driver who would take us for 200 Yuan. Tobes had other agendas and had checked out another one - things got very disorganized because we were cold, tired, and being plagued by kids. Tobes had a blowout to fix in his tyre which we had been telling him to get fixed but he just "Couln't be arsed"! We lost our mini-bus and had to get a Mongolian mini-bus driver to take us for nearly twice the price - 360 Yuan! Then we had to wait an hour or so for the border to officially open.
The driver loaded our bikes into the mini-bus for the short crossing and we set off past border feces and a watchtower. At Mongolian customs we had to fill-in a customs declaration and a departure-card before getting our exit-stamp to leave the country. Then there was about half an mile to the Chinese border control. To our left we saw the railway line then a big concrete gantry with the Mongolian crest on it, mirrored by the Chinese one 10 yards away from it. Half way between them, either side of the road, were two marble posts bearing the emblem of "The Peoples Republic of China".

Chinese Mobbing
Outside our hotel in Erlian we just weren't prepared for the crowds that mobbed around us.
We'd made it across Mongolia, un-aided, and were now in China, another adventure was about to begin. This is where we will be, hopefully, for the next few months, our plan is to get to Hong Kong for Christmas. But first, the border controls had to be negotiated…
To my surprise, the Chinese officials looked in the mini-bus at the bikes but didn't bat an eyelid. Then we had to go through passport control which was very thorough. They scrutinized every passport and asked in detail about most of the stamps and about our planned journey, where we were going, by what means of transport? I had problems with a passport stamp from Andorra which I'd actually asked custom officials to put in in 2000 as a souvenir. After half an hour of questioning they lets us through and the driver took us into the centre of Erlian.
What a shock! After nearly 2 weeks of cycling through empty desert, we were now in a modern glittering town with wide elegant boulevards, trees, fountains, and hundreds of shops - I managed to buy a super Chinese road atlas in a bookshop which will be suffice for the trip through China. There were rickshaws and bicycles everywhere. Our mini-bus driver had dropped us off in the middle of town next to a hotel where we drew attention from all directions.
After we'd got our bikes packed, Rory noticed the Jin Long Hotel across the street, and at 25Y per person, it was a bargain. After settling into our room we set out to explore Erlian. I was awestruck after seeing nothing for weeks, I felt like the proverbial country-bumpkin in the big city for the first time in his life! Now, the restaurants…. After eating what are like dog-biscuits for weeks, we had the most exquisite choices of superb Chinese food one could imagine - it was dreamlike, almost orgasmic! And the meals were massive, and we had to learn how to use chopsticks too.
Back at the hotel there was a disco going on on our floor at the end of the corridor, so we checked it out. Beer was expensive at 10Y for about a pint, so I stuck to just one. It soon became apparent that the cheap and tacky karaoke show was just a cover for what really was happening, there was a seedier side to this. Three women dashed to our table and ordered drinks, then dashed off again. And we got stung with the bill and a so-called 'visitors-tax'. We did, however, take advantage of the situation later….I mean, a group of guys who have been camping in the Gobi for a few weeks….what do you expect?
Total Miles: 7733.43 Todays Miles: 8.29 Average speed: 6.0 Time on bike: 1:20
---
Part1 | Part2 | Part3 | Part4 | Part5 | Part6 | Part7 | Part8 | Part9 | Part10 | Part11 | Part12 | Part13 | Part14 | Part15 | Part16 | Part17 | Part18 | Part19 | Part20 | Part21 | Part22 | Part23 | Part24 | Part25 | Part26 | Part27
---
Visit Andy's website here for more photos and additional information:http://www.travelblog.org/Bloggers/Bikepacker/
---
Bike China Adventures, Inc.
Home| Guided Bike Tours| Testimonials| Photos| Bicycle Travelogues | Products| Info| Contact Us
Copyright © Bike China Adventures, Inc., 1998-2015. All rights reserved.